International Lunar Observatory Association Advancing Moon Missions for Observation / Communication, Lunar Broadcasting and Galaxy 21st Century Education
The Moon is our closest celestial neighbor and the object of significant and rapidly growing attention from the independent / national / international space science and exploration sector. On the leading edge of this global wave, the International Lunar Observatory Association (ILOA) is progressing on 4 separate missions to the lunar surface. The successful Global Demonstration of the 2kg ILO-X Precursor Instrument from Mauna Kea on Hawai'i Island Monday July 23 and next step Engineering Test Unit fabrication, lead to launch aboard a Moon Express spacecraft in 2014. Simultaneously, a framework is being developed for reciprocal collaboration between ILOA and National Astronomical Observatories / Chinese Academy of Sciences for lunar-based observations using instruments of the ILOA and the 15cm UV telescope on the China Chang'e-3 Moon Lander for 2013 launch, possibly in October. Primary contractor MDA of Canada, is finalizing an extensive 4 month pre-build study for the ILO-1 Mission. This, the primary ILOA mission, will land a multifunctional observation / communication instrument on Mons Malapert at the Moon South Pole NET 2015. Eventually, the ILOA hopes to contribute 10% of the funds necessary for a Human Exploration Lunar-landing Mission to service robotic installations and lay groundwork for permanent human settlement.
Curiosity Will Search for Conditions Conducive to Microbial Life on Mars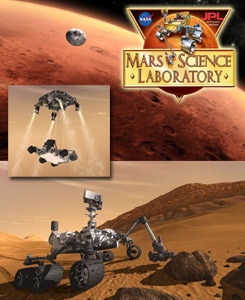 The Mars Curiosity rover is set to land inside Gale Crater near the base of Mount Sharp on the Red Planet at 22:31 PDT on Sunday, August 5. At a cost of over US $2.5 billion, Curiosity is carrying the most advanced payload of scientific gear ever used on Mars, a 75 kg payload 10 times more massive than those of previous Mars rovers. Unlike earlier rovers, the 899-kg Curiosity can process and distribute rock and soil samples to onboard test chambers for immediate analysis. The mission has 4 primary goals: to assess biological potential of target environments, characterize geology of the rover's field site, investigate planetary processes relevant to past habitability and characterize the broad spectrum of surface radiation. Radiation data is critical for planning human exploration of Mars and relevant to assessing the planet's ability to harbor life. Curiosity will steer itself during descent through Mars' atmosphere with a series of S-curve maneuvers, then slow its descent with a parachute and retro rockets. The upper stage acts as a sky crane, lowering the upright rover on a tether to the surface. Advancing technologies for the precision landing of a heavy payload will yield research benefits that potentially prepare the way for future human missions. The landing will be celebrated live at PlanetFest 2012 and the 15th Annual International Mars Society Convention, both taking place in Pasadena CA. (Image Credit: NASA)
---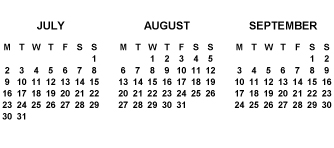 = All times for terrestrial events in local time unless noted.

= All times for international terrestrial events in local time unless noted.

= All times for space events, and…

= All times for international space / astro events in Hawaii Standard Time unless noted. Add 10 hours to obtain UT ('Universal Time;' Greenwich, England).
---
Weekly Planet Watch – Evening Planets: Mars (WSW), Saturn (WSW). Morning Planets: Venus (E), Jupiter (E).
---
MONDAY

Jul 30 — ISS, LEO: Arrival of Progress M-16M/48P this week will be first ever demonstration of same-day launch to docking rendezvous for Progress, which will dock to ISS  just six hours / four orbits after launch.

Jul 30 — Opportunity, Red Planet: Traversing through Sol 3020, total odometry 34,580.05 meters.

Jul 30 — Cassini, Saturn Orbit: Preparing for observation by remote sensing and active probing of Saturn's rings.

Jul 30 — Sally Ride to be immortalized in celestial nomenclature when International Astronomical Union names asteroid in her memory.

Jul 30 — NASA, Teleconference: 'NASA Pre-Proposal Conference for the JUICE Instrument AO,' 03:00.

Jul 30- 31 — JAXA, Institute of Space and Astronautical Science Japan, Sagamihara, Kanagawa, Japan: ''22nd JAXA Workshop on Astrodynamics and Flight Mechanics.'

Jul 30 – Aug 3 — Space Frontier Foundation, Palmdale CA: 'Teachers in Space: Suborbital Astronautics Workshop.'

Jul 30 – Aug 3 — NASA, University of Alaska Museum of the North, Fairbanks AK : 'Lunar Workshop for Educators,' 08:30.
---
Continued from…

Jul 1 – Dec 31 — American Institute of Aeronautics and Astronautics, Online: 'AIAA Short Course: Introduction to Space Flight,' Francis Hale.

Jul 24- Aug 2 — Aeronautics and Space Agency of FFG, European Space Agency, International Space Science Institute, Austrospace, Europlanet Research Infrastructure, Alpbach / Tyrol, Austria: ''Summer School Alpbach 2012: Exploration of the Giant Planets and their Systems.'

Jul 29-Aug 1 — AIAA, Heat Transfer Society of Japan, IEEE Aerospace and Electronic Systems Society, Egyptian Society of Mechanical Engineers, Japan Society of Mechanical Engineers, Atlanta GA: '48th Joint Propulsion Conference & Exhibit and 10th International Energy Conversion Engineering Conference.'
---
TUESDAY

July 31 – Aug 2 — Johns Hopkins Applied Physics Laboratory, Laurel MD: 'Radiation Belt Storm Probes Teacher Workshop.'
WEDNESDAY

Aug 1 — Deep Space: NASA Juno Spacecraft is traveling at 56,648 kph,  approximately 718,070,400 km from Earth on trajectory for 2016 arrival at Jupiter.

NET Aug — ISRO, Launch PSLV / Spot 6, Satish Dhawan Space Center, Sriharikota, India: ISRO Polar Satellite Launch Vehicle set to launch Spot 6 remote sensing satellite for Astrium Services.

NET Aug — International Launch Services, Launch Proton / Intelsat 23, Baikonur Cosmodrome, Kazakhstan: Proton rocket with Breeze M upper stage will deploy Intelsat 23 satellite.

NET Aug — CNSA, Launch Long March 3B / Beidou, Xichang, China: A Chinese Long March rocket will launch two Beidou navigation satellites into medium Earth orbit.

NET Aug — Sea Launch, Launch Zenit 3SL / Intelsat 21, Odyssey Platform, Equator at 154° W: Sea Launch Zenit 3SL rocket to deliver Intelsat 21 communications satellite into orbit.

NET Aug — ISS, Spacewalk, LEO: Astronauts from Russia, America and Japan will be conducting spacewalk to install additional anti-meteorite panels on ISS.

Aug 1 — RSA, Launch Soyuz / Progress 48P, Baikonur Cosmodrome, Kazakhstan: An RSA Soyuz rocket set to launch 48th Progress cargo delivery ship to ISS, 09:35.

Aug 1 — ULA, Launch Atlas 5 / NROL 36, Vandenberg AFB CA: A ULA Atlas 5 rocket set to launch classified spacecraft payload for US National Reconnaissance Office, 21:00.

Aug 1 — SETI Institute, Mountain View CA: Colloquium: 'Neutrinos from Hell: The Dawn of Neutrino Geophysics,' presented by Giorgio Gratta, Physics Department, Stanford University.

Aug 1 — American Institute of Aeronautics and Astronautics, Atlanta GA: 'Engineers as Educators Workshop.'

Aug 1 — Committee on Science, U.S. House of Representatives, Washington DC: 'Hearing: Emerging Commercial Suborbital Reusable Launch Vehicle Market.'

Aug 1-3 — JAXA, Sagamihara, Kanagawa, Japan: ''45th Moons and Planets Symposium.'

Aug 1 — Alpha Capricornids Meteor Shower Peak: Shower has reputation of producing among brightest meteors of major showers, with average magnitude estimated around 2.2.

Aug 1 — Moon: Full Moon, 17:26.
THURSDAY

Aug 2 — Arianespace, Launch Ariane 5 / Intelsat 20 & HYLAS 2, Kourou, French Guiana: Ariane 5 ECA rocket, designated VA208, to launch Intelsat 20 and HYLAS 2 communications satellites, 08:54.

Aug 2 — The British Interplanetary Society, London, England: Speaker: Julie Payette, 'The Earth from Above: An Astronaut's Perspective,' 08:00.

Aug 2 — Kennedy Space Center, Cape Canaveral FL: 'NASA Social at Kennedy Space Center.'
FRIDAY

Aug 3 — NASA, Various NASA field centers: 'First Multi-Center Social Media Event for Mars Landing.' In-person meeting with people who engage with NASA through Twitter, Facebook, Google+ and other social networks.

Aug 3-5 — The Mars Society, Pasadena CA: '15th Annual International Mars Society Convention.'
SATURDAY

Aug 4-5 — The Planetary Society, Pasadena CA: 'Planetfest 2012.' Two-day celebration of real-time landing of Curiosity on Mars. Play-by-play narration during spacecraft's descent / landing, plus a peek at first images returned from mission.

Aug 4-8 — Astronomical Society of the Pacific, American Geological Union, Tucson AZ: 'Communicating Science: A National Conference on Science Education and Public Outreach.'

Aug 4-14 — Brazil National Council for Scientific and Technological Development, Carlos Chagas Filho de Amparo Research Foundation of the State of Rio de Janeiro, Rio de Janeiro, Brazil: 'The International Olympiad on Astronomy and Astrophysics.'
SUNDAY

Aug 5 — Mars Science Laboratory, Curiosity Rover, NASA JPL, Red Planet: Mars Curiosity Rover set to land on surface of Mars and begin mission to assess whether planet ever had environment able to support life, 22:31 PDT.

Aug 5-10 — Australian National University, Swinburne University of Technology, Macquarie University, Cairns, Australia: 'XII International Symposium on Nuclei in the Cosmos.'