Atlantis 135th, Final USA Space Shuttle Mission Sets Stage For Commercial / International Space Station Era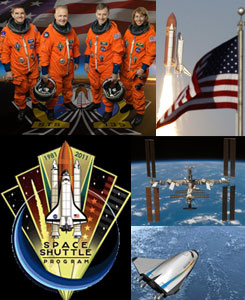 The Space Shuttles are among the greatest feats of human ingenuity. They have launched about 75% of all of the humans who have ever been to space, sent probes to Venus and Jupiter, launched and helped repair the Hubble Space Telescope, done most of the heavy lifting in the construction of the International Space Station, and made space travel seem almost routine to the general public. On July 8 at 11:26 am, Space Shuttle Atlantis will lift off from Launch Pad 39A at the Kennedy Space Center. The mission, crewed by commander Chris Ferguson, pilot Doug Hurley and mission specialists Sandra Magnus and Rex Walheim, will be the 135th and final of the Space Shuttle era. Atlantis will carry 10,450kg of clothing, food and equipment – a year's worth of supplies—to the ISS. Questions remain about successors to the shuttle as NASA is dividing US$269M in development funds among 4 replacement contenders ranging from a capsule championed by Boeing to the 7-astronaut 'Dream Chaser' of the Sierra Nevada Co. (Credit: NASA)
100-Year Starship Study to Advance Long Term Goals of Space Exploration, Interstellar Travel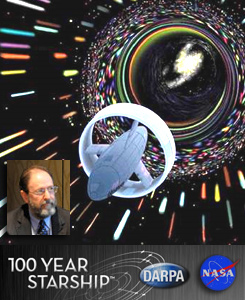 The Defense Advanced Research Projects Agency (DARPA) and NASA are accepting submissions for abstracts due online by July 8 to be presented at the '100 Year Starship Study Symposium' in Orlando FL from September 30-October 2. Although the centennial study will not involve building an actual starship, several hundred space visionaries, entrepreneurs, scientists, researchers, engineers and science-fiction writers  attending the event will help to develop a long-term, multi-generational program to make interstellar travel throughout our galaxy and beyond a reality. DARPA and NASA have set aside US$500,000 for the individual or corporation chosen to best cultivate and execute the R & D necessary to bring the program to fruition. DARPA restrictions may limit international participation; however, David Neyland, Director of the Tactical Technology Office for DARPA notes, "This has to be across all international boundaries, across academia and all industries." So far, over 150 individuals and groups have sent in responses to create a sustainable organization that can advance the vision of the 100 Year Starship.  (Credit: NASA, DARPA)
---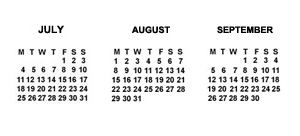 = All times for terrestrial events in local time unless noted.

= All times for international terrestrial events in local time unless noted.

= All times for space events, and…

= All times for international space / astro events in Hawaii Standard Time unless noted. Add 10 hours to obtain UT ('Universal Time;' Greenwich, England).
---
Weekly Planet Watch – Morning Planets: Venus (ENE), Mars (ENE), Jupiter (E) / Evening Planets: Mercury (WNW), Saturn (SW).
---
MONDAY

Jul 4 — International Space Station, LEO: E-28 crew members continue to make preparations for the final visit of Shuttle Atlantis, the last in the fleet to travel to the ISS, as they carry on with an array of science and maintenance activities.

Jul 4 — NASA Lunar Reconnaissance Orbiter (LRO), Lunar Orbit: LRO continues to be "resounding success;" 192 terabytes of data, images, maps from 7 LRO instruments have provided rich new portrait of Moon; Captured most detailed imagery of interior of Tycho Crater; Fulfilled primary mission to enable safe, effective human exploration of Moon.

Jul 4 — Jupiter Juno Spacecraft Mission, KSC / Cape Canaveral FL: Juno ground operations on track with the Centaur upper stage recently  stacked atop the Atlas stage; The solar-powered Juno spacecraft will orbit Jupiter poles 33 times to find out more about the origins, structure, atmosphere and magnetosphere of the gas giant.

Jul 4 — Mars Rover Opportunity, Red Planet: NASA rover Opportunity continues to make excellent progress towards Endeavour crater with less than only 2.3 km to go before reaching the first landfall on the rim called "Spirit Point."

Jul 4 — Kepler Spacecraft, Heliocentric Orbit: Kepler spacecraft continues success 2 years into a 3 1/2 year mission, monitoring 145,000 stars in the Milky Way Galaxy and finding 1,235 suspected planets to date.

Jul 4-5 — UK Space Agency, London, England: 'UK Space Conference 2011: The New Space Economy.'

Jul 4-8 — European Astronomical Society, St. Petersburg, Russia: 'European Week of Astronomy and Space Science (JENAM 2011).'

Jul 4-8 — Russian Academy of Sciences, Semenov Institute of Chemical Sciences, et al, St. Petersburg, Russia: '4th European Conference for Aerospace Sciences.'

Jul 4-8 — ESA, Cologne, Germany: 'Space Medicine 2011: Workshop for Students.'

Jul 4-8 — Canadian & US SKA Consortia, Institute for Space Imaging Science, Banff, Canada: 'SKA Science and Frontiers of Astronomy in the Era of Massive Datasets: The Promise and Challenges.'

Jul 4-8 — Astronomical Society of Australia, University of Adelaide, Adelaide, Australia: 'ASA 2011 Conference: New surveys for Australian Astronomy.'

Jul 4 — Earth at Aphelion: Earth is at its farthest point from the Sun (152.1 million km); 05:00.

Jul 4 — Moon: 5.3° SSW of Regulus; 15:00.

Jul 4 — Mars: 5.4° N of Aldebaran; 14:00.
---
Continued from . . .

May 31 — NASA Lunar Science Institute, Lunar and Planetary Institute, Houston TX: 'Lunar Exploration Summer Intern Program,' 10-week program to evaluate possible landing sites for robotic and human exploration missions; through Aug 5.

Jun 9 — New Mexico Museum of Space History, Alamogordo NM: 'New Mexico Space Academy Summer Camp;' through Aug 5.

Jun 13 — Space Voyage Academy, Littleton CO: 'Space Voyage Summer Academy Camp,' an enrichment program about space for students ages 5-16; through Jul 29.

Jun 27 — Google Lunar X Prize Foundation, LEGO Group, Playa Vista CA; Online: 'LEGO Moonbots 2.0;' through Aug 15.

Jun 28 — International Union of Geodesy & Geophysics, International Association of Meteorology & Atmospheric Sciences, Melbourne, Australia: 'IUGG / IAMAS General Assembly J-M07: Atmospheres and Ices on Terrestrial Planets;' through Jul 7.

Jul 3 — International Astrobiology Society, International Astronomical Union, Montpellier, France: 'IAS / IAU c51 (Bioastronomy) Joint International Conference;' through Jul 8.
---
TUESDAY

Jul 5-8 — University of Alcala, RadioNet, The Spanish National Research Council, Alcala de Henares, Spain: 'Young European Radio Astronomy Conference.'
---
WEDNESDAY

Jul 6 — The SETI Institute, Mountain View CA: Evening Colloquium Series Lecture: 'Moon Express: Pioneering the NewSpace Frontier,' Bob Richards.

Jul 6 — Johnson Space Center, Houston TX: NASA Flight Directors Kwatsi Alibaruho and Chris Edelen featured in live satellite interviews from 06:00 – 07:50 CDT to discuss final details of Shuttle Atlantis STS-135 mission and end of the 30-year Space Shuttle Program.

Jul 6 — Smithsonian National Air and Space Museum, Washington DC: 'The Lunar Exploration Fleet of the 1960′s,' Patrick Russell.

Jul 6 — Moon: 1.0° W of Venus; 20:00.
---
THURSDAY

Jul 7-8 — Kennedy Space Center, Cape Canaveral FL: 'Atlantis STS-135 NASA Tweet-up.'

Jul 7-10 — Frontiers Space Community, Golden CO: 'Multi-World Property Rights' Meeting; Email aquariusaa@aol.com for more information.

Jul 7 — Moon: At Perigee (Distance: 57.94 Earth-Radii), 04:00; 7.5° SSW of Saturn, 13:00; At First Quarter, 20:29.
---
FRIDAY

NET Jul 8 — NASA, Launch Shuttle Atlantis / ULF 7, Cape Canaveral FL: STS-135 to be 37th USA mission to the International Space Station and carry the Raffaello multi-purpose logistics module and Robotic Refueling Mission (RRM) as well as supplies for the ISS.

Jul 8 — Defense Advanced Research Projects Agency, Orlando FL; Online: Submission deadline for '100 Year Starship Study Symposium' on Sept 30-Oct 2.

Jul 8 — Moon: 2.6° S of Spica; 11:00.
---
SATURDAY

NET Jul 9 — ILS, Launch Proton / SES 3 & Kazsat 2, Baikonur Cosmodrome, Kazakhstan: ILS Proton rocket with Breeze M upper stage set to deploy the SES 3 and Kazsat 2 communications satellites for the USA, Caribbean and Kazakhstan.
---
SUNDAY

Jul 10 — Goldberg Coins and Collectibles, Online: 'Space and Aviation and Stamps Auction.'

Jul 10-14 — Adler Planetarium, Chicago IL: 'Technology Camp,' for 4-6th graders to design, build and program a robot to help make life possible in space.

Jul 10-16 — National Radio Astronomy Observatory, Green Bank WV: '6th NAIC / NRAO School on Single Dish Radio Astronomy.'

Jul 10 — Asteroid 2011 EZ78: Near-Earth Flyby (0.096 AU).