Ahead of GSLV Test India PM Modi Avows Importance of Indigenous Space Program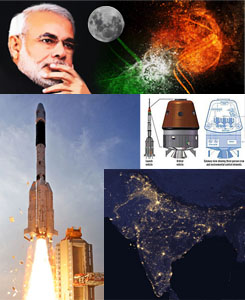 The Global Satellite Launch Vehicle Mark 3 suborbital test flight is currently set for July 21 from Satish Dhawan Space Center, Sriharikota, India. Success would validate atmospheric performance, provide data for human spaceflight development via the mock up ISRO crew capsule, clear the path for a full test of Mk 3 in 2016, and constitute another step towards increasing India's share of the global satellite launch market — projected at US$55 billion over the coming decade. The next GSLV flight is in the Mk 2 configuration to orbit GSAT-6 in 2015, a crucial step toward proving reliability. The GSLV series of rockets is designed to lift payloads of as much as 5,000 kg to GTO (compared to the PSLV which can only lift 1,410 kg to GTO), allowing India to launch larger commercial satellites as well as more substantial interplanetary missions such as the greatly anticipated ~3,200-kg Chandrayaan 2 mission to send an orbiter, lander and rover to the Moon. The newly elected Prime Minister of India, Narendra Modi, has been emphasizing the achievements and benefits of the space program, "Our scientists have shown the world a new paradigm of frugal engineering and the power of imagination… India's space program [is] driven by a vision of service to humanity." India is well established as one of the 6 major spacefaring powers of the planet, having launched a total of 67 satellites including 40 on commercial or cooperative baseis for 19 other countries. Modi once recounted a discussion with Neil Armstrong in which the legendary explorer summed up his experience in 2 sentences: "When I went to the Moon, I went as an astronaut but when I came back, I came as a human being. This is my realization." (Image Credit: ISRO, NASA Earth Observatory/NOAA NGDC/SPL, NaMoNamaha.com)
ISU Invites Women Astronauts to Share Space Exploration Experiences with Public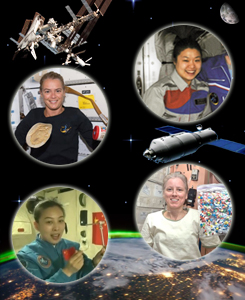 Women Astronauts plan to join the International Space University's 27th Space Studies Program being hosted in Montreal, Canada for a public all-female Astronaut panel on July 10. Comprising ~10% of the total Astronaut population, only 57 women have flown in space: 44 from USA, 3 from Russia/USSR, 2 each from Canada, China and Japan, and 1 each from India, UK, France and South Korea. The 4 featured panelists, moderated by NASA KSC Deputy Center Director Janet Petro, are (clockwise from TL) Julie Payette (Canada), Soyeon Yi (South Korea), Shannon Walker (USA) and Yaping Wang (China). Payette, currently the Chief Operating Officer of the Montreal Science Centre, was part of the first Shuttle mission to dock with the ISS (STS-96, Discovery) in 1999, flew aboard STS-127 (Endeavour) in 2009, logged more than 25 days in space and served as Chief Astronaut for the Canadian Space Agency. Dr. Yi, retiring from KARI this August, became the first and only Korea Astronaut in 2008 when she flew aboard Soyuz TMA-12 to the ISS for a 10-day mission. Walker was a member of ISS Expedition 24 in 2010 and served as an 'aquanaut' commander for the NEEMO 15 undersea exploration mission in 2011. Wang launched aboard Shenzhou 10 to China's orbiting laboratory Tiangong-1 in 2013, conducted scientific experiments and broadcast live lessons to students over a two-week period. The latest women chosen to undergo training for potential Astronaut status include Anna Kikina of Russia, and Christina Hammock, Nicole Mann, Anne McClain and Jessica Meir of USA. (Image Credit: CSA-ASC, NASA, CNSA, CCTV, ESA)
---


= All times for terrestrial events in local time unless noted.

= All times for international terrestrial events in local time unless noted.

= All times for space events, and…

= All times for international space / astro events in Hawaii Standard Time unless noted. Add 10 hours to obtain UT ('Universal Time;' Greenwich, England).
---
Weekly Planet Watch – Evening Planets: Mars (SW), Saturn (S); Morning Planets: Venus (E).

---
MONDAY

Jul 7 — ISS, LEO: Expedition 40 preparing for OSC Cygnus resupply craft expected to arrive Jul 14, working on studies to assess human movements in microgravity, how communication delays affect behavioral health & performance.

Jul 7 — Chang'e-3, Sinus Iridum / Mare Imbrium, 44.12°N 19.51°W, Moon Surface: Lander & Rover should wake from Lunar Night 7 hibernation this week, continue to perform science observations and measurements from fixed locations.

Jul 7 — Mars Orbiter Mission (Mangalyaan), Mars Trajectory: India spacecraft ~24M km from Mars, operating nominally with 6.5-minute one-way radio signal to Earth.

Jul 7 — Astrobotic Technology Inc., Pittsburgh PA: NewSpace company advancing successfully validated Astrobotic Autolanding System (AAS) for use with space-rated sensors & avionics to land Griffin lander on Moon.

 Jul 7 — Masten Space Systems, Mojave CA: Under US$3M DARPA contract, developing reusable 1st stage launch vehicle capable of deploying upper stage that inserts ~1,300 to 2,300 kg payloads into LEO for less than $5M per launch.

Jul 7 — Moon Express Inc., Moffett Field CA: President Andy Aldrin & CEO Bob Richards to be featured speakers at NewSpace 2014 conference Jul 24-26.

Jul 7-11 — International Astronomical Union, Namur, Belgium: IAU Symposium: Complex Planetary Systems.

Jul 7-11 — International Astronomical Union, Vienna, Austria: IAU Symposium: Galaxies in 3D Across the Universe.

Jul 7-11 — University College London, London, United Kingdom: 6th Alfven Conference; to discuss Rosetta, MAVEN, Mars Orbiter Mission (Mangalyaan), and plasma interactions with comets, Mars, Venus, inner and outer solar system moons.

Jul 7-11 — Hungarian Academy of Sciences Institute of Nuclear Research (Atomki), Debrecen, Hungary: 13th International Symposium on Nuclei in the Cosmos.

Jul 7 — Moon: 0.44° S of Saturn, 16:00.
---
Continued from…

Jun 18 – Jul 11 — Venus Express, Venus Orbit: ESA spacecraft to perform "experimental aerobraking" maneuvers to reach ~130-km altitude; if survives this phase, will raise orbit for few months before making final plunge into atmosphere.

NET Jul — Chang'e-2, Deep Space: Spacecraft expected to reach 100M km from Earth this month.

Jul 2-9 — International Union of Pure and Applied Physics, Valencia, Spain: 37th International Conference on High Energy Physics.

Jul 6-11 — CNES, University of Toulouse III: Paul Sabatier, Toulouse, France: CoRoT Symposium 3, Kepler KASC-7 Joint Meeting: The Space Photometry Revolution.
---
TUESDAY

Jul 8 — RSA, Launch Soyuz 2 / Multi-Payload, Baikonur Cosmodrome, Kazakhstan: An RSA Soyuz rocket set to launch UKube-1 (1st UK Space Agency CubeSat mission, 1st satellite built in Scotland), Meteor M2 weather satellite, SkySat 2 for Skybox Imaging, TechDemoSat 1, other payloads.

Jul 8 — SETI Institute, Mountain View CA: SETI Weekly Colloquium: Terrestrial planet atmospheres in the aftermath of giant impacts; presented by Roxana Lupu from SETI.

Jul 8-17 — Science Camps of America, Ka`u HI: Air and Space Camp; teens learn about astronomy, climate, alternative energy in unique environments of Hawai`i Island, Mauna Kea, Observatories.

Jul 8 — Asteroid 2013 AG69: Near-Earth flyby (0.007 AU).


Jul 8 — Asteroid 2014 MF19: Near-Earth flyby (0.099 AU).
WEDNESDAY

Jul 9 — Rosetta OCM-6, Comet 67P / Churyumov-Gerasimenko Orbit: Spacecraft conducts Orbital Correction Maneuver #6 today; planned to last ~46 minutes, achieve change in velocity (delta-v) of 25 m/s.

Jul 9 — Southern California Public Radio, Online / Pasadena CA: Crawford Family Forum; Planetary Society CEO Bill Nye talks with Planetary Radio host Mat Kaplan about LightSail-1, 19:00-20:30 PDT.

Jul 9-11 — European Science Foundation, University of Vienna, Vienna, Austria: Gaia Data Visualization Workshop.

Jul 9-11 — Chandra X-ray Center, Boston MA: Chandra Science Workshop: The X-Ray View of Galaxy Ecosystems.

Jul 9 — Moon: 8.1° N of Antares, 08:00.

Jul 9 — Asteroid 2009 BD: Near-Earth flyby (0.023 AU).

THURSDAY

Jul 10 — Orbital Sciences Corp., Launch Antares / Orb-2 (Cygnus 3), Wallops Island VA: OSC Antares rocket to launch 3rd Cygnus cargo freighter on 2nd operational flight to the ISS.

Jul 10 — Arianespace, Launch Soyuz / O3b F2, Kourou, French Guiana: Soyuz rocket, designated VS06, set to launch 4 satellites for O3b Networks.

Jul 10 — CNSA, Launch Chang Zheng-4B / Gaofen 2 & BRITE-PL2, Taiyuan Satellite Launch Center, China: Zheng-4B rocket to launch China Gaofen 2 civilian remote sensing satellites, and Poland / Canada BRITE-PL2 (BRIght-star Target Explorer).

Jul 10 — International Space University, Montreal, Quebec, Canada: International Astronaut Panel; all-female Astronaut panel shares experiences from ISS, Tiangong-1, Space Shuttles, Soyuz, Shenzhou.
FRIDAY

Jul 11 — Marshall Space Flight Center, NASA, Online / Huntsville AL: Due: Request for Information: Centennial Challenges Program – Small Spacecraft Challenges; entrants to build, deliver, operate flight-qualified small spacecraft capable of advanced operations near Moon and beyond; US$5.5M in cash prizes.

Jul 11 — Lunar and Planetary Institute, Houston TX: Lecture: The MSL Rover Curiosity: What We're Doing, and Quick View of How We Do It; presented by Allan Treiman of LPI.
SATURDAY

Jul 12 — Cradle of Aviation Museum and Education Center, Garden City NY: 45th Anniversary celebrating Apollo 11; featuring Buzz Aldrin.

Jul 12 — AIAA – San Francisco Section, San Francisco CA: Family Space Day; at the California Academy of Sciences.

Jul 12-15 — Ministry of Education, Culture, Sports, Science and Technology (MEXT), Japan Proton Accelerator Research Complex (J-PARC), Tsukuba, Ibaraki, Japan: 2nd International Symposium on Science at J-PARC: Unlocking the Mysteries of Life, Matter and the Universe.

Jul 12 — Moon: Full (Buck Moon), 01:26; at perigee (distance 357,859 km), 22:32.

Jul 12 — Asteroid 2014 LX21: Near-Earth flyby (0.067 AU).

SUNDAY

Jul 13 — ISS, Rendezvous & Grapple of Orb-2 (Cygnus 3), LEO: OSC 3rd Cygnus cargo freighter on 2nd operational flight to the ISS to be grappled & berthed to ISS, live coverage available.

Jul 13 — The Space Show, Tiburon CA / Online: Dr. David Livingston talks with Dr. Jim Logan and Dr. John Jurist about EVAs, spacesuits, Mars.

Jul 13-17 — Texas Tech University, Paragon Space Development Corp., UTC Aerospace Systems, ESA, Tucson AZ: 44th International Conference on Environmental Systems (ICES); to discuss humans living and working in hostile environments.

Jul 13-18 — Canadian Remote Sensing Society, Quebec City, Quebec, Canada: International Geoscience and Remote Sensing Symposium (IGARSS 2014) / 35th Canadian Symposium on Remote Sensing.

Jul 13 — Asteroid 2014 MS5: Near-Earth flyby (0.045 AU).