Antarctica National Programs Come Together for COMNAP – AGM 2013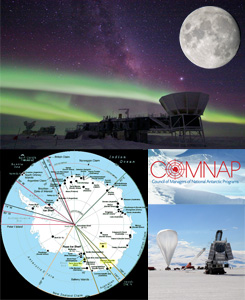 The Council of Managers of National Antarctic Programs (COMNAP) holds its Annual General Meeting on July 8-10 at the Lotte Hotel in Seoul, Republic of Korea. COMNAP is the international association which links national Antarctic programs responsible for development and support of scientific research in the Antarctic Treaty Area – South of 60° Latitude. The organization is designed to develop and promote best practice in minimizing environmental impact of activities, increasing international partnerships, facilitating information exchange and providing objective technical advice to the Antarctic Treaty System consisting of 12 signatories and 50 parties. There are over 100 main facilities currently operated by national programs of Argentina, Australia, Belgium, Brazil, Bulgaria, Chile, China, Czech Republic Ecuador, Finland, France, Germany, India, Italy, Japan, Korea, Netherlands, New Zealand, Norway Peru, Poland, Russia, South Africa, Spain, Sweden, Ukraine, UK, Uruguay, and USA. About 5,000-6,000 scientists and 50,000 tourists work in or visit Antarctica every year. McMurdo Station, the largest community, accommodates up to 1,200 researchers and support staff at 78° South. The high, dry and extremely cold parts of Antarctica are very conducive to astronomical observations of cosmic microwave background radiation, cosmic rays and neutrinos as well as observations in infrared and sub-millimeter wavelengths. Large multilateral international projects, such as ALMA (Chile), TMT (Hawai`i) and SKA (South Africa / Australia), are accelerating the leading edge of astronomy now, and in the future Antarctica with its unique governance structures could provide a suitable venue for a "World Observatory" on the 7th continent. There are also fundamental parallels leading to exploration and development of the 8th continent, Luna. (Image Credit: COMNAP, K. Vanderlinde / National Science Foundation)
Two Australia Space Conferences Focus on Current and Future Opportunities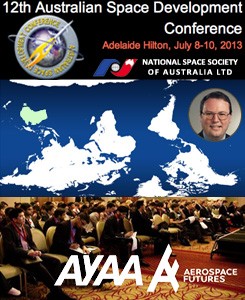 The National Space Society of Australia's 12th Australian Space Development Conference (ASDC) will be held July 8-10 at the Adelaide Hilton Hotel. ASDCs, taking place since 1990, are international conferences with a particular emphasis on Australia and Asia that bring together professionals from commercial space industries and civil space programs to advance collaborations and discuss cutting-edge technologies and concepts. The 12th ASDC is co-sponsored by Arianespace, Australian National University, Orbital Sciences Corporation and Thales Alenia Space among others. Chairman of NSSA Kirby Ikin will welcome attendees and chair sessions 'Overview of the State of the Industry,' 'Australian Space Landscape – Satellite Communications,' and 'Space Business.' During the other 8 sessions, about 63 speakers will cover topics including 'The Australian Space Landscape – The Civil Scene,' 'Asian Space Activities' and 'Launch Services – Evolving Trends.'  The Australian Youth Aerospace Association (AYAA) is hosting Aerospace Futures on July 10-12 at the Crowne Plaza Adelaide hotel. Over 150 university students will learn about the latest developments, organizations and job opportunities in the Australia aerospace industry. Representatives from Deep Space Industries, The Spaceship Company, Boeing Research and Technology Australia, Space Industry Association of Australia, International Space University and others will be present to inspire and guide these future aerospace leaders. (Image Credit: NSSA, EUI, AYAA)
---


= All times for terrestrial events in local time unless noted.

= All times for international terrestrial events in local time unless noted.

= All times for space events, and…

= All times for international space / astro events in Hawaii Standard Time unless noted. Add 10 hours to obtain UT ('Universal Time;' Greenwich, England).
---
Weekly Planet Watch – Evening Planets: Venus (WNW), Saturn (SW).
---
MONDAY

Jul 8 — ISS, LEO: Astronauts Cassidy, Parmitano checking glove heaters, rechargeable batteries, learning Simplified Aid for EVA Rescue systems for Jul 9 & 16 EVAs; Cosmonauts working on plasma physics experiments located inside & outside ISS.

Jul 8 — IRNSS 1, LEO: First satellite of Indian Regional Navigation Satellite System, launched Jul 1 via ISRO PSLV, now in geosynchronous orbit; will provide real-time position and timing information for India.

Jul 8 — Galaxy Evolution Explorer (GALEX), LEO: Ultraviolet space telescope, now decommissioned, will remain in orbit for at least 65 years, then burn up upon Earth atmosphere reentry.

Jul 8 — Juno, Jupiter Trajectory: Spacecraft, in excellent health and operating nominally in 'Inner Cruise 3' phase, is 93 days from Earth flyby gravity assist.

Jul 8 — Ad Astra Rocket Co., Webster TX: NewSpace company, having successfully completed preliminary design review for VASIMR VF-200 engine, will perform thermal steady state test in early 2014, work toward testing engine on ISS in 2016.

 Jul 8 — Blue Origin LLC, Kent WA: With over 200 employees, developing New Shepard fully reusable vertical takeoff, vertical landing suborbital system; test-firing 444,822-newtons engine at Stennis Space Center; long-term goal is orbital flights.

Jul 8 — PayPal Galactic, Mountain View CA: Developing cash-free payment system for space tourism, travel, commercialization, settlement.

Jul 8 — U. S. House of Representatives Committee on Science, Space, and Technology's Subcommittee on Space, Washington DC: Donna Edwards Delivers Remarks on the Future of Civil Space Exploration; at Center for Strategic and International Studies, 09:00 EDT.

Jul 8 — Keck Institute for Space Studies, Pasadena CA: Free Technical Lecture: How to Select a Landing Site for Mars; presented by Dr. Matt Golombek, Mars Exploration Program Landing Site Scientist from JPL; at Caltech.

Jul 8 — Secure World Foundation, American Association for the Advancement of Science – Center for Science, Technology and Security Policy, Washington DC: Near-Earth Objects: Addressing the Current Threat Level; luncheon panel held at Rayburn House Office Building, 12:00 – 13:30 EDT.

Jul 8-10 — National Space Society of Australia, Adelaide, Australia: 12th Australian Space Development Conference (ASDC); at Adelaide Hilton Hotel; US$200-1,100.

Jul 8-11 — Council of Managers of National Antarctic Programs, Seoul, Republic of Korea: COMNAP Annual General Meeting 2013; at Lotte Hotel.

Jul 8-12 — University of Turku, ESA, Astronet Consortium, Federation of Finnish Learned Societies, et al, Turku, Finland: European Week of Astronomy and Space Science.

Jul 8-12 — Lunar Reconnaissance Orbiter Mission Education and Public Outreach Program, Goddard Space Flight Center, Greenbelt MD: Lunar Workshop for Educators; for grade 6-9 science teachers to focus on Moon science and exploration; at NASA GSFC.

Jul 8-12 — Academy of Athens, ESA, National Observatory of Athens, Athens, Greece: Magnetospheres of Outer Planets; at Royal Olympic hotel.

Jul 8-12 — Federation of Galaxy Explorers, Oakton VA: Summer Camps; featuring Moon Base for students in grades 3-5; US$200.

Jul 8 — Moon: 0.14° NW of Mercury, 02:00; 11.4° S of Pollux, 11:00.
---
Continued from…

Jul 1 – Jul 14 — Mars Society Inc., Devon Island, Nunavut, Canada: Phase 1 of Mars Arctic 365 mission; 9-member crew to upgrade Flashline Mars Arctic Research Station in preparation for Phase 2 of Mars Arctic 365 Mission – a 1-year, 8-member crew Mars simulation mission beginning Summer 2014.

Jul 2-9 — Brazilian Center for Physics Research (CBPF), International Union of Pure and Applied Physics (IUPAP), Rio de Janeiro, Brazil: 33rd International Cosmic Ray Conference (ICRC); to discuss solar, heliospheric, cosmic ray and dark matter physics, gamma ray and neutrino astronomy.

Jul 2 – Aug 2 — NASA, Online: Requesting Information on Potential NASA Partnerships for Industry-Led Development of Robotic Lunar Landers; services of interest include lunar polar volatile prospecting, sample return, geophysical network deployment, landing 2 classes of payloads at various sites on Moon.

Jul 3 – Sep 1 — Aerospace Research and Engineering Systems Institute, Inc., Online: LunarSail Kickstarter campaign; requesting US$11K in pledges to fund CubeSat amateur satellite containing solar sail to orbit Moon.

Jul 4 – Sep 2 — Johnson Space Center, Online: 'Name the Shuttle' contest for Texas residents; contest to name Shuttle replica as part of new attraction under development.

Jul 7-12 — DLR, International Academy of Astronautics, Cologne, Germany: 19th IAA Humans in Space Symposium; at Maternushaus hotel.

Jul 7-12 — Goddard Space Flight Center, New York NY: 8th International Conference on the Inspiration of Astronomical Phenomena (INSAP VII): City of Stars; to discuss ways exploration of Cosmos has inspired communities / cultures to think about the Universe.
---
TUESDAY

Jul 9 — ISS, USA EVA-22, LEO: Astronauts Cassidy and Parmitano scheduled to perform 6.5-hour spacewalk starting at 12:10 UT to replace space-to-ground communications receiver, wireless video equipment, install power and cables for future Russia module; Parmitano will be first Italian to perform an EVA; live coverage available.

Jul 9 — National Academy of Sciences, Washington DC: 2013 Target NEO Workshop; in main auditorium of National Academy of Sciences.

Jul 9 — SETI Institute, Mountain View CA: Colloquium: Discovery of a New Unique Water-rich Meteorite from Mars; presented by Carl Agee from University of New Mexico; 12:00 PDT.

Jul 9 — National Research Council of the National Academies, Online: Papers Due: Submit Input to Study on Human Spaceflight; requesting ideas on the role of human spaceflight and vision for a suggested future.

Jul 9 — NASA, Online: Proposals Due: Phase II Visionary Advanced Concepts; for cutting-edge ideas to transform future aerospace missions, enable new capabilities, alter approaches to launching, building, operating aerospace systems.

Jul 9 — Moon: 6.3° SSW of Beehive Cluster, 15:00.
WEDNESDAY

Jul 10 — Cassini, Saturn Orbit: Titan flyby scheduled at 964-km altitude.

Jul 10 — NASA, Online: Proposals Due: Summer of Innovation 'Mini-Awards'; organizations may receive up to US$2.5K to offer students STEM educational experiences.

Jul 10-11 — NASA Small Bodies Assessment Group, Pasadena CA: 9th NASA Small Bodies Assessment Group Meeting; to identify scientific priorities / opportunities for exploration of asteroids, comets, interplanetary dust, small satellites, Trans-Neptunian Objects.

Jul 10-12 — Australian Youth Aerospace Association, Royal Aeronautical Society Australia Division, AIAA, ISU, et al, Adelaide, Australia: Aerospace Futures; at Crowne Plaza Adelaide hotel.

Jul 10 — Moon: 6.7° SSW of Venus, 09:00.
THURSDAY

Jul 11 — Moon: 5.3° SSW of Regulus, 13:00.

Jul 11 — Asteroid 6487 Tonyspear: Near-Earth flyby (0.778 AU).
FRIDAY

Jul 12 — NASA, Huntsville AL: Aerospace Safety Advisory Panel Meeting; to discuss Explorations Systems Development, Commercial Crew Program, ISS, Mars Program technologies, Asteroid Mission overview.

Jul 12 — The Space Show, Online: Citizens in Space project manager Ed Wright talks with host Dr. David Livingston about Dallas Space Hackers Workshop occurring Jul 20-21.

Jul 12 — Johnson Space Center, Houston TX: Lunch with an Astronaut, Ken Cameron; US$49.95 adult.

Jul 12-20 — Johnson Space Center, Houston TX: Teaching from Space – Reduced Gravity Education Flight Program; selected USA K-12 teacher teams perform their custom reduced gravity experiments.
SATURDAY

Jul 13 — Cassini OTM-353, Saturn Orbit: Spacecraft conducts Orbital Trim Maneuver #353 today.

Jul 13 — Glenn Research Center, Cleveland OH: Free 1-hour tour of Icing Research Tunnel; first tour starts 10:00 EDT.

Jul 13 — Onizuka Center for International Astronomy Visitor Information Station, Mauna Kea HI: Malalo o ka Po Lani; free program featuring Kimo Pihana (retired Mauna Kea ranger, native Hawaiian cultural practitioner); at 2,800-meter altitude on Mauna Kea, 18:00 HST.

Jul 13 — Asteroid 2012 LA11: Near-Earth flyby (0.093 AU).
SUNDAY

Jul 14-18 — AIAA, American Institute of Chemical Engineers, et al, Vail CO: 43rd International Conference on Environmental Systems; topics include humans living and working in hostile environments inside / outside of terrestrial or outer space habitats / vehicles.

Jul 14-19 — American Astronomical Society, Monterey CA: Probes of Dark Matter on Galaxy Scales Meeting; to discuss gravitational lensing, studies of Dwarf Galaxies in Local Group and beyond, direct / indirect searches for Dark Matter, more.

 Jul 14-19 — Japan Society for the Promotion of Science, Physical Society of Japan, Japan Society of Applied Physics, Chiba, Japan: 12th Asia Pacific Physics Conference (APPC12); at Makuhari Messe convention center; US$100-300.