India Promotes Space Science Research and Education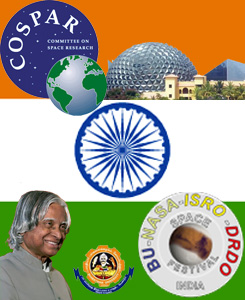 Two major events promoting science research and space education are taking place in India this week. Space Festival 2012, held at Bharathiar University in Coimbatore, India from July 9-14 is organized by NASA, the Indian Space Research Organization (ISRO) and Defense Research and Development Organization (DRDO). The event promotes science research awareness among students and provides an opportunity for students to interface with top international scientists and leaders of scientific research organizations. In addition to various exhibits and workshops for elementary / high school teachers, the festival will feature an inaugural address by former president of India APJ Abdul Kalam. The 39th Scientific Assembly of Committee on Space Research (COSPAR) will be held at the InfoSys campus in Mysore, India from July 14-22. COSPAR promotes scientific research in space, with an emphasis on the exchange of results, information and opinions. COSPAR assemblies attract more than 1,000 participating space researchers. Chairman Prof. U.R. Rao heads the local organizing committee. Scientific Assembly topics this year will include Lunar Science and Exploration, Issues in Education for Space Sciences and Teacher Training in Space Sciences and Astronomy.
Hands-On Universe in Morocco; 3rd Azarquiel School of Astronomy in Turkey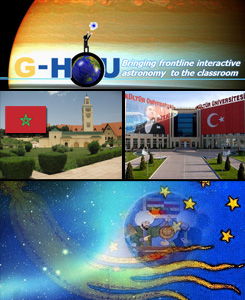 Crescent Moon science perspectives on the Cosmos are brought to light by world class events in Morocco and Turkey. The 15th Global Hands-On Universe Conference is at Al Akhawayn University in Ifrane, Morocco on July 8-13. GHOU brings frontline interactive astronomy to the classroom; it links teachers, scientists and educators from high schools, universities, research centers and science centers all over the world to cooperate in genuine astronomy projects. In focus this year are topics including: Remote Telescope Networks for Education and Research, Astronomy and Culture, and Innovative Tools for Science Education. Hassane Darhmaoui will present on "The Moroccan GHOU robotic telescope, the first in Africa," Jamal Mimouni will discuss "Motivating for Science through Innovative Competition," and Alan Gould will talk about "NASA Kepler Mission and HOU." The 3rd Azarquiel School of Astronomy, "A bridge between East and West" will be conducted at Istanbul Kultur University on July 8-15. A balanced and diverse group of 40 course participants will be selected from Physics and Astronomy students/graduates who apply from around the world. Renowned experts will teach several courses on observational and theoretical astrophysics. Open-conferences will also explore the history of astronomy and science with special attention on the contributions of Arabs.
---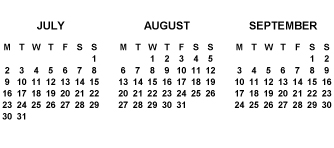 = All times for terrestrial events in local time unless noted.

= All times for international terrestrial events in local time unless noted.

= All times for space events, and…

= All times for international space / astro events in Hawaii Standard Time unless noted. Add 10 hours to obtain UT ('Universal Time;' Greenwich, England).
---
Weekly Planet Watch – Evening Planets: Mars (WSW), Saturn (SW). Morning Planets: Venus (ENE), Jupiter (ENE).
---
MONDAY

Jul 9 — ISS, LEO: Soyuz-FG rocket will be launching Soyuz TMA-05M spacecraft to International Space Station with members of Expedition 31 crew. Capsule will remain at station for about six months.

Jul 9 — Juno, Jupiter Trajectory: Preparing for deep space maneuvers set for Aug 30 and Sep 4.

Jul 9 — Cassini, Saturn Orbit: Preparing for fly-by of moon Titan on July 24; upcoming mission objectives include fly-by of moon Enceladus and closer studies of Saturn and its rings.

Jul 9 — American Institute of Aeronautics and Astronautics SF, Mountain View CA: 'NanoSatisfi: Citizen Apps in Space.'

Jul 9 — Cuyahoga Community College, Warrensville Heights OH: 'Designing for Impact II: Workshop on Building the National Network for Manufacturing Innovation.'

Jul 9-10 — Mansat LLC, Excalibur Almaz, ICM Space, KACST Space Research Institute, Texas A&M University, Space Isle, Isle of Man Government, Isle of Man, United Kingdom: 'SPACE: From Foray to Habitation,' conference will focus on foundations of the space-faring civilization of the third millennium.

Jul 9-13 — Space Frontier Foundation, Daytona Beach FL: 'Teachers in Space: Suborbital Astronautics Workshop.'

Jul 9-13 — Space Foundation Discovery Institute, Colorado Springs CO: 'Space Across the Curriculum: Lunar / Mars Exploration and Base Construction.'

Jul 9-13 — NASA Goddard Space Center, Greenbelt MD: 'Lunar Workshop For Educators.'

Jul 9-14 — ISRO, NASA, Bharathiar University, Defense Research and Development Organization, et al, Coimbatore, India: ISRO will display all of its working models, including the latest Brahmos, at 'Space Festival 2012.'

Jul 9-15 — Farnborough International Air Show 2012, Farnborough, United Kingdom: '47th Farnborough International Air Show;' International Space Pavilion offers 1,100 square meters of exhibit area dedicated to products, projects, and professionals in the space industry.

Jul 9 — Venus: 0.91° N of Aldebaran; 04:00.
---
Continued from…

Jun 18 – Jul 26 — NASA Explorer Schools, Various NASA centers: 'NASA Explorer Schools Summer Workshop;' workshops to include 'Extreme Green' at the Glenn Research Center in Cleveland, OH; 'Airborne Research Experience' at Dryden Flight Research Center in Edwards, CA; 'There is More to Light than Meets the Eye' at the Goddard Space Flight Center in Greenbelt, MD; and 'Atmospheric Science' at Wallops Island, VA.

Jul 1 – Dec 31 — American Institute of Aeronautics and Astronautics, Online: 'AIAA Short Course: Introduction to Space Flight,' Francis Hale.

Jul 2-15 — Nordic Network of Astrobiology, NASA Astrobiology Network, Reykjavik, Iceland: 'Nordic – NASA Summer School: Water, Ice and the Origin of Life in the Universe.'

Jul 3-19 — National Astronomical Observatory at National University of Columbia, Space Science Laboratory at UC Berkeley, Bogota, Columbia: 'International Summer School: Solar Astrophysics – Modern Trends and Techniques.'

Jul 4-10 — Astrophysics Associates, Inc., Italian Ministry of Education, University and Scientific Research, USA National Science Foundation, Sicily, Italy: 'A New ERA in Particle Astrophysics – New Instruments, New Results and New Understanding.'

Jul 4-11 — The University of Melbourne, Centre of Excellence for Particle Physics at the Terascale, Melbourne, Australia: '36th International Conference on High Energy Physics.'

Jul 8-11 — NASA Johnson Space Center, Duke University, Universities Space Research Association, Division of Space Life Sciences, Durham NC: '23rd NASA Space Radiation Investigators' Workshop.'

Jul 8-11 — Skidmore Union Network, Siena College, Schenectady NY: 'Conference: Star Formation and Gas Reservoirs in Groups and Clusters.'

Jul 8-13 — Al Akhawayn University in Ifrane, Global Hands-on Universe Network, Galileo Teacher Training Program, Network of Amateur Astronomers in Morocco, Center of IT Innovation for Human Development, Ifrane, Morocco: '15th Annual Global Hands-on Universe.'

Jul 8-15 — Atatürk Culture Centre, Organisation of Islamic Cooperation, Spanish Astronomical Society, Istanbul, Turkey: '3rd Azarquiel School of Astronomy: A Bridge Between East and West.'
---
TUESDAY

Jul 10-12 — Small Bodies Assessment Group (SBAG), Pasadena CA: '7th Meeting of the NASA SBAG.'

Jul 10-13 — ESA, ESTEC, Noordwijk, the Netherlands: 'ESA Summer Workshop for Teachers 2012,' workshop participants will be presented with innovative and inspiring methods using space as a means for engaging students with the sciences.
WEDNESDAY

Jul 11 — Virgin Galactic, Farnborough, United Kingdom: Sir Richard Branson expects to announce Virgin Galactic Cargo, for launching small satellites commercially, as well as details on design changes to tourism spacecraft SpaceShipTwo at the 'Farnborough International Air Show 2012.'

Jul 11 — British Interplanetary Society, London, United Kingdom: Lecture by Dr David Baker: 'Who Really Got us to the Moon on Time?'

Jul 11 — SETI Institute, Mountain View CA: 'The Kepler Mission: Zeroing in on Habitable Earths,' SETI Astronomer and Instrument Scientist for the Kepler Mission Doug Caldwell will give status of Kepler instrument and operation, and summary of exoplanet results.
THURSDAY

Jul 12 — Subcommittee on Space and Aeronautics, Washington D.C.: 'Hearing: Spurring Economic Growth and Competitiveness Through NASA Derived Technologies.'
FRIDAY

Jul 13 — RSA, Launch Gonets M3 & M4 / Kosmos-Rodnik N4 / MiR Rokot KM, Plesetsk Cosmodrome, Russia: Rokot KM set to launch two Gonets M message relay satellites, one Rodnik N4 military communication satellite and one MiR spacecraft.

Jul 13-15 — Lunar and Planetary Institute, Montana State University, Bozeman MT: '2nd Conference on the Lunar Highlands Crust.'

Jul 13 — University of Auckland, Duke University, Fermilab, University of Canterbury, Lawrence Livermore National Laboratory, University of Wisconsin at Madison, Muons Inc, SLAC National Accelerator Laboratory, Massey, Victoria University of Wellington,  Auckland, New Zealand: Conference: 'The LHC, Particle Physics and the Cosmos.'
SATURDAY

NET Jul 14 — RSA, Launch Soyuz / ISS 31S, Baikonur Cosmodrome, Kazakhstan: An RSA Soyuz rocket set to launch Soyuz spacecraft to the ISS with members of the next Expedition crew.

Jul 14-15 — SpaceLand Italia, European Space Center, Torino, Italy: 'SpaceLand OPEN Microgravity Training.'

Jul 14-15 — NASA Lunar Science Institute, University of Colorado – Boulder, Mountain View CA: 'LunaGradCon 2012.'

Jul 14-22 — Committee on Space Research, Indian Space Research Organization, Mysore, India: '39th Scientific Assembly of Committee on Space Research (COSPAR).'

Jul 14 — Moon: 3.7° S of Pleiades; 02:00.

Jul 14 — Moon: 0.81° WNW of Jupiter; 16:00.
SUNDAY

Jul 15-19 — American Institute of Aeronautics and Astronautics, San Diego CA: '42nd International Conference on Environmental Systems.'