India Set To Reignite GSLV, Advance Toward Human Spaceflight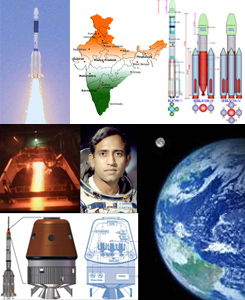 Anticipation is building for the next launch of India's Geosynchronous Satellite Launch Vehicle (GSLV) rocket set for July. After two consecutive failures and a lifetime success rate of only 60%, ISRO has taken 31 months to conduct thorough investigations and over 35 ground tests of the indigenous cryogenic third stage engine, including a simulated high-altitude test, in preparation for this return to flight. The 1,980-kg, 2.5-KW GSAT-14 communications satellite is the designated payload. If successful, India will immediately ramp up preparations for an experimental flight of the next generation GSLV Mark 3 as early as January 2014. This updated variant will double the lift capacity of the system to 4 tons and is the vehicle of choice for the future of the India human spaceflight program. ISRO is currently working with a budget of nearly US$2.2M to conduct pre-project studies and develop critical technologies toward this goal, including environmental control, spacesuit, reentry and crew escape system. The proposed total budget for development of the human program is US$2.3B, expected to begin no earlier than 2017. Success of the GSLV next month will greatly improve prospects for a 2014-2015 launch of the Chandrayaan-2 lunar exploration mission to demonstrate soft-landing and deploy a rover on the surface of the Moon. Pictured: Rakesh Sharma, First Indian in Space, Intercosmos Research Astronaut, Soyuz T-11. (Image Credit: ISRO)
10th IPPW to Discuss Science Goals and Technologies for Future Planetary Missions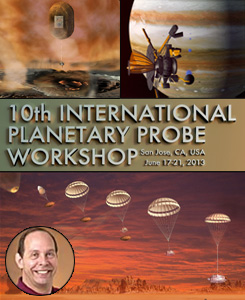 The 10th International Planetary Probe Workshop will be held June 17-21 at San Jose State University, California, USA. It is sponsored by ESA, JPL, NASA, AGI, Science and Technology Corp. and others. About 100 scientists, engineers, technologists and space mission designers will speak on new technologies, scientific discoveries and international cooperation for exploring the solar system via planetary probe missions. Tom Spilker from JPL (pictured) and Denis Lebleu from Thales Alenia Space are co-conveners for the 'Giant Planets' session which will cover science and engineering aspects of past and future atmospheric entry probes to Jupiter, Saturn, Uranus and Neptune. There are also sessions about Venus and Titan, current projects for airless planetary bodies (such as the Moon, Mercury, NEAs) and Mars landers / in-situ activities. Preceding this event will be a 2-day short course on 'Entry, Descent, and Landing Systems' from June 15-16. Students will hear from 24 experts on topics including aerodynamics, software, heatshields, hypersonic / supersonic decelerators, parachutes and recent EDL technology case studies. As the Russia Luna Moon probes (1959) aided our understanding of and further piqued our curiosity about our nearest celestial neighbor, future missions to Jupiter, its moons, the outer solar system and exoplanets will advance humankind's understanding of the Universe and thirst for exploration. (Image Credit: NASA, JPL, ESA)
---

= All times for terrestrial events in local time unless noted.

= All times for international terrestrial events in local time unless noted.

= All times for space events, and…

= All times for international space / astro events in Hawaii Standard Time unless noted. Add 10 hours to obtain UT ('Universal Time;' Greenwich, England).
---
Weekly Planet Watch – Evening Planets: Mercury (WNW), Venus (WNW), Saturn (S).
---
MONDAY

Jun 10 — ISS, LEO: Expedition 36/37 crew preparing for undocking of Progress 51P on Jun 11, arrival of ATV-4 Albert Einstein on Jun 15; Misurkin & Yurchikhin reviewing procedures for EVA scheduled Jun 24.

Jun 10 — Juno, Jupiter Trajectory: Traveling at about 27 km/sec relative to Sun with all instruments powered off except magnetometer running at low data rates; will power on instruments shortly before Earth flyby scheduled Oct 9.

 Jun 10 — Curiosity, Glenelg Intrigue, Mars: Scientists analyzing 'Cumberland' rock sample; rover will head to 'Mount Sharp' after observing nearby mudstone & sandstone boundary, 'Shaler' layered outcrop, 'Point Lake' pitted outcrop.

Jun 10 — Orbital Sciences Corp., Wallops VA: NewSpace company preparing for Pegasus XL launch of IRIS scheduled Jun 26, Antares rocket launch of Cygnus cargo freighter on test flight to ISS Sep 12.

Jun 10 — Spaceport Sweden, Kiruna, Sweden: Establishing education program; students will develop space camp Summer 2013, first intern to begin working at Spaceport Sweden mission control Fall 2013.

Jun 10 — Up Aerospace Inc., Las Cruces NM: Providing SpaceLoft XL sounding rocket sponsored by NASA Flight Opportunities Program to launch suborbital payloads for Celestis Inc., FAA, various schools.

Jun 10-11 — AIAA, Ohio Aerospace Institute, Cleveland OH: Introduction to Spacecraft Design and Systems Engineering Course.

Jun 10-14 — ESA, ASI, National Institute for Astrophysics, et al, Catania, Italy: International Venus Workshop; at the Diocesan Museum of Catania.

Jun 10-21 — Thirty Meter Telescope, Akamai Workforce Initiative, Hawai`i Community College, Kailua-Kona HI: 2013 Akamai Observatory Career Exploration; at Kealakehe High School.

Jun 10 – Sep 2 — NASA, Seattle WA: Destination Station exhibit; for public to learn about living in space aboard the ISS; at Pacific Science Center.

Jun 10 — Moon: 5.8° S of Mercury, 11:00.

Jun 10 — Asteroid 2013 LD2: Near-Earth flyby (0.015 AU).

Jun 10 — Asteroid 2013 KK6: Near-Earth flyby (0.059 AU).
---
Continued from…

May 1 – Jul 1 — University of Colorado – Boulder, Online: Send Your Name & Message to Mars; contest to send name / message to Mars aboard MAVEN spacecraft launching between Nov 18 – Dec 7; winners announced Aug 8.

May 21 – Jul 9 — NASA, Online: Accepting Proposals: Phase II Visionary Advanced Concepts; for cutting-edge ideas to transform future aerospace missions, enable new capabilities, alter approaches to launching, building, operating aerospace systems.

Jun 3 – Aug 9 — Florida Space Grant Consortium, Space Florida, Kennedy Space Center FL: Space & Aeronautics Internships at Exploration Park; paid internship for 4 science / engineering students to work on projects bound for ISS.


Jun 4 – Aug 10 — Space Foundation Discovery Center, Colorado CO: Summer of Discovery; featuring new space, science, space technology related theme each week, Northrop Grumman Science Center, El Pomar Space Gallery.

Jun 5 – Jul 9 — National Research Council of the National Academies, Online: Accepting Papers: Submit Input to Study on Human Spaceflight; requesting ideas on the role of human spaceflight / vision for the future.

Jun 5 – Jul 31 — NASA, LEGO Group, Online: NASA-LEGO Design and Build Contest; to inspire students of all ages to use toy bricks to build models of future airplanes and spacecraft.

Jun 9-13 — ESA, Swiss Federal Institute of Technology, Lucerne University of Applied Sciences and Arts, Thun, Switzerland: 21st ESA Symposium on European Rocket and Balloon Programmes and Related Research.
---
TUESDAY

Jun 11 — ISS, Undocking of Progress 51P Resupply Vehicle, LEO: Progress 51P, filled with ISS waste, to be sent into parking orbit for Russia ground-based radar systems calibration tests; will burn up upon reentry to Earth atmosphere on Jun 19; undocking scheduled at 13:53 UT; live coverage available.

Jun 11 — National Space Club Florida Committee, Cape Canaveral FL: Luncheon at the Radisson Resort at the Port; to provide information on space activities; featuring Commercial Crew Development Panel speakers; US$17-20.

Jun 11 — SETI Institute, Mountain View CA: Colloquium: Martian Sonic Anemometer; presented by Don Banfield from Cornell University; 12:00 PDT.

Jun 11-12 — NASA, Houston TX: JSC Administrative Support Services (JASS) II Contract Industry Day: One-on-One Communications with Industry Support.

Jun 11-13 — ESA, JAXA, RSA, NASA, Aeroflex Corp., STAR-Dundee Ltd, Gothenburg, Sweden: 2013 International SpaceWire Conference; at Radisson Blu Scandinavia Hotel.

Jun 11 — Moon: 11.5° S of Pollux, 05:00.

Jun 11 — Asteroid 2013 LB2: Near-Earth flyby (0.065 AU).
WEDNESDAY

Jun 12 — North Carolina Aerospace Alliance, North Carolina Military Business Center, Research Triangle Park NC: Commercial Suborbital Spaceflight & North Carolina's Nanobiotechnology and Defense Industries Symposium and Investment Summit.

Jun 12-14 — IEEE, AIAA, Turkish Air Force Academy, Istanbul, Turkey: 6th International Conference on Recent Advances in Space Technology (RAST): New Ways of Accessing Space for Benefit of Society.

Jun 12 — Moon: 6.4° SSW of Beehive Cluster, 11:00.
THURSDAY

Jun 13 — ISS, LEO: Expedition 36/37 In-Flight Event for "Destination Station" in Seattle, Washington; 17:50 UT.

Jun 13 — George Marshall Institute, TechAmerica Space Enterprise Council, Washington DC: Space Launch Industrial Base: Challenges and Opportunities; to discuss government policy, competitiveness of launch industry, options for controlling launch costs; at TechAmerica HQ, 09:00 – 11:00 EDT.

Jun 13-14 — British Interplanetary Society, UK Centre for Astrobiology, London, United Kingdom: Workshop: Extraterrestrial Liberty – What is Freedom Beyond the Earth? at BIS.
FRIDAY

Jun 14 — Chang'e-2, Deep Space: Spacecraft reaches total travel distance of 50M km today; expected to reach 100M km milestone in July 2014.

Jun 14 — Space Florida, Cape Canaveral AFS FL: Space Florida Tour of Cape Canaveral Spaceport.

Jun 14 — Women in Aerospace, Arlington VA: WIA 4th Annual Conference – Aerospace 2013: Turning Today's Innovation into Tomorrow's Future; at Key Bridge Marriott; 08:30 EDT.

Jun 14 — Peninsula Astronomical Society, Los Altos Hills CA: LADEE: The Lunar Dust and Atmosphere Environment Explorer; lecture by Brian Day from NASA Lunar Science Institute; at Foothill College.

Jun 14 — Lunar and Planetary Institute, Houston TX: LPI Seminar Series: Massive Ice Avalanches on Iapetus Mobilized by Friction Reduction During Flash Heating; presented by Kelsi Singer of Washington University – St. Louis; in Lecture Hall of USRA, 15:30 CDT.

Jun 14 — The Space Show, Online: Gordon Woodcock gives a Space-Based Solar Power analysis from recent International Space Development Conference; with host Dr. David Livingston.

Jun 14 — Space Center Houston, Houston TX: Lunch with an Astronaut, Ken Cameron; US$49.95 adult.

Jun 14 — Moon: 5.5° SSW of Regulus, 08:00.
SATURDAY

Jun 15 — ISS, Docking of ATV 4 Cargo Ship, LEO: European Space Agency ATV 4, named Albert Einstein, scheduled to dock with ISS 13:46 UT; live coverage available.

Jun 15 — Oregon L5 Society, Oregon City OR: ORL5 Meeting; to educate public on possible uses of space, promote establishment of a spacefaring civilization.

Jun 15 — Space Frontier Foundation, Online: Finalists Announced: 2013 NewSpace Business Plan Competition; entrepreneurs create business plan for commercial development of space; will compete in mid-October.

Jun 15-16 — San Jose State University, ESA, AGI, NASA, Science and Technology Corp., San Jose CA: International Planetary Probe Workshop (IPPW) Short Course on Entry, Descent, and Landing Systems; in conjunction with IPPW 10 on Jun 17-21.

Jun 15-19 — University of Oulu, Academy of Finland, Oulu, Finland: Space Climate 5 Symposium; at Sokos Hotel Eden.

Jun 15-20 — NASA, Wallops Island VA: RockOn 2013; participants build, test, fly science payload on suborbital rocket; launch to about 117.5-km altitude occurs Jun 20.
SUNDAY

Jun 16-21 — Max Planck Institute for Extraterrestrial Physics, Munich, Germany: Cosmic Dawn at Ringberg; to discuss latest developments in understanding formation, evolution of the first structures and galaxies in Universe.

Jun 16 — Moon: At first quarter, 07:24.