NuSTAR High-Energy X-Ray Observatory for Airborne Pegasus Launch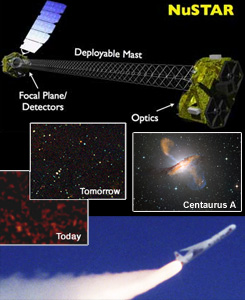 The Nuclear Spectroscopic Telescope Array (NuSTAR) is set to launch on Orbital Sciences' winged Pegasus XL rocket from an L-1011 jumbo jet 12 kilometers above Kwajalein Atoll, Marshall Islands NET 08:30 PDT June 13. NuSTAR will be the  first high energy X-ray telescope with variable focus capability to orbit the Earth, and should greatly outperform the largest ground-based observatories in resolving this part of the electromagnetic spectrum. The NASA-JPL mission's primary science objectives include studying relativistic jets found in the most extreme active galaxies, and determining what powers giant cosmic accelerators. The mission will also examine black holes, supernovae and gamma-ray bursts. There are plans to coordinate simultaneous observations with Fermi, which will provide a significant boost to that mission's science return. The 360-kg instrument is expected to reach a 550-km near-equatorial orbit before deploying a 10-m boom. The airborne launch will mark the 25th mission of the Pegasus XL configuration rocket, this time with a brand new on-board computer. (Image Credit: NuSTAR, ESO, NASA, OSC)
LPI Events Address Future Directions of Mars / Solar System Exploration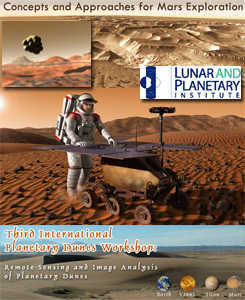 Mars is often cited as one of the premier destinations for human / robotic space exploration and USA President Obama has set forth the goal of a human orbital mission by the 2030s. USA / NASA, however, currently has only one future mission planned for the Red Planet (MAVEN, NET 2013) as NASA is reformulating its Mars Exploration Program. To assist in this process, LPI is sponsoring a 3-day workshop, Concepts and Approaches for Mars Exploration, in Houston TX on June 12-14 to engage the technical and scientific communities in the early stages of proposing and assessing near-term mission concepts and longer-term architectures for future exploration of Mars.  Presentations will be focused on 3 challenge areas: Instrumentation & Investigation Approaches, Safe & Accurate Landing Capabilities, and Mars Surface System Capabilities. At the LPI 3rd International Planetary Dunes Workshop on June 12-15, researchers with an interest in planetary dunes will meet at the Lowell Observatory in Flagstaff AZ to address questions regarding composition, morphology, age, origins and dynamics of dunes on Mars, Titan and Venus. (Image Credit: LPI, NASA, ESA)
---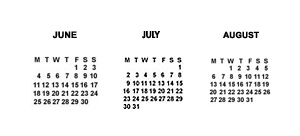 = All times for terrestrial events in local time unless noted.

= All times for international terrestrial events in local time unless noted.

= All times for space events, and…

= All times for international space / astro events in Hawaii Standard Time unless noted. Add 10 hours to obtain UT ('Universal Time;' Greenwich, England).
---
Weekly Planet Watch – Evening Planets: Mercury (WNW), Mars (SW), Saturn (S). Morning Planets: Venus (E), Jupiter (E).
---
MONDAY

NET Jun — CNSA, Launch Long March / Shenzhou 9, Jiuquan, China: A Long March 2F rocket set to launch the Shenzhou 9 spacecraft to dock with the orbiting Tiangong 1 laboratory module. According to recent analysis June 17 is the most likely date for this launch.

Jun 11 — International Space Station, LEO: Expedition 31 crew continue to conduct experiments related to the BASS (Burning And Suppression of Solids) study; Making good use of off-duty time, Astronaut Don Pettit created thin ice-sheets to observe through improvised crossed polarizers.

Jun 11 — Lunar Reconnaissance Orbiter (LRO), Lunar Orbit: NASA LRO functioning nominally in its 50±15 km near-circular orbit as it makes digital elevation and surface maps that will be fundamental references for future human exploration.


Jun 11 — Mars Rover Opportunity, Red Planet: Opportunity is investigating light-toned veins around the north end of Cape York on the rim of Endeavour Crater; Total odometry: 34,469.86 meters.

Jun 11 — Jupiter Juno Mission, Jupiter Trajectory: Juno spacecraft has 4 instruments turned on: the Magnetometer experiment (FGM & ASC), JEDI, MWR and Waves; Tests were recently performed in preparation for upcoming deep space maneuvers.

Jun 11-15 — Space Foundation Discovery Institute, Colorado Springs CO: 'Space Across the Curriculum: Earth Systems Science – Our Earth Revealed .'

Jun 11-15 — German Space Agency, Government of Sweden, Stockholm, Sweden: '12th International Conference on Space Operations.'

Jun 11-15 — ESA, European Space Astronomy Centre, XMM-Newton Science Operations Centre, Madrid, Spain: '12th XMM-Newton SAS Workshop.'

Jun 11-13 — Starlight Initiative, University of Canterbury, Royal Astronomical Society of New Zealand, Lake Tekapo, New Zealand: 'Third International Starlight Conference.'

Jun 11 — Moon: At last quarter; 00:42.
---
Continued from…

Jun 6 — United Nations Office for Outer Space Affairs, Vienna, Austria: '55th Committee on the Peaceful Uses of Outer Space Meeting,' through June 15.

Jun 10 — American Astronomical Society, Anchorage AK: '220th Meeting of the AAS,' through June 14.
---
TUESDAY

Jun 12-13 — UCLA Institute for Planets and Exoplanets, Los Angeles CA: 'Ices and Organics in the Inner Solar System.'

Jun 12-14 — Lunar and Planetary Institute, Houston TX: 'Workshop: Concepts and Approaches for Mars Exploration.'

Jun 12-15 — Lunar and Planetary Institute, Flagstaff AZ: '3rd International Planetary Dunes Workshop.'

Jun 12-15 — CSIRO Astronomy and Space Science, International Centre for Radio Astronomy, et al, Kerastari, Tripolis, Greece: 'From Antikythera to the Square Kilometre Array: Lessons from the Ancients.'

Jun 12 — Jupiter: 4.8° SSE  of Pleiades; 01:00.

Jun 12 — Moon: 1.2° NNE of 2 Pallas; 08:00.

Jun 12 — Moon: 5.1° NNW of Uranus; 12:00.
WEDNESDAY

NET Jun 13 — OSC, Launch Pegasus XL / NuSTAR, Kwajalein Atoll, Marshall Islands: The air-launched Orbital Sciences Pegasus XL rocket set to deploy NASA's Nuclear Spectroscopic Telescope Array (NuSTAR) spacecraft which will study high energy X-rays in the universe.

Jun 13 — The SETI Institute, Mountain View CA: Colloquium Series Lecture: 'To Mars, On A Collision Course,' Adam Steltzner.
THURSDAY

Jun 14 — ESA, Paris, France: ESA ExoMars project decision to be made by supporting nations.

Jun 14-15 — American Institute of Aeronautics and Astronautics, Hampton VA: 'AIAA Short Course: The Space Environment – Implications for Spacecraft Design,' Alan Tribble.

Jun 14-17 — NASA, Worcester Polytechnic Institute, Worcester MA: 'NASA Centennial Challenges: Sample Return Robot Challenge.'

Jun 14-16 — Center for Galaxy Evolution, HiPACC, Beckman Center of the National Academies, Irvine CA: Conference on 'The Baryon Cycle.'
FRIDAY

Jun 15 — California Institute of Technology, Pasadena CA: '118th Annual Commencement Ceremony,' featuring SpaceX CEO Elon Musk.

Jun 15 — Space Center Houston, Houston TX: 'Lunch With an Astronaut,' David Hilmers.

Jun 15 — Moon: At Apogee (Distance: 405813km); 15:00.
SATURDAY

Jun 16-17 — UK Space Biomedicine Association, Aberdeen, United Kingdom: 'UK Space Environments Conference 2012: UK Research & Education For Space & Terrestrial Benefit.'

Jun 16-21 — National Space Grant Program, Colorado Space Grant Consortium, Wallops Flight Facility, et al, Wallops Flight Facility VA: 'RockOn! 2012: The Next How-To Workshop.'

Jun 16 — Moon: 3.7° S of Pleiades; 18:00.

Jun 16 — Moon: 1.4° NW of Jupiter; 20:00.
SUNDAY

Jun 17-22 — National Science Foundation Division of Atmospheric Sciences, Snowmass CO: 'Geospace Environmental Modeling Summer Workshop.'

Jun 17 – Jul 1 — Aspen Center for Physics, Aspen CO: 'The Evolution of Massive Stars and Progenitors of Gamma-Ray Bursts.'

Jun 17 — Moon: 2.1° N of Venus; 14:00.

Jun 17 — Moon: 5.0° N of Aldebaran; 16:00.