NewSpace Companies Commercially Challenged to Fill Space Access Gap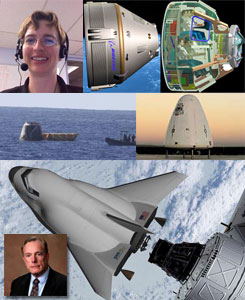 Space Shuttle Atlantis is set to launch in July, ending the 30-year, 135-flight shuttle program. NASA recently signed a US$753M deal with Russia for 12 round trips to the ISS, yet the agency is investing US$270M this year on contracts with 4 private companies interested in flying humans to LEO. The Boeing Company received US$92M to continue development of the CST-100 crew capsule and work towards integration with existing rockets. SpaceX is projecting that its Falcon 9 rocket and Dragon capsule could be ready for human spaceflight in 2014 after receiving US$75M from NASA. As part of its US$80M award, Sierra Nevada Corporation is working this month on completing the 2nd milestone in the concept development of its Dream Chaser spacecraft, originally conceived of by NewSpace pioneer Jim Benson (BL). Blue Origin is applying its US$22M award towards advancing the New Shepard spacecraft, designed to take off and land vertically. On June 15, Kim Ennico (TL) will give a lecture at the SETI Institute in Mountain View CA, on the opportunities that will soon arise with the advent of frequent commercial suborbital vehicle launches. She will highlight the companies, such as Virgin Galactic, their vehicles and current timetables. (Credit: SNC, Boeing, SpaceX, Blue Origin)
Mars Exploration Focus of 2 Events in Portugal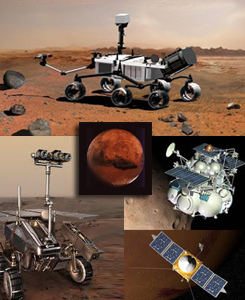 'Mars Week' continues in Lisbon, Portugal, this week as NASA and ESA host 2 events to advance the exploration of The Red Planet. On June 13-15, ESA will hold an international conference on 'Exploring Mars Habitability.' Key issues in planetary evolution, atmospheric evolution, and climate cycles will be covered. Scientists will discuss the upcoming NASA Mars Science Laboratory 'Curiosity' (T) slated for launch NET November 25. Recent budget and technical challenges have threatened to delay the launch another 2 years. The setback would increase costs of the US$2.5B mission by another US$570M. Currently, US$44M more is needed to meet the Nov launch window.  Scientists evaluating 4 potential landing sites – Eberswalde crater, Holden crater, Gale crater and Mawrth Vallis – will finalize their decision in July. Updates will be given on the progress of other missions such as the NASA Mars Atmosphere and Volatile EvolutioN (MAVEN) (BR) orbiter, a US$485M mission set to launch 2013 as well as the ESA EXOMARS (L) orbiter planned for launch in 2016 and rover 2018.   On Jun 16-17, NASA will hold the 24th Meeting of the Mars Exploration Program Analysis Group to further discuss upcoming mission initiatives. Russia and China will embark on their mission to Mars moon Phobos. The Phobos-Grunt / Yinghuo-1 (CR) will launch together NET Nov 2011. This will mark the 1st orbiter that China sends to the Red Planet. (Credit: NASA, ESA, androidpubs.com, ec.europa.eu, enterprisemission.com)
---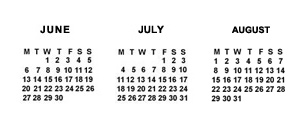 = All times for terrestrial events in local time unless noted.

= All times for international terrestrial events in local time unless noted.

= All times for space events, and…

= All times for international space / astro events in Hawaii Standard Time unless noted. Add 10 hours to obtain UT ('Universal Time;' Greenwich, England).
---
Weekly Planet Watch – Morning Planets: Venus (ENE), Mars (E), Jupiter (E) / Evening Planets: Saturn (SW).
---
MONDAY

Jun 13 — International Space Station, LEO: E-28 crew members continue with scientific experiments and station maintenance; Crew to work with 111 experiments involving approximately 200 researchers across a variety of fields including human life sciences, physical sciences and Earth observation.

Jun 13 — NASA Lunar Reconnaissance Orbiter (LRO), Lunar Orbit: All systems nominal in scientific phase of mission as LRO continues to make digital elevation and terrain maps that will be a fundamental reference for future human exploration.

Jun 13 — Jupiter, Red Planet: Scientists continue to study new research indicating how the migration of planet Jupiter within 1.5 AU of the Sun, deprived Mars of initial distribution of solid material leading to its stunted growth (1/10 the size of Earth).

Jun 13-15 — ESA, Lisbon, Portugal: 'The International Conference on Exploring Mars Habitability.'

Jun 13-15 — Lunar and Planetary Institute, Houston TX: 'A Wet vs. Dry Moon: Exploring Volatile Reservoirs for the Evolution of the Moon and Future Exploration.'

Jun 13-15 — The National Academies, Washington DC: 'Evaluation of Space Radiation Cancer Risk Model;' 'An Assessment of NASA's Aeronautics Flight Research Activities.'

Jun 13-17 — National Institute for Astrophysics, Bologna, Italy: 'Training School: Astrochemistry with ALMA.'

Jun 13 – Jul 29 — Space Voyage Academy, Littleton CO: 'Space Voyage Summer Academy Camp,' an enrichment program about space for students ages 5-16.
---
Continued from . . .

May 9 — Google Lunar X Prize Foundation, LEGO Group, Online: Free registration and Phase 1 of 'Moonbots 2.0 Challenge' open; through Jun 13.

May 31 — NASA Lunar Science Institute, Lunar and Planetary Institute, Houston TX: 'Lunar Exploration Summer Intern Program,' 10-week program to evaluate possible landing sites for robotic and human exploration missions; through Aug 5.

Jun 9 — New Mexico Museum of Space History, Alamogordo NM: 'New Mexico Space Academy Summer Camp;' through Aug 5.

Jun 12 — European Space Policy Institute, Prague, Czech Republic: 'Space Security and the Transatlantic Partnership;' through Jun 14.

Jun 12 — JAXA, CSA, MDA, et al, Okinawa, Japan: '10th International Space Conference on Protection of Materials and Structures from the Space Environment;' through Jun 17.

Jun 12 — NASA, ESA, Lisbon, Portugal; Rio Tinto, Spain: 'Mars Week in Europe,' events include pre-conference Mars science meetings (Jun 12-13), an international conference on 'The Exploration of Mars Habitability (Jun 13-15), the 1st International Mars Exploration Program Analysis Group (MEPAG) meeting (Jun 16-17) and a field trip to unique geology and acidic environments in Rio Tinto, Spain (Jun 18-20/21); through Jun 21.
---
TUESDAY

Jun 14 — NASA, USGS, NOAA, et al, Washington DC: 'The Forum of Earth Observations 5: Creating a National Strategy for Environmental Intelligence.'

Jun 14-15 — NASA, Houston TX: STS-135 astronauts Cmdr Chris Ferguson, Pilot Doug Hurley and Mission Specialist Rex Walheim, part of NASA's final Space Shuttle Crew, available for live satellite interviews.

Jun 14-17 — Astrophysics Laboratory of Marseilles, National Center for Space Studies, Marseille, France: 'The 2nd CoRoT Symposium: Transiting Planets, Vibrating Stars and Their Connection.'

Jun 14 — Moon: 3.5° NNE of Antares; 11:00.

Jun 14 — Asteroid 2011 KP16: Near-Earth Flyby (0.028 AU).
---
WEDNESDAY

Jun 15 — The SETI Institute, Mountain View CA: Colloquium Series Lecture: 'Fly Cheap, Fly Often, Fly Safe: Science Research and Education Opportunities on Commercial Suborbital Vehicles,' Kim Ennico.

Jun 15 — ESA, Darmstadt, Germany: 'Cool Comet Campaign,' an event on Twitter to celebrate 25 years of cometary science at ESA.

Jun 15 — The Institute of Engineering and Technology, London, United Kingdom: 'IET Seminar on Military Satellite Communications.'

Jun 15 — Total Lunar Eclipse: The 1st of 2 lunar eclipses for 2011; Visible completely over Africa, Central Asia, South America, and Europe and setting over eastern Asia; 10:13.

Jun 15 — Moon: Full Moon; 10:12.

Jun 15 — Asteroid 2004 LO2: Near-Earth Flyby (0.025 AU).
---
THURSDAY

Jun 16 — NASA Headquarters, Washington DC: MESSENGER spacecraft news conference at 13:00 EDT to reveal new images and science findings from the 1st spacecraft to orbit Mercury.

Jun 16 — Space Transportation Association, Washington DC: 'STA Breakfast,' Space Station National Laboratory Manager Mark Uhran.

Jun 16-17 — Jet Propulsion Laboratory, Lisbon, Portugal: '24th Meeting of the NASA Mars Exploration Program Analysis Group.'

Jun 16 — Cassini OTM-286, Saturn Orbit: Spacecraft conducts Orbital Trim Maneuver #286 today.

Jun 16 — June Lyrid Meteors: Radiating from Constellation Lyra, the June Lyrids is a low-rate shower with up to 10 meteors per hour during its peak.
---
FRIDAY

Jun 17 — State University of New York, NASA, Otsego County NY: 5th-8th grade students from the Oneonta City School district to make a special call to the International Space Station and E-28 Flight Engineer Ron Garan which will broadcast on NASA TV at 11:05 EDT.

Jun 17 — Venus: 4.7° N of Aldebaran; 05:00.
---
SATURDAY

Jun 18 — Space Walk of Fame Foundation, PropaPlace Hobby Shop, Titusville FL: 'Demonstration Rocket Launch: A Tribute to Manned Flight.'

Jun 18-23 — Colorado Space Grant Consortium, Virginia Space Grant Consortium, et al, Wallops Flight Facility VA: 'RockOn! 2011: The Next How To Workshop.'
---
SUNDAY

Jun 19 — San Diego Space Society, Wallops Flight Facility VA: 'Design Concepts for a Manned Artificial Gravity Research Facility,' Joe Carroll.

Jun 19-22 — Space Resources Roundtable, NORCAT, Ottawa, Ontario, Canada: '2nd Annual Joint Planetary and Terrestrial Mining Sciences Symposium and Space Resources Roundtable,' event to promote a closer relationship between the space and mining sectors.

Jun 19 — Asteroid 1998 KM3: Near-Earth Flyby (0.093 AU).