Humans in Space, ISS R&D Conference: Advancing Science and Technology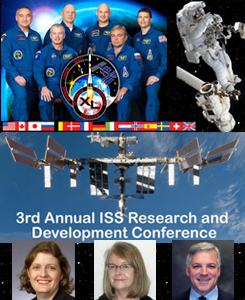 International Space Station Expedition 40 six-member crew is hard at work ~415 km above Earth maintaining the orbital outpost and performing science investigations, technology demonstrations and educational activities. The first of two 6.5-hour Russia extra-vehicular activities is scheduled June 19. Cosmonauts Oleg Artemyev and Alexander Skvortsov will attempt to mount a new integrated command and telemetry system on the Zvezda module, and replace a payload rack with a payload boom on the Russian segment of the ISS. Three U.S. spacewalks are also planned during Expedition 40 which officially ends September 10. ESA Astronaut Alexander Gerst continues his 'Blue Dot Mission' focusing on experiments in physical science, biology, human physiology, radiation and technology. The American Astronautical Society, with support from the Center for the Advancement of Science in Space (CASIS) and NASA, will hold the 3rd International ISS Research and Development Conference on Jun 17-19 in Chicago IL. Themed Discoveries, Applications and Opportunities, the conference aims to bolster the seemingly endless possibilities for science at the space laboratory. Featured guests and speakers include (pictured L-R) Julie Robinson ISS Chief Scientist, Lyn Wigbels AAS President, and Greg Johnson CASIS President and Executive Director. (Image Credit: NASA, AAS, CASIS)
Suborbital Human Spaceflight Systems — 10 Years On, 10 Years Ahead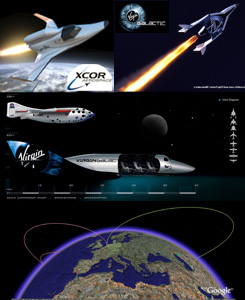 This Saturday June 21 is the 10th anniversary of the first full flight of SpaceShipOne. Soaring to the edge of space at an altitude of 100.124 km over Mojave CA, the ship reached speeds of Mach 2.9, sonic booms heralding another dawn of the commercial space age — a NewSpace generation of enterprises and individuals with innovative approaches to opportunities in space. As Virgin Galactic prepares for the first commercial flight of SpaceShipTwo, potentially before the end of 2014, we look past these adventure rides to the future of Earth and Space transportation. Point-to-point suborbital flights (London – Sydney; Tokyo – Hawaii; Dubai – Vancouver) could transform global lives and logistics, racing ahead of current flight times by about 90%. Real estate agents anticipate major impacts in the luxury property market once the technology becomes established and somewhat routine. Scaled Composites' plans for SpaceShipThree were originally proposed as orbital, but have now been scaled back to the intermediate goal of point-to-point operations. The XCOR Lynx Mark 1 is expected to fly 4+ parabolic space tours per day, while the Lynx Mark 2 is projected as a two-stage fully-reusable orbital vehicle. Many people hope these systems can also be upgraded and improved upon to rendezvous with orbital stations and cruise the Cislunar Superhighway, accelerating expansion of human civilization into space. (Image Credits: VG, XCOR, MarsScientific.com, Clay Center Observatory, GoogleEarth)
---


= All times for terrestrial events in local time unless noted.

= All times for international terrestrial events in local time unless noted.

= All times for space events, and…

= All times for international space / astro events in Hawaii Standard Time unless noted. Add 10 hours to obtain UT ('Universal Time;' Greenwich, England).
---
Weekly Planet Watch – Evening Planets: Mercury (WNW), Mars (SW), Jupiter (NW), Saturn (SE); Morning Planets: Venus (E).

---
MONDAY

Jun 16 — ISS, LEO: Crew reviewing procedures & preparing spacesuits for EVA Jun 19, will begin second round of data collection for Flame Extinguishment Experiment-2, participating in skin aging & ocular health investigations.

 Jun 16 — NEOWISE, LEO: Scanning skies for potentially hazardous NEOs; survey of 170,000 supermassive black holes from WISE mission reveals previously unknown factors relating to whether a black hole is visible or hidden.

Jun 16 — Kepler, Heliocentric Orbit: Working in 2-wheel operation mode over 75-day campaigns to observe exoplanets, star clusters, stars, active galaxies, supernovae along ecliptic plane.

 Jun 16 — Blue Origin LLC, Kent WA: NewSpace company planning to begin test flights of full-scale New Shepard suborbital vehicle within one year.

 Jun 16 — Tethers Unlimited Inc., Bothell WA: Will begin evaluating WRANGLER concept for NASA ARM initiative using microgravity-tested GRASP deployable net capture device and SpinCASTER tether deployer / winch mechanism.

 Jun 16 — NewSpace Center LLC, Titusville FL: Raising funds to open INTERSPACE in 2016 – interactive space themed destination located ~13 km from KSC; will include hands-on adventures, high-tech tools, indoor Mars simulation.

Jun 16 — CASBAA Association, JSAT Corp., Singapore: CASBAA Satellite Industry Forum.

Jun 16 — The Space Show, Tiburon CA / Online: Dr. David Livingston talks with Doug Messier of ParabolicArc.com.

Jun 16-19 — Keck Institute for Space Studies, Pasadena CA: Workshop: Gazing at the Solar System: Capturing the Evolution of Dunes, Faults, Volcanoes and Ice from Space.

Jun 16-20 — AIAA, Atlanta GA: 19th AIAA International Space Planes and Hypersonic Systems and Technologies Conference; 6th AIAA Atmospheric and Space Environments Conference; AIAA et al; at Hyatt Regency Atlanta.

Jun 16-20 — Jet Propulsion Laboratory, NASA/Caltech, ESA, Pasadena CA: 11th International Planetary Probe Workshop.

Jun 16-20 — Canadian Space Agency, ESA, International Society for Gravitational Physiology, Waterloo, Ontario, Canada: 35th Annual International Gravitational Physiology Meeting; 1st Aging in Space Symposium; 13th European Life Sciences Symposium: Life in Space for Life on Earth.

Jun 16-20 — Max Planck Institute for Astronomy, Heidelberg, Germany: Meeting: Intergalactic Matters; at MPIA.

Jun 16-20 — Jet Propulsion Laboratory, NASA/Caltech, Pasadena CA: NASA's 25th Annual Planetary Science Summer School – Session 1.

Jun 16 — Asteroid 2014 HN178: Near-Earth flyby (0.044 AU).

---
Continued from…

Jun 2 – Aug 8 — Lunar and Planetary Institute, Houston TX: LPI Summer Intern Program in Planetary Science.

Jun 4 – Aug 10 — Johns Hopkins University Applied Physics Laboratory, NASA, Laurel MD: 2014 Internship Program; summer projects for students interested in working on NASA missions or space-related research opportunities at APL.

Jun 9 – Aug 8 — International Space University, Montreal, Quebec, Canada: 27th Annual Space Studies Program (SSP14).

Jun 11-20 — United Nations Office for Outer Space Affairs, Vienna, Austria: 57th Session of the Committee on the Peaceful Uses of Outer Space.
---
TUESDAY

Jun 17 — SETI Institute, Mountain View CA: SETI Weekly Colloquium: Ejecta from Impacts: New Experiments and Insight from Missions; presented by Brendan Hermalyn from SETI, 12:00 PDT.

Jun 17-19 — American Astronautical Society, Chicago IL: 3rd International Space Station (ISS) Research and Development Conference.

Jun 17-19 — Canadian Space Agency, Longueuil, Quebec, Canada: 12th International Symposium on Artificial Intelligence, Robotics and Automation in Space (i-SAIRAS) 2014; at John H. Chapman Space Centre.

Jun 17-20 — ESA, Noordwijk, The Netherlands: 48th ESLAB Symposium: New Insights into Volcanism across the Solar System; at European Space Research and Technology Centre.
WEDNESDAY

Jun 18 — Lunar Reconnaissance Orbiter, Moon Orbit: NASA spacecraft reaches 5-years in orbit today; 'The Moon as Art' collection of images created using LRO data to be released today.

Jun 18 — Rosetta, Comet 67P / Churyumov-Gerasimenko Trajectory: ESA spacecraft to perform Trajectory Correction Maneuver.

Jun 18 — Cassini, Saturn Orbit: Flyby of Titan scheduled at 3,659 km; will view Sun and Earth as they pass behind Titan.

Jun 18 — British Interplanetary Society, London, United Kingdom: Lecture: UK Space Life and Biomedical Sciences – A Launchpad for British Human Space Flight; presented by Simon Evetts.

Jun 18-20 — ZoomerMedia Ltd., Toronto, Ontario, Canada: IdeaCity 2014; to feature Buzz Aldrin, Andy Aldrin, Bob Richards, Naveen Jain, Peter Diamandis, more.

Jun 18 – Jul 11 — Venus Express, Venus Orbit: ESA spacecraft to perform "experimental aerobraking" maneuvers to reach ~130 km altitude; if survives this phase, will raise orbit for few months before making final plunge into atmosphere.
THURSDAY

 Jun 19 — ISS, Russian EVA-38, LEO: Skvortsov and Artemyev perform Extra-Vehicular Activity to mount new integrated command & telemetry system on Zvezda, replace payload rack; begins 13:50 UT, live coverage available.

Jun 19 — International Space Company Kosmotras, Launch Dnepr / Multi-Payload, Yasny Cosmodrome, Dombarovsky, Russia: Ukraine-Russia Dnepr rocket to launch Deimos 2 Earth observation satellite, KazEOSat 2 remote sensing satellite, SkySat 3 for Skybox Imaging, other payloads.

Jun 19 — Silicon Valley Space Center, Santa Clara CA: Chang'e-3 Lander Lunar Ultraviolet Telescope – Astronomy from the Moon; presented by Steve Durst of International Lunar Observatory Association, 19:00-20:30 PDT.

Jun 19 — W. M. Keck Observatory, Kamuela HI: Astronomy Talk: First Light in the Universe – The End of the Cosmic Dark Ages; presented by Dr. Michael Bolte from UC Santa Cruz; at Kahilu Theatre, 19:00 HST.

Jun 19, 20 — Jet Propulsion Laboratory, Caltech/NASA, Pasadena CA: Lecture Series: Europa: The Challenges of Exploring a Cold, Distant World; presented by Kevin Hand, JPL Deputy Chief Scientist for Solar System Exploration.

Jun 19 — Moon: Last quarter Moon, 08:39.
FRIDAY

Jun 20 — Kennedy Space Center, NASA, Kennedy Space Center FL / Online: Due: Request for Information: Payload Avionics Systems and Avionics Elements for Lunar Surface Resource Prospecting Mission.

Jun 20-21 — Scientific Preparatory Academy for Cosmic Explorers (SPACE), Orlando FL: 2nd SPACE Habitation Conference; at Renaissance Orlando Airport Hotel, US$200.
SATURDAY

Jun 21 — SpaceShipOne Suborbital Flight 10-Year Anniversary: NewSpace and Space advocates alike celebrate the first time a private company & pilot reached space with events highlighting the present and future of private human spaceflight.

Jun 21-26 — Virginia Space Grant Consortium, Wallops Flight Facility, NASA, Colorado Space Grant Consortium, Wallops Island VA: ROCKON! 2014: The Next How-To Workshop.

Jun 21 — Summer Solstice: Days are longer and nights shortest (opposite in Southern Hemisphere) as Sun, traveling along ecliptic, reaches a point farthest north of celestial equator; 00:51.
SUNDAY

Jun 22-27 — International Association for Probabilistic Safety Assessment and Management, Honolulu HI: Probabilistic Safety Assessment & Management Conference (PSAM 12); at Sheraton Waikiki.