SpaceLoft XL Launch Provides Affordable Space Access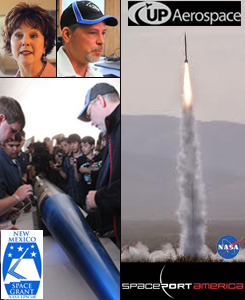 Up Aerospace is set to launch various suborbital payloads on the SpaceLoft XL (SL-7) sounding rocket sponsored by the New Mexico Space Grant Consortium (NMSGC) and NASA Flight Opportunities Program (FOP) from Spaceport America's Vertical Launch Complex in Las Cruces, NM on June 21. This will be the 11th launch for Up Aerospace, the 1st sub-orbital for NASA FOP and the 19th overall from Spaceport America. Students from 5 schools including Cobre High School, Camino Real Middle School and New Mexico State University will have their experiments flown at a speed of Mach 5 to a 119-km altitude, experience about 4 minutes of weightlessness and land 515 km away at the White Sands Missile Range. Patricia Hynes (TL), Director of the NMSGC, envisions student access to space increasing from an annual launch to monthly, and eventually, to daily launches as the technology / space sector develops. Jerry Larson (TR), President of Up Aerospace, hopes students will be inspired to seek careers as launch crews, rocket engineers and payload designers. The 6-m long, 25-cm diameter sounding rocket will also carry payloads from the FAA, DoD, NASA and Celestis, Inc. (Image Credit: Up Aerospace, NMSGC, P. Hynes, NASA)
50th International Paris Air Show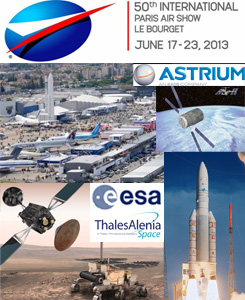 Full of new innovations and the latest in technology the Paris Air Show takes place June 17-23. Bringing together some 2,215 exhibitors, 351,000 visitors, 290 high-level international delegations and 3,200 journalists, it is among the largest aerospace industry events in the world. Held at Le Bourget Airport & Exhibition Center, where Charles Lindbergh landed in 1927 after making his record-breaking non-stop transatlantic flight, the Show now drives development of the aerospace sector and acts as a catalyst for numerous international partnerships. The 20-nation European Space Agency has announced that a major contract for the estimated US$1.6B 2-stage ExoMars project is being signed at the Show on June 17 with prime contractor Thales Alenia Space. The contract, with nominal value over US$866M, funds the entire 2016 orbiter / landing demonstrator module and a portion of the 2018 lander / rover surface package. Leading European space technology firm Astrium is showcasing its Automated Transfer Vehicle responsible for resupply of the International Space Station and the Ariane 5 rocket which just achieved its 55th consecutive launch success. Also taking place, the finals of the International Rocketry Challenge organized by Group of French Aerospace Industries. (Image Credit: SIAE, ESA, Astrium, Thales Alenia Space)
---

= All times for terrestrial events in local time unless noted.

= All times for international terrestrial events in local time unless noted.

= All times for space events, and…

= All times for international space / astro events in Hawaii Standard Time unless noted. Add 10 hours to obtain UT ('Universal Time;' Greenwich, England).
---
Weekly Planet Watch – Evening Planets: Mercury (WNW), Venus (WNW), Saturn (S).
---
MONDAY

Jun 17 — Tiangong-1, LEO: Shenzhou 10 Commander Nie Haisheng & crew Zhang Xiaoguang, Wang Yaping conducting science experiments, education activities; will undock spacecraft from space lab module & practice manual docking.

Jun 17 — ISS, LEO: Expedition 36 reviewing procedures for 3 upcoming EVAs scheduled Jun 24, Jul 9, Jul 16; unloading 2,480 kg of dry cargo including science experiments, crew supplies, 3D-printed tool box from ATV-4.

Jun 17 — NuSTAR, LEO: In high-energy X-rays, viewing dormant black-hole 3M light years away with mass 5M times Sun; will periodically check to see if black hole becomes active again.

Jun 17 — Spitzer, Heliocentric Orbit: Taking infrared images of Milky Way Galaxy's lesser-known outer edges as part of Galactic Legacy Infrared Mid-Plane Survey Extraordinaire (Glimpse 360) project.

Jun 17 — Sierra Nevada Corp., Louisville CO: NewSpace company to build berthing mechanism for Bigelow's BEAM inflatable module launching to ISS 2015 under US$2M contract from NASA.

Jun 17 — Space Expeditions Corp., Amsterdam, The Netherlands: Expanding to Hong Kong, China and New York, USA; planning for daily commercial suborbital flights starting 2014 at US$100K per ticket on XCOR Lynx.

Jun 17 — Planetary Resources Inc., Bellevue WA: Requesting US$1M in pledges to fund ARKYD space telescope for public use; with US$2M will upgrade spacecraft to search for exoplanets.

Jun 17 — CASBAA Co., Singapore: CASBAA's Satellite Industry Forum; at Shangri-La Hotel.

Jun 17-21 — San Jose State University, ESA, University of Idaho, AGI, NASA, San Jose CA: 10th International Planetary Probe Workshop; at San Jose State University.

Jun 17-21 — Kavli Institute for Cosmological Physics – University of Chicago, Chicago IL: Workshop: Galaxies within the Cosmic Web; in Kersten Physics Teaching Center on University of Chicago campus.

Jun 17-23 — Group of French Aerospace Industries (GIFAS), International Exhibition of Aeronautics and Space (SIAE), Paris, France: 50th International Paris Air Show; CNES taking part in public job forum; at Paris Le Bourget Exhibition Centre.
---
Continued from…

Jun 10-21 — Thirty Meter Telescope, Akamai Workforce Initiative, Hawai`i Community College, Kailua-Kona HI: 2013 Akamai Observatory Career Exploration; at Kealakehe High School.

Jun 10 – Sep 2 — NASA, Seattle WA: Destination Station exhibit; for public to learn about living in space aboard the ISS; at Pacific Science Center.

Jun 15-19 — University of Oulu, Academy of Finland, Oulu, Finland: Space Climate 5 Symposium; at Sokos Hotel Eden.

Jun 15-20 — NASA, Wallops Island VA: RockOn 2013; participants build, test, fly science payload on suborbital rocket; launch to about 117.5-km altitude occurs Jun 20.

Jun 16-21 — Max Planck Institute for Extraterrestrial Physics, Munich, Germany: Cosmic Dawn at Ringberg; to discuss latest developments in understanding formation, evolution of the first structures and galaxies in Universe.
---
TUESDAY

Jun 18 — ISS, LEO: ISS Expedition 36 In-Flight Event for ESA with Euronews; live coverage available, 12:15 UT.

Jun 18 — NASA, Washington DC: NASA Asteroid Initiative Call for Ideas; public forum to provide status update on asteroid initiative planning, encourage feedback and ideas; 09:15 – 12:00 EDT.

Jun 18 — SETI Institute, Mountain View CA: Colloquium: Conformal Gravity: New Light on Dark Matter and Dark Energy; presented by Robert Nesbet from IBM Almaden Research Center; 12:00 PDT.

Jun 18-19 — ESA, Darmstadt, Germany: 4th European Ground System Architecture Workshop (ESAW); at European Space Operations Centre.

Jun 18-20 — International Academy of Astronautics, Pasadena CA: 10th IAA Low-Cost Planetary Missions Conference; at Caltech.

Jun 18-21 — JAXA, Tokyo, Japan: SPICA (Space Infrared Telescope for Cosmology and Astrophysics) Science Conference 2013 – From Exoplanets to Distant Galaxies: SPICA's New Window on the Cool Universe; at the University of Tokyo.

Jun 18 — Moon: 0.78° E of Spica, 12:00.

Jun 18 — Asteroid 2013 JR28: Near-Earth flyby (0.035 AU).
WEDNESDAY

Jun 19 — ISS, ATV-4 Reboost Demonstration, LEO: Scheduled firing of ATV-4 engine to demonstrate reboost of ISS altitude orbit.

Jun 19 — ISS, LEO: ISS Expedition 36 In-Flight Educational Event with the Kansas Cosmosphere and Space Center in Hutchinson, Kansas; 12:15 UT; live coverage available.

Jun 19 — The National Academies, Washington DC: Meeting: Human Spaceflight – Public and Stakeholder Opinions Panel; at Keck Center.

Jun 19 — U.S. House of Representatives Committee on Science, Space & Technology, Washington DC: Hearing: Subcommittee on Space – NASA Authorization Act of 2013; at Rayburn House Office Building, 10:00 EDT.

Jun 19 — Library of Congress – Science, Technology and Business Division, Washington DC: Lecture: Exotic Earths: Exploring Planets around other Stars; with speaker Avi Mandell of NASA.

Jun 19 — Space Transportation Association, Washington DC: STA Lunch with Senator Bill Nelson; Chair of Senate Science and Space Subcommittee to discuss NASA budget, prospects.

Jun 19-21 — The National Academies, Irvine CA: Meeting: Human Spaceflight – Technical Feasibility Panel; at Arnold and Mabel Beckman Center.

Jun 19-21 — ESA, Paris, France: 4th Gaia Science Alerts Workshop; at Paris Institute of Astrophysics (IAP).

Jun 19 — Moon: 3.6° S of Saturn, 07:00.

Jun 19 — Jupiter: At conjunction with Sun, 06:00; occulted (unobservably) by Sun, which happens about every 6 years.
THURSDAY

Jun 20 — Johnson Space Center, Houston Texas: JSC Memorial Ceremony for Astronaut Neil Armstrong; live coverage available, 10:00 CDT.

Jun 20 — ESA, Noordwijk, The Netherlands: Failure, Test and Operations Data Workshop 2013; to enhance data feedback processes to benefit all ESA projects; at European Space Research and Technology Centre.

Jun 20-21 — California Institute of Technology, Pasadena CA: 2013 Interplanetary Small Satellite Conference: Beyond LEO; with keynote speakers Simon "Pete" Worden of NASA Ames & Geoff Marcy of UC Berkeley; at Caltech.

Jun 20 — Summer Solstice: Days are longer and nights shortest (opposite in Southern Hemisphere) as Sun, traveling along ecliptic, reaches a point farthest north of celestial equator; 19:04.

Jun 20 — Asteroid 2013 KL6: Near-Earth flyby (0.035 AU).
FRIDAY

Jun 21 — Up Aerospace Inc., Launch SpaceLoft XL (SL-7) / Flight Opportunities Program Payloads, Las Cruces NM: SpaceLoft XL sounding rocket sponsored by NASA Flight Opportunities Program & New Mexico Space Grant Consortium to launch suborbital payloads.

Jun 21 — International Academy of Astronautics, Graduate Aerospace Laboratories – Caltech, Pasadena CA: Theodore von Kármán Symposium; in Lees-Kubota Lecture Hall of Caltech.

Jun 21 — International Academy of Astronautics, Pasadena CA: IAA Regional Meeting.

Jun 21 — Lunar and Planetary Institute, Houston TX: LPI Seminar Series: Magmatic Volatiles in the Inner Solar System: Constraints from Apatite in Planetary Materials and Apatite-Melt Partitioning Experiments; presented by Francis McCubbin from University of New Mexico; in Lecture Hall of USRA, 15:30 CDT.

Jun 21 — `Imiloa Astronomy Center, University of Hawai`i – Hilo, Hilo HI: Mauna Kea Skies Talk; Professor Gary Davis from Joint Astronomy Centre Telescope talks about recent discoveries; 19:00 HST, US$8-10.

Jun 21 — The Space Show, Online: Rob Kelso of PISCES (Pacific International Space Center for Exploration Systems) in Hawaii talks with host Dr. David Livingston.

Jun 21 — Space Center Houston, Houston TX: Lunch with an Astronaut, Brian Duffy; US$49.95 adult.

Jun 21 — Moon: 6.6° N of Antares, 14:00.

Jun 21 — Asteroid 2013 LC2: Near-Earth flyby (0.098 AU).
SATURDAY

Jun 22 — United Societies in Space Inc., International Space Development Authority Corp., Castle Rock CO: 3rd Annual Conference: Carpe Diem Ad Astra (Seize the Day to the Stars); to discuss Moon Permanent Base headed by Buzz Aldrin, Space Debris & Mitigation; at ISDAC headquarters.

Jun 22 – Jul 4 — Southwest Research Institute, University of Hawai`i, Max Planck Institute for Astronomy, Kamuela HI: 8th Workshop on Catastrophic Disruption in the Solar System; 3rd Workshop on Binaries in the Solar System; at Hapuna Beach Prince Hotel.
SUNDAY

Jun 23-25 — Cryogenic Society of America, NASA Goddard Space Flight Center, Girdwood AK: 25th Space Cryogenics Workshop; to discuss cryogenics related to space missions, components, instrumentation, launch vehicles; at Alyeska Resort.

Jun 23-28 — Gordon Research Conferences, Mount Holyoke College, South Hadley MA: Gordon Conference on Origins of Solar Systems; at Mount Holyoke College.

Jun 23-28 — Stellar Astrophysics Centre, White Dwarf Research Corp., et al, Sydney, Australia: 6th Kepler Asteroseismic Science Consortium Conference: A New Era of Stellar Astrophysics with Kepler; at Novotel Sydney Central hotel.

Jun 23 — Moon: At perigee (distance: 356,584 km), 01:00; Full (Strawberry Moon), 01:33.