Hainan Island / Province Launch Center Coming Online for China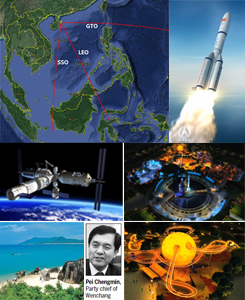 Construction at the Wenchang Satellite Launch Center (WSLC) on the island of Hainan in southeast China is set for completion this month. The 20-square kilometer ~US$330-million project includes two main launch complexes LC101 and LC102, a rocket assembly plant, a command center, two tracking stations and various offices. With relatively clear flight paths over water East toward GTO, South toward SSO and Southeast toward LEO, Hainan offers safe operational conditions close to population centers and thus provides major opportunities for community engagement. Chengmin Pei, Party chief of Wenchang, expects the launch center to boost tourism to this already well established destination, the self-styled "Hawaii" of China. There are plans for a grand space theme park and space research center. Pei estimates that the first launch could draw 300,000 visitors to the city. In addition to low-latitude (19°N) and therefore highly efficient launch profiles, the site offers more geographical advantages. Every other China launch facility is constrained by railroad transportation infrastructure to an overall rocket width of 3.35 meters, whereas coastal Wenchang allows much larger boosters, specifically the Long March 5 & 7 currently in development, to arrive by sea from manufacturing sites in Tianjin. WSLC will enable ambitious future Moon missions and large scale Space Station development. In nearby Macau on June 3-5 there is an International Symposium on Lunar and Planetary Science. (Image Credit: CNSA, CASIL, Padre Candalf)
Interplanetary Decelerator Technologies to be Tested off Kauai, Hawai`i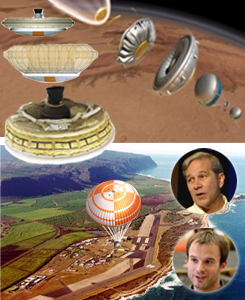 The first supersonic test flight of the Low-Density Supersonic Decelerator (LDSD) is scheduled to occur June 3 from the U.S. Navy Pacific Missile Range Facility at Barking Sands, Kauai Island, Hawaii. The mission is led by Jet Propulsion Laboratory, LDSD project manager Mark Adler (T) and principal investigator Ian Clark (B) with support from Marshall Space Flight Center and Wallops Flight Facility. During six planned tests this June, a balloon will carry the saucer-shaped vehicle to ~36.5 km and a booster rocket will lift it to ~55 km accelerating it to Mach 4. This altitude in the upper Stratosphere is most similar to the thin atmosphere of Mars. Three technologies will be tested: 2 Supersonic Inflatable Aerodynamic Decelerators (SIADs) and a Supersonic Disk Sail Parachute (SDSP). Designed after the Hawaiian pufferfish ('o'opu hue) to increase size without adding mass, the 6-meter-diameter and 8-meter-diameter SIAD balloon-like pressure vessels will inflate around the entry vehicle to slow it from Mach 3.5+ to Mach 2 or lower. A 30.5-meter-diameter SDSP will further slow the entry vehicle from ~Mach 2 to subsonic speeds. More flight tests are planned for 2015. If all goes well these devices could be used for Mars landings as early as 2018, and potentially for future missions to Jupiter and Saturn systems. (Image Credit: JPL, Caltech, NASA)
---


= All times for terrestrial events in local time unless noted.

= All times for international terrestrial events in local time unless noted.

= All times for space events, and…

= All times for international space / astro events in Hawaii Standard Time unless noted. Add 10 hours to obtain UT ('Universal Time;' Greenwich, England).
---
Weekly Planet Watch – Evening Planets: Mercury (WNW), Mars (S), Jupiter (W), Saturn (SE); Morning Planets: Venus (E).

---
MONDAY

Jun 2 — ISS, LEO: Six-member crew preparing for Progress 53P undocking scheduled Jun 9, setting up METERON investigation to test remote control of Earth-based robots; 2 Russia & 3 USA EVAs planned during Expedition 40.

Jun 2 — Tiangong-1, LEO: Uncrewed station undergoing periodic in-orbit inspections, continuing to operate normally; scientific experiments, spacecraft platform testing to be conducted.

Jun 2 — Chang'e-3 Lander & Yutu Rover, Sinus Iridum / Mare Imbrium, 44.12°N 19.51°W, Moon Surface: Spacecraft, hibernating in Lunar Night 6, should continue to respond to ground control teams, perform various scientific investigations.

Jun 2 — Cassini, Saturn Orbit: Now on Saturn revolution 217, spacecraft making observations with 12 instruments; close flyby of Dione (516 km), distant flybys of 6 other moons set for Jun 16.

Jun 2 — Golden Spike Company, Boulder CO: NewSpace company advancing plans to offer Human Moon missions – US$1.55B for 2 astronauts / 2 Moonwalks / 50 kg of return samples or US$900M for 2-astronaut week-long orbital mission.

Jun 2 — XCOR Aerospace Inc., Mojave CA: Working on FAA spaceport license, hangar renovations to establish Research and Development Center in Midland TX; recently received US$14.2M investment.

Jun 2 — Made in Space, Moffett Field CA: Continuing to refine & test 3D printer scheduled to fly to ISS aboard SpaceX CRS 5 Dragon in October, will be 1st 3D printer in space; more advanced version to launch in 2015.


Jun 2 — Jet Propulsion Laboratory, Caltech/NASA, USN Pacific Missile Range Facility, Barking Sands, Kauai HI: Media Day for First Supersonic Saucer-Shaped Vehicle Test.

Jun 2 — NASA HQ, Online / Washington DC: Step-2 Proposal Due for Research Opportunities in Space and Earth Sciences (ROSES) 2013; submission date for those interested in advancing research concepts and technologies for Space and Earth sciences.

Jun 2-4 — International Astronautical Federation, UNESCO, ESA, JAXA, Paris, France: Global Space Applications Conference; at United Nations Educational, Scientific and Cultural Organization (UNESCO) HQ.

Jun 2-4 — International Association for the Advancement of Space Safety, Shah Alam, Selangor, Malaysia: IAASS Professional Course: Implementation of FAA Established Practices for Human Space Flight Occupant Safety; at Grand BlueWave Hotel.

Jun 2-6 — Keck Institute for Space Studies, Pasadena CA: Workshop: Venus Seismology.

Jun 2 – Aug 8 — Lunar and Planetary Institute, Houston TX: LPI Summer Intern Program in Planetary Science.

Jun 2 — Moon: 6.4° SSW of Beehive Cluster, 07:00; at apogee (distance 40,4494 km), 18:00.

Jun 2 — Asteroid 2014 JV54: Near-Earth flyby (0.032 AU).
---
Continued from…

May 25 – Jun 15 — Aspen Center for Physics, Aspen CO: Summer Program: Dwarf Galaxies as Cosmological Probes.

NLT Jun — CNSA, Wenchang Satellite Center, Hainan, China: Construction of Wenchang Satellite Center, also known as Hainan Space Launch Center, able to launch 10-12 rockets annually including Long March 5 and Long March 7, to be completed this month; will be China's fourth and lowest latitude launch facility at 19° N.

NET Jun — CNSA, Launch Chang'e-5 Test Satellite, Xichang Satellite Launch Center, China: To launch Chang'e-5 sample return test satellite to Moon orbit; will attempt lunar orbit transfer and return to Earth.

Jun 1-5 — American Astronomical Society, Boston MA: 224th Meeting of the AAS; at Westin Copley Place hotel.
---
TUESDAY

Jun 3 — Cassini OTM-381, Saturn Orbit: Spacecraft conducts Orbital Trim Maneuver #381 today.

Jun 3 — SETI Institute, Mountain View CA: SETI Weekly Colloquium: Mission to Phobos and Deimos: Exploring the Moons of Mars; presented by Pascal Lee from SETI, 19:00 PDT.

Jun 3 — The Space Show, Tiburon CA / Online: Dr. David Livingston talks with Clay Mowry, head of Arianespace U.S. subsidiary.

Jun 3-5 — National Astronomical Observatories, Chinese Academy of Sciences, Macau University of Science and Technology, et al, Macau, China:  International Symposium on Lunar and Planetary Science; to focus on exchange of Lunar & Planetary exploration data, especially related to Chang'e-3, LRO, other missions.

Jun 3-5 — ESA, Polish Academy of Sciences, Astri Polska, Wrocław Group for Planetology Advance (WROONA), Warsaw, Poland: 2nd Workshop on Mars: Connecting Planetary Scientists in Europe.

Jun 3 – Jun 2015 — Jet Propulsion Laboratory, Caltech/NASA, USN Pacific Missile Range Facility, Barking Sands, Kauai HI: NASA to test Low-Density Supersonic Decelerator (LDSD) for Mars entry vehicles; planned tests will boost vehicle up to 54.8 km using balloon and rocket stages; Jun 3 launch 08:00-09:30 HST, live coverage available.

Jun 3 — Asteroid 2014 KH39: Near-Earth flyby (0.003 AU).

Jun 3 — Asteroid 2014 KB46: Near-Earth flyby (0.054 AU).

Jun 3 — Asteroid 2014 HD3: Near-Earth flyby (0.088 AU).
WEDNESDAY

Jun 4 — Rosetta, Comet 67P / Churyumov-Gerasimenko Trajectory: Spacecraft to perform Trajectory Correction Maneuver.

Jun 4 — ESA, Noordwijk, The Netherlands: European Cooperation for Space Standardization (ECSS) Workshop 2014; at Space Research and Technology Centre (ESTEC).

Jun 4 — British Interplanetary Society, London, United Kingdom: Lecture: Apollo Moon Artifacts; presented by Michael Warner.

Jun 4-5 — Euroconsult, Mexico Ministry of Communication and Transportation, Mexico City, Mexico: Latin American Satellite Communication and Broadcasting Summit (LATSAT).

Jun 4 – Aug 10 — Johns Hopkins University Applied Physics Laboratory, NASA, Laurel MD: 2014 Internship Program; summer projects for students interested in working on NASA missions or space-related research opportunities at APL.

Jun 4 — Moon: 4.8° SSW of Regulus, 05:00.
THURSDAY

Jun 5 — Republic of Latvia Ministry of Education and Science, Latvian Space Technologies Cluster, Space Technology and Science Group Oy (STSG), Riga, Latvia: International Conference on Collaboration in Space Technologies (ICCST).

Jun 5 — Moon: At first quarter, 10:40.

Jun 5 — Asteroid 2014 JL25: Near-Earth flyby (0.025 AU).
FRIDAY

Jun 6 — Arianespace, Launch Ariane 5 / Measat 3b & Optus 10, Kourou, French Guiana: Ariane 5 ECA rocket, designated VA218, to launch Measat 3b and Optus 10 communications satellites.

Jun 6 — Exoplanet Exploration Program Analysis Group, Jet Propulsion Laboratory, Caltech, NASA, Boston MA: ExoPAG 10.

Jun 6 — Federation of Galaxy Explorers, Greenbelt MD: Galaxy Ball 2014.
SATURDAY

Jun 7 — British Interplanetary Society, London, United Kingdom: Chinese/Soviet Technical Forum; at BIS headquarters.

Jun 7 — Museum of Flying, Santa Monica CA: Buzz Aldrin to be honored in Inaugural Class of California Aviation Hall of Fame at Museum of Flying.

Jun 7 — Moon: 1.5° SSW of Mars, 14:00.

Jun 7 — Asteroid 2014 KG39: Near-Earth flyby (0.071 AU).
SUNDAY

Jun 8-13 — Geochemical Society, European Association of Geochemistry, Sacramento CA: Goldschmidt 2014 Geochemistry Conference.

Jun 8-13 — American Physical Society Division of Laser Science, IEEE Photonics Society, Optical Society, San Jose CA: Conference on Lasers and Electro-Optics (CLEO) 2014; comprehensive overview of LADEE Lunar Laser Communications Demonstration to be presented.

Jun 8-14 — Square Kilometre Array Organization, Giardini Naxos, Italy: Conference: Advancing Astrophysics with the Square Kilometre Array.

Jun 8 — Moon: 1.3° NNE of Spica, 13:00.

Jun 8 — Asteroid 2014 HQ124: Near-Earth flyby (0.008 AU).

Jun 8 — Asteroid 2014 KC46: Near-Earth flyby (0.029 AU).