ISU SSP13 Provides International, Interactive, Multidisciplinary Space Education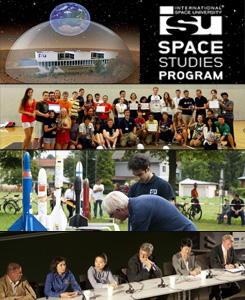 The 26th International Space University Space Studies Program (SSP13) will be held from June 24 – August 23 at the ISU Central Campus in Strasbourg, France. This 9-week, US$23,408 course for postgraduate students / professionals covers principal space-related disciplines and topics including space policy and law, business and management, life and physical sciences, engineering and space applications. The 100 international students will participate in workshops, theme days, individual and team projects and core lectures. One of the team projects this year is 'Solar Maximum and Spacecraft Protection.' There are a number of public events including panel discussions, a rocket launch and a robotics competition. Bernard Foing from ESA, Jim Green from NASA and Jean-Claude Worms from the European Science Foundation will talk about Moon and Mars exploration during the July 2 'Soffen Memorial Panel.' Astronauts Chiaki Mukai (JAXA), Bob Thirsk (CSA) and Jean-Jacques Favier (CNES) will compare short and long-duration space missions at the July 30 'Astronaut Panel.' The ISU Alumni Conference will allow students to present posters and network on August 3 during the 2-hour 'Poster Session and Career Fair.' Over 200 space industry professionals and ISU alumni are expected to attend. ISU plans to host SSP14 in Montreal, Quebec, Canada and SSP15 in Athens, Ohio, USA. (Image Credit: ISU)
Space Tourism: From the Ground, Up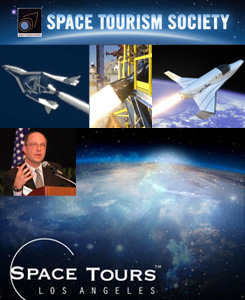 The Space Tourism Society (STS) is offering a week-long, guided tour of major space facilities in Southern California June 29 – July 5. On the program are visits to emerging private NewSpace companies and innovative government organizations that are defining the future of space travel and exploration, such as Virgin Galactic, XCOR Aerospace, Scorpius Space Launch Co., NASA Jet Propulsion Laboratory, Mojave Air and Spaceport and Edwards Air Force Base. There will also be stops at the Space Shuttle Endeavour, Disneyland Star Tours, and the Griffith Park Observatory. STS is conducting a series of successful Space Experience Economy Seminars presented by John Spencer (pictured), Space Architect, Author and STS Founder/President. The next seminar at Crowne Plaza LAX in Los Angeles, CA, USA on June 29 is sold out but there is another session open on November 9. Special guest speakers include technologist-turned-filmmaker David Knight excerpting his upcoming feature-length documentary 'The New Pioneers', President of Space Adventures Tom Shelley and Founder of Astropreneur Paul Fuller. The cost per person of the Space Tour is US$4,985 including accommodation / transportation and a seat at the SEE Seminar. The Seminar alone is US$175 and seating is limited to 30 participants. (Image Credit: STS, XCOR, VG)
---

= All times for terrestrial events in local time unless noted.

= All times for international terrestrial events in local time unless noted.

= All times for space events, and…

= All times for international space / astro events in Hawaii Standard Time unless noted. Add 10 hours to obtain UT ('Universal Time;' Greenwich, England).
---
Weekly Planet Watch – Evening Planets: Mercury (WNW), Venus (WNW), Saturn (S).
---
MONDAY

Jun 24 — Tiangong-1, LEO: Shenzhou-10 crew continuing science & technology experiments in preparation for Tiangong-2 space laboratory launching NET 2015; readying for return to Earth scheduled Jun 26.

Jun 24 — ISS, LEO: Expedition 36 transferring 7.3 tons of cargo from ATV-4; Parmitano participating in SKIN B experiment to study zero-gravity effects on skin; between 130-150 experiments running at any given time.

Jun 24 — ISS, Russia EVA-33, LEO: Cosmonauts Yurchikhin and Misurkin scheduled to perform space walk to replace fluid flow control valve panel, install clamps for cables which will power new Russia laboratory module set to arrive in Dec; begins 13:35 UT; live coverage available.

Jun 24 — Juno, Jupiter Trajectory: Traveling at 29 km per second relative to Sun and increasing as spacecraft heads toward Earth; one-way radio signal time is about 4.4 minutes.

 Jun 24 — Venus Express, Venus Orbit: From 70-km altitude, tracking Venus cloud motion over past 6 years; data reveals that winds on Venus have increased from 300 kph to 400 kph.

 Jun 24 — SpaceX, Hawthorne CA: NewSpace company performing long duration test of Falcon 9-R booster, flight tests of Grasshopper, preparing for launch abort test of Dragon capsule in Dec.

Jun 24 — Orbital Outfitters, Washington DC & CA, USA: Developing space & pressure suits, fabricating full-scale vehicle mockups for engineering or PR purposes.

 Jun 24 — Moonandback Travel, Henderson NV: Space travel agency, will book flights on XCOR Lynx and zero2infinity high altitude balloon.

Jun 24 — Arianespace, Launch Soyuz / O3b, Sinnamary, French Guiana: Soyuz rocket, designated VS05, set to launch 4 satellites for O3b Networks.

Jun 24-25 — Science and Technology Facilities Council, University College London, Royal Astronomical Society, London, United Kingdom: 1st UK Large Observatory for X-ray Timing Meeting; to discuss LOFT mission being considered by ESA for launch in 2022-2024; at RAS lecture theater.

Jun 24-26 — American Geophysical Union, Washington DC: AGU's 2nd Annual Science Policy Conference; for scientists, students, policymakers, industry professionals to discuss Earth and space sciences.

Jun 24-27 — Federal Aviation Administration, NASA, Bellevue WA: 2013 Commercial and Government Responsive Access to Space Technology Exchange (CRASTE); in conjunction with 2013 National Space & Missile Materials Symposium (NSMMS).

Jun 24-27 — AIAA, San Diego CA: 43rd AIAA Fluid Dynamics Conference and Exhibit; 44th AIAA Plasmadynamics and Lasers Conference; 44th AIAA Thermophysics Conference; 31st AIAA Applied Aerodynamics Conference; 21st AIAA Computational Fluid Dynamics Conference; 5th AIAA Atmospheric and Space Environments Conference; AIAA Ground Testing Conference; at Sheraton San Diego Hotel.

Jun 24-28 — RHEA Systems, Canadian Space Agency, Montreal, Quebec, Canada: 2-Day Training Course: Introduction to Concurrent Design; to focus on spacecraft platform modeling and design.

Jun 24-28 — American Geophysical Union, Annapolis MD: AGU Chapman Conference: Crossing the Boundaries in Planetary Atmospheres – From Earth to Exoplanets.

Jun 24-28 — Johns Hopkins University Applied Physics Laboratory, NASA Lunar Science Institute, Laurel MD: The Unknown Moon; for high-school teachers to investigate the Moon; at JHU/APL.

Jun 24-28 — Lunar Reconnaissance Orbiter Mission Education and Public Outreach Program, NASA Goddard Space Flight Center, Greenbelt MD: Lunar Workshop for Educators; for grade 6-9 science teachers to focus on Moon science and exploration; at NASA GSFC.

Jun 24-28 — Paris Institute of Astrophysics (IAP), Observatory of Paris, France National Centre for Scientific Research, et al, Paris, France: IAP 75th Anniversary Conference: The Origin of the Hubble Sequence.

Jun 24-28 — Asia Oceania Geosciences Society, Brisbane, Australia: The AGOS 10th Annual Meeting; at Brisbane Convention and Exhibition Centre.

Jun 24 – Aug 23 — International Space University, National Institute for Space Research, Strasbourg, France: The 26th International Space University Space Studies Program (SSP13); at ISU Central Campus.
---
Continued from…

May 1 – Jul 1 — University of Colorado – Boulder, Online: Send Your Name & Message to Mars; contest to send name / message to Mars aboard MAVEN spacecraft launching between Nov 18 – Dec 7; winners announced Aug 8.

Jun 18 – Jul 18 — NASA, Online: Request for Information: Asteroid Initiative; requesting ideas for Asteroid Retrieval Mission (to put NEA in Moon orbit) and increasing NEA planetary defense system.

Jun 22 – Jul 4 — Southwest Research Institute, University of Hawai`i, Max Planck Institute for Astronomy, Kamuela HI: 8th Workshop on Catastrophic Disruption in the Solar System; 3rd Workshop on Binaries in the Solar System; at Hapuna Beach Prince Hotel.

Jun 23-25 — Cryogenic Society of America, NASA Goddard Space Flight Center, Girdwood AK: 25th Space Cryogenics Workshop; to discuss cryogenics related to space missions, components, instrumentation, launch vehicles; at Alyeska Resort.

Jun 23-28 — Gordon Research Conferences, Mount Holyoke College, South Hadley MA: Gordon Conference on Origins of Solar Systems; at Mount Holyoke College.

Jun 23-28 — Stellar Astrophysics Centre, White Dwarf Research Corp., et al, Sydney, Australia: 6th Kepler Asteroseismic Science Consortium Conference: A New Era of Stellar Astrophysics with Kepler; at Novotel Sydney Central hotel.
---
TUESDAY

Jun 25 — RSA, Launch Soyuz / Resurs P1, Baikonur Cosmodrome, Kazakhstan: An RSA Soyuz rocket set to launch Resurs P1 Earth observation satellite.

Jun 25 — National Space Biomedical Research Institute, NASA, Online: Virtual Workshop: The Impact of Sex and Gender on Adaptation In Space; 18:00 – 19:30 UT.

Jun 25-27 — Moscow State University of Geodesy and Cartography, DLR, Moscow, Russia: 2nd MExLab Summer School; to focus on planetary geomorphology, GIS-mapping, crater identification, Phobos cartography; at MIIGAiK Extraterrestrial Laboratory (MExLab).

Jun 25 — Asteroid 2002 LT24: Near-Earth flyby (0.059 AU).
WEDNESDAY

Jun 26 — Tiangong-1, Undocking of Shenzhou-10, LEO: Shenzhou-10 Commander Nie Haisheng & crew Zhang Xiaoguang, Wang Yaping scheduled to undock from space laboratory and return to Earth.

Jun 26 — Orbital Sciences Corp., Launch Pegasus XL / IRIS, Vandenberg AFB CA: OSC Pegasus XL rocket to launch NASA Interface Region Imaging Spectrograph spacecraft to measure flow of energy and plasma through Sun atmosphere, heliosphere; 19:27 PDT.

Jun 26 — British Interplanetary Society, UK Centre for Astrobiology, London, United Kingdom: Space Colonies: A Proposed BIS Study Project; with speaker Jerry Stone; at BIS.

Jun 26 — Asteroid 2010 NY65: Near-Earth flyby (0.063 AU).
THURSDAY

Jun 27 — PayPal, Space Tourism Society, SETI Institute, California, USA: Scheduled to announce payment program for space tourists.

Jun 27 – Jul 1 — Royal Astronomical Society of Canada, Thunder Bay, Ontario, Canada: 2013 RASC General Assembly; held at Thunder Bay Centre on Lakehead University campus.

Jun 27 — June Boötids: Unpredictable meteor shower radiating from Constellation Boötes; normally very weak, however occasional outbursts can produce 100+ meteors per hour.
FRIDAY

Jun 28 — Lunar and Planetary Institute, Houston TX: LPI Seminar Series: The Si Isotopic Composition of Meteorites and Lunar Rocks – Insights into Building the Earth and Moon; presented by Rosalind Armytage from University of Houston; in Lecture Hall of USRA, 15:30 CDT.

Jun 28 — The Space Show, Online: Gerald Carr, Commander of Skylab 4, talks with host Dr. David Livingston about the Astronaut Scholarship Foundation.

Jun 28 — Space Center Houston, Houston TX: Lunch with an Astronaut, David Hilmers; US$49.95 adult.

Jun 28 — Asteroid 293726 (2007 RQ17): Near-Earth flyby (0.036 AU).
SATURDAY

Jun 29 — Kennedy Space Center, Titusville FL: Grand Opening of Space Shuttle Atlantis Display.

Jun 29 — Space Tourism Society, Los Angeles CA: Seminar: Space Experience Economy (SEE); presented by STS founder / president John Spencer and other guests.

Jun 29 – Jul 5 — Space Tourism Society, Los Angeles CA: Space Tours – Los Angeles; week-long tour of space facilities in Los Angeles including SpaceX, XCOR, Mojave Air and Space port; US$4,985 per person.

Jun 29 — Moon: At last quarter, 18:54.

Jun 29 — Asteroid 2013 LH29: Near-Earth flyby (0.059 AU).
SUNDAY

Jun 30 – Jul 4 — DH Consultancy Co., Santorini, Greece: 2013 Radiation Belts Workshop: Comprehending, Specifying and Forecasting their Dynamics; at Bellonio Cultural Center in Fira.

Jun 30 – Jul 5 — Swiss Federal Institute of Technology – Zurich, Swiss National Science Foundation, Ascona, Switzerland: Conference: Large Scale Structures (LSS13).