Russia Evaluating Future in Space While Hosting IAA Symposium on SETI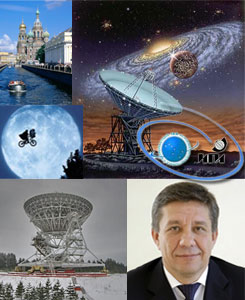 Russia remains a preeminent space power that continues to look to the stars, 50 years after launching the 1st human into space. On June 27-30 in St. Petersburg, Russia,  experts in SETI, biosignatures, the search for terrestrial exoplanets and related disciplines from all over the globe will openly discuss strategies for both Passive and Active SETI at the '3rd IAA Symposium on Searching for Life Signatures.' Passive SETI is the attempt to detect extraterrestrial signals, while Active SETI involves the deliberate transmission of signals to enhance the probability of making contact with other hypothetical galactic civilizations. The conference will conclude with a visit to the 32m Svetloe radio telescope. The new head of Roscosmos space agency, Vladimir Popovkin recently spoke of the ongoing process to determine immediate goals of space exploration for Russia. Popovkin highlighted the human exploration of the Moon and Mars as top priorities, and acknowledged the importance of international collaboration. (Credit: IAA, Nick Murdah, Red Ice Creations, blastr.com)
Lunar Exploration Advancing with Educational Events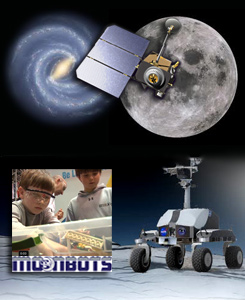 Students and educators across the USA will attend several lunar-focused events inspiring a new generation of youth to pursue STEM and space education. Goddard Space Flight Center is sponsoring an ongoing series of 'Lunar Workshops for Educators,' with 2 taking place on June 27-July 1, at the McAuliffe-Shepard Discovery Center in Concord NH and Hinds Community College in Utica MS. Grade 6-12 educators will learn the latest data from the Lunar Reconnaissance Orbiter and how to best teach students lunar science through hands-on activities and energizing lectures.  The X Prize Foundation and the LEGO® Group will hold Phase 2 of the 2nd Google Lunar X Prize LEGO® Mindstorms® Challenge from June 27-Aug 15 for 9-17 year olds. The objective of the contest is "to inspire and develop the builders of tomorrow." Selected students who submitted a video online will be given free LEGO® bricks to construct a Moonscape and design robots with CAD software. The Lunar and Planetary Institute (LPI) and NASA Lunar Science Institute ongoing 10-week 'Lunar Exploration Summer Intern Program' continues through Aug 5. 2 teams of students will work with LPI staff and collaborators to evaluate the best landing sites on the Moon. On Jul 2, The International Lunar Observatory Association and Space Age Publishing Company will hold 'Galaxy Forum USA 2011: Galaxy Education and Galaxy Enterprise in the 21st Century' in Silicon Valley CA. (Credit: NASA, David Darling, LEGO®)
---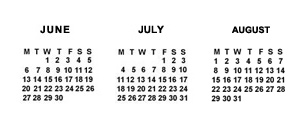 = All times for terrestrial events in local time unless noted.

= All times for international terrestrial events in local time unless noted.

= All times for space events, and…

= All times for international space / astro events in Hawaii Standard Time unless noted. Add 10 hours to obtain UT ('Universal Time;' Greenwich, England).
---
Weekly Planet Watch – Morning Planets: Venus (ENE), Mars (ENE), Jupiter (E) / Evening Planets: Mercury (WNW), Saturn (SW).
---
MONDAY

Jun 27 — International Space Station, LEO: E-28 crew conduct  scientific experiments and station maintenance as they continue the long process of inventorying and unloading 3 tons of fuel and supplies from the Progress 43 spacecraft.

Jun 27 — NASA Lunar Reconnaissance Orbiter (LRO), Lunar Orbit: LRO continues to be "resounding success," conducting more than 4.1 billion measurements as it cruises just 50km above the lunar surface.

Jun 27 — Mars Rover Opportunity, Red Planet: Opportunity continues to make progress towards Endeavour crater with under 3km to go before the first landfall on the rim.

Jun 27 — NASA Headquarters, Washington DC; Telecon: 'Meet the Chiefs,' telecon at 12:00 EDT with NASA Chief Scientist Waleed Abdalati and Chief Technologist Bobby Braun.

Jun 27-30 — International Academy of Astronautics, St. Petersburg, Russia: '3rd IAA Symposium on Searching for Life Signatures.'

Jun 27-30 — The Russian Academy of Cosmonautics, International Academy of Astronautics, et al, Samara, Russia: 'Conference: Scientific and Technological Experiments on Automatic Space Vehicles and Small Satellites.'

Jun 27-30 — American Institute of Aeronautics and Astronautics, Honolulu HI: 'Atmospheric Space Environments Conference / 42nd AIAA Plasmadynamics and Lasers Conference in conjunction with the 18th International Conference on MHD Energy Conversion (ICMHD).'

Jun 27 – Jul 1 — Adler Planetarium, Chicago IL: 'Exploring the Edge of Space,' event for 6-8th graders to work with astronomers and build / launch balloons to gather data for real space science research.

Jun 27 – Jul 1 — Goddard Space Flight Center, Concord NH; Utica MS: 'Lunar Workshops for Educators.'

Jun 27 – Jul 1 — ESA, Madrid, Spain: 'Mars Express PFS & Venus Express SOIR Workshop.'

Jun 27 – Jul 1 — NASA Astrobiology Institute, Spanish Center of Astrobiology, et al, Santander, Spain: '2011 Santander Summer School: Mars Exploration – Unveiling a Habitable Planet.'

Jun 27 – Jul 1 — Astrophysics Institute of Paris, Paris, France: 'From Dust to Galaxies Conference.'

Jun 27 – Aug 15 — Google Lunar X Prize Foundation, LEGO Group, Playa Vista CA; Online: 'LEGO Moonbots 2.0.'

Jun 27 — June Bootid Meteors: Radiating from the constellation Bootes, the June Bootid shower is very weak, but occasional outbursts produce a hundred or more meteors per hour.

Jun 27 — Moon: 2.2° SSW of Pleiades; 20:00.
---
Continued from . . .

May 31 — NASA Lunar Science Institute, Lunar and Planetary Institute, Houston TX: 'Lunar Exploration Summer Intern Program,' 10-week program to evaluate possible landing sites for robotic and human exploration missions; through Aug 5.

Jun 9 — New Mexico Museum of Space History, Alamogordo NM: 'New Mexico Space Academy Summer Camp;' through Aug 5.

Jun 13 — Space Voyage Academy, Littleton CO: 'Space Voyage Summer Academy Camp,' an enrichment program about space for students ages 5-16; through Jul 29.
---
TUESDAY

NET Jun 28 — USAF, Launch Minotaur 1 / ORS 1, Wallops Island VA: The Air Force Minotaur 1 rocket is set to launch the Operationally Responsive Space 1 satellite.

Jun 28 — Kennedy Space Center, Goddard Space Flight Center, Cape Canaveral FL; Greenbelt MD: News conference to discuss the status of the final space shuttle launch of Shuttle Atlantis STS-135 at 11:26 EDT at KSC; Goddard managers and engineers to give overview of the Robotic Refueling Mission module at 09:00 EDT, which Shuttle Atlantis will deliver to the International Space Station.

Jun 28 – Jul 7 — International Union of Geodesy & Geophysics, International Association of Meteorology & Atmospheric Sciences, Melbourne, Australia: 'IUGG / IAMAS General Assembly J-M07: Atmospheres and Ices on Terrestrial Planets.'

Jun 28 — Mercury: 4.8° S of Pollux; 00:00.

Jun 28 — Moon: 1.9° NNE of Mars, 10:00; 6.7° N of Aldebaran, 17:00.

Jun 28 — Beta Taurid Meteors: Radiating from constellation Taurus, this daytime shower peaks after sunrise.
---
WEDNESDAY

Jun 29 — The SETI Institute, Mountain View CA: Colloquium Series Lecture: 'Looking Back in Time 13 Billion Years to When the Universe was Young: Searching for the Earliest Galaxies with Hubble,' Garth Illingworth.

Jun 29 – Jul 1 — Scientific Committee on Antarctic Research, Sydney, Australia: 'SCAR Astronomy Kick-off Meeting of Astrophysics from Antarctica Scientific Research Program.'

Jun 29 – Jul 1 — Gaia Science Alerts Working Group, Cambridge, United Kingdom: '2nd Gaia Science Alerts Workshop.'

Jun 29 – Jul 2 — The Astronomical League, Salt Lake Astronomical Society, Bryce Canyon National Park UT: 'National Convention of the Astronomical League 2011.'

Jun 29 — Moon: 1.0° W of Venus; 20:00.
---
THURSDAY

Jun 30 — San Diego Space Society, Poway CA: 'SD Space Summer Field Trips,' with tours of Sierra Nevada Corporation, SpaceX, NASA Dryden and a Mojave Spaceport.

Jun 30 — Smithsonian National Air and Space Museum, Washington DC: 'End of an Era: The Final Space Shuttle Mission,' Valerie Neal.

Jun 30 — Partial Solar Eclipse: The 3rd solar eclipse of the year takes place in the Southern Hemisphere and is visible from the Antarctic Ocean and south of Africa; 22:53.

Jun 30 — Moon: New Moon; 22:53.
---
FRIDAY

Jul 1 — Deep Space: NASA Dawn spacecraft now 155,000km from asteroid Vesta, the 2nd largest object (530km) in the main asteroid belt between Mars and Jupiter; On track toward its year-long orbital encounter of the asteroid set to begin next month on Jul 16.

NET Jul 1— Arianespace, Launch Ariane 5 / ASTRA 1N & BSAT 3c, Kourou, French Guiana: An Ariane ECA rocket VA203 set to launch the ASTRA 1N and BSAT 3c communications satellites.

Jul 1 — The National Press Club (NPC), Washington DC: 'NPC Luncheon,' featuring NASA Administrator Charles Bolden.

Jul 1 — Moon: 9.3° SSW of Pollux; 22:00.

Jul 1 — Asteroid 2002 EM7: Near-Earth Flyby (0.028 AU).
---
SATURDAY

Jul 2 — International Lunar Observatory Association, Space Age Publishing Company, Silicon Valley CA: 'Galaxy Forum USA 2011: Galaxy Education and Galaxy Enterprise in the 21st Century.'

Jul 2 — Moon: 4.9° SSW of Mercury, 13:00; 5.0° SSW of Beehive Cluster, 23:00.

Jul 2 — Asteroid 2001 QP181: Near-Earth Flyby (0.090 AU).

Jul 2 — Asteroid 3353 Jarvis: Closest Approach to Earth (0.764 AU).
---
SUNDAY

Jul 3-8 — International Astrobiology Society, International Astronomical Union, Montpellier, France: 'IAS / IAU c51 (Bioastronomy) Joint International Conference.'