Shenzhou 10: Evolution of China Human Spaceflight… Leading to the Moon?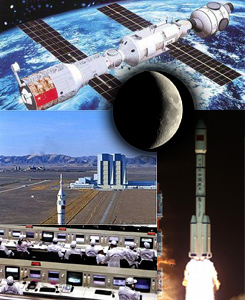 The China National Space Agency human spaceflight program Shenzhou 10 mission launches as early as June 7 from Jiuquan Satellite Launch Center in the Gobi desert 1,600 km west of Beijing. Carried by the advanced Long March 2F rocket, the capsule and 3 Taikonauts, expected to include second female China spaceflyer Wang Yaping, are scheduled to make final planned rendezvous with "proto-space station" Tiangong 1. A quality review panel headed by Academician Bao Weimin has given the go-ahead for continued launch preparations. The mission will demonstrate manual and automated docking with the 8,000-kg orbiting target vehicle and the crew will use their short stay to conduct scientific experiments and presentations to spectators on Earth. The next generation Tiangong 2 launching in 2013 will be much larger at 20,000 kg and serve as a fully functional space laboratory capable of 3-person life support for up to 20 days. Some analysts foresee a convergence of the Shenzhou / Tiangong programs with the Chinese Lunar Exploration Program. The Moon-bound lander / rover combo Chang'e-3, expected to launch in 2013, is just one major step away from the automated sample return mission Chang'e-5 planned for 2017. With round trip cis-Lunar capacity on the horizon and advancing human spaceflight systems, China may soon be attempting Human Moon Missions. (Image Credit: CNSA)
Europe ATV 4 Advances Development of Human Space Exploration Technologies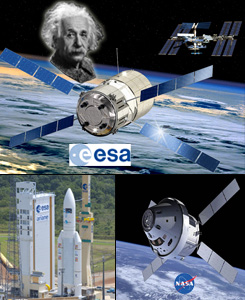 The European Space Agency's 4th Automated Transfer Vehicle, named Albert Einstein, is scheduled to launch to the ISS on June 5 from Guiana Space Centre in Kourou, French Guiana via Arianespace launch providers on an Ariane 5 ES rocket, designated VA213. Albert Einstein will be the heaviest spacecraft ever lifted into orbit by an Arianespace rocket with a total mass of 20,235 kg. The US$300M spacecraft is scheduled to dock with the Zvezda module on June 15 after 10 days in orbit. ATVs have the largest cargo carrying capacity of any ISS resupply vehicle, up to 8,000 kg, and the thrusters are used at intervals of 10 to 45 days to boost the station's altitude. After the propellant, water, air and cargo are transferred to the ISS, Albert Einstein will be loaded with up to 6,500 kg of waste to be incinerated upon reentry to Earth's atmosphere scheduled October 15. The ATV program is set to end after the completion of the 5th ATV mission, to launch in 2014. Each ATV mission contributes to future Human space exploration missions as Europe develops and adapts the ATV to serve as the ESA Service Module for NASA's Orion Multi-Purpose Crew Vehicle (BR), scheduled to first launch on the Space Launch System in 2017. (Image Credit: ESA, NASA)
---

= All times for terrestrial events in local time unless noted.

= All times for international terrestrial events in local time unless noted.

= All times for space events, and…

= All times for international space / astro events in Hawaii Standard Time unless noted. Add 10 hours to obtain UT ('Universal Time;' Greenwich, England).
---
Weekly Planet Watch – Evening Planets: Mercury (WNW), Venus (WNW), Jupiter (WNW), Saturn (S).
---
MONDAY

Jun 3 — ISS, LEO: Expedition 36/37 loading trash onto Progress 51P, scheduled for Earth atmospheric incineration on Jun 11; new crew members Nyberg, Yurchikhin, Parmitano continuing ISS orientation.

Jun 3 — Chandra X-ray Observatory, HEO: 3-year study of SGR 0418 reveals that magnetars – remains of dead stars that irregularly emit high-energy radiation – may be more diverse & common than previously thought.


Jun 3 — Cassini, Saturn Orbit: Magnetometer and camera data of 800-km long, 1-2-km high mountain on Dione suggest liquid or slushy layer exists under ice-crust of moon; next flyby scheduled June 16, 2015.


Jun 3 — SpaceX, Hawthorne CA: NewSpace company working to complete 7th milestone for NASA CCiCap; outlining plans for flying crewed Dragon spacecraft in LEO, rendezvous / docking with ISS & other orbiting spacecraft.

Jun 3 — XCOR Aerospace Inc., Mojave CA: Test firing propulsion system of Lynx XR-5K18 engine for reusable suborbital Lynx vehicle; working toward 180-second engine burn which will give required propulsion to get to space.

 Jun 3 — Innovative Space Propulsion Systems LLC, Houston TX: Finalizing 440-N NOFBX rocket engine for launch to ISS in SpaceX Dragon capsule 2013-14; will be mounted to the outside of Columbus module for about 1 year.

Jun 3 — International Launch Services, Launch Proton / SES 6, Baikonur Cosmodrome, Kazakhstan: Proton rocket set to deliver SES 6 satellite to provide television / cable / digital inclusion services for N & S America, Europe.

Jun 3 — Aerospace Industries Association, Washington DC: Space in Our World Discussion Series: The New Age of Human Exploration; panel discussion on current activities / benefits of human spaceflight; Frank Slazer moderates.

Jun 3-5 — Commercial Spaceflight Federation, Southwest Research Institute, NASA, Broomfield CO: Next-Generation Suborbital Researchers Conference 2013.

Jun 3-5 — von Kármán Institute for Fluid Dynamics, International Academy of Astronautics, Brussels, Belgium: 5th European Cubesat Symposium.

Jun 3-7 — ESA, Darmstadt, Germany: Mars Express 10th Anniversary Celebration; at European Space Operations Centre.

Jun 3-7 — `Imiloa Astronomy Center, Hilo HI: Camp `Imi-possible; for kids in grades K-5 to learn about 'WAI-ology' – water's role in inner and outer Solar System.

Jun 3 – Aug 9 — Florida Space Grant Consortium, Space Florida, Kennedy Space Center FL: Space & Aeronautics Internships at Exploration Park; paid internship for 4 science / engineering students to work on projects bound for ISS.


Jun 3 — Asteroid 2004 KH17: Near-Earth flyby (0.098 AU).
---
Continued from…

Apr 2 – Jun 5 — NASA, Online: NASA Seeks Academic Partners for Smallsat Technology Collaboration; accepting proposals for small spacecraft (smallsat) projects.

May 28 – Jun 7— NASA Goddard Space Flight Center, Lewes DE: Fermi Summer School 2013; at University of Delaware Conference Center.

May 28 – Aug 2 — Lunar and Planetary Institute, NASA Lunar Science Institute, Houston TX: Lunar Exploration Summer Intern Program; students earn 50 hours of credit, evaluate possible Moon landing sites for robotic & Human exploration missions.

May 29 – Jun 7 — University of Alabama – Huntsville, National Science Foundation, CSPAR, NSF, Huntsville AL: 2013 UAHuntsville Space Weather Summer School.

Jun 2-6 — American Astronomical Society, Indianapolis IN: 222nd Meeting of the AAS; at Indiana Convention Center; expecting more than 500 professional astronomers, educators, journalists, space enthusiasts.

Jun 2-9 — JAXA, Japan Society for Aeronautical and Space Sciences, Nagoya, Aichi, Japan: 29th International Symposium on Space Technology and Science.
---
TUESDAY

Jun 4 — NASA, Launch Black Brant 12 sounding rocket / CIBER, Wallops Island VA: Cosmic Infrared Background ExpeRiment (CIBER) astrophysics observatory scheduled to make fourth and final suborbital flight; alternate dates Jun 5-10.

Jun 4 — National Space Weather Program Council, Washington DC: Space Weather Enterprise Forum 2013 – Space Weather Impacts: They Happen All the Time; to feature NASA Administrator Charles Bolden.

Jun 4 — NASA, Washington DC: Media Briefing on Interface Region Imaging Spectrograph (IRIS) mission; 13:00 EDT, live coverage available.

Jun 4 — The British Interplanetary Society, London, United Kingdom: Lecture: Unveiling the Secrets of the Universe; by Tejinder Virdee, Professor of Physics at Imperial College London.

Jun 4 – Aug 10 — Space Foundation Discovery Center, Colorado CO: Summer of Discovery; featuring new space, science, space technology related theme each week, Northrop Grumman Science Center, El Pomar Space Gallery.

Jun 4 — Asteroid 2013 JE29: Near-Earth flyby (0.051 AU).

Jun 4 — Asteroid 2013 JB36: Near-Earth flyby (0.076 AU).
WEDNESDAY

Jun 5 — Arianespace, Launch Ariane 5 / ATV 4, Kourou, French Guiana: Arianespace set to use Ariane 5 ES rocket designated VA213 to launch 4th ESA Automated Transfer Vehicle, named Albert Einstein, to ISS; 18:52 local time; set to arrive at ISS on Jun 15.

Jun 5 — AIAA, Online: The Nuclear and Future Flight Propulsion Webinar.

Jun 5 — AIAA, Online: Abstracts Due: AIAA Science and Technology Forum and Exposition (SciTech 2014); to be held Jan 13-17, 2014.

Jun 5-7 — NASA, Worcester MA: NASA's 2013 Sample Return Robot Challenge; at Worcester Polytechnic Institute; US$1.5M grand prize.

Jun 5-7 — Nagoya University, SKA-Japan Consortium, Nagoya, Japan: Square Kilometer Array (SKA) Science Workshop in East Asia 2013.
THURSDAY

Jun 6 — AIAA, Williamsburg PA: 2013 Aerospace Today and Tomorrow; at Kingsmill Resort.

Jun 6 — von Kármán Institute for Fluid Dynamics, International Academy of Astronautics, Brussels, Belgium: 6th QB50 Workshop; to discuss international network of 50 Cubesats to study temporal and spatial variations of lower thermosphere (90-320-km altitude) and perform other research.

Jun 6 — Moon: 5.3° S of Pleiades, 16:00.
FRIDAY

Jun 7 — CNSA, Launch Long March 2F / Shenzhou 10 & Crew of 3, Jiuquan, Gansu, China: Long March 2F to launch Shenzhou 10 spacecraft with Wang Yaping & 2 Taikonauts TBC to dock with Tiangong-1 space laboratory; if successful will be China 5th human space mission.

Jun 7 — ISS, LEO: In-Flight Event with Italian Networks for the European Space Agency with Flight Engineer Luca Parmitano; 12:35 UT.

Jun 7 — Lunar and Planetary Institute, Houston TX: LPI Seminar Series: The Surface Composition of Mercury From MESSENGER Data; presented by Shoshana Weider from Carnegie Institution of Washington; in Lecture Hall of USRA, 15:30 CDT.

Jun 7 — Space Center Houston, Houston TX: Lunch with an Astronaut, Leroy Chiao; US$49.95 adult.

Jun 7-9 — American Astronautical Society, AIAA, Ball Aerospace and Technologies Corp., Abilene & Burkett TX: Student CanSat Competition.

Jun 7 — Moon: 1.8° SSE of Mars, 04:00; 3.4° N of Aldebaran, 14:00

Jun 7 — Asteroid 2013 HO11: Near-Earth flyby (0.063 AU).
SATURDAY

Jun 8 — The British Interplanetary Society, London, United Kingdom: Chinese/Soviet Forum; to hear from / talk to experts on China and Russia Space Programs.

Jun 8-9 — Satellite Applications Catapult Centre, London & Oxfordshire, United Kingdom: Satellite Applications Catapult Hackathon; to discuss using space technologies / data to benefit other sectors including healthcare, natural resources, emergency services.

Jun 8-9 — Jet Propulsion Laboratory, Pasadena CA: JPL Open House; Canceled.

Jun 8 — Moon: New Moon, 05:58; 3.2° SSW of Jupiter, 21:00.
SUNDAY

Jun 9 — The Space Show, Online: Dmitriy Tseliakhovich, founder of Escape Dynamics LLC, talks with host Dr. David Livingston.

Jun 9-13 — ESA, Swiss Federal Institute of Technology, Lucerne University of Applied Sciences and Arts, Thun, Switzerland: 21st ESA Symposium on European Rocket and Balloon Programmes and Related Research.

Jun 9 — Moon: 5.3° S of Venus, 23:00.