In Situ Assets, Property Rights Highlight Space Resources Roundtable / PTMSS in Golden CO

The 13th Space Resources Roundtable and the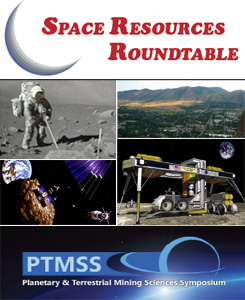 Planetary and Terrestrial Mining Sciences Symposium are being held jointly on June 4-7 at the Colorado School of Mines. The meetings will bring together individuals and organizations from the space exploration community, financial sector, and mining and minerals industries, to discuss In-Situ Resource Utilization (ISRU) on the Moo n, Mars and asteroids. The program includes keynote addresses from principals of three renowned space enterprise start ups: Chris Lewicki of Planetary Resources, Alan Stern of Moon Express, and Jim Keravala of Shackleton Energy Co. A key to the dynamics of ISRU is establishing a framework for Space / Multi-World property rights. This fundamental issue will be discussed during Technical Session 2 with presentations by Steve Durst of ILOA, Charles Faires of UNCOPUOS, Wayne White Jr. of SpaceBooster LLC and G.W. Nemitz of Orbital Development. On June 6-8 scientists will meet in Boulder, Colorado for Dust, Atmosphere and Plasma: Moon and Small Bodies, a workshop supported by the NASA Lunar Science Institute (Colorado Center), the Laboratory for Atmospheric and Space Physics, and the Center for Integrated Plasma Studies. (Image Credit: SRR, PRMSS, NASA, Denise Watt, Alice Wolters)
2nd Venus Transit of Space Age to Aid Exoplanet Hunters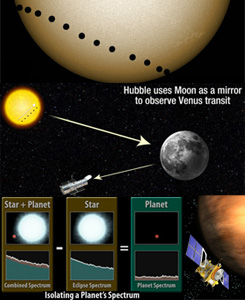 On June 5-6 Venus will provide stargazers, astronomers and scientists a rare show as it transits in front of the Sun. Just the 2nd time this has occurred in the Space Age, and 8th since the invention of the telescope, the event presents a unique opportunity to refine the search for Earth-like exoplanets. Many of the premier Earth-based and space telescopes will be trained on the site including the Hubble Space Telescope, the Solar Dynamics Observatory and the ESA Venus Express satellite (BR). Unable to peer directly at the Sun without damaging its sensitive instruments, Hubble will utilize the Moon as a mirror to observe the event. The Space Telescope will lock onto one location of the Moon's surface for the entire 7-hour transit. Researchers will then see if Hubble can determine the makeup of Venus' atmosphere by studying the 0.001% of the sunlight that pours through it. Venus Express will make observations of the planet's atmosphere that will be compared with Hubble and ground-based telescopes to help planet hunters test their techniques. Venus transits come in pairs, separated by eight years. The time between pairs varies between 121.5 – 105.5 years; the next one will occur in 2117. (Image Credit: NASA, ESA)
---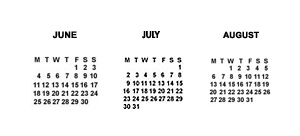 = All times for terrestrial events in local time unless noted.

= All times for international terrestrial events in local time unless noted.

= All times for space events, and…

= All times for international space / astro events in Hawaii Standard Time unless noted. Add 10 hours to obtain UT ('Universal Time;' Greenwich, England).
---
Weekly Planet Watch – Evening Planets: Mercury (WNW), Mars (SW), Saturn (S).
---
MONDAY

Jun 4 — International Space Station, LEO: E-31 crew members continue scientific experiments and station maintenance after successful departure and return to Earth of SpaceX Dragon.


Jun 4 — Lunar Reconnaissance Orbiter (LRO), Lunar Orbit: NASA LRO functioning nominally in its 50±15 km near-circular orbit as it makes digital elevation and surface maps that will be fundamental references for future human exploration.


Jun 4 — Mars Rover Opportunity, Red Planet: Opportunity continues on the hunt for more light-toned veins of gypsum to analyze; As of Sol 2968 (May 30, 2012), solar array energy production was 345 watt-hours; Total odometry: 34,456.53 meters.

Jun 4 — Jupiter Juno Mission, Jupiter Trajectory: Juno spacecraft in excellent health and operating nominally; The craft is moving away from Earth at a relative velocity of 153,200 kilometers per hour.

Jun 4-6 — Temple University, George Washington University, et al, Philadelphia PA: 'Moving Forward in Space.'

Jun 4-7 — Space Resources Roundtable, Lunar and Planetary Institute, Northern Center for Advanced Technology, Golden CO: '3rd Joint Meeting of Space Resources Roundtable and Planetary & Terrestrial Mining Sciences Symposium.'

Jun 4-7 — The University of Calgary, Rothney Astrophysical Observatory, Calgary, Alberta, Canada: 'CASCA 2012: Production and Analysis of Large Astronomical Datasets and Simulations.'

Jun 4-8 — Russian Academy of Sciences – Space Research Institute, Moscow, Russia: 'Space Weather Effects on Humans – in Space and on Earth.'


Jun 4 – Aug 3 — International Space University, Melbourne FL: '25th Space Studies Program,' event will also feature 'TEDxISU' on July 6.

Jun 4 — Moon: Full Moon (Strawberry Moon), 01:11.

---
Continued from…

May 20 — Aspen Center for Physics, Aspen CO: Aspen Summer Meeting 2012: 'A Window to the Formation of the Milky Way;' through June 9.

May 29 — National Radio Astronomy Observatory, New Mexico Consortium, et al, Socorro NM: '13th Synthesis Imaging Workshop;' through June 5.

May 31 — NASA Living with a Star Program, Boulder CO: 'Heliophysics Summer School 2012;' through June 7.

Jun 3 — Women in Technology International (WITI), Santa Clara CA: 'WITI Women Powering Technology Summit: Technology Powering Change.' through June 5

Jun 3 — Institute for Astronomy Maui Maikalani/ATRC, Maui HI: 'Transiting Planets in the House of the Sun: A Workshop on M Dwarf Stars and Their Planets;' through June 6.

Jun 3 — Israel Institute of Technology, Haifa, Israel: 'Workshop: Applications of Gauge – Gravity Duality;' through June 7.
---
TUESDAY

Jun 5 — Transit of Venus: Venus to pass directly between Earth and the Sun, as observers see the distant planet as a small dot gliding slowly across the face of the Sun; Next Transit of Venus to occur in 105 years (2117).

NET Jun 5 — International Launch Services, Launch Proton / SES 5, Baikonur Cosmodrome, Kazakhstan: An ILS Proton rocket with a Breeze M upper stage set to deploy the SES 5 satellite which will provide communications services over Africa, Europe and the Middle East.

Jun 5-7 — ESA, Hungarian Academy of Sciences, et al, Budapest, Hungary: 'Mars – Connecting Planetary Scientists in Europe.'

Jun 5-8 — French Society of Astronomy and Astrophysics, Nice, France: 'SF2A 2012 Annual Meeting.'

Jun 5 — Moon: 1.2° SSW of Pluto, 16:00

Jun 5 — Asteroid 2012 HK31: Near-Earth Flyby (0.035 AU).

Jun 5 — Asteroid 2012 NK18: Near-Earth Flyby (0.042 AU).
---
WEDNESDAY

Jun 6 — The SETI Institute, Mountain View CA: Colloquium Series Lecture: 'Machine Learning for Exploring Data Streams: Lessons from the VLBA,' David Thompson.

Jun 6 — NASA, US Geological Survey, Washington DC: Submission deadline for 'My American Landscape: A Space Chronicle of Change.'

Jun 6-8 — NASA Lunar Science Institute – Colorado Center For Lunar Dust and Atmospheric Studies, Boulder CO: 'Dust, Atmosphere and Plasma: Moon and Small Bodies.'

Jun 6-15 — United Nations Office for Outer Space Affairs, Vienna, Austria: '55th Committee on the Peaceful Uses of Outer Space Meeting.'

Jun 6 — Asteroid 2006 SG7: Near-Earth Flyby (0.086 AU).
---
THURSDAY

Jun 7 — RSA, Launch Kanopus-V & BelKA 2, Baikonur Cosmodrome, Kazakhstan: A Soyuz rocket with Fregat upper stage set to launch the Kanopus-Vulkan remote sensing satellite for the Russian government, the BelKA 2 Earth observation spacecraft for Belarus, and several other secondary payloads.

Jun 7 — Cassini Titan Flyby, Saturn Orbit: Spacecraft conducts flyby of Titan today.

Jun 7 — Mars Science Laboratory, En Route to Mars: Spacecraft conducts Trajectory Correction Maneuver #3 today.

Jun 7 — Asteroid 2001 LB: Near-Earth Flyby (0.075 AU).
---
FRIDAY

Jun 8 – Jul 10 — American Astronomical Society, NASA, et al, Cross Plains TX: 'Student CanSat Competition 2012.'
---
SATURDAY

Jun 9 — Royal Astronomical Society of Canada, Oakville, Ontario, Canada: 'Canadian Astronomy Swap.'

Jun 9-10 — Jet Propulsion Laboratory, Pasadena CA: 'JPL Open House: Great Journeys.'

Jun 9 — Moon: 5.9° NNW of Neptune

Jun 9 — Asteroid 2012 JU11: Near-Earth Flyby (0.073 AU).
---
SUNDAY

Jun 10-14 — American Astronomical Society, Anchorage AK: '220th Meeting of the AAS.'

Jun 10 — Origins Institute, McMaster University, Hamilton, Ontario, Canada: 'The Origins of Stars and their Planetary Systems.'

Jun 10 — Cassini OTM-326, Saturn Orbit: Spacecraft conducts Orbital Trim Maneuver #326 today.