Spain Hosting 3 Space Events this Week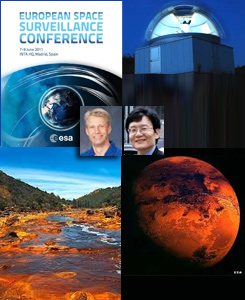 Astrophysics, space surveillance and a geology field trip will be the focus of 3 space events in Spain. The '2nd Workshop on Robotic Autonomous Observatories' in Malaga began on June 5 and will continue through June 10. Sponsored by the Andalucia Institute of Astrophysics and the University of Malaga, the event centers on the growing number of robotic observatories worldwide and how they impact the field of astrophysics. Tokyo Institute of Technology Scientist Nobuyuki Kawai (CR) spoke on the discoveries of the MITSuME robotic telescope (TR) in Japan. The 91cm IR telescope consists of 3 robotic telescopes, 2 optical telescopes and an IR telescope. On Jun 7-9, ESA will hold the '1st European Space Surveillance' in Madrid. International experts include ESA Director of Human Spaceflight and Operations Thomas Reiter (CL) and Beijing Institute of Tracking and Telecommunications Technology Scientist Zhonggui Liu will share the latest research on space debris, orbital hazard detection and satellite safety. NASA and ESA will sponsor 'Mars Week in Europe' Jun 12-21 in Lisbon, Portugal. The event will conclude with a 2-day field trip to study 2 geological locations in Rio Tinto, Spain (BL) on Jun 17-19. (Credit: NASA, ESA, fungur.com, phys.titech.ac.jp)
JPL Lecture Explores Potential Impact of Climate Change
On Thursday, June 9, NASA Jet Propulsion Laboratory (JPL) lead scientist in terrestrial studies Ron Blom will present a lecture entitled 'Climate Change Impact on Civilizations: Lessons from Space Data and Archaeology' at the von Kármán Auditorium at JPL, in Pasadena, CA. In order to assess and anticipate possible impacts and responses of civilization to climate change, Blom will examine the historical and archaeological record and compare it to the increasingly detailed climate records from ice cores, sediment cores, cave data and other climate data. NASA currently has 15 satellites monitoring climate change processes in orbit and JPL is preparing for the launch of the Aquarius / SAC-D observatory. Scheduled to launch June 9 from Vandenberg Air Force Base in CA, Aquarius will measure ocean surface salinity to study the interactions between ocean circulation, the water cycle and climate. JPL is also hosting a Tweetup for approximately 120 Twitter followers on Monday, June 6. The Tweetup will include a tour of JPL, robotics demonstrations and a last chance to see the Curiosity rover before it ships to Florida to prepare for a November launch. (Credit:NASA)
---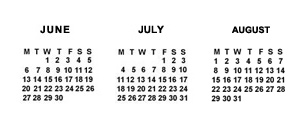 = All times for terrestrial events in local time unless noted.

= All times for international terrestrial events in local time unless noted.

= All times for space events, and…

= All times for international space / astro events in Hawaii Standard Time unless noted. Add 10 hours to obtain UT ('Universal Time;' Greenwich, England).
---
Weekly Planet Watch – Morning Planets: Venus (ENE), Mars (E), Jupiter (E) / Evening Planets: Saturn (S).
---
MONDAY

Jun 6 — International Space Station, LEO: Expedition 28 crew members Cmdr Andrey Borisenko and Flight Engineers Alexander Samokutyaev and Ron Garan prepare for this week's arrival of Flight Engineers Mike Fossum, Sergei Volkov and Satoshi Furukawa.

Jun 6 — NASA Lunar Reconnaissance Orbiter (LRO), Lunar Orbit: All systems nominal in scientific phase of mission as LRO continues to make digital elevation and terrain maps that will be a fundamental reference for future human exploration.

Jun 6 — Mars Odyssey, Red Planet: NASA Mars Odyssey orbiter due to take last listen for UHF signals from rover Spirit on Jun 8 with the final relay pass due at 12:30 PDT.

Jun 6 — Jet Propulsion Laboratory, Pasadena CA: 'JPL Tweetup Previews Missions: Mars, Jupiter and More,' NASA JPL to host a Tweetup for approximately 120 Twitter followers from 09:00 –  17:00 PDT.

Jun 6 — Smithsonian National Air and Space Museum, Washington DC: 'Spacesuit,' book signing with author Nicholas de Monchaux.

Jun 6-7 — International Institute of Space Law, Indonesian Society of International Law, Jakarta, Indonesia: 'IISL – ISIL International Conference on the Law of Outer Space.'

Jun 6-8 — National Institute of Aerospace, NASA, Cocoa Beach FL: '2011 Revolutionary Aerospace Systems Concepts Academic Linkage Competition,' to provide university-level engineering students the opportunity to design projects based on NASA engineering challenges as well as offer NASA access to new research and design projects by students.

Jun 6-9 — Applied Technology Institute, Colorado Springs CO: 'Earth Station Design.'
---
Continued from . . .

May 9 — Google Lunar X Prize Foundation, LEGO Group, Online: Free registration and Phase 1 of 'Moonbots 2.0 Challenge' open; through Jun 13.

May 31 — NASA Lunar Science Institute, Lunar and Planetary Institute, Houston TX: 'Lunar Exploration Summer Intern Program,' 10-week program to evaluate possible landing sites for robotic and human exploration missions; through Aug 5.

Jun 1 — United Nations Office for Outer Space Affairs, Vienna, Austria: '54th United Nations Committee on the Peaceful Uses of Outer Space Session;' through Jun 10.

Jun 3 — International Society for the Study of the Origin of Life, International Astronomical Union, et al,Montpellier, France: 'Origins 2011: ISSOL & IAU Bioastronomy Joint International Conference;' through Jun 8.

Jun 5 — NASA Astrobiology Institute, University of Colorado at Boulder, et al, Bozeman MT: 'AbGradCon11,' event for aspiring astrobiologists to participate in presentations, poster sessions, public outreach and a field trip to Yellowstone National Park; through Jun 8.

Jun 5 — The German Aerospace Center,Bad Honnef, Germany: 'Seminar: Extrasolar Planets – Towards Comparative Planetology Beyond the Solar System;' through Jun 8.

Jun 5 — Andalucia Institute of Astrophysics, The Spanish National Research Council, Malaga, Spain: '2nd Workshop on Robotic Autonomous Observatories;' through Jun 10.

Jun 5 — ESA, Carlsbad, Czech Republic: '8th International ESA Conference on Guidance and Navigation;' through Jun 10.

Jun 5 — International Symposium on Space Technology and Science Committee, JAXA, et al, Ginowan, Okinawa, Japan: '28th International Symposium on Space Technology and Science;' through Jun 12.
---
TUESDAY

NET Jun 7 — RSA, Launch Soyuz / ISS 27S, Baikonur Cosmodrome, Kazakhstan: Russian government Soyuz rocket set to launch Soyuz spacecraft to the ISS with members of the next Expedition crew.

Jun 7 — Space Frontier Foundation, Students for the Exploration of Space, et al, Online: Submission deadline for 'We-Are-Space Video Competition: How Will Emerging Low-Cost Access to Space Transform Both the Role of Government Space Agencies and the Lives of Ordinary Citizens?'

Jun 7-9 — ESA, Madrid, Spain: 'European Space Surveillance Conference.'

Jun 7 — Arietid Meteors: Strongest daylight meteor shower of the year which radiates from Constellation Aries, the Arietids usually hit Earth's atmosphere with a velocity of 39 km/s.

Jun 7 — Mercury: 5.4° NNW of Aldebaran; 00:00.

Jun 7 — Moon: 5.4° SSW of Regulus; 10:00.
---
WEDNESDAY

Jun 8 — Dryden Aircraft Operations Facility, Palmdale CA: NASA to showcase SOFIA science, education projects at 09:30 PDT.

Jun 8 — The SETI Institute, Mountain View CA: Colloquium Series Lecture: 'Analyzing the Atmosphere of Super Earth GJ1214b,' Eliza Kempton.

Jun 8-10 — Cryogenic Society of America, Marshall Space Flight Center, Coeur d'Alene ID: '24th Space Cryogenics Workshop.'

Jun 8-10 — ESA, Darmstadt, Germany: 'International Workshop on Planning and Scheduling for Space.'

Jun 8 — Moon: At First Quarter; 16:09.
---
THURSDAY

NET Jun 9 — ULA, Launch Delta 2 / SAC-D, Aquarius, Vandenberg AFB CA: ULA Delta rocket set to launch Argentina's SAC-D satellite with the Aquarius instrument for NASA. Satellites to map salt concentrations of the world's oceans.

NET Jun 9 — NASA, Launch Terrier – Orion / SMART, Wallops Island VA: A test of several new rocket technologies on a Terrier- Improved Orion suborbital sounding rocket set to launch from NASA's Launch Range at the Wallops Flight Facility in Virginia between 07:00 – 10:00 EDT.

Jun 9 — Goddard Space Flight Center, Greenbelt MD: 'Small Business Conference 2011.'

Jun 9-10 — Jet Propulsion Laboratory, Pasadena CA: The von Karman Lecture Series: 'Climate Change Impact on Civilizations: Lessons from Space Data and Archaeology,' Ron Blom.

Jun 9 – Aug 5 — New Mexico Museum of Space History, Alamogordo NM: 'New Mexico Space Academy Summer Camp.'

Jun 9 — Venus: 5.1° SSE of Pleiades; 10:00.

Jun 9 — Zeta Perseid Meteors: Daylight shower activity emits 40 meteor / hr and radiates from Constellation Perseus.

Jun 9 — Asteroid 2011 KJ15: Near-Earth Flyby (0.055 AU).
---
FRIDAY

Jun 10 — Carnegie Observatories, San Marino CA: 'Memorial Event: Allan Sandage – The End of an Era.'

Jun 10-12 — Technical University of Munich Scientific Working Group for Rocketry & Spaceflight, Klaus Höchstetter Foundation, EuroSpaceward, et al, Munich, Germany: '1st European Space Elevator Challenge.'

Jun 10-12 — American Astronautical Society, American Institute of Aeronautics and Astronautics, Abilene TX: 'Student CanSat Competition 2011.'

Jun 10 — Moon: 7.6° SSW of Saturn; 07:00.
---
SATURDAY

Jun 11 — Moon: 2.6° S of Spica, 06:00; At Perigee (Distance 57.57 Earth-Radii).
---
SUNDAY

Jun 12-17 — JAXA, CSA, MDA, et al, Okinawa, Japan: '10th International Space Conference on Protection of Materials and Structures from the Space Environment.'

Jun 12-21 — NASA, ESA, Lisbon, Portugal; Rio Tinto, Spain: 'Mars Week in Europe,' events include pre-conference Mars science meetings (Jun 12-13), an international conference on 'The Exploration of Mars Habitability (Jun 13-15), the 1st International Mars Exploration Program Analysis Group (MEPAG) meeting (Jun 16-17) and a field trip to unique geology and acidic environments in Rio Tinto, Spain (Jun 18-20/21).