Solar System Spacecraft Encounters and Anniversaries Approaching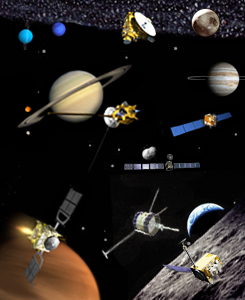 New Horizons heading toward Pluto and the Kuiper Belt, is scheduled to wake up this June for two and a half months of work including course corrections, homing activities with the Long-Range Reconnaissance Imager, systems and science instruments check outs, and brightness variation measurements of Pluto and Charon. Cassini is now on its 205th orbit and will have completed 10 years at Saturn on July 1. The Chang'e-2 spacecraft is expected to reach a distance of 100 million km from Earth in July after its successful missions at the Moon, L2 and asteroid 4179 Toutatis. ISEE-3 is planning to attempt ~17 hours of pulsed engine maneuvers before June 17 to fly by the Moon at 50-km altitude on August 10 and enter Earth orbit. On June 18 Lunar Reconnaissance Orbiter celebrates 5 years in orbit, and Rosetta will perform one of seven final engine burns to reach comet 67P/Churyumov–Gerasimenko August 6. Since it is nearly out of fuel, Venus Express will begin its grand finale of data collection with a series of aerobraking maneuvers to lower itself to ~130-km altitude. If it manages to survive this 3-week campaign starting June 18, it will raise its orbit again for a few months before being commanded to plunge into the atmosphere. (Image Credit: NASA, ESA, A. Mirecki)
27th ISU Space Studies Program Convenes in Montréal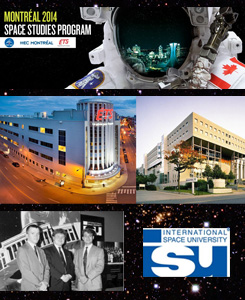 The International Space University is expecting 80 space professionals and 115 student-participants from ~30 countries to join its 27th Space Studies Program on June 9 – August 8 at the École de Technologie Supérieure (ÉTS) and HEC Montréal in Québec, Canada. The 9-week program includes numerous academic sessions, a robotics competition and an all-female astronauts' panel. This is the 3rd time the ISU-SSP has been held in Canada, one of the primary incubators and strongest supporters of ISU – Angie Bukley ISU Dean and Vice-President for Academics & Research notes the "over 400 ISU alumni, well-established ISU scholarship foundation, dozens of ISU faculty members and strong support of the Canadian Space Agency." ÉTS currently has 7,600 students enrolled and is part of the University of Quebec network specializing in engineering. It also has established an aerospace research cluster called AÉROÉTS with 45 professors, 320 trainees and 70 industrial partners. HEC Montréal is Canada's oldest business school, a leader in management education. The combination of expertise and facilities at these partner institutions offers great potential to complement ISU's rich curriculum. Among the SSP participants this year are at least 15 Canadians and 26 Chinese. One former student from China is Wu Yanshuing, the new head of the China Aerospace Science and Technology Corporation. (Image Credit: ISU, ÉTS, HEC Montréal)
---


= All times for terrestrial events in local time unless noted.

= All times for international terrestrial events in local time unless noted.

= All times for space events, and…

= All times for international space / astro events in Hawaii Standard Time unless noted. Add 10 hours to obtain UT ('Universal Time;' Greenwich, England).
---
Weekly Planet Watch – Evening Planets: Mercury (WNW), Mars (S), Jupiter (W), Saturn (SE); Morning Planets: Venus (E).

---
MONDAY

Jun 9 — ISS, LEO: Expedition 40 Cosmonauts Skvortsov, Artemyev reviewing procedures for EVA scheduled Jun 19; German ESA Astronaut Gerst expected to conduct about 100 experiments for Blue Dot Mission during ISS stay.

Jun 9 — ISS, Undocking of Progress 53P, LEO: Progress resupply ship, now filled with waste, to burn up in Earth atmosphere; undocking scheduled 13:00 UT, live coverage available.

 Jun 9 — Curiosity, Mount Sharp Trajectory, Mars: Resuming drive toward long-term destination mountain slope, will continue analyzing recently collected 'Windjana' rock powder sample.

 Jun 9 — Juno, Jupiter Trajectory: Cruising in Main Asteroid Belt, operations team preparing for Jupiter arrival Jul 4, 2016 at 16:30 HST (02:30 UT Jul 5).

Jun 9 — Space Adventures Ltd., Tysons Corner VA: NewSpace company partnering with RSC Energia of Russia to arrange for 2 private citizens to fly around Moon in 2017-18 for ~US$150M each.

Jun 9 — Planetary Resources Inc., Bellevue WA: Arkyd 3 technology demonstrator to be released from ISS Kibo module by end of 2014; Arkyd 100 mission planned for 2015 will detect, characterize NEAs.

Jun 9 — BoldlyGo Institute, New York NY: Planning to build, launch scientific space missions including Mars sample return mission & ASTRO-1 space telescope.

Jun 9 — Marshall Space Flight Center, NASA, Huntsville AL: Exploration Systems Development (ESD) Update; at Huntsville Museum of Art.

Jun 9 — Lowell Observatory, Northern Arizona University, National Solar Observatory, et al, Flagstaff AZ: Cambridge Workshop on Cool Stars, Stellar Systems, and the Sun; at High Country Conference Center.

Jun 9-12 — Space Resources Roundtable, Planetary and Terrestrial Mining Sciences Symposium, Lunar and Planetary Institute, Golden CO: 2014 SRR/PTMSS; at Colorado School of Mines.

Jun 9-14 — NASA HQ, Worcester Polytechnic Institute, Worcester MA: 2014 Sample Return Robot; industry & academic teams demonstrate robots that can locate & retrieve geologic samples from varied terrains without human controls; US$1.5M grand prize.

Jun 9 – Aug 8 — International Space University, Montreal, Quebec, Canada: 27th Annual Space Studies Program (SSP14).

Jun 9 — Asteroid 154275 (2002 SR41): Near-Earth flyby (0.042 AU).

---
Continued from…

Jun 2 – Aug 8 — Lunar and Planetary Institute, Houston TX: LPI Summer Intern Program in Planetary Science.

Jun 4 – Aug 10 — Johns Hopkins University Applied Physics Laboratory, NASA, Laurel MD: 2014 Internship Program; summer projects for students interested in working on NASA missions or space-related research opportunities at APL.

Jun 8-13 — Geochemical Society, European Association of Geochemistry, Sacramento CA: Goldschmidt 2014 Geochemistry Conference.

Jun 8-13 — American Physical Society Division of Laser Science, IEEE Photonics Society, Optical Society, San Jose CA: Conference on Lasers and Electro-Optics (CLEO) 2014; comprehensive overview of LADEE Lunar Laser Communications Demonstration to be presented.

Jun 8-14 — Square Kilometre Array Organization, Giardini Naxos, Italy: Conference: Advancing Astrophysics with the Square Kilometre Array.
---
TUESDAY

Jun 10 — Silicon Valley Space Center, Santa Clara CA: Space Entrepreneurship Series: Business Canvas; presented by Dr. Sean Casey.

Jun 10 — The Space Show, Tiburon CA / Online: Dr. David Livingston talks with Frank Van Rensselaer, Senior Vice President for Civil and Military Aerospace at Schafer Corp.

Jun 10-12 — The University of Edinburgh School of Physics and Astronomy, Edinburgh, United Kingdom: The Physics of First Star and Galaxy Formation.

Jun 10-13 — ESA, Lausanne, Switzerland: 9th ESA Round Table on Micro and Nano Technologies for Space Applications; at Swiss Tech Convention Center.

Jun 10-14 — ESA, ASI, National Institute for Astrophysics (INAF), Catania, Sicily, Italy: International Venus Workshop; at Diocesan Museum of Milan.

Jun 10 — Moon: 1.2° SE of Saturn, 09:00.
WEDNESDAY

Jun 11 — Mars Orbiter Mission (Mangalyaan) TCM-2, Mars Trajectory: Spacecraft to perform Trajectory Correction Maneuver #2 today.

Jun 11-13 — Czech Republic Ministry of Transport, European Global Satellite Navigation Systems, Galileo Programme, Prague, Czech Republic: European Space Solutions: Discover What Space Brings to Your Life.

Jun 11-20 — United Nations Office for Outer Space Affairs, Vienna, Austria: 57th Session of the Committee on the Peaceful Uses of Outer Space.

Jun 11 — Moon: 8.0° N of Antares, 21:00.

Jun 11 — Asteroid 2014 KL22: Near-Earth flyby (0.035 AU).

Jun 11 — Asteroid 2014 HS184: Near-Earth flyby (0.046 AU).

Jun 11 — Asteroid 2012 FC71: Near-Earth flyby (0.090 AU).
THURSDAY

Jun 12 — SpaceX, Launch Falcon 9 / Orbcomm OG2, Cape Canaveral AFS FL: SpaceX Falcon 9 v1.1 rocket to launch 8 second-generation Orbcomm communications satellites; launch window 21:07 – 22:01 EDT.

Jun 12-13 — ESA, Noordwijk, The Netherlands: Mechanisms Final Presentation Days 2014; European entities present their latest Space Mechanisms and Tribology technology developments.

Jun 12-13 — UK Centre for Astrobiology, British Interplanetary Society, London, United Kingdom: Extraterrestrial Liberty 2 – Human Governance beyond the Earth.

Jun 12 — Moon: Full (Strawberry Moon), 18:13.

Jun 12 — Asteroid 2014 KS40: Near-Earth flyby (0.049 AU).

Jun 12 — Asteroid 2014 KA46: Near-Earth flyby (0.067 AU).
FRIDAY

Jun 13 — Space Center Houston, Houston TX: Lunch with an Astronaut, David Hilmers; US$49.95 adult.

Jun 13 — Peninsula Astronomical Society, Los Altos Hills CA: Lecture: Exploding Stars, Dark Energy, and the End of the Universe; presented by Dr. Brad Tucker from UC Berkeley.

Jun 13-15 — American Astronautical Society, AIAA, Burkett TX: 2014 Annual CanSat Competition.
SATURDAY

Jun 14 — Milwaukee Lunar Reclamation Society – NSS Chapter, Wauwatosa WI: Milwaukee Space Exploration Meetup; organized by Peter Kokh, Editor of Moon Miner's Manifesto.

Jun 14 — Moon: At perigee (distance 361,681 km), 17:35.
SUNDAY

NET Jun 15 — New Horizons, Pluto Trajectory: To wake up from hibernation for 2.5 months of work including optical-navigation (homing) activities using Long-Range Reconnaissance Imager (LORRI), check out of backup systems & science instruments, small course correction, brightness variation measurements of Pluto & Charon.

Jun 15 — Cassini, Saturn Orbit: Spacecraft conducts Orbital Trim Maneuver #382 today.