China Gears Up For Human Space / Multi-World Exploration With New Launch Systems and Hainan Space Port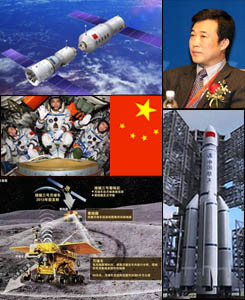 Progress continues on development of the Long March-5 and Long March-7 rocket launch systems. Deputy head of the China Academy of Launch Vehicle Technology Liang Xiaohong (TR) indicates that the LM-5, with a maximum LEO payload capacity of 25 tons and geosynchronous orbit payload capacity of 14 tons, will make its maiden flight in 2014. The LM-7 system will be ready for launch within 5 years. The new Wenchang Satellite Launch Center on Hainan Island is due for completion in 2013. At only 19 degrees north latitude, it is China's best available site for launching geosynchronous satellites, heavy satellites, large space station components, deep space probes, lunar and interplanetary missions. This summer China plans to conduct a crewed space rendezvous and docking mission with Tiangong-1 as a precursor to continued development of a dedicated space station, the core module of which is scheduled for a LM-5 launch by 2020. The Chang'e Moon exploration program is also advancing with the Chang'e-3 soft-landing/rover and the Chang'e-5 sample return missions slated for 2013 and 2017 respectively. While commentators in the West, most recently Neil deGrasse Tyson, foresee a new space race, international cooperation rather than competition may be the most successful model for humanity's multi-world ambitions. (Image Credit: CNSA, Xin Hua)
43rd Lunar and Planetary Science Pre-Conference Events in Woodlands, Texas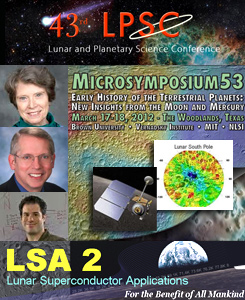 Several space events will take place in the build-up to the much anticipated '43rd Lunar and Planetary Science Conference' on March 19-23 in Woodlands TX. Flexure Engineering and the University of Houston will host the '2nd Lunar Superconductor Applications Workshop' on Mar 15-16. Fifty international scientists and technologists will attend the 'Invite-Only' event to discuss funding for commercial and scientific ventures at the Moon South Pole, which has become the destination of choice because of its rich resource potential. Attendees include Keynote speaker David Gump (C) of Astrobotic and NASA LCROSS PI Anthony Colaprete (B). On Mar 17-18, Brown University, the Vernadsky Institute, MIT and the NASA Lunar Science Institute will co-sponsor  'Microsymposium 53: Early History of the Terrestrial Planets.' Scientists will discuss recent discoveries from LRO, LCROSS, GRAIL-A / B and MESSENGER, and evaluate future exploration goals for the Moon and Mercury. Co-Conveners in attendance include Carle Pieters (T), Maria Zuber, James Head and Harald Hiesinger. On March 18, NASA and the Lunar Planetary Institute will host an 'Undergraduate Planetary Science Research Conference' for those currently conducting research in planetary sciences, astrobiology and lunar sciences. Students will be able to present posters to peers and the science community, attend panel sessions and meet mentors. (Image Credit: NASA, Astrobotic, LPI, Brown University)
---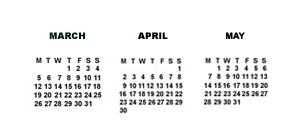 = All times for terrestrial events in local time unless noted.

= All times for international terrestrial events in local time unless noted.

= All times for space events, and…

= All times for international space / astro events in Hawaii Standard Time unless noted. Add 10 hours to obtain UT ('Universal Time;' Greenwich, England).
---
Weekly Planet Watch
– Morning Planets: Saturn (S) / Evening Planets: Mercury (W), Venus (W), Mars (S), Jupiter (SW).
---
MONDAY

Mar 12 — International Space Station, LEO: E-30 crew members continue maintaining and monitoring USA / Russia segment systems, transferring cargo and performing science experiments.

Mar 12 — Lunar Reconnaissance Orbiter (LRO), Lunar Orbit: Lunar scientists continue to study recent images from LRO which show more detail of Apollo 15 landing site; New images captured when the spacecraft lowered its mapping orbit from 50km to 25 km.

Mar 12 — ESA Mars Express, Red Planet: The unique elliptical polar orbit of Mars Express allows scientists to see the gravitational field of Phobos in unprecedented detail, prompting Shanghai Astronomical Observatory and Technical University Berlin to recently update working models of the Martian moon.

Mar 12 — National Air and Space Museum, Applied Physics Lab, Arlington VA: '3rd Space Policy and History Forum,' featuring Virgin Galactic EVP and CTO Steve Isakowitz.

Mar 12 — International Academy of Astronautics (IAA), Paris, France: 'IAA Spring Dinner.'

Mar 12-14 — ESA, Copenhagen, Denmark: 'Integrated Applications Promotion Arctic Applications Workshop.'

Mar 12-14 — International Astronautical Federation (IAF), Paris, France: 'IAF Spring Meeting 2012.'

Mar 12-14 — Solar Terrestrial Environmental Laboratory, Nagoya, Japan: '1st Geospace Environment Modeling System for Integrated Studies (GEMSIS) Workshop: Current Status and Future Perspectives in Space Weather Research.'

Mar 12-15 — Access Intelligence Satellite Group, Satellite TODAY, et al, Washington DC: 'Satellite 2012.'

Mar 12-15 — European Science Foundation, COST (European Cooperation in the Field of Scientific and Technological Research), Prague, Czech Republic: 'COST Action Conference: Developing Space Weather Products and Services in Europe & IRI Real-Time Workshop.'

Mar 12-16 — NASA, National Astronomical Observatory of Japan, Monterey CA: 'SDO – 4 / IRIS / Hinode Workshop: Dynamics and Energetics of the Coupled Solar Atmosphere.'

Mar 12-16 — Science and Technology Facilities Council, Oxford, United Kingdom: 'STFC Graduate Course: Exoplanets and Their Host Stars.'

Mar 12 — Asteroid (Near-Earth Flyby): 2012 DW60 (0.006 AU); 2010 SV3 (0.058 AU).
---
TUESDAY

Mar 13 — NASA Headquarters, Washington DC: Media briefing at 12:00 EDT to discuss upcoming launch of the Nuclear Spectroscopic Telescope Array set to launch NET Mar 22.

Mar 13-15 — The American Institute of Aeronautics and Astronautics, Albuquerque NM: 'Space Technology and Applications International Forum.'

Mar 13-15 — The American Institute of Engineers, JT3 LLC, Las Vegas NV: 'Airborne Networks Conference.'

Mar 13-15 — Ohio Aerospace Institute, Cleveland OH: 'Designing Space Missions and Systems: An Integrated Systems Engineering Approach.'

Mar 13-15 — National Oceanic and Atmospheric Administration, Miami FL: '10th Annual Climate Prediction Applications Science Workshop: Climate Services for National Security Challenges.'

Mar 13-22 — The GLOBE Program, The National Optical Astronomy Observatory, Global: 'GLOBE at Night: Less of Our Light, More Star Light,' event to raise public awareness of the impact of light pollution by inviting citizen-scientists to measure the brightness of the local night sky and submit their observations to a website from a computer or smart phone.

Mar 13 — Moon: 4.7° N of Antares; 13:00.

Mar 13 — Venus: 3.0° NNW of Jupiter; 12:00.
---
WEDNESDAY

Mar 14 — The SETI Institute, Mountain View CA: Colloquium Series Lecture: 'A Post-Equinox View of Saturn's Rings,' Larry Esposito.

Mar 14 — Space Transportation Association, Washington DC: 'STA Breakfast Reception,' John Grunsfeld.

Mar 14 — The British Interplanetary Society, London, United Kingdom: 'Wings Into Space,' David Baker.

Mar 14 — Intech Science Center and Planetarium, Winchester, United Kingdom: 'Lecture: Sophisticated Small Satellites from Surrey,' Stuart Eves.

Mar 14 — Commonwealth Scientific and Industrial Research Organization, Sydney, Australia: 'Colloquium: Fully Digital Receivers for Radio-Astronomy.'

Mar 14-16 — The Kepler Space Institute, National Space Society, et al, Hilton Head Island SC: 'Kepler Space Institute Convention.'

Mar 14-16 — NASTAR Center, Philadelphia PA: 'Suborbital Scientist Training: Commercial Suborbital Scientist Space Research.'

Mar 14 — Moon: At Last Quarter; 15:26.


Mar 14 — Asteroid 2008 EY5: Near-Earth Flyby (0.088 AU).
---
THURSDAY

Mar 15 — NASA, L'Garde Inc, Tustin CA: NASA Chief Technologist Mason Peck to visit L'Garde Inc in Tustin, Calif at 09:00 PDT to highlight ways government can partner with small business to help create the jobs of the future through investment in science and technology.

Mar 15-16 — Jet Propulsion Laboratory, Pasadena CA: 'The von Karman Lecture Series: Mysterious Titan,' Trina Ray.

Mar 15-16 — Flexure Engineering, University of Houston, et al, The Woodlands TX: '2nd International Lunar Superconductor Applications Workshop.'

Mar 15 — Cassini OTM-312A, Saturn Orbit: Spacecraft conducts Orbital Trim Maneuver #312A today.

Mar 15 — Asteroid 2012 BB14: Near-Earth Flyby (0.048 AU).
---
FRIDAY

Mar 16 — Ames Research Center, Moffett Field CA: NASA ARC to host 80 users of the review-based social network, Yelp; Participants to write review-type summaries of their time learning about space and science to share with their friends / followers.

Mar 16 — McAuliffe-Shepard Discovery Center, Concord NH: Planetarium Shows: 'Tonight's Sky,' 'Fractal Zooms!,' 'Black Holes,' 'A Visual Guide to the Mathematical Universe.'
---
SATURDAY

Mar 17 — Jet Propulsion Laboratory – Educator Resource Center, Pomona CA: 'Educator Workshop: Periodic Table.'

Mar 17 — Zero Gravity Corporation, Washington DC: 'Zero-G Flight Experience,' a once-in-a-lifetime opportunity to experience weightlessness onboard a specially modified Boeing 727.

Mar 17-18 — Brown University, Vernadsky Institute, NASA Lunar Science Institute, et al, The Woodlands TX: 'Brown-Vernadsky Microsymposium 53: Early History of the Terrestrial Planets: New Insights from the Moon and Mercury.'
---
SUNDAY

Mar 18 — NASA Lunar Science Institute, NASA Science Mission Directorate, et al, The Woodlands TX: 'Undergraduate Planetary Science Research Conference.'

Mar 18 — Goddard Space Flight Center, Greenbelt MD: 'The Sunday Experiment: James Webb Space Telescope.'

Mar 18 — San Diego Space Society, San Diego CA: 'Space Traveler's Emporium Open House.'