IAF and IAA Spring Meetings in Paris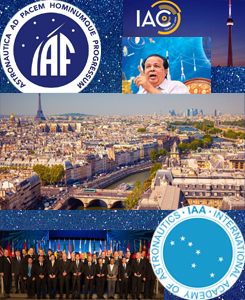 The International Astronautical Federation (IAF) and the International Academy of Astronautics (IAA) hold Spring Meetings on March 18-21 and 17-18 respectively. IAF is the world's leading space advocacy body with over 270 members, including key space agencies, companies, societies, associations and institutes across 64 countries. In Paris there will be IAF Administrative and Technical Committee meetings and sessions of the IAC International Programme Committee to select abstracts for presentation at the 65th International Astronautical Congress September 29 – October 3 in Toronto, Ontario, Canada. IAA is devoted to fostering the development of astronautics for peaceful purposes – providing direction and guidance in the non-military uses of space and ongoing exploration of the solar system. It is currently lead by Dr. Madhavan Nair from India and constitutes 899 full members from 84 countries. The agenda for the IAA meetings, which are held in close conjunction with partner organization IAF, includes Global Human Mars System Missions Exploration, Orbital Debris Removal and Public / Private Human Access to Space study groups as well as various administrative functions. IAA will also hold its 5th Symposium on Search for Life Signatures in Paris Mar 20-21. (Image Credit: IAF, IAA)
Planetary Scientists Gather for LPSC in Texas, Lunar CATALYST Deadline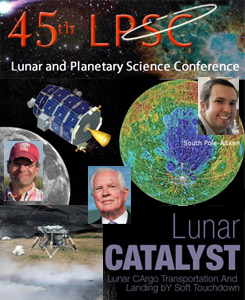 The 45th Lunar and Planetary Science Conference will bring together about 2000 international specialists in petrology, geochemistry, geophysics, geology and astronomy in The Woodlands, TX on March 17-21. As the premier conference for planetary scientists, it features a comprehensive program with oral and poster presentations examining recent data and research priorities of the planets, moons, asteroids and comets of our solar system. LPSC will also include several special sessions such as New Perspectives of the Moon: Enabling Future Lunar Missions, and Lunar Dust and Exosphere. During the former session Bradley Jolliff and Noah Petro(R) will discuss future exploration of the Moon's South Pole-Aitken Basin, and during the later session Richard Elphic(L) will provide a review of the initial science results from LADEE. Apollo 15 Mission Commander Col. David Scott(C) will give the Masursky Lecture on Harold Masursky's contributions to Apollo 15. March 17 also is the deadline for commercial enterprises to submit proposals for the NASA Lunar CATALYST program. The initiative, announced shortly after China's successful Moon landing, will lead to one or more Space Act Agreements in which NASA will provide technical expertise, test facility access and use of hardware / software to assist private companies in the development of reliable commercial robotic Moon lander capabilities. (Image Credit: LPI, NASA)
---


= All times for terrestrial events in local time unless noted.

= All times for international terrestrial events in local time unless noted.

= All times for space events, and…

= All times for international space / astro events in Hawaii Standard Time unless noted. Add 10 hours to obtain UT ('Universal Time;' Greenwich, England).
---
Weekly Planet Watch – Evening Planets: Mars (S), Jupiter (W); Morning Planets: Mercury (ESE), Venus (SE), Saturn (S).

---
MONDAY

Mar 17 — ISS, LEO: Expedition 39 three-member crew undergoing robotics training, sound level checks and conducting an array of international science.

Mar 17 — Chang'e-3 Lander, Sinus Iridum / Mare Imbrium, 44.12°N 19.51°W, Moon Surface: Lunar Ultraviolet Telescope aboard CE3 lander is completing successful calibration and initial testing; LUT is the first telescope to operate from the surface of the Moon.


Mar 17 — New Horizons, Pluto Trajectory: Within 4 AU of Pluto the spacecraft is traveling at 14.78 km/s relative to the Sun; 2.5 month wake up, check out and course correction operations scheduled NET June 2015.

Mar 17 — SpaceX, Location: NewSpace company testing Falcon 9 landing legs and other critical technologies to advance reusable orbital launch systems that might reduce the cost of access to space by as much as a factor of 100.


Mar 17 — Busek Co., Natick MA: Receiving two NASA Small Business Innovation Research Phase II propulsion projects for 5N-class green monopropellant thruster, high-throughput nominal 100-W Hall effect thruster.

Mar 17 — Uwingu, Boulder CO: Boosting public engagement in Space with innovative Mars Crater Naming project; over 7,000 contributions from 78 countries in just 10 days despite concerns of traditional naming body IAU.


Mar 17 — Goddard Space Flight Center, NASA, Online / Greenbelt MD: Proposals Due: Lunar Cargo Transportation and Landing by Soft Touchdown (Lunar CATALYST) initiative; U.S. private sector proposals for 1 or more no-funds exchanged Space Act Agreements.

Mar 17-18 — International Academy of Astronautics, Paris, France: IAA Spring Meetings.

Mar 17-20 — Space Telescope Science Institute, Rome, Italy: Science with the Hubble Space Telescope.

Mar 17-21 — Lunar and Planetary Institute, The Woodlands TX: 45th Lunar and Planetary Science Conference (LPSC); at Woodlands Waterway Marriott Hotel and Convention Center.

Mar 17-21 — Vatican Observatory, Steward Observatory, Tucson AZ: The Search for Life Beyond the Solar System: Exoplanets, Biosignatures & Instruments.

Mar 17 — Asteroid 2014 AY28: Near-Earth flyby (0.043 AU).
---
Continued from…

Jan 15 – Sep 30 — The Planetary Society, Goddard Space Flight Center, NASA, Online / Pasadena CA: Submit your name to be sent to asteroid 101955 Bennu in 2016.

Mar 16-22 — Ben-Gurion University of the Negev, Sheffield Space Systems, Ein Bokek, Israel: Meeting: Dynamical Processes in Space Plasmas.
---
TUESDAY

Mar 18 — SETI Institute, Mountain View CA: SETI Talks: Patterns of Sunlight on Extra-Solar Planets; presented by Tony Dobrovolskis of SETI, 12:00 PDT.

March 18-19 — ESA, Noordwijk, The Netherlands: European Space Technology Harmonisation Conference.

Mar 18-20 — International Academy of Astronautics, International Program Committee Steering Group, Paris, France: IPC Meetings.

Mar 18-21 — International Astronautical Federation, Paris, France: IAF Spring Meetings; Venue: CAP 15, 1 – 13 Quai de Grenelle.

Mar 18 — Moon: 1.6° NNE of Spica, 12:00; 3.1° SSW of Mars, 16:00.

Mar 18 — Asteroid 2013 WT44: Near-Earth flyby (0.033 AU).

Mar 18 — Asteroid 2005 FN: Near-Earth flyby (0.081 AU).
WEDNESDAY

Mar 19 — 135th Anniversary of the Tenham Meteorite Shower, International: In 1879 this shower was observed near the Tenham station, South Gregory, Queensland, Australia. Remnants recovered soon after provided astronomers an ideal chance to study mineral contents.
THURSDAY

Mar 20 — Cassini OTM-375, Saturn Orbit: Spacecraft conducts Orbital Trim Maneuver #375 today.

Mar 20-21 — International Academy of Astronautics, Paris, France: 5th IAA Search for Life Signatures Symposium.

Mar 20-22 — Astronomical Society of India, Indian Institute of Science Education and Research (IISER), Ajitgarh, Punjab, India: 32nd Meeting of the Astronomical Society of India (ASI).

Mar 20 — Spring / Vernal Equinox: The Sun rises exactly in east traveling through sky for 12 hours, sets exactly in west; every place on Earth experiences a 12-hour day; 06:57.

Mar 20 — Moon: 0.25° SSW of Saturn, 17:00.

Mar 20 — Dwarf Planet 136472 Makemake: at Opposition (51.782 AU).
FRIDAY

Mar 21 — Arianespace, Launch Ariane 5 ECA / ASTRA 5B & Amazonas 4A, Kourou, French Guiana: Arianespace rocket, designated VA216, to launch ASTRA 5B satellite to provide television services to Luxembourg, navigation services for European Commission's European Geostationary Navigation Overlay Service, and Amazonas 4A to expand television services in Latin America.

Mar 21 — Space Center Houston, Houston TX: Lunch with an Astronaut, David Hilmers; US$49.95 adult.

Mar 21 — The Space Show, Online / Tiburon CA: Host Dr. David Livingston talks with Gwynne Shotwell, COO of SpaceX.

Mar 21 — Moon: 8.0° N of Antares, 22:00.

Mar 21 — Asteroid 2014 DW110: Near-Earth flyby (0.064 AU).
SATURDAY

Mar 22 — Kennedy Space Center, NASA, Delaware North Companies Parks & Resorts Inc., Titusville FL: Brevard Symphony Orchestra: Symphonic Odyssey; to perform space-inspired music beneath Space Shuttle Atlantis, 20:00 EDT.

Mar 22-25 — Large Binocular Telescope Observatory, Tucson AZ: LBTO 2014 Users' Meeting; first in a long series of intended triennial meetings entirely dedicated to LBTO and its users.

Mar 22-29 — Astrophysics Institute of Paris, Rencontres de Moriond, La Thuile, Italy: Cosmology 2014.

Mar 22-29 — Society of Amateur Radio Astronomers, Bishop CA: 2014 Society of Amateur Radio Astronomers (SARA) Western Regional Conference.
SUNDAY

Mar 23-27 — University of Alabama – Huntsville, Orlando FL: Huntsville Workshop 2014: Solar and Stellar processes from the Chromosphere to the Outer Corona; held at Holiday Inn Lake Buena Vista Downtown (registration US$500).

Mar 23-28 — University of Alberta, Lake Louise, Alberta, Canada: Stellar Tango at the Rockies '14.

Mar 23 — Moon: At last quarter, 15:47.