ATV-3 Edoardo Amaldi Set for Launch March 23 on Mission to Resupply and Reboost Orbit of ISS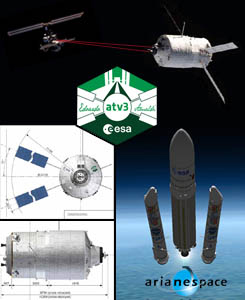 The 3rd operational mission of the European Space Agency Automated Transfer Vehicle, is scheduled to launch aboard an Ariane 5 ES configuration rocket from ELA-3, Kourou, French Guiana on March 23 at 04:31UT. Named after the Physicist who founded the Italian National Institute for Nuclear Physics, CERN and ESRO, the Edoardo Amaldi spacecraft will deliver supplies including food, experiments, spare parts, clothing, 100kg of air & oxygen, 285kg of water,  and 3150kg of ISS propellant. The craft will use its main propulsion system consisting of 4×490 Newton thrusters and an attitude control system of 28×220 Newton thrusters to perform an orbit reboost of the station to a higher altitude, helping to compensate for the effects of atmospheric drag. Initial rendezvous is conducted using GPS and a star tracker, then data from videometer and telegoniometer equipment guides approach and docking to the Russian built Zvezda Service Module. The highly specialized vehicle is primarily autonomous but overall mission control and ISS integration / coordination is based out of Toulouse Space Centre in France. The next ATV mission, Albert Einstein, is scheduled for launch in February of 2013. Leading launch services provider Arianespace has successfully orbited 298 payloads, accounting for more than half of the commercial satellites now in service worldwide. (Image Credit: ESA, Arianespace)
NuSTAR Spacecraft to Launch, Observe High Energy X-Ray Region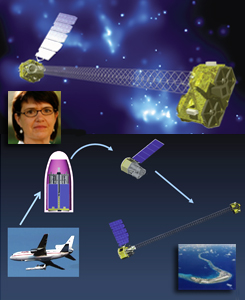 The Nuclear Spectroscopic Telescope Array (NuSTAR) spacecraft (T) is set to launch aboard a Pegasus XL rocket (BL) from Kwajalein Atoll, Marshall Islands (BR). As of Mar 16, the Mar 22 launch is delayed to allow additional time to confirm proper function of the flight software. The US$165M NASA spacecraft will be the 1st telescope to study the high energy X-ray region (between 6-79 keV) of the electromagnetic spectrum. Weighing 365kg and measuring less than 2m long, the small satellite will launch into a low-Earth, near-equatorial orbit which will help minimize exposure to the South Atlantic Anomaly (SAA). The SAA is the region centered above the southern Atlantic Ocean where Earth's inner Van Allen Belt closely approaches Earth's surface.   NuSTAR is equipped with a single deployable solar array which will provide 762 watts of power to the spacecraft and its instruments. The onboard telescope will have a focal length of 10.15m. Built and designed by Orbital Sciences Corp, the small explorer mission is expected to last 24 months but may stay operational for up to 5 years. The mission will mark the 4th Pegasus launch from the 6.2 sq km Kwajalein Atoll. When in orbit, NuSTAR will conduct joint observations with the ESA XMM-Newton mission to look for distortions in the X-ray spectra resulting from the spin of the central black hole. Pictured: NuSTAR PI Fiona Harrison. (Image Credit: NASA, japanfocus.org)
---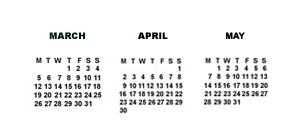 = All times for terrestrial events in local time unless noted.

= All times for international terrestrial events in local time unless noted.

= All times for space events, and…

= All times for international space / astro events in Hawaii Standard Time unless noted. Add 10 hours to obtain UT ('Universal Time;' Greenwich, England).
---
Weekly Planet Watch
– Morning Planets: Saturn (S) / Evening Planets: Mercury (W), Venus (W), Mars (S), Jupiter (W).
---
MONDAY

Mar 19 — International Space Station, LEO: E-30 crew members continue onboard maintenance and preparation for the arrival of the "Edoardo Amaldi" Automated Transfer Vehicle-3 this week.

Mar 19 — Lunar Reconnaissance Orbiter (LRO), Lunar Orbit: NASA LRO functioning nominally in its 50±15 km near-circular orbit as it makes digital elevation and surface maps that will be a fundamental reference for future human exploration.

Mar 19 — Mars Reconnaissance Orbiter, Red Planet: Scientists continue to observe recent imagery from NASA MRO which shows a  whirlwind on Mars more than 800 m high and 30 m in diameter; More than 21,700 images taken by HiRISE are available for viewing on the instrument team's website.

Mar 19 — Jupiter Juno Mission, En Route to Jupiter: Juno spacecraft operating nominally on its way to Jupiter, traveling over 526 million km since launch at a velocity of 69,000 km.

Mar 19 — The British Interplanetary Society, London, United Kingdom: 'From Vanguard to GPS,' Richard Easton.

Mar 19-21 — International Academy of Astronautics, American Astronautical Society, Porto, Portugal: '1st IAA Conference on Dynamics and Control of Space Systems.'

Mar 19-21 — Astrophysics and Cosmology Research Group, Kathmandu, Nepal: 'International Conference on Astrophysics and Cosmology.'

Mar 19-23 — Lunar and Planetary Institute, The Woodlands TX: '43rd Lunar and Planetary Science Conference.'

Mar 19-23 — University of Alabama – Huntsville, Marshall Space Flight Center, Palm Springs CA: '11th Annual International Astrophysics Conference: Space Weather – The Space Radiation Environment.'

Mar 19-23 — University of Utah – Dept. of Physics and Astronomy, Snowbird UT: '4th Snowbird Workshop on Particle Astrophysics, Astronomy and Cosmology: Gravitational Lensing in the Age of Survey Science.'

Mar 19-23 — Leibniz Institute of Atmospheric Physics, Kuhlungsborn, Germany: '13th Workshop on Technical and Scientific Aspects of Mesosphere-Stratosphere-Troposphere (MST) Radar.'

Mar 19-30 — United Nations Office for Outer Space Affairs, Vienna, Austria: '51st Committee on the Peaceful Uses of Outer Space – Legal Subcommittee Meeting.'

Mar 19 — Spring / Vernal Equinox: The Sun rises exactly in the east traveling through the sky for 12 hours and sets exactly in the west; Every place on Earth experiences a 12-hour day twice a year on the Spring and Fall Equinox; 19:13.
---
Continued from…

Mar 13 — The GLOBE Program, The National Optical Astronomy Observatory, Global: 'GLOBE at Night: Less of Our Light, More Star Light,' event to raise public awareness of the impact of light pollution by inviting citizen-scientists to measure the brightness of the local night sky and submit their observations to a website from a computer or smart phone; through Mar 22.
---
TUESDAY

Mar 20 — Johnson Space Center, Houston TX: Media briefing to preview the upcoming ISS Expedition 32 and 33 missions at 11:00 CDT and 13:00 CDT.

Mar 20-21 — FP7 Marie Curie, Nottingham, United Kingdom: 'Training Research and Applications Network to Support the Mitigation of Ionospheric Threats Workshop.'

Mar 20-23 — National Center for Space Studies (CNES), Planetary & Astrophysics Institute of Grenoble, et al, Grenoble, France: 'From Atoms to Pebbles: Herschel's View of Star and Planet Formation.'

Mar 20 — Moon: 1.4° NNW of Mercury, 02:00; New Moon, 04:38.

---
WEDNESDAY

Mar 21 — The SETI Institute, Mountain View CA: Colloquium Series Lecture: 'A New Feed for the Allen Telescope Array and the Science That it Will Enable,' Jack Welch.

Mar 21 — Smithsonian National Air and Space Museum, Washington DC: Ask an Expert: 'Von Braun 100th Birthday,' Tom Lassman.

Mar 21-22 — SMi Group, London, United Kingdom: '5th Annual Conference on Oil and Gas Communications: Understanding the Importance of Satcomm and Telecommunication Channels.'

Mar 21-23 — American Nuclear Society, American Institute of Aeronautics and Astronautics, Lunar and Planetary Institute, et al, The Woodlands TX: 'Nuclear and Emerging Technologies for Space 2012.'

Mar 21 — Asteroid (Near-Earth Flyby): 2011 SY120 (0.052 AU); 2012 DH4 (0.061 AU)

---
THURSDAY

NET Mar 22 — OSC, Launch Pegasus XL / NuSTAR, Kwajalein Atoll, Marshall Islands: An air-launched Orbital Sciences Pegasus XL rocket set to deploy NASA Nuclear Spectroscopic Telescope Array spacecraft to study high energy X-rays in the universe; *Postponed.

Mar 22 — George Washington University – Space Policy Institute, Washington DC: 'Space Policy Institute Symposium: Suborbital and Small Satellite Missions.'

Mar 22-23 — National Contract Management Association, Austin TX: '50th Aerospace + Defense Contract Management Conference,' featuring NASA Administrator Charles Bolden.

Mar 22-24 — Hawai`i Robotics Organizing Committee, Honolulu HI: '1st Hawai`i Regional Robotics Competition.'

Mar 22 — Asteroid 2010 FR9: Near-Earth Flyby (0.048 AU).
---
FRIDAY

NET Mar 23 — Arianespace, Launch Ariane 5 / ATV 3, Kourou, French Guiana: Arianespace set to use Ariane 5 ES rocket to launch the 3rd ESA Automated Transfer Vehicle known as Edoardo Amaldi to the International Space Station.

Mar 23 — Space Center Houston, Houston TX: 'Lunch With an Astronaut,' Ken Cameron.

Mar 23 — Asteroid 2012 EB2: Near-Earth Flyby (0.040 AU).
---
SATURDAY

Mar 24 — Cassini OTM-313, Saturn Orbit: Spacecraft conducts Orbital Trim Maneuver #313 today.
---
SUNDAY

Mar 25 — Daylight Savings Time (Europe): Change clocks forward 1 hour, from Standard Time to Summer Time.