International Astronautical Federation Celebrates 60 Years of Space Advocacy, Technology, Education, Accomplishment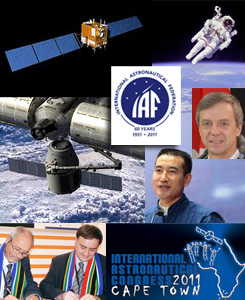 Astronauts, scientists, engineers and space enthusiasts from around the world will celebrate the 60th International Astronautical Federation (IAF) Commemoration on March 22 in Paris, France. Founded in 1951 with 10 members, the IAF now consists of 205 members from 58 countries, making it the most prominent international space advocacy organizations to exist. For the past 6 decades, the IAF has promoted worldwide space activities  as well as foster international cooperation between emerging space nations such as China, India, Africa and Latin America. IAF President Berndt Feuerbacher (BL) will open the festivities followed by appearances by astronauts Steve Smith (NASA), Zhai Zhigang (CMSE) (C), Sergei Krikalev (ROSCOSMOS), Koichi Wakata (JAXA), Robert Thirsk (CSA)(R) and Michel Tognini (ESA). The IAF also will celebrate a 50-year partnership with the International Academy of Astronautics as well as the International Institute of Space Law. To honor the 60th occasion, the IAF will give a special, one-time 60th Anniversary Award to recognize outstanding achievement in the area of Space Applications for Human Benefit. The award will be presented at the 62nd International Astronautical Conference on October 3-7 in Cape Town, South Africa. (Credit: IAF, NASA, CNSA, CSA, wikipedia.org)
The Economist Hosts Meeting on Innovation, Entrepreneurship in Berkeley CA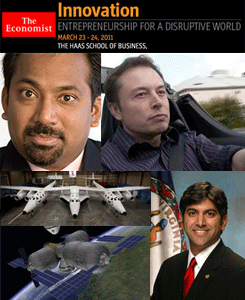 For humanity to continue its upward trajectory and overcome the challenges faced by 21st Century society, the uniquely human characteristic of innovation must be nurtured and cultivated. Innovation that facilitates human exploration and development of space could be especially important in solving the energy crisis, issues of resource depletion and it may allow us to divert or survive natural disasters. For this reason, innovation in space technology will be a central topic at the 2nd annual Ideas Economy: Innovation event hosted by The Economist on March 23-24 at the University of California at Berkeley. Based on the theme 'Entrepreneurship for a disruptive world,' the meeting will include a presentation by Space X founder Elon Musk (R) entitled 'Making the future happen.' US Chief Technology Officer Aneesh Chopra (BR) will speak about US government programs, such as NASA's Commercial Crew and Cargo Program, that seek to stimulate technological innovation and entrepreneurship. Vijay Vaitheeswaran (TL), Global Correspondent for The Economist will moderate a panel examining the rise of China and India, while also exploring the decline of Western innovation. (Credit: The Economist, SpaceX, Virgin Galactic, Bigelow, US.gov)
---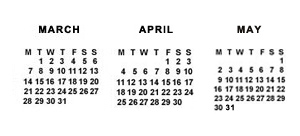 = All times for terrestrial events in local time unless noted.

= All times for international terrestrial events in local time unless noted.

= All times for space events, and…

= All times for international space / astro events in Hawaii Standard Time unless noted. Add 10 hours to obtain UT ('Universal Time;' Greenwich, England).
---
Weekly Planet Watch – Morning Planets: Venus (SE), Saturn (S) / Evening Planets: Mercury (W), Jupiter (W).
---
MONDAY

Mar 21 — International Space Station, LEO: Expedition 27 crew members continue with experiments and maintenance while the newest member Robonaut 2 resumes operations in the Destiny laboratory.

Mar 21 — NASA Lunar Reconnaissance Orbiter (LRO), Lunar Orbit: All systems nominal in scientific phase of mission as LRO continues to make digital elevation and terrain maps that will be a fundamental reference for future human exploration.

Mar 21 — Mars Rover Spirit, Red Planet: JPL scientists continue effort to regain communications with the rover Spirit  which lost contact nearly 1 year ago on Mar 22, 2010.

Mar 21 — Ronald McNair Memorial Foundation, Lake City SC: NASA Administrator Charles Bolden to participate in ceremony honoring Challenger Astronaut Ron McNair at 10:30 EDT.

Mar 21-22 — Glenn Research Center, Cleveland OH: 'Dropping In a Microgravity Environment,' 4 high school teams to test their science experiments in a competition that simulates the microgravity in space; Experiments will be dropped into a 79-foot tower at NASA Glenn Research Center.

Mar 21-25 — The National Academies, Pasadena CA: 'NASA Technology Roadmap: Technology and Power Panel.'
---
Continued from . . .

Jan 29 — Casa Romantica Cultural Center and Gardens, NASA, San Clemente CA: 'They Came From Outer Space,' this fun and educational exhibition for the whole family is presented through NASA and explores how many of the everyday products we use were developed for the space program; through Mar 27.

Mar 18 — The Astronaut Scholarship Foundation, Online: 'Spring Semi-Annual Auction of Astronaut Experiences & Memorabilia,' offering bidders the chance to own rare space relics as well as autographed memorabilia from Apollo astronauts; through Mar 26.

Mar 19 — The Arecibo Observatory, Arecibo PR: 'Fab 5 Fest,' a celebration of achievements for Joel Weisberg, Jim Cordes, Joanna Rankin, Tim Hankins and Barney Rickett; through Mar 22.

Mar 19 — The National Science Foundation, UC San Diego, et al, San Diego CA: 'San Diego Science Festival 2011;' through Mar 26.
---
TUESDAY

Mar 22 — International Astronautical Federation, Paris, France: '60th IAF Commemoration Celebration,' event will celebrate one of the world's foremost space advocacy organizations; the IAF has 205 members in 58 countries which includes all leading agencies, space companies, societies, associations and institutes worldwide.

Mar 22 — Wallops Flight Facility, Wallops Island VA: NASA to unveil new rocket integration facility at the Wallops Flight Facility during a ribbon-cutting ceremony at 10:00 EDT.

Mar 22 — NASA, New York NY: NASA Deputy Administrator Lori Garver and Associate Administrator for Education Leland Melvin speak at event for 200 middle school and high school girls to pursue careers in science, technology, engineering and mathematics at the Stephen Weiss Studio from 09:30 – 13:00 EDT.

Mar 22 — Johnson Space Center, Houston TX: Live interviews with Astronaut Scott Kelly who will discuss his 5-month stay aboard the ISS at 06:00 – 08:00 CDT.

Mar 22-24 — ESA, Frascati, Italy: 'Sentinel Scientific Products for Land, Ocean and Cryosphere: Assessment & Consolidation Workshop.'
---
WEDNESDAY

Mar 23 — The SETI Institute, Mountain View CA: Colloquium Series Lecture: 'Earth Science Collaborative for Ecological Forecasting,' Ramakrishna Nemani.

Mar 23 — Women in Aerospace, Washington DC: 'A WIA Congressional Breakfast: The NASA Authorization Act of 2010: How Did We Get Here? What's Next?'

Mar 23-24 — The Economist, University of California-Berkeley, Berkeley CA: '2nd Annual Ideas Economy: Innovation – Entrepreneurship for a Disruptive World,' featuring SpaceX Founder Elon Musk, NASA Senior Advisor for Innovation Charles Camarda and Intelius Founder Naveen Jain.

Mar 23-24 — Johnson Space Center, Houston TX: NASA to hold media events and news briefings with STS-135 Commander Chris Ferguson, Pilot Doug Hurley and Mission Specialist Sandra Magnus.

Mar 23-24 — The National Academies, Irvine CA: 'NASA Technology Roadmap: Entry, Descent and Landing Panel.'

Mar 23-26 — Fermilab, Batavia IL: 'Experiments on the Cosmic Frontier: Astrophysical Studies of Matter, Energy, Space and Time.'

Mar 23 — Asteroid 2010 FN: Near Earth Flyby (0.053 AU).
---
THURSDAY

Mar 24 — Moon: 3.1° NNE of Antares; 04:00.
---
FRIDAY

Mar 25 — Lunar and Planetary Institute, Houston TX: 'LPI Seminar Series: The Evolution of Icy Satellites,' Michael Bland.

Mar 25 — Arizona State University, Tempe AZ: 'ASU Astronomy Open House,' a public outreach service by graduate students from the School of Earth and Space Exploration.
---
SATURDAY

Mar 26— Zero Gravity Corporation, Chicago IL: Commercial weightless flight on board G Force One.

Mar 26 — Washington Science Teachers Association, Shoreline WA: 'Addressing Student Misconceptions of the Earth-Sun-Moon System,' a free workshop for teachers to deepen content knowledge and provide constructivist techniques to help students understand the Earth-Sun-Moon system.

Mar 26— National Science Foundation, UC San Diego, et al , San Diego CA: 'San Diego Science Festival Expo Day,' over 30,000 participants join the largest single-day science and engineering event in Southern California.

Mar 26 — Moon: At Last Quarter, 02:07; 3.7° SSE of Pluto, 08:00.
---
SUNDAY

Mar 27 — Daylight Savings Time (Europe): Change clocks forward 1 hour, from Standard Time to Summer Time.

Mar 27-31 — Goddard Space Flight Center, ESA, et al, Telluride CO: '4th Solar Orbiter Workshop,' event organized around sessions addressing the mission's main scientific objectives and the synergy with Solar Probe Plus and other space and ground-based observations.

Mar 27 — Moon: 1.5° of Asteroid 4 Vesta; 18:00.