Expedition 35/36: First Six-Hour Human ISS Rendezvous, Busy Schedule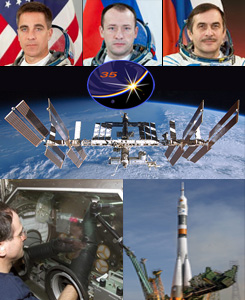 Expedition 35/36 members, Chris Cassidy (TL) of NASA, Aleksandr Misurkin (TC) of RSA and Pavel Vinogradov (TR) of RSA, are set to launch to the International Space Station aboard a Soyuz rocket on March 29 from Baikonur Cosmodrome, Kazakhstan at 02:43. If successful, this crew will be the first to rendezvous with the ISS on an accelerated 6-hour, 4-orbit trajectory. The typical trajectory is 2 days, 34 orbits. They will join the first Canada Commander Chris Hadfield, RSA Cosmonaut Roman Romanenko and NASA Astronaut Tom Marshburn. Expedition 35/36 is scheduled to include 4 Russian spacewalks and the arrival of 2 RSA Progress resupply vehicles, an ESA Automated Transfer Vehicle named Albert Einstein and Orbital Sciences Corporation's Cygnus freighter for its demo flight. Among other science experiments, Expedition 35/36 will test intraocular pressures and take ultrasound scans of their eyes for an Ocular Health Study. They will also work with NASA InSPACE-3 (BL) to improve engineers' ability to design structures to better withstand earthquakes and JAXA Stem Cell experiment to learn about space radiation's impact on DNA. (Image Credit: NASA/Bill Ingalls, CSA, OSC)
Spaceport America Building the Future Today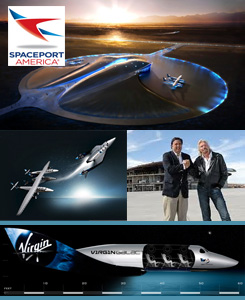 The World's first purpose-built base for commercial spaceflight, Spaceport America, is nearing completion at 1188-meter elevation in Sierra County, New Mexico, USA about 80 km north of Las Cruces. The pioneering 70 square km facility is being developed by the New Mexico Spaceport Authority – current cost: US$240M. Anchor tenant Virgin Galactic (VG) began paying rent in January but has delayed activation of the 20-year lease term and substantial deposit requirements until construction reaches the Base Building Completion milestone, expected by March 31. Another critical factor for the VG's long-term commitment to Spaceport America is the State legislature extending liability limits to include space parts suppliers. The move, already taken by a number of other states, would protect these companies from lawsuits by consenting Touronauts. The law would still allow full recourse in the event of damage / injury to unrelated property / persons. VG hopes to begin powered test flights of SpaceShipTwo in 2013 and has scheduled commercial flights to begin in early 2014. Within the first 5 years VG is expected to reach an annual minimum of 720 commercial flights carrying 4,104 passengers. At US$200,000 per ticket that would mean annual revenue of US$820M with rent and fees of at least US$1.63M paid to the State. (Image Credit: NMSA, VG)
---


= All times for terrestrial events in local time unless noted.

= All times for international terrestrial events in local time unless noted.

= All times for space events, and…

= All times for international space / astro events in Hawaii Standard Time unless noted. Add 10 hours to obtain UT ('Universal Time;' Greenwich, England).
---
Weekly Planet Watch – Evening Planets: Jupiter (NW); Morning Planets: Mercury (ESE), Saturn (S).

---
MONDAY

Mar 25 — ISS, LEO: ISS crew reviewing procedures, performing Service Module TV System checkout preparations for scheduled Soyuz TMA-08M / Expedition 35/36 docking at 08:31 UT Mar 30.

Mar 25 — Curiosity, Yellowknife Bay, Mars: Science team preparing to suspend command transmissions during April when Mars will pass almost directly behind Sun – could cause interference / corruption of commands.


Mar 25 — Juno, Jupiter Trajectory: Spacecraft is about 129M km from Earth, averaging 21 km per second relative to Sun, has one-way radio signal of about 7 minutes.

Mar 25 — SpaceX, Multiple Locations: NewSpace company testing flight-ready upgraded Merlin 1D engines; will fly on Falcon 9's Flight 6; nine Merlin 1Ds on first stage will produce nearly 1.5M pounds of thrust in vacuum.

 Mar 25 — Sea Launch AG, Bern, Switzerland: Providing ocean-based launch services with Zenit-3SL rocket, upper stage Block DM; next launch scheduled for EchoStar Satellite Services in 2015.

Mar 25 — Altius Space Machines Inc., Louisville CO: Developing electro-adhesive capture head to mount on Phoenix spacecraft FREND robotic arm to repurpose components from nonworking satellites as part of NASA Phoenix Program.

Mar 25 — AIAA, Silicon Valley Space Center, Mountain View CA: Small Payload Seminar: Deep Space Industries; presented by Jim Luebke of DSI; at Hacker Dojo, 18:30 – 21:00 PDT.

Mar 25-27 — French Aeronautics and Space Society, French Aerospace Lab, AIAA, Saint-Louis, France: 48th International Symposium of Applied Aerodynamics.

Mar 25-27 — ESA, Madrid, Spain: Herschel Calibration Workshop: Only the Best Data Products for the Legacy Archive.

Mar 25-28 — AIAA, Daytona Beach FL: 22nd AIAA Aerodynamic Decelerator Systems Technology Conference and Seminar; AIAA Balloon Systems Conference; 20th AIAA Lighter-Than-Air Systems Technology Conference.

Mar 25-28 — Geophysical Institute of the University of Alaska – Fairbanks, NASA, Fairbanks AK: THEMIS/ARTEMIS Science Working Group Meeting 2013.

Mar 25-29 — California Institute of Technology, Orbital Sciences Corp., SpaceX, JPL, et al, Pasadena CA: Caltech Space Challenge; student space mission design competition.

Mar 25-29 — Kennedy Space Center Visitor Complex, Titusville FL: Camp KSC; for youth to learn about space travel and design space exploration vehicles and habitats; US$295.
---
Continued from…

Jan 19 – May 18 — University of California at Riverside ARTSblock Program, Riverside CA: Free Enterprise: The Art of Citizen Space Exploration; art exhibit with NewSpace movement theme.

Feb 13 – Apr 24 — The Golden Spike Company, Online: GSC Indiegogo Crowdsourcing Campaign: Help Send Nations and People to the Moon.

Feb 14 – Jun 2, 2014 — NASA NSPIRES, Online: Research Opportunities in Space and Earth Sciences (ROSES) 2013; proposal and submission period for those interested in advancing research concepts and technologies for Space and Earth sciences.

Feb 25 – Apr 29 – USA National Center for Earth and Space Science Education, Student Spaceflight Experiments Program, Global: SSEP Mission 4 to ISS; microgravity experiment design and proposal writing period for students; selected experiments will fly to ISS mid-Oct.

Mar 9 – Apr 6 — DIYRockets Inc., Sunglass Co., Shapeways Inc., Online: Registration Period for 3D Printed Rocket Challenge; competition to design 3D printed rocket engine that could carry nano-satellites into space.

Mar 15 – Apr 8 — University of Colorado – Boulder, Online: Send Your Artwork to Mars; contest for artists ages 5-17 to send artwork to Mars aboard MAVEN spacecraft (launching between Nov 18 – Dec 7); winner announced May 20.
---
TUESDAY

Mar 26 — SpaceX, Dragon CRS-2 splashdown, LEO: SpaceX Dragon capsule, containing 1,361 kg of equipment and science samples, scheduled for return to Earth via Pacific Ocean splashdown; alternate date Apr 1.

Mar 26 – ISS, Cardinals School, LEO: Commander Chris Hadfield speaks with 570 elementary students from Cardinals School in Laval, Quebec, Canada.

Mar 26 — The Brilliant Lecture Series, Houston TX: Brilliant Lecture Series: Stephen Hawking; at Jones Hall, 19:00 CDT; US$35-250 per ticket depending on seating.

Mar 26 — SETI Institute, Mountain View CA: Colloquium: Updating Policies for Space Exploration and Use – Balancing Science, Technology and Activities in the Coming Decade; presented by Margaret Race of SETI Institute; 12:00 PDT.

Mar 26-29 — California Institute of Technology, NASA, Pasadena CA: 1st Solar Probe Plus Workshop.

Mar 26 — Moon: Full (Crow / Lenten Moon), 23:29.

Mar 26 — Asteroid 2013 FX7: Near-Earth flyby (0.049 AU).
WEDNESDAY

Mar 27 — International Launch Services, Launch Proton / Satmex 8, Baikonur Cosmodrome, Kazakhstan: International Launch Services Proton rocket with Breeze M upper stage to launch Satmex 8 communications satellite, 01:06 local time; postponed from Dec 27, 2012.

Mar 27-28 — The National Academies, Washington DC: Human Spaceflight Meeting: Technical Feasibility Panel; to discuss policy for science and technology, space and aeronautics; at Keck Center.

Mar 27-29 — Canada-France-Hawaii Telescope, Hilo HI: ngCFHT Workshop; next generation CFHT proposal and discussion to replace current 3.6-m telescope with a wide-field 10-m facility.

Mar 27 — Asteroid 2013 FD8: Near-Earth flyby (0.021 AU).
THURSDAY

Mar 28 — NASA, Online: NASA Hosts First Google+ Hangout in Spanish; Erika Podest and Michela Munoz Fernandez of NASA JPL answer questions, talk about becoming part of Space Program; 18:30 – 19:30 EDT.

Mar 28 — University of Houston – Clear Lake, Houston TX: 2013 Physics and Space Science Spring Seminar Series: Fluorescence of Single-Walled Carbon Nanotubes – From Fundamental Studies to Applications; presented by Bruce Weisman from Rice University; free; in UH-Clear Bayou Building room 1218, 19:00 CDT.

Mar 28 — Open Space Society, Online: Accepting letters of intent / applications for Small Commercial Payload Launch Opportunity Jan 2015; to receive 'Earlybird Discount,' applications must be submitted no later than today.

Mar 28 — Moon: 0.9° ESE of Spica, 06:00.
FRIDAY

Mar 29 — RSA, Launch Soyuz TMA-08M / ISS 34S, Baikonur Cosmodrome, Kazakhstan: Scheduled launch of Soyuz spacecraft to ISS at 02:43 local time with Expedition 35/36 members Aleksandr Misurkin & Pavel Vinogradov of RSA, Chris Cassidy of NASA; live launch coverage begins 01:30.

Mar 29 — Space Center Houston, Houston TX: Lunch with an Astronaut, Ken Cameron; US$49.95 adult.

Mar 29 — Moon: 3.4° S of Saturn, 10:00.

Mar 29 — Asteroid 2013 EL89: Near-Earth flyby (0.012 AU).

Mar 29 — Asteroid 2013 EM89: Near-Earth flyby (0.044 AU).
SATURDAY

Mar 30 — NASA Glenn Visitor Center, Cleveland OH: Grand opening of redesigned Glenn Visitor Center in new location at Great Lakes Science Center.

Mar 30 — Moon: At perigee (distance 367,097 km), 18:00.

Mar 30 — Asteroid 2013 FB8: Near-Earth flyby (0.011 AU).
SUNDAY

Mar 31 — Virgin Galactic, Las Cruces NM: Expects all necessary work to be completed at Spaceport America today in order to perform test flights and continue commercial plans.

Mar 31 — NASA, Online: Winners Announced: NASA's ReelScience Communication Contest; USA high school students become 'NASA producers' and create videos engaging other students in Earth Science; winners work with NASA scientists in Jul.

Mar 31 — Daylight Saving Time (Europe): Change clocks forward 1 hour, from Standard Time to Summer Time.

Mar 31 — Moon: 6.6° N of Antares, 10:00.

Mar 31 — Asteroid 2001 TA2: Near-Earth flyby (0.037 AU).

Mar 31 — Asteroid 2013 FC8: Near-Earth flyby (0.041 AU).