UKSEDS 2012, RAS Events Advance Britain Space, Astronomy Plans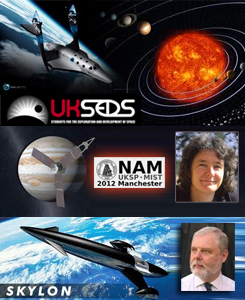 The international space community will converge at several events in an effort to advance space initiatives in Europe. On March 31 – April 1, the United Kingdom Students for the Exploration and Development of Space (UKSEDS) will hold the '24th UKSEDS Annual 2012 Conference' in Kent UK.  SEDS, the world's largest student space organization, currently has more than 60 branches worldwide. This year's event will feature 2 days of talks ranging from astrobiology and space planes to space settlement and rockets. Representatives from various space industries will be on hand to offer potential graduate jobs, internships and postgraduate research. On Mar 27-30, The Royal Astronomical Society along with the German Astronomical Society will hold the '2012 National Astronomy Meeting' at the University of Manchester. Over 600 participants are expected to attend the event which will feature 290 posters and 469 talks.  Plenary lectures will be given by University of Colorado Professor Fran Bagenal (CR) on 'Probing the Interior of Jupiter: NASA's Juno Mission,' and Max Planck Institute Scientist Michael Kramer on 'The Square Kilometer Array.' The British Interplanetary Society and West England Metals and Materials Association will host a talk on Mar 28 on 'SKYLON – The Materials Challenge.' Speaker Mark Hempsell (BR) from Reaction Engines Ltd will discuss the SKYLON (B) vision, a fully reusable spaceplane that can carry 15 tonnes of cargo to space NET 2020. (Image Credit: UKSEDS, BIS, RAS, wn.com, jimmydoolitlemuseum.org)
A Spring of Innovation Comes to California, USA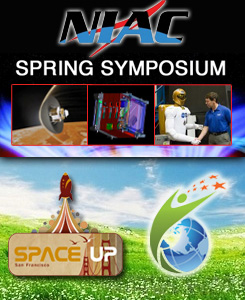 Three innovation focused events kick off in California, starting with the NASA Innovative Advanced Concepts program 1st annual Spring Symposium in Pasadena, on March 27-29. NIAC funds research on visionary ideas with potential to create radically better or entirely new aerospace concepts. Keynote speakers are: Gentry Lee, Chief Engineer for the Solar System Exploration Directorate at JPL, and renowned author David Brin who will present on "Looking Upward – The Most Human Trait." Other topics by Phase I Fellows include: Ultra-Light "Photonic Muscle" Space Structures, Regolith Derived Heat Shield for a Planetary Body Entry and Descent System with In-Situ Fabrication, and Entanglement-assisted Communication System for Deep-Space Missions. SpaceUp San Francisco on March 31 – April 1 is the latest "unconference" where participants spontaneously decide the topics, schedule and structure of the event. Organizers hope to engage the space community with innovators among the local culture of hackers, makers, artists, entrepreneurs and internet pros. The Innovation Summit at Ames Research Center on March 28-31 represents the culmination of Conrad Foundation's Spirit of Innovation Challenge. Leading entrepreneurs, government officials and scientists will join top student innovators in a collaborative social forum to help build progressive technologies and foster next-generation professionals. (Image Credit: NIAC, SpaceUp SF, Conrad Foundation)
---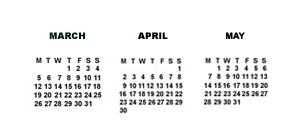 = All times for terrestrial events in local time unless noted.

= All times for international terrestrial events in local time unless noted.

= All times for space events, and…

= All times for international space / astro events in Hawaii Standard Time unless noted. Add 10 hours to obtain UT ('Universal Time;' Greenwich, England).
---
Weekly Planet Watch
– Morning Planets: Saturn (S) / Evening Planets: Mercury (W), Venus (W), Mars (S), Jupiter (W).
---
MONDAY

Mar 26 — International Space Station, LEO: E-30 crew members begin preparations for docking /unloading of 20-ton cargo freighter, 'Edoardo Amaldi' due to arrive Wed; Mission will be heaviest load of cargo ever delivered to the ISS by an Ariane 5 rocket.

Mar 26 — Lunar Reconnaissance Orbiter (LRO), Lunar Orbit: NASA LRO functioning nominally in its 50±15 km near-circular orbit as it makes digital elevation and surface maps that will be a fundamental reference for future human exploration.

Mar 26 — Mars Science Laboratory (MSL), Red Planet: Scientists to conduct MSL Trajectory Correction Maneuver #2 (TCM-2).

Mar 26 — Jupiter Juno Mission, In Transit to Jupiter: Juno spacecraft completes 234th day of mission as it continues long journey to Jupiter.

Mar 26 — ESA, Manchester, United Kingdom: '3rd MarcoPolo-R Symposium: Scientific Objectives of MarcoPolo-R Near-Earth Asteroid Sample Return Mission.'

Mar 26-27 — University of Utah, Snowbird UT: 'SnowTIGER Workshop: TeV Interactions of Gamma Rays with Extragalactic Radiation.'

Mar 26-27 — The National Academies, Colorado Springs CO: 'Meeting 4: Assessment of the US Air Force Astrodynamic Standards.'

Mar 26-30 — Lorentz Center, Leiden, The Netherlands: 'EU Universe Awareness Workshop: Astronomy to Inspire and Educate Young Children.'

Mar 26 — Moon: 2.0° SSE of Venus, 11:00; 3.5° S of Pleiades, 00:00.
---
Continued from…

Mar 19 — United Nations Office for Outer Space Affairs, Vienna, Austria: '51st Committee on the Peaceful Uses of Outer Space – Legal Subcommittee Meeting,' through Mar 30.
---
TUESDAY

NET Mar 27 — ILS, Launch Proton / Intelsat 22, Baikonur Cosmodrome, Kazakhstan: An ILS Proton rocket with a Breeze M upper stage set to deploy the Intelsat 22 satellite to provide C-band and Ku-band communications services over Africa, Asia, Europe and the Middle East.

Mar 27-28 — The SMi Group, Vienna, Austria: '6th MilSpace 2012,' participants to discuss interoperability, national space programs and space situational awareness.

Mar 27-29 — NASA Innovative Advanced Concepts (NIAC), Pasadena CA: '1st NIAC Spring Symposium.'

Mar 27-29 — American Astronautical Society, Greenbelt MD: '50th Robert Goddard Memorial Symposium.'

Mar 27-30 — Royal Astronomical Society, Manchester, United Kingdom: 'Royal Astronomical Society National Astronomy Meeting 2012.'

Mar 27-30 — National Solar Observatory, Stanford University, et al, Tucson AZ: 'Living with a Star Workshop: Local Helioseismology – Data Analysis, Modeling and Comparisons.'

Mar 27 — Moon: 5.2° N of Aldebaran, 21:00.

Mar 27 — Asteroid 2012 FE: Near-Earth Flyby (0.032 AU).
---
WEDNESDAY

Mar 28 — The British Interplanetary Society, London, United Kingdom: 'SKYLON – The Materials Challenge,' Mark Hempsell.

Mar 28 — The Canadian Space Commerce Association, Ottawa, Ontario, Canada: '2012 CSCA National Conference: Our Critical Canadian Space Infrastructure.'

Mar 28 — NASA Headquarters, Washington DC: 'NASA Technology: Imagine. Innovate. Explore,' event to feature talk by NASA Administrator Charles Bolden and NASA Deputy Administrator Lori Garver; Attendees to discuss traveling in space with Astronauts Mike Massimino and Mike Good.

Mar 28 — The SETI Institute, Mountain View CA: Colloquium Series Lecture: 'Smart Coatings on Spacecraft Surfaces: New Tools for the Spacecraft Designer's Tool Belt,' Steve McDaniel.

Mar 28 — Smithsonian National Air and Space Museum, Washington DC: Ask an Expert: 'Woman Shuttle Commanders of Discovery,' Valerie Neal.

Mar 28-29 — The National Academies, Washington DC: 'Meeting: Review of NASA Human Research Program's Scientific Merit Assessment Processes;' 'Reusable Booster System Review and Assessment.'

Mar 28-30 — Space Telescope Science Institute, Baltimore MD: 'Workshop: The Mass Loss Return from Stars to Galaxies.'

Mar 28-31 — Conrad Foundation, Ames Research Center, Moffett Field CA: 'Innovation Summit 2012.'
---
THURSDAY

NET Mar 29 — ULA, Launch Delta 4 – Heavy / NROL 25, Vandenberg Air Force Base CA: A ULA Delta 4 rocket set to launch a classified payload for the National Reconnaissance Office.

Mar 29-30 — Goddard Space Flight Center, Greenbelt MD: 'Symposium: 16 Years of Discovery with Rossi X-ray Timing Explorer – A Celebration of the Mission.'

Mar 29-30 — NASA Lunar and Planetary Institute, St. Louis MO: 'Outer Planets Assessment Group Meeting.'
---
FRIDAY

Mar 30 — Center for Astrophysics and Space Astronomy, Boulder CO: Submission deadline for 'UV Astronomy: HST and Beyond,' on Jun 18-21, Kaua`i HI.

Mar 30 — Cassini OTM-314, Saturn Orbit: Spacecraft conducts Orbital Trim Maneuver #314 today.

Mar 28 — Asteroid (Near-Earth Flyby): 2012 EM8 (0.047 AU); 2012 CA55 (0.057 AU)
---
SATURDAY

NET Mar 31 — CNSA, Launch Long March 3B / Apstar 7, Xichang, China: A China Long March 3B rocket set to launch the Apstar 7 communications satellite.

Mar 31 – Apr 1 — SpaceUp, San Francisco CA: 'SpaceUp 2012: San Francisco.'

Mar 31 – Apr 1 — United Kingdom Students for the Exploration and Development of Space (UKSEDS), Kent, United Kingdom: 'UKSEDS 2012 Conference.'

Mar 31 — Moon: 10.4° SSW of Pollux; 10:00.
---
SUNDAY

Apr 1 — NASA Kepler Mission, Exoplanets: Scientists confirm 709 exoplanets and 2,321 exoplanet candidates, bringing total number of exoplanets to 3030.

Apr 1 — Moon: 5.8° SSW of Beehive Cluster; 12:00.

Apr 1 — Asteroid 2008 CH70: Near-Earth Flyby (0.087 AU).