Expedition 39, International Space Station Science and Activities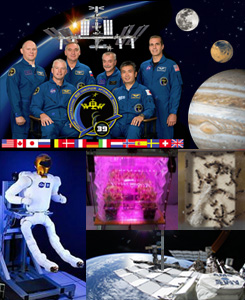 Expedition 39 with a newly arrived crew of 3 continues the uninterrupted 13-year cycle of humans living and working in low Earth orbit since Expedition 1 began November 2, 2000. The first Japan Commander Koichi Wakata, and crew Richard Mastracchio, Mikhail Tyurin, Steve Swanson, Alexander Skvortsov and Oleg Artemyev await the arrival of the SpaceX Dragon spacecraft containing 2,254 kg of cargo, among which is Optical PAyload for Lasercomm Science (OPALS), legs for Robonaut 2, the Vegetable Production System and multiple satellites. Some of the current ISS experiments involve the Alpha Magnetic Spectrometer, mouse stem cells, ant colonies, radiation, combustion and fluid science. Human health studies being performed test the body / bodily fluids before, during and after spaceflight, and monitor fatigue, food acceptability and social interactions. Maintenance, exercise and education outreach activities also keep the Astronauts busy. The U.S. has expressed interest in supporting the ISS until 2024. Based on the given 30-year lifetime of the components, the designated end date for the ISS is 2028. Hopefully by that time humans will have gained routine access to worlds beyond LEO. (Image Credit: NASA)
Space Tech Expo in Long Beach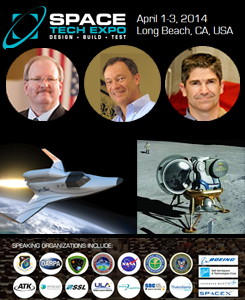 Billed as the premier West Coast USA space event, "Space Tech Expo 2014: Design – Build – Test" takes place April 1-3 at the Long Beach Convention & Entertainment Center, California, USA. It brings together global decision-makers involved in the design, build and testing of spacecraft, satellites, launch vehicles and space-related technologies. Some of the questions being considered are how to continue conducting missions safely and reliably while maximizing efficiency amid budgetary constraints, and how commercial companies can develop and promote innovative approaches to best meet evolving mission requirements. Bob Recker, Chairman of the Steering Committee, has over 35 years of experience in space launch operations and co-led a joint National Space Launch Facility study that reviewed and made recommendations on more than 5,000 USA space launch installations. Over 150 exhibiting companies and 2,000+ attendees are expected. The Keynote session Launch Services Market-Competition, Access and Affordability includes senior management from SpaceX, The Tauri Group, ULA, Arianespace and Orbital Sciences. The session on Commercial Human Spaceflight will be moderated by Michael Lopez-Alegria (C), veteran shuttle astronaut / ISS commander, and include government agencies and commercial space leaders such as Jeff Greason of XCOR (L) and Doug Griffith of Golden Spike Company (R). (Image Credit: Space Tech Expo, XCOR, GSC)
---


= All times for terrestrial events in local time unless noted.

= All times for international terrestrial events in local time unless noted.

= All times for space events, and…

= All times for international space / astro events in Hawaii Standard Time unless noted. Add 10 hours to obtain UT ('Universal Time;' Greenwich, England).
---
Weekly Planet Watch – Evening Planets: Mars (S), Jupiter (W), Saturn (S); Morning Planets: Mercury (ESE), Venus (SE).

---
MONDAY

Mar 31 — ISS, LEO: Exp 39 continuing to transfer waste to Progress 54 resupply vehicle scheduled to undock Apr 7; preparing for Progress 55P set to launch Apr 9, arrival of Dragon CRS-3 TBD; setting up hardware for Microbiome investigation.

Mar 31 — LADEE, Moon Orbit: Now in extended-mission phase, will collect high-value low-altitude data until impact expected Apr 21; Lunar Dust EXperiment (LDEX) has recorded more than 11,000 impacts from dust particles since Oct 2013.

 Mar 31 — MAVEN, Mars Trajectory: Spacecraft about 90M km from Mars on target to arrive Sep 21, about one month later comet A1 Siding Spring to fly by Mars at 138,000-km altitude.

 Mar 31 — Swiss Space Systems, International Locations: NewSpace company employing more than 60 people in Switzerland, Spain & USA, working with Space Florida to provide zero-gravity flights 2015, launch small satellites 2018 from KSC FL.


Mar 31 — Reaction Engines Ltd, Oxfordshire, United Kingdom: Evaluating air heat exchanger technology for SABRE engine through Cooperative Research and Development Agreement with US Air Force Research Laboratory.


 Mar 31 — NanoRacks LLC, Houston TX: Providing smallsat deployment from ISS, about 50 smallsats under contract, 100 under MoU, completed launch of 30.


Mar 31 – Apr 1 — SMi Group Ltd, Signalhorn GmbH, London, United Kingdom: 8th Annual MilSpace; at Holiday Inn London – Regent's Park hotel.

Mar 31 – Apr 2 — Space Telescope Science Institute, Baltimore MD: Hubble Space Telescope Workshop: Cosmic Distance Scale.
---
Continued from…

Mar 24 – Apr 4 — United Nations Office for Outer Space Affairs, Vienna, Austria: 53rd session of the Legal Subcommittee of the Committee on the Peaceful Uses of Outer Space.

Mar 28 – Jul 28 — NASA, University of Hawaii, Mauna Loa HI: Hawai'i Space Exploration Analog and Simulation (HI-SEAS) Mission 2; six-member crew live in habitat on slopes of Mauna Loa at 2,500-meter elevation to simulate long-duration Mars mission.
---
TUESDAY

NET Apr — RSA, Launch Soyuz / EgyptSat 2, Baikonur Cosmodrome, Kazakhstan: An RSA Soyuz rocket set to launch EgyptSat 2 Earth observation satellite for Egypt's National Authority for Remote Sensing and Space Sciences.

NET Apr — SpaceX, Cape Canaveral AFS FL: Upgrading Dragon spacecraft to carry humans to space for NASA CCiCap, first In-Flight Abort Test to occur this month.

NET Apr — Boeing Company, Chicago IL: Developing CST-100 7-person spacecraft for NASA CCiCap, Critical Design Review to occur this month.

NET Apr — Thirty Meter Telescope Observatory Corp., Mauna Kea HI: Projected date for construction start of TMT on Mauna Kea now likely NET Aug 2014.

Apr 1 — Deep Space, Pluto Trajectory: New Horizons spacecraft moving at 53,181 kph nearing Neptune orbital path; is about 29 AU from Earth, 3.7 AU & 469 days from Pluto.

Apr 1 — SETI Institute, Mountain View CA: SETI Talks: Towards Improved Occurrence Rates of Exoplanets – The Properties of Stars Observed by Kepler; presented by Daniel Huber of SETI, 12:00 PDT.

Apr 1-2 — Jet Propulsion Laboratory, Caltech/NASA, Pasadena & Goldstone CA: Deep Space Network Social Media Event; 50 social media followers invited to tour JPL and NASA Deep Space Network complex.

Apr 1-3 — ATK, Chapman University, Boeing Co., XCOR Aerospace, et al, Long Beach CA: Space Tech Expo: Design – Build – Test.

Apr 1 — Asteroid 2009 SA100: Near-Earth flyby (0.044 AU).

Apr 1 — Asteroid 2010 GD35: Near-Earth flyby (0.049 AU).
WEDNESDAY

Apr 2 — Asteroid 2014 EQ12: Near-Earth flyby (0.052 AU).
THURSDAY

Apr 3 — Arianespace, Launch Soyuz / Sentinel 1A, Kourou, French Guiana: Soyuz rocket, designated VS07, to launch Sentinel 1A radar observation satellite for ESA and European Commission.

Apr 3 — United Launch Alliance, Launch Atlas 5 / DMSP F19, Vandenberg AFB CA: ULA to launch global weather forecasting Defense Meteorological Satellite Program 19 spacecraft for U.S. Air Force

Apr 3 — Moon: 6.8° S of Pleiades, 01:00; 2.2° NNW of Aldebaran, 19:00.

Apr 3 — Asteroid 2014 EC49: Near-Earth flyby (0.088 AU).
FRIDAY

Apr 4 — Cassini OTM-376, Saturn Orbit: Spacecraft conducts Orbital Trim Maneuver #376 today.

Apr 4 — ISRO, Launch PSLV / IRNSS 1B, Satish Dhawan Space Center, Sriharikota, India: Polar Satellite Launch Vehicle flying on C24 mission to launch IRNSS 1B navigation satellite, 2nd spacecraft of Indian Regional Navigation Satellite System.

Apr 4 — Lunar and Planetary Institute, Houston TX: LPI Seminar Series: Properties of the Lunar Regolith Revealed by the Diviner Lunar Radiometer; presented by Benjamin Greenhagen from JPL / Caltech.

Apr 4 — Goddard Space Flight Center, NASA, Greenbelt MD: Goddard Scientific Colloquium: How Explosive Was Ancient Mars? presented by Jacob Bleacher of GSFC, 15:30 EDT.

Apr 4 — The Space Show, Online / Tiburon CA: Host Dr. David Livingston talks with Dwight Steven-Boniecki about his book Live TV From The Moon.

Apr 4 — Space Center Houston, Houston TX: Lunch with an Astronaut, Leroy Chiao; US$49.95 adult.

Apr 4 — Asteroid 2013 TT5: Near-Earth flyby (0.096 AU).
SATURDAY

Apr 5 — Federation of Galaxy Explorers, Culpeper VA: Battle of the Rockets; featuring Planetary Rover Event, Egg Saucer Event, Target Altitude Event.

Apr 5-8 — American Physical Society, Savannah GA: American Physical Society (APS) April Meeting 2014.
SUNDAY

Apr 6 — Moon: 5.3° S of Jupiter, 11:00; at first quarter, 22:31.