International Ganymede Lander Workshop Advances Jupiter System Exploration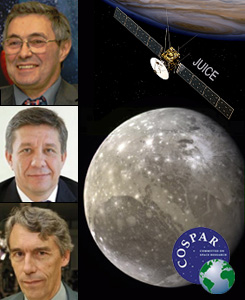 Ganymede, largest of Jupiter's 67 known moons and the largest in the solar system with a 5,268-km diameter, is the focus of 'Ganymede Lander: Scientific Goals and Experiments' international colloquium and workshop held on March 4-8 at Space Research Institute (IKI) in Moscow, Russia. This 5-day event is sponsored by the Committee on Space Research (COSPAR) and Russian Foundation for Basic Research (RFBR). With deep-rooted cosmonautics, Russia may launch its space program into 21st Century exploration by building a Ganymede Lander compatible with the ESA Jupiter Icy Moons Explorer (JUICE) mission, expected to launch 2022. Seven scientific sessions on Mar 5-7 will cover topics including considerations for Ganymede landing site, lander, orbiter, payloads and spacecraft. IKI Director Lev Zelenyi (T) will welcome attendees and speak about 'Cooperation in the Jupiter System Exploration.' Participation from Japan, China and India has not yet been confirmed. RSA General Director Vladimir Popovkin (M) will follow with 'Russian Plans for Studies of the Solar System: Technical, Scientific and International Aspects.' The Mar 5 opening session includes an overview of JUICE given by Dmitrij Titov of ESA, a talk about the Europa Clipper mission concept (potentially launching 2021) by David Senske of JPL and a 'Cooperation and Synergies between the Ganymede Lander and JUICE' presentation by Michel Blanc (B) of Toulouse Research Institute in Astrophysics and Planetology. NASA's Juno mission, launched 2011, is expected to approach Jupiter on Jul 4, 2016. (Image Credit: ESA, RSA, NASA/JPL, COSPAR, Air & Space Academy)
Canada Boosts Commercial Space Resource Utilization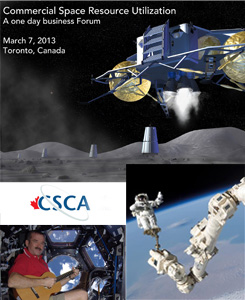 The Canadian Space Commerce Association, an industry group to promote and support Canadian enterprise, hosts a National Conference focused on the business and political issues surrounding 'Commercial Space Resource Utilization' on Thursday, March 7 at the Metro Toronto Convention Centre. The aim is to provide opportunities for synthesis between mining industry executives, business owners and independent consultants, public and private space policy professionals, venture capitalists, private investors, scientists, engineers and researchers. Confirmed speakers include Dale Boucher, director of product design, prototyping and testing at the Northern Centre for Advanced Technology and Jim Keravala of Shackleton Energy Company. Peter Visscher, the space and robotics manager for Ontario Drive and Gear, will discuss ISRU hardware available in Canada today based on his experience developing and building the Artemis Jr. lunar rover for the NASA RESOLVE project. There will be a panel discussion on 'After Emerson and after Steve MacLean: Canada's Space Future for the CSA and the Domestic Space Industry' as well as a 'Start-Up Lift-Off' where speakers from new space ventures have 5 minutes to introduce their organizations. On Mar 13 Chris Hadfield (pictured) makes history becoming the 1st Canadian to command the International Space Station. (Image Credit: CSCA, NASA)
---


= All times for terrestrial events in local time unless noted.

= All times for international terrestrial events in local time unless noted.

= All times for space events, and…

= All times for international space / astro events in Hawaii Standard Time unless noted. Add 10 hours to obtain UT ('Universal Time;' Greenwich, England).
---
Weekly Planet Watch – Evening Planets: Jupiter (SW), Saturn (SE).
---
MONDAY

Mar 4 — ISS, LEO: Expedition 34 members Ford, Novitsky, Tarelkin performing lower body negative-pressure exercise in preparation for return to gravity Mar 15; Expedition 35/36 ground-team Cassidy, Misurkin, Vinogradov, launching to ISS Mar 29, undergoing Qualification Training Simulation Runs at Star City, Russia.

Mar 4 — XMM-Newton X-Ray Observatory, LEO: Partnered with NuSTAR observatory, providing definitive measurements of spin rate of black hole with mass 2M times that of our Sun in spiral galaxy NGC 1365, 56M light-years away; aids understanding of black holes and galaxy evolution.


Mar 4 — Curiosity, Yellowknife Bay, Mars: Onboard leak of 1 of 9 phials with 0.5 ml of MTBSTFA chemical containing carbon and hydrogen produces evidence of perchlorates (which could indicate organic compounds) on Mars; science-team working to determine, analyze potential SAM instrument contamination issues.


Mar 4 — Blue Origin LLC, Kent WA: NewSpace company testing New Shepard reusable vertical take-off and vertical landing vehicle capable of carrying 3 humans, research projects on suborbital flights providing microgravity for 3-4 minutes; developing reusable first-stage booster for orbital flights.

Mar 4 — Starchaser Industries Ltd., Manchester, United Kingdom and New Mexico USA: Developing Churchill Mk III 33,075 lbf trust engine, Storm 15,435 lbf trust engine; testing recoverability of 3-person Thunderstar capsule under abort conditions; planning to launch Skybolt sounding rocket to deliver 20-kg payload to 130-km altitude.

Mar 4 — Inspiration Mars Foundation, USA: Planning to send on Jan 5, 2018, 1 woman and 1 man on 501-day round trip to come within 161 km of Mars; mission includes modified capsule, 10-ton craft, partnership with NASA to conduct thermal protection system testing, Dennis Tito funding first 2 years.

Mar 4 — Oregon State University Student Chapter of AIAA, Corvallis OR: Astronaut Stanley Love Talks to OSU Engineering Students about Human Exploration of Mars; 18:00 PST.

Mar 4-6 — Thales Alenia Space – Spain, USA National Institute for Aerospace Technology, JAXA, NASA, ESA, et al, Barcelona, Spain: 9th GEANT4 Space Users' Workshop; to discuss new results on space radiation interaction with components, shielding analysis, developments applicable to space missions.

Mar 4-8 — Committee on Space Research, Russian Foundation for Basic Research, Space Research Institute, Moscow, Russia: International Colloquium and Workshop: Ganymede Lander – Scientific Goals and Experiments; to examine advantages / drawbacks of transferring exploration efforts from Europa to Ganymede.

Mar 4 — Moon: 6.4° N of Antares, 04:00; at last quarter, 11:54.
---
Continued from…

Jan 22 – May 30, 2014 — NASA, USA: Phase 1 Certification Products Contracts; Boeing Co. receives about US$10M, Sierra Nevada Corp. $10M, SpaceX $9.6M to work with NASA Commercial Crew Program to develop systems for launching astronauts from American soil.

Feb 13 – Apr 3 — Center for the Advancement of Science in Space, MassChallenge, Online: MassChallenge Startup Accelerator; accepting proposals for flight-ready ISS research projects; winners may receive up to US$100K in grant funding.

Feb 13 – Apr 24 — The Golden Spike Company, Online: GSC Indiegogo Crowdsourcing Campaign: Help Send Nations and People to the Moon.

Feb 14 – Jun 2, 2014 — NASA NSPIRES, Online: Research Opportunities in Space and Earth Sciences (ROSES) 2013; proposal and submission period for those interested in advancing research concepts and technologies for Space and Earth sciences.

Feb 25 – Apr 29 – USA National Center for Earth and Space Science Education, Student Spaceflight Experiments Program, Global: SSEP Mission 4 to ISS; microgravity experiment design and proposal writing period for students; selected experiments will fly to ISS mid-Oct.

Mar 2-8 — Space Tourism Society, Los Angeles CA: Space Tours – Los Angeles; week-long tour of space facilities in Los Angeles including SpaceX, XCOR, Mojave Space Center; US$4,985.

Mar 2-9 — IEEE, AIAA, Big Sky MT: 2013 IEEE Aerospace Conference.
---
TUESDAY

Mar 5 — NASA, Washington DC: NASA Advisory Council Education and Public Outreach Committee Meeting; to review current activities, committee recommendations; 09:00 – 17:00 EST.

Mar 5 — SETI Institute, Mountain View CA: Colloquium: On the Road to Extragalactic Transient Discoveries; presented by Sarah Spolaor of JPL, 12:00 PST.

Mar 5-6 — NASA/JPL, Los Angeles CA: 25th Annual High-Tech Conference for Small Business; a forum for small businesses to discuss contracting / subcontracting opportunities; at Westin Los Angeles Airport Hotel; US$150.

Mar 5-7 — International Space University, Strasbourg, France: 17th ISU Annual International Symposium: Space Technology and Tele-Reach: Benefiting Humanity on Earth and Beyond.

Mar 5 — Moon: At perigee (distance 369,581 km), 14:00.
WEDNESDAY

Mar 6 — Space Florida, SpaceX, Boeing Company, ULA, Lockheed Martin, et al, Tallahassee FL: Florida Space Day 2013; to educate Florida legislators on significance of aerospace industry, impact on Florida economy.

Mar 6 — The British Interplanetary Society, London, United Kingdom: Lecture: NASA's Lunar Roving Vehicle; with speaker Chris Riley.

Mar 6 — NASA NSPIRES, Online: Notice of Intent Due: Game Changing Opportunities in Technology Development.

Mar 6-8 — The National Academies, NASA, Washington DC: Committee on Astrobiology and Planetary Science Meeting.
THURSDAY

Mar 7 — Canadian Space Commerce Association, Toronto, Ontario, Canada: 2013 CSCA National Conference – Commercial Space Resource Utilization; to include Dale Boucher of Northern Centre for Advanced Technology, Ram Jakhu of McGill Institute of Air and Space Law, Bob Richards of Moon Express, Rick Tumlinson of Deep Space Industries.

Mar 7 — Sustainable Silicon Valley, NASA Ames Research Center, Mountain View CA: Finalists Announced: Game-Changing Solutions to Regional and Global Sustainability; announcing competition finalists with proposals on ways space research / technology can create global-sustainability solutions.

Mar 7 — University of Houston – Clear Lake, Houston TX: 2013 Physics and Space Science Spring Seminar Series: Space Radiation Research at Prairie View A&M University; presented by Richard Wilkins from Prairie View A&M University; free; in UH-Clear Bayou Building room 1218, 19:00 CST.

Mar 7-15 — USA National Center for Earth and Space Science Education, Hilo HI: Journey Through the Universe Week; featuring workshops, STEM events, `Imiloa Astronomy Center.

Mar 7 — Asteroid 1432 Ethiopia: Near-Earth flyby (1.936 AU).
FRIDAY

Mar 8 — AIAA, Washington DC: Columbia Plus 10 – Lessons Learned and Unlearned; to discuss long-term advanced technology programs.

Mar 8 — NASA, Online: NASA to release 1st global maps of Mercury from MESSENGER Mercury Dual Imaging System (MDIS) via NASA Planetary Data System (PDS).

Mar 8 — NASA, Online: Chris Cassidy of Expedition 35/36 live satellite interview from Gagarin Cosmonaut Training Center in Star City, Russia; 17:00 – 18:00 local time.

Mar 8 — Cornell University, University of Hawai`i – Manoa, Online: HI-SEAS Recipe Due; last day to submit food recipes for Hawaii Island Mars Analog Mission and Food Study.

Mar 8 — Royal Astronomical Society, London, United Kingdom: Meeting: Is a Moon necessary for the Co-evolution of the Biosphere of its Host Planet?

Mar 8 — AIAA, Online: Essay Due: How Can Humans and Robots Work Together to Explore Mars?

Mar 8 — Space Center Houston, Houston TX: Lunch with an Astronaut, Leroy Chiao; US$49.95 adult.

Mar 8-10 — Texas A&M University, Mitchell Institute for Fundamental Physics and Astronomy, College Station TX: TAMU Workshop on Dark Matter.
SATURDAY

Mar 9 — Cassini, Saturn Orbit: Rhea flyby scheduled at 997-km altitude.

Mar 9 — International Lunar Observatory Association, Space Age Publishing Company, Science Centre Singapore, Singapore: Galaxy Forum Southeast Asia 2013 – Singapore: Galaxy Education and Galaxy Enterprise in the 21st Century; at main auditorium in Science Centre Singapore, 09:00 -12:30 local time.

Mar 9 — Earthrise Space Inc., Central Florida Racing Complex, Orlando FL: Space Day; for attendees to interact with and support Google Lunar X PRIZE Omega Envoy team; at Central Florida Racing Complex.

Mar 9 — Asteroid 15907 Robot: Near-Earth flyby (1.490 AU).
SUNDAY

Mar 10 — Daylight Saving Time (USA): Set clock ahead 1 hour; does not include Hawaii, American Samoa or Arizona (except the Navajo Reservation).

Mar 10-15 — American Geophysical Union, Reykjavik, Iceland: AGU Chapman Conference: Fundamental Properties and Processes of Magnetotails; to discuss magnetospheres of planets in our solar system, solar wind, spacecraft observations.

Mar 10 — Moon: 2.2° N of Mercury, 12:00.