Latin America Advancing Geophysics, Space Technology, Astrophysics and Education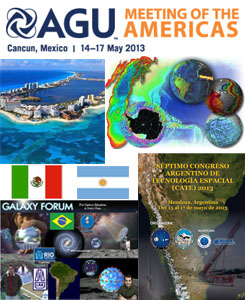 The American Geophysical Union 'Meeting of the Americas' brings together Earth and space scientists, educators, students and other leaders on May 14-17 in Cancun, Mexico. Members of the Program Committee include Ricardo Trindade from the University of Sao Paulo (Planetary Sciences), Blanca Mendoza of the National Autonomous University of Mexico (Space Physics and Aeronomy) and Teresa Nieves-Chinchilla representing NASA Goddard Space Flight Center (SPA-Heliospheric Physics). The 7th Argentine Congress on Space Technology takes place on May 15-17 in Mendoza, Argentina. Organized by the Argentina Association of Space Technology and the National University of Cuyo, co-sponsored by the AIAA, the event features almost 100 presentations over 9 technical sessions. The International Lunar Observatory Association (ILOA) is working with leading astrophysics institutions to advance Galaxy 21st Century education in Latin America. The Hawai`i based non-profit, with the mission to expand human understanding of the Cosmos through observation from our Moon, is conducting Galaxy Forum Brazil in Rio de Janeiro on May 14, following up a successful Galaxy Forum Chile in Santiago on May 10. (Image Credit: AGU, NOAA, AATE, ILOA)
A. C. Clarke Center Public Launch Events: Inaugural Symposium & Starship Century Symposium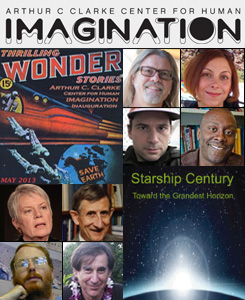 The Arthur C. Clarke Center for Human Imagination (ACCCHI) is hosting an inaugural symposium titled 'Visions of the Future' on May 14 at the Atkinson Hall of the University of California, San Diego. Inspired by Clarke's imagining of 2001 in 1968, this free symposium will serve as a platform to discuss science 33 years from now with the understanding that human imagination can advance all aspects of societies. The 14 speakers include Director of ACCCHI Sheldon Brown, Assistant Professor of UCSD's Department of Cognitive Science Ayse Saygin and Director of the Center for Transformative Media at Parsons The New School for Design Edward Keller. On May 21-22, ACCCHI will host Starship Century Symposium 2013 in collaboration with authors Gregory and James Benford. It asks the questions: Is this the century we build Starships? Why go to the stars? Can we? Should we? Geoffrey Landis of NASA will speak on 'The Nuclear Rocket: Workhorse of the Solar System,' Artist / Journalist Jon Lomberg will present 'Becoming Galactic' and Jill Tartar of SETI Institute moderates the 'Getting to the Stars' panel. The annual International Space Development Conference, also in San Diego, will be on May 23-27. (Image Credit: ACCCHI, UCSD)
---


= All times for terrestrial events in local time unless noted.

= All times for international terrestrial events in local time unless noted.

= All times for space events, and…

= All times for international space / astro events in Hawaii Standard Time unless noted. Add 10 hours to obtain UT ('Universal Time;' Greenwich, England).
---
Weekly Planet Watch – Evening Planets: Venus (WNW), Jupiter (W), Saturn (SE).
---
MONDAY

May 13 — ISS, LEO: Expedition 34/35 members Chris Hadfield, Roman Romanenko, Tom Marshburn returning to Earth; May 13 undocking scheduled 23:08 UT, May 14 Kazakhstan landing 02:30, live coverage available.

May 13 — Herschel, Earth-Sun L2 Lagrange Point: Observing 1,000° C gas in center of Milky Way which black hole Sagittarius A* may be devouring.

May 13 — Curiosity, Yellowknife Bay, Mars: Mission team preparing to move rover to 'Cumberland' rock 2.75 meters west of 'John Klein' rock in order to drill / perform experiments.

 May 13 — Golden Spike Co., Boulder CO: NewSpace company beginning to solidify Human lunar lander technology concepts with completed feasibility study by Northrop Grumman.

May 13 — SpaceX, Las Cruces NM: Preparing to move Grasshopper reusable rocket prototype to Spaceport America to begin high-altitude tests; signed 3-year agreement to lease land / facilities.

May 13 — Spaceport Sweden, Kiruna, Sweden: Finalizing commercial spaceflight program utilizing Dynamic Flight Simulator with unique G profiles which may be used in future commercial space vehicles.

May 13 — NASA, Washington DC: NASA to Mark 40th Anniversary of Skylab and Life Off Earth; televised roundtable discussion featuring Skylab and current astronauts, space missions agency managers; starts 14:30 EDT.

May 13 — The Space Show, Online: Buzz Aldrin talks about his book, Mission to Mars, with host Dr. David Livingston.

May 13 — United Nations Office for Outer Space Affairs, Vienna, Austria: Gagarin, First in Space; screening of video documentary; daughter of Yuri Gagarin, Yelena Y. Gagarina, will be present.

May 13-15 — Astrophysics Laboratory of Marseille, Marseille, France: Planet Validation Workshop; to discuss Kepler, future exoplanet missions, observations and data modeling, planetary systems, galactic structure.

May 13-17 — University of Granada Galactic Astrophysics Group, Granada, Spain: Workshop: The Role of Bars in Galaxy Evolution.

May 13 — Moon: At apogee (distance 405,386 km), 04:00.
---
Continued from…

Jan 19 – May 18 — University of California at Riverside ARTSblock Program, Riverside CA: Free Enterprise: The Art of Citizen Space Exploration; art exhibit with NewSpace movement theme.

Mar 26 – May 29 — Space Frontier Foundation, Online: 2013 NewSpace Business Plan Competition; to help entrepreneurs focus on / plan commercial development of space, advance NewSpace movement.

Apr 2 – Jun 5 — NASA, Online: NASA Seeks Academic Partners for Smallsat Technology Collaboration; accepting proposals for small spacecraft (smallsat) projects.

Apr 4 – Oct 25 — NASA, Online: 2014 Night Rover Challenge; for researchers to create energy storage system allowing simulated lunar rover to operate at average 85 W throughout 14-day-long lunar night, exceed a minimum of 300 W-hrs/kg.

Apr 10 – Jul 16 — JAXA, Online: Send Names / Messages to Asteroid 1999 JU3 on Hayabusa2 Spacecraft; accepting public submissions of names / messages to ride aboard spacecraft launching to asteroid in 2014.
---
TUESDAY

May 14 — International Launch Services, Launch Proton / Eutelsat 3D, Baikonur Cosmodrone, Kazakhstan: A Proton Rocket to deliver Eutelsat 3D communications satellite to provide services to Europe and Africa; 22:02 local time.

May 14 — Arthur C. Clarke Foundation, San Diego CA: Arthur C. Clarke Center Inaugural Symposium: Visions of the Future; to include The Literary Imagination; held in conjunction with Starship Century Symposium 2013 on May 21-22.

May 14 — International Lunar Observatory Association, Space Age Publishing Co., Rio de Janeiro, Brazil: Galaxy Forum South America – Brazil: Galaxy Education and Galaxy Enterprise in the 21st Century; free / open to public.

May 14 — National Space Club Florida Committee, Cape Canaveral FL: Luncheon at the Radisson Resort at the Port; to provide information on space activities; featuring Kennedy Space Center Director Robert Cabana; US$17-20.

May 14-15 — Federal Aviation Administration, Washington DC: COMSTAC Open Meeting.

May 14-17 — American Geophysical Union, Brazil National Scientific and Technical Society of Geophysicists, LatinMag, Geochemical Society, Cancun, Mexico: AGU: Meeting of the Americas.

May 14-17 — Applied Technologies Institute, Littleton CO: Space Mission Structures: From Concept to Launch Course; conducted by Tom Safarin and Poti Doukas; US$1,990.

May 14 — Moon: 11.5° SSW of Pollux, 22:00.
WEDNESDAY

May 15-16 — University of Geneva, University of Bern, Bern, Switzerland: First Characterizing Exoplanet Satellite (CHEOPS) Science Workshop.

May 15-17 — Argentina Association of Space Technology, National University of Cuyo, Professional Council of Aeronautic and Space Engineering, AIAA, Mendoza, Argentina: 7th Argentine Congress on Space Technology.

May 15-17 — ESA, Noordwijk, The Netherlands: 12th Symposium on Advanced Space Technologies in Robotics and Automation (ASTRA 2013); at European Space Research and Technology Centre.

May 15-18 — ESA, NASA, JAXA, DLR, National Institute of Radiological Sciences, Chiba, Japan: Heavy Ion in Therapy and Space Radiation Symposium 2013; to include 24th Annual NASA Space Radiation Health Investigators' Workshop, 5th ESA Space Radiation Investigators' Meeting, more.

May 15 — Asteroid 2010 LF14: Near-Earth flyby (0.096 AU).
THURSDAY

May 16-23 — RR Auction Inc., Amherst NH: Space and Aviation Autograph and Artifact Auction.

May 16 — Moon: 6.5° SSW of Beehive Cluster, 04:00.

May 16 — Asteroid 2013 HT15: Near-Earth flyby (0.045 AU).
FRIDAY

May 17 — NASA Johnson Space Center, Houston TX: Media Invited to Speak with Samuel Ting, Principal Investigator for the Alpha Magnetic Spectrometer.

May 17 — `Imiloa Astronomy Center, University of Hawai`i – Hilo, Hilo HI: Mauna Kea Skies Talk; astronomers from Mauna Kea observatories speak about recent discoveries; this session features Institute for Astronomy Hilo Telescope; 19:00 HST, US$8-10.

May 17 — Space Center Houston, Houston TX: Lunch with an Astronaut, Ken Cameron; US$49.95 adult.

May 17-18 — UK Astronomers Ltd., Sky at Night Magazine, Warwickshire, United Kingdom: International Astronomy Show.

May 17-19 — NASA, Covington KY: 'Driven to Explore' traveling exhibit.

May 17 — Moon: At first quarter, 18:35; 5.6° SSW of Regulus, 23:00.
SATURDAY

May 18 — International Academy of Astronautics, Beijing, China: IAA Academy Day.
SUNDAY

May 19 — Cassini OTM-349, Saturn Orbit: Spacecraft conducts Orbital Trim Maneuver #349 today.

May 19 — NASA Goddard Space Flight Center, Greenbelt MD: Sunday Experiment: James Webb Telescope; for families to learn about current / future science missions managed by NASA Goddard; in Auditorium and Science Center/Sphere, 13:00 – 15:00 EDT.