Spring Rise of Space Activities in Japan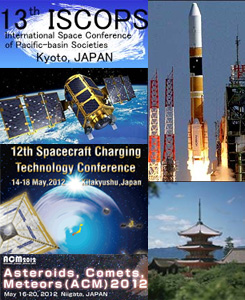 Three prominent space conferences and a launch of the H-2A rocket this week showcase the prominence of Japan in 21st Century space exploration. At the 12th Spacecraft Charging Technology Conference, May 14-18 in Kitakyushu, researchers from Japan, China, Korea, USA and Europe will present the latest technologies and challenges for powering current and future space missions. AAS, CSA and JRS are jointly sponsoring the 13th International Space Conference of Pacific-basin Societies from May 15-18 in Kyoto. The conference will provide a forum for space decision-makers, scientists and students to exchange ideas in space technology while focusing on the theme 'Space for Our Future.' Asteroids, Comets and Meteors (ACM) 2012 will be held May 16-20 in Niigata. Taking place every 3 years, the ACM meeting is the premier international gathering of scientists who study small bodies. The Japanese H-2A rocket is scheduled to launch the Global Change Observation Satellite GCOM W1 ('Shizuku'), and Korean Earth observation satellite Kompsat 3 from the Tanegashima Space Center. With only 1 failure in 20 launches, H-2A rocket has a 95% launch success rate. (Image Credit: AAS, CSA, JRS, ACM, JAXA)
Milky Way Galaxy Origins, Evolution Is Focus of Aspen Summer Meeting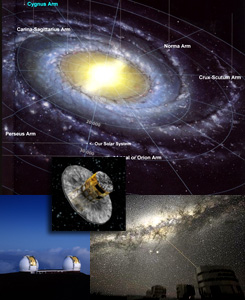 Over 40 international experts in stellar dynamics, astrometry, radio, optical and X-ray observations will gather at the 'Aspen Meeting Summer 2012: A Window to the Formation of the Milky Way – Dynamics, Observational and Numerical Astrophysics of Dense Stellar Systems' in Colorado on May 20 – June 9. Participants at the 3-week workshop will discuss upcoming ESA mission GAIA (C), which is set to launch aboard a Soyuz rocket NET 2013. The 2030kg spacecraft, one of ESA's most ambitious missions, will "create the largest and most precise three-dimensional chart of the Milky Way Galaxy by providing unprecedented positional and radial velocity measurements for about one billion stars in our Galaxy and throughout the Local Group." This amounts to approximately 1% of the Galactic stellar population. Participants will also discuss the role of ground-based facilities with focus on 10-M telescopes such as the Very Large Telescope in Northern Chile and Keck Observatory (BL) on Mauna Kea, Hawai`i Island. (Image Credit: ESA, Keck Observatory, outerspaceuniverse.org, wikipedia.org)
---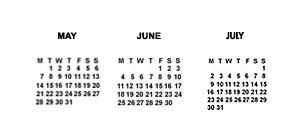 = All times for terrestrial events in local time unless noted.

= All times for international terrestrial events in local time unless noted.

= All times for space events, and…

= All times for international space / astro events in Hawaii Standard Time unless noted. Add 10 hours to obtain UT ('Universal Time;' Greenwich, England).
---
Weekly Planet Watch – Evening Planets: Venus (WNW), Mars (SSW), Saturn (SE).
---
MONDAY

May 14 — International Space Station, LEO: E-31 crew members prepare for the arrival of Flight Engineers Joe Acaba, Gennady Padalka and Sergei Revin while continuing with ongoing science experiments and maintenance activities.

May 14 — Lunar Reconnaissance Orbiter (LRO), Lunar Orbit: NASA LRO functioning nominally in its 50±15 km near-circular orbit as it makes digital elevation and surface maps that will be fundamental references for future human exploration.

May 14 — Mars Reconnaissance Orbiter, Red Planet: Scientists continue to study recent imagery from NASA MRO  High Resolution Imaging Science Experiment (HiRISE) camera which shows changes in Martian sand dunes as thick as 61 meters moving as coherent units across the Martian landscape.

May 14 — Jupiter Juno Mission, Jupiter Trajectory: NASA spacecraft approximately 404 million km from Earth, having traveled 612 million km since launch and is currently traveling at a velocity of 61,600 km per hour.

NET May 14 — RSA, Launch Soyuz / ISS 30S, Baikonur Cosmodrome, Kazakhstan: An RSA Soyuz rocket set to launch the Soyuz spacecraft to the ISS with members of the next Expedition crew.

May 14 — American Institute of Aeronautics and Astronautics – San Francisco, Mountain View CA: 'Building a NanoLab Module for the ISS and STEM Education.'

May 14-17 — Predictive Science Inc, Boulder CO: 'Extreme Space Weather Events Workshop.'

May 14-18 — JAXA, NASA, ESA, et al, Kitakyushu, Japan: '12th Spacecraft Charging Technology Conference.'

May 14-18 — Astrophysics Institute of the Canarias, The Paris Observatory, Puerto de la Cruz, Tenerife, Spain: 'Conference: Mapping Oxygen in the Universe.'

May 14-18 — Southern Federal University, Russian Foundation for Basic Research, et al, Sochi, Russia: 'Conference: Galaxies – Origin, Dynamics, Structure.'

May 14 — Cassini OTM-320, Saturn Orbit: Spacecraft conducts Orbital Trim Maneuver #320 today.
---
Continued from…

Apr 23 — Johnson Space Center, Houston TX: NASA TV to feature events surrounding the upcoming Expedition 31 crew training activities with NASA Flight Engineer Joseph Acaba and Cosmonauts Cmdr Gennady Padalka and Flight Engineer Sergei Revin; through May 17.
---
TUESDAY

NET May 15 — Arianespace, Launch Ariane 5 / JCSAT 13 & Vinasat 2, Kourou, French Guiana: Arianespace set to use an Ariane 5 ECA rocket, designated VA206 to launch the JCSAT 13 and Vinasat 2 communications satellites.

May 15-17 — Ames Research Center, Moffett Field CA: 'Mars Recent Climate Change Workshop.'

May 15-17 — The Institute of Engineering and Technology, York, United Kingdom: '12th International Conference on Ionospheric Radio Systems and Techniques.'

May 15-18 — American Astronautical Society, Chinese Society of Astronautics, Japanese Rocket Society, Kyoto, Japan: '13th International Space Conference of Pacific-Basin Societies.'

May 15-18 — International Council for the Exploration of the Sea, Intergovernmental Oceanographic Commission of UNESCO, Yeosu, South Korea: '2nd International Symposium Effects of Climate Change on the World's Oceans.'

May 15 — Moon: 1.1° ESE of 2 Pallas; 12:00.

May 15 — Asteroid (Near-Earth Flyby): 2012 GK (0.056 AU); 2012 HN13 (0.082 AU).
---
WEDNESDAY

May 16 — The SETI Institute, Mountain View CA: Colloquium Series Lecture: 'The Climates of the Planet Mars,' Francois Forget.

May 16 — ESA, Cologne, Germany: 'SpaceLab Finalists at EAC Cologne.'

May 16-20 — Lunar and Planetary Institute, Niigata Prefecture, et al, Niigata, Japan: 'Asteroids, Comets and Meteors 2012.'
---
THURSDAY

NET May 17 — JAXA, Launch H-2A / GCOM W1 & Kompsat 3, Tanegashima Space Center, Japan: A Japan H-2A rocket set to launch the GCOM W1 satellite and South Korea Kompsat 3 satellite.

NET May 17 — ILS, Launch Proton / Nimiq 6, Baikonur Cosmodrome, Kazakhstan: An ILS Proton rocket with a Breeze M upper stage will deploy the Nimiq 6 satellite which will provide Ku-band HDTV and other video services across Canada.

NET May 17 — RSA, Launch Soyuz / Kobalt, Plesetsk Cosmodrome, Russia: A Soyuz rocket is set to launch a Kobalt optical reconnaissance satellite for the Russian ministry of defense.
---
FRIDAY

May 18 — The Lunar and Planetary Institute, Houston TX: 'LPI Seminar Series: Faults and Folds on Mercury,' Christian Klimczak.

May 18-23 — Kennedy Space Center, Cape Canaveral FL: Media pre-launch / post launch coverage of the SpaceX Falcon 9 rocket carrying a Dragon capsule for NASA's Commercial Orbital Transportation Services (COTS).

May 18 — Cassini OTM-322, Saturn Orbit: Spacecraft conducts Orbital Trim Maneuver #322 today.
---
SATURDAY

NET May 19 — SpaceX, Launch Falcon 9 / Dragon C2, Cape Canaveral FL: SpaceX Falcon 9 rocket set to launch the Dragon C2 Spacecraft to demonstrate rendezvous and berthing with the International Space Station for cargo-delivery.

May 19 — `Imiloa Astronomy Center of Hawai`i, Hilo HI: 'Mauna Kea Skies Talk: Imaging Planets Around Other Stars From the Summit of Mauna Kea,' Brendan Bowler.

May 19 — The British Interplanetary Society (BIS), York, United Kingdom: 'BIS: Northern Meeting,' event will consist of a day-long event to celebrate the history, development and achievement of human spaceflight.

May 19-21 — International Academy of Astronautics, Porto, Portugal: '1st IAA Conference on Dynamics & Control of Space Systems.'

May 19 — Moon: At Apogee (Distance: 406,450 km), 06:00; 2.1° NNW of Mercury; 18:00.

May 19 — Asteroid 2010 KK37: Near-Earth Flyby (0.006 AU).
---
SUNDAY

May 20 — Goddard Space Flight Center, Greenbelt MD: 'The Sunday Experiment: Solar Dynamics Observatory,' participants will learn about solar storms and how they effect the Earth from an SDO scientist; they can also participate in hands-on activities that explore the magnetic fields of the Sun, electromagnets, and ultraviolet light.

May 20-25 — Japan Geoscience Union (JGU), Chiba City, Japan: 'JpGU Meeting 2012.'

May 20 – Jun 9 — Aspen Center for Physics, Aspen CO: Aspen Summer Meeting 2012: 'A Window to the Formation of the Milky Way.'

May 20 — Annular Solar Eclipse: The Moon's apparent disk is just smaller than the Sun's disk and the Sun appears as a brilliant ring; Greatest Eclipse to occur at 13:53:54. This eclipse is the 1st of 3 remarkable astronomical events of 2012, followed by the transit of Venus on June 6 and a total solar eclipse on November 13.

May 20 — Moon: 1.8° N of Jupiter, 04:00; New Moon, 13:47; 3.6° S of Pleiades, 13:00; 4.8° NNE of Spica, 20:00.