NSS 32nd ISDC & Spacefest V Advancing Space Exploration and Interest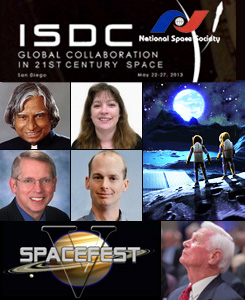 The National Space Society hosts the 32nd Annual International Space Development Conference (ISDC) on May 23-27 at the Hyatt Regency La Jolla in San Diego, California, USA. The theme is 'Global Collaboration in 21st Century Space.' With the focus on humans becoming a Multi-World species this century, ISDC aims to promote innovative ideas and networks for space transportation, policies, technologies, advocacy and education. Over 117 speakers include Astronaut Buzz Aldrin, Former President of India Dr. A. P. J. Abdul Kalam (TL), GLXP Senior Director Alexandra Hall (TR), Deep Space Industries CEO David Gump (ML) and Professor at the University of Advancing Technology Natasha Vita-More. The opening keynote speaker will be Mars One CEO Bas Lansdorp (MR). Spacefest V will be held in Tucson, Arizona, USA on May 24-27 at the Starr Pass Resort and Spa. Sponsored by Novaspace, this event brings together scientists, astronauts, astronomers, space enthusiasts and artists to discuss human / robotic exploration, commercial space industry, space history and astronomy. There will be more than 35 speakers and 15 astronauts including Gemini 9 and Apollo 10 & 17 Astronaut Gene Cernan (BR), Planetary Society's Emily Lakdawalla, Journalist at Space.com Leonard David and Team Leader of Cassini-Saturn Imaging Dr. Carolyn Porco. (Image Credit: NSS, Novaspace, NASA, Discovery Enterprise)
Canada Hosts Events on Space Exploration, Industry and Enterprise
The 6th International Association for the Advancement of Space Safety Conference "Safety is Not an Option" takes place on May 21-23 at the McGill University Institute of Air and Space Law in Montreal, Quebec, Canada. The event is organized in cooperation with the International Space Safety Foundation and includes sessions on 3 topics that deserve increased attention: Space Debris Remediation, International Space Traffic Control, and Commercial Human Spaceflight Safety. The Manfred Lachs Conference on the Regulation of Emerging Modes of Aerospace Transpiration is on May 24-25 at McGill with support of the International Civil Aviation Organization. Featuring seven sessions and a gala dinner, the meeting aims to: assess current status / future plans for aerospace transportation, examine regulatory challenges to aerospace vehicles, and suggest viable policy and regulatory mechanisms to facilitate aerospace transportation / ensure safety of global aviation. Particularly vexing to current frameworks are emerging systems for point-to-point transportation capable of seamless operation within both airspace and outer space. Galaxy Forum Canada 2013 – 'Human Moon Missions: Giant Steps into the Galaxy' on May 25 in Vancouver, BC brings together Leaders and Innovators working on projects to extend Human exploration and enterprise to the Moon. These steps toward Galaxy / Solar System competence should bring great opportunities and rewards not only for those who choose to push boundaries on the Space frontier, but for everyone on Earth. (Image Credit: IAASS, ILOA)
---


= All times for terrestrial events in local time unless noted.

= All times for international terrestrial events in local time unless noted.

= All times for space events, and…

= All times for international space / astro events in Hawaii Standard Time unless noted. Add 10 hours to obtain UT ('Universal Time;' Greenwich, England).
---
Weekly Planet Watch – Evening Planets: Mercury (WNW), Venus (WNW), Jupiter (W), Saturn (SE).
---
MONDAY

May 20 — ISS, LEO: Expedition 36 with Vinogradov as Commander preparing for 3 member crew scheduled to arrive May 29, 02:17 UT, exercising for 2.5 hours per day, performing routine maintenance.

May 20 — Juno, Jupiter Trajectory: Spacecraft is now 141 days and 78M km from Earth flyby gravity assist which will boost velocity by 26,280 kph.


 May 20 — Mars Reconnaissance Orbiter, Mars Orbit: HiRISE camera images indicating more than 200 small asteroids / bits of comets less than 1-2 m in diameter hit Mars every year forming craters at least 3.9-m across.

May 20 — Aquaporin Space Alliance, Copenhagen, Denmark: NewSpace Co. commercializing Aquaporin Inside membranes for spacesuit drinking water, cooling of spacecraft systems, purification of water from other planetary bodies.

May 20 — Able Space Corp., Denver CO: Planning to develop small suborbital rockets, also liquid-propellant test-stand capable of withstanding 4,448 N for under US$2,000.

 May 20 — Newton Launch Systems Ltd, London, United Kingdom: Undertaking a 6-month study for technical, economic feasibility of a UK-based small satellite / spacecraft launcher.

May 20 — Sally Ride Science Foundation, Kennedy Center, NASA, Washington DC: A National Tribute to Sally Ride; to promote STEM education; at John F. Kennedy Center for Performing Arts.

May 20 — NASA Goddard Space Flight Center, Greenbelt MD: Engineering Colloquium Series: The Lunar Laser Communication Demonstration (LLCD); presented by Don Boroson of MIT Lincoln Laboratory, 15:30 EDT; free.

May 20 — National Geographic Society, Online: Google+ Hangout with Buzz Aldrin and Conrad Anker; 19:00 UT.

May 20-21 — NASA Astrobiology Institute, Sydney, Australia: The Hadean Earth-Moon System.

May 20-21 — Harvard-Smithsonian Center for Astrophysics, Cambridge MA: Exoplanets in the Post-Kepler Era; presented by Dave Latham.

May 20-22 — International Space University, Haifa, Israel: ISU@Technion-Israel; 3-day interdisciplinary space course; US$657 (€500).

May 20-22 — UC Davis, Swig Foundation, Davis CA: Davis Cosmic Frontiers Conference: Mining the Cosmic Frontier in the Planck Era.

May 20-24 — International Astronomical Union, Chinese Academy of Sciences, Lijiang, Yunnan, China: IAU Symposium 298: Setting the Scene of Gaia and LAMOST – The Current and Next Generations of Surveys and Models.

May 20-24 — NASA, Kennedy Space Center, Titusville FL: NASA 4th Annual Lunabotics Mining Competition; for university-level students to design / build innovative excavators (Lunabots) able to mine and deposit at least 10 kg of lunar simulant within 10 minutes.

May 20-26 — Washington University – St. Louis, St Louis MO: WUSTL week lunar exploration events; featuring Apollo 17 Astronaut Harrison Schmitt, Human Moon exploration forum, 3-day Lunar Reconnaissance Orbiter Cameras science meeting.

May 20-29 — Council of Managers of National Antarctic Programs, Brussels, Belgium: Antarctic Treaty Consultative Meeting 2013 (ATCM XXXVI) & Committee for Environmental Protection Meeting (CEP XXVI).
---
Continued from…

Apr 4 – Oct 25 — NASA, Online: 2014 Night Rover Challenge; for researchers to create energy storage system allowing simulated lunar rover to operate at average 85 W throughout 14-day-long lunar night, exceed a minimum of 300 W-hrs/kg.

Apr 10 – Jul 16 — JAXA, Online: Send Names / Messages to Asteroid 1999 JU3 on Hayabusa2 Spacecraft; accepting public submissions of names / messages to ride aboard spacecraft launching to asteroid in 2014.

Apr 24 – Aug 5 — AIAA, NASA, Online: Accepting abstracts for SpaceOps 2014: Exploring Innovation; 13th International Conference on Space Operations to occur May 5-9, 2014.

Apr 29 – Aug 14 — Icarus Interstellar Co., Online: Registration Period for Icarus Interstellar Starship Congress on Aug 15-18.

May 1 – Jul 1 — University of Colorado – Boulder, Online: Send Your Name & Message to Mars; contest to send name / message to Mars aboard MAVEN spacecraft launching between Nov 18 – Dec 7; winners announced Aug 8.
---
TUESDAY

May 21 — NASA Stennis Space Center, Stennis Space Center MS: Quarterly Meeting of the Stennis Business Consortium.

May 21-22 — UC San Diego, Arthur C. Clarke Foundation, San Diego CA: Starship Century Symposium 2013; to discuss challenges / opportunities for humankind's long‐term future in space; featuring Peter Schwartz, Geoffrey Landis, Adam Crowl, more.

May 21-23 — Chinese Society of Astronautics, International Academy of Astronautics, Shanghai, China: 5th CSA-IAA Conference on Advanced Space Systems & Applications: New Era for Space Science and Technology.

May 21-23 — Polytechnic University of Turin, Thales Alenia Space, ASI, ESA, JAXA, NASA, Turin, Italy: 4th International Workshop on Verification and Testing of Space Systems.

May 21-23 — International Association for the Advancement of Space Safety, International Space Safety Foundation, ESA, JAXA, CNES, Canadian Space Agency, NASA, Montreal, Quebec, Canada: 6th IAASS Conference: Safety is Not an Option.

May 21-23 — Commercial Spaceflight Federation, Smartershows, Long Beach CA: Space Technology Expo: Design – Build – Test; at Long Beach Convention Center.

May 21-23 — ESA, IEEE Electron Devices Society, Paris, France: 14th IEEE International Vacuum Electronics Conference; special session includes space technologies and applications of vacuum electron devices.

May 21-23 — NASA Lunar Science Institute, Online: NLSI Workshop Without Walls: Lunar Volatiles Part 1; virtual meeting to present / discuss latest research regarding volatiles on Moon.

May 21 — Asteroid 2012 FC71: Near-Earth flyby (0.057 AU).
WEDNESDAY

May 22 — ISS, Online: Expedition 36 In-Flight Event with Florida Today, USA Today and the Florida Institute of Technology; 14:50 UT.

 May 22 — Scaled Composites LLC, Mojave CA: Current FAA Commercial Space Transportation Experimental Permit allowing unlimited number of launches of SpaceShipTwo reusable suborbital rocket utilizing White Knight Two carrier aircraft expires today; new permit to communicate future allowances, provide for additional testing.

May 22 — ESA, Frascati, Italy: Inauguration of ESA's Near Earth Object Coordination Centre at ESRIN; media briefing begins 14:30 local time.

May 22 — W. M. Keck Observatory, Kamuela HI: MOSFIRE: A Powerful New Astronomy Tool at the W. M. Keck Observatory; free lecture by Ian McLean of UCLA; at Kahilu Theater, 19:00 HST.

May 22 — Library of Congress – Science, Technology and Business Division, Washington DC: Lecture: How to Manage a Satellite Going 17 Thousand Miles per Hour; with speaker Steve Covington of NASA.

May 22 — NASA, Houston TX: Space Station Social; for 30 social media followers to experience Johnson Space Center, learn about ISS research and ground facilities.

May 22 — San Diego Air and Space Museum, San Diego CA: Buzz Aldrin Book Signing – Mission to Mars: My Vision for Space Exploration; 17:00 – 20:00 PDT; US$29 for Museum entrance.

May 22-24 — ESA, Belgian Institute for Space Aeronomy, Belgium Federal Science Policy Office, Brussels, Belgium: Space Environment Information System (SPENVIS) User Workshop 2013.

May 22 — Moon: 0.54° WNW of Spica, 00:00; 3.7° SSW of Saturn, 20:00.

May 22 — Asteroid 2013 JK14: Near-Earth flyby (0.059 AU).
THURSDAY

May 23 — ISS, Online: Expedition 36 In-Flight Educational Event with the Talbot Innovation Middle School in Fall River, MA; 14:05 UT.

May 23 — Cassini, Saturn Orbit: Titan fly-by scheduled at 970-km altitude.

May 23 — Sustainable Silicon Valley, NASA Ames Research Center, Microsoft, et al, Moffett Field CA: Solutions Fair and 2013 WEST Summit; showcasing competition winners' proposals on ways space research / technology can create global-sustainability solutions.

May 23-25 — The National Academies, NASA, Washington DC: Committee on Astrobiology and Planetary Science Meeting.

May 23-27 — National Space Society, San Diego CA: 32nd Annual International Space Development Conference; at Hyatt Regency La Jolla; featuring Bas Lansdorp, Dr. Robert Kerr, Bob Richards, Dan Lester, Dr. Robert Piccioni.

May 23 — Asteroid 163364 (2002 OD20): Near-Earth flyby (0.039 AU).
FRIDAY

May 24 — Kansas Cosmosphere and Space Center, Hutchinson KS: Opening of SpaceWorks Observation Gallery; public invited to view Apollo Saturn V F-1 rocket engines recently recovered by Bezos Expeditions.

May 24 — Space Center Houston, Houston TX: Lunch with an Astronaut, John Blaha; US$49.95 adult.

May 24-25 — McGill Institute of Air and Space Law, International Civil Aviation Organization, International Association for Advancement of Space Safety, Montreal, Quebec, Canada: 2013 Manfred Lachs Conference on the Regulation of Emerging Modes of Aerospace Transportation.

May 24-26 — Royal Astronomical Society of New Zealand, Southland Astronomical Society, Invercargill, New Zealand: 2013 RASNZ Conference; at Ascot Park Hotel.

May 24-27 — Novaspace, Tucson AZ: Spacefest V; to include astronauts, space scientists, space artists, space entrepreneurs; at JW Marriott Tucson Starr Pass Resort and Spa; US$50.

May 24 — Penumbral Lunar Eclipse: Penumbral eclipse starts 17:53, ends 18:26; will be visually imperceptible due to the small entry into the penumbral shadow.

May 24 — Moon: Full (Planting / Milk Moon), 14:26.
SATURDAY

May 25 — International Lunar Observatory Association, Space Age Publishing Co., Vancouver, British Columbia, Canada: Galaxy Forum Canada – Vancouver: Human Moon Missions: Giant Steps into the Galaxy; featuring Alain Berinstain, Steve Durst, John Chapman, Bob Richards, Alan Stern, Jim Keravala.

May 25 — Astronuts Kids' Space Club, Newmarket, Ontario, Canada: 2nd Annual What's Up in Space Event; featuring CSA Astronaut David Williams and models of Canadarm & Dextre robot.

May 25-26 — Austrian Ministry for Science and Research, Technical University Vienna, Vienna, Austria: MARS2013 Science Workshop; to discuss data from Ibn Battuta Center integrated Mars analog field simulation.

May 25-26 — SpaceUp, French Aeronautics and Astronautics Society (3AF), Paris, France: SpaceUp Paris; Paris' first SpaceUp, the "unconference" where participants decide space issues / topics to discuss, schedule and structure of event.

May 25 — Moon: 6.6° N of Antares, 03:00; at perigee (distance 358,377 km), 16:00.
SUNDAY

May 26 — The Space Show, Online: Multiple guests including Bill Gaubatz & Cathy Harper discuss the DC-X First Flight 20th Anniversary with host Dr. David Livingston.

May 26 – Jun 16 — Aspen Center for Physics, Aspen CO: Workshop: The Obscured Universe: Dust and Gas in Distant Starburst Galaxies.

May 26 — Asteroid 2012 KF25: Near-Earth flyby (0.079 AU).