Jupiter-Bound Juno Spacecraft Enters Next Cruise Phase, Heads Toward Earth Flyby Gravity Assist

The Juno spacecraft is entering 'Inner Cruise 3' phase on May 28. During this 161-day period the flight team, including PI Scott Bolton of Southwest Research Institute and Deputy PI John Connerney of Goddard Space Flight Center, will be focusing on the Earth flyby gravity assist scheduled for October 9. It will bring Juno within an altitude of about 500 km and boost its velocity by 7.3 km per second. Juno will pass behind the Earth as seen from the Sun and its three 9 m X 2.65 m solar arrays will not receive direct sunlight, for the first time, for 20 minutes. Three trajectory correction maneuvers are planned before the flyby and one after to place Juno in its final trajectory for Jupiter. At the time of the flyby, the 1,593-kg spacecraft with 29 sensors, 8 science instruments and 1 color camera will have traveled approximately 1.6B km, which is more than half of the mission route to Jupiter. 27 days after the flyby, on November 5, Juno will enter the final cruise phase, 'Quiet Cruise,' which will last 791 days. The US$1.1B NASA project, scheduled to arrive at Jupiter on July 4, 2016, will help answer some of the many questions about the giant gas planet and its role in the formation of our Solar System. (Image Credit: NASA/JPL-Caltech)
Japan International Space Tech and Science Symposium With Major Focus on Moon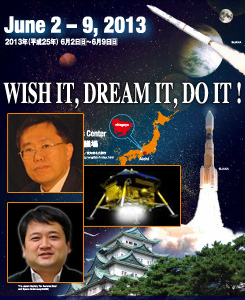 The 29th International Symposium on Space Technology and Science with the theme 'Wish It, Dream It, Do It!' occurs June 2-9 in Nagoya, Aichi, Japan. The primary objectives are to encourage specialists in the fields of space engineering, space science, space medicine and space law to exchange information and promote space activities. The program includes 3 entire sessions on 'Missions to the Moon' chaired by leaders from JAXA and the National Astronomical Observatory of Japan (NAOJ), including Tatsuaki Hashimoto (T) and Fuyuhiko Kikuchi who are both involved in the SELENE-2 project. The session chaired by Sho Sasaki (B) of NAOJ includes his talk on 'Sciences of Human Exploration of Lunar Polar Regions,' as well as 'The Proposal for the Concept of Lunar Transfer Vehicle' by Mitsubishi Electric Corporation and 'VOLTEX: A Flying Robot Concept for Exploration of Lava Tubes' by the PES and RNS Institutes of Technology in India. There is also a forward looking talk by a diverse range of Japan experts on 'Lunar and Planetary Exploration in the Coming Decade' billed as an attempt by the community of planetary scientists in Japan to innovate new decision making processes for planetary mission concepts. (Image Credit: JAXA, NASA)
---


= All times for terrestrial events in local time unless noted.

= All times for international terrestrial events in local time unless noted.

= All times for space events, and…

= All times for international space / astro events in Hawaii Standard Time unless noted. Add 10 hours to obtain UT ('Universal Time;' Greenwich, England).
---
Weekly Planet Watch – Evening Planets: Mercury (WNW), Venus (WNW), Jupiter (WNW), Saturn (SE).
---
MONDAY

May 27 — ISS, LEO: Expedition 36 Vinogradov, Misurkin, Cassidy working on new Treadmill with Vibration Isolation System; preparing for arrival of 3 member crew scheduled to dock May 29, 02:17 UT.

May 27 — Kepler, Heliocentric Orbit: In Point Rest State, fuel-efficient mode using thrusters to control pointing of spacecraft, tipping it toward Sun & letting Solar pressure tip it back, resembling pendulum motion.


May 27 — Opportunity, Cape York, Mars: Driving 2.2 km toward 'Solander Point' on rim of Endeavour Crater to continue science observations & reach favorable slope before Mars winter daily sunshine minimum occurs Feb 2014.


May 27 — Cassini OTM-350, Saturn Orbit: Spacecraft conducts Orbital Trim Maneuver #350 today.


May 27 — Sierra Nevada Corp., Edwards CA: NewSpace company preparing for ground & approach-and-landing flight tests of Dream Chaser over next few months at Dryden Flight Research Center.

May 27 — Virgin Galactic, Mojave CA: Working to complete test-flight program, gain FAA license for first flight of SpaceShipTwo on Dec 25; will follow with commercial flights, more than 580 people have signed up.

May 27 — Tethers Unlimited Inc., Bothell WA: Developing 'SPIDER' for robotic exploration anchor tethers, 'Trusselator' for on-orbit fabrication & integration of solar arrays, 2 other projects under NASA SBIR contracts.

May 27-28 — CNES, Institute of Planetology and Astrophysics of Grenoble, Grenoble, France: Nearby Earth Astrometric Telescope (NEAT) 2013 Simulation Workshop; to discuss proposed NEAT mission to detect and characterize planetary systems.

May 27-29 — Russian Academy of Sciences, German Institute of Navigation, IEEE, AIAA, et al, Saint Petersburg, Russia: 20th St. Petersburg International Conference on Integrated Navigation Systems.

May 27-30 — Intelsat, ABE International, ARABSAT, Russian Satellite Communication Co., Johannesburg, South Africa: SatCom Africa 2013; at Sandton Conference Centre.

May 27-31 — `Imiloa Astronomy Center, Hilo HI: Camp `Imi-possible; for kids in grades K-5 to learn about 'WAI-ology' – water's role in inner and outer Solar System.
---
Continued from…

Feb 14 – Jun 2, 2014 — NASA NSPIRES, Online: Research Opportunities in Space and Earth Sciences (ROSES) 2013; proposal and submission period for those interested in advancing research concepts and technologies for Space and Earth sciences.

Apr 2 – Jun 5 — NASA, Online: NASA Seeks Academic Partners for Smallsat Technology Collaboration; accepting proposals for small spacecraft (smallsat) projects.

May 20-29 — Council of Managers of National Antarctic Programs, Brussels, Belgium: Antarctic Treaty Consultative Meeting 2013 (ATCM XXXVI) & Committee for Environmental Protection Meeting (CEP XXVI).

May 21 – Jul 9 — NASA, Online: Accepting Proposals: Phase II Visionary Advanced Concepts; for cutting-edge ideas to transform future aerospace missions, enable new capabilities, alter approaches to launching, building, operating aerospace systems.

May 23 – Jul 10 — NASA, Online: Accepting Proposals: Summer of Innovation 'Mini-Awards'; organizations may receive up to US$2.5K to offer students STEM educational experiences.

May 24-27 — Novaspace, Tucson AZ: Spacefest V; to include astronauts, space scientists, space artists, space entrepreneurs; at JW Marriott Tucson Starr Pass Resort and Spa; US$50.
---
TUESDAY

May 28 — Juno, Jupiter Trajectory: Inner Cruise 2 phase ends today; Inner Cruise 3 phase begins, will last 161 days; team focusing on required maneuvers for upcoming Earth flyby gravity assist Oct 9.

May 28 — National Defense Industry Association – Georgia, Atlanta GA: Georgia Space Port Briefing; at Georgia resource Center.

May 28-29 — AGI, ULA, NRAO, Sinclair Interplanetary, et al, Ithaca NY: iCubeSat 2013 – The 2nd Interplanetary CubeSat Workshop.

May 28-30 — Canadian Astronomical Society, University of British Columbia – Physics and Astronomy Department, Vancouver, British Columbia, Canada: Annual Meeting of the Canadian Astronomical Society (CASCA 2013).

May 28 – Jun 7— NASA Goddard Space Flight Center, Lewes DE: Fermi Summer School 2013; at University of Delaware Conference Center.

May 28 – Aug 2 — Lunar and Planetary Institute, NASA Lunar Science Institute, Houston TX: Lunar Exploration Summer Intern Program; students earn 50 hours of credit, evaluate possible Moon landing sites for robotic & Human exploration missions.
WEDNESDAY

May 29 — RSA, Launch Soyuz / ISS 35S, Baikonur Cosmodrome, Kazakhstan: An RSA Soyuz rocket set to launch members of Expedition 36/37: Karen Nyberg of NASA, Fyodor Yurchikhin of RSA, Luca Parmitano of ESA; 02:31 local time; will dock with ISS after 4 orbits / 6 hours.

May 29 — The British Interplanetary Society, London, United Kingdom: The Philosophy of the Starship; symposium featuring Kelvin Long, Keith Cooper, Stephen Ashworth, Bob Parkinson.

May 29 — NASA, Mountain View CA: NASA Research Park Exploration Lecture Series: Designing for User Experience, Health and Sustainability for the Next-Generation Workforce; at Google's Bay View campus, building 3, 19:00 – 21:00 PDT.

May 29 — Planetary Resources Inc., Seattle WA & Online: Planetary Resources project announcement; to include Peter Diamandis, Eric Anderson, Chris Lewicki; at the Great Gallery in the Museum of Flight, 10:00 PDT.

May 29 — Space Frontier Foundation, Online: Last Day to Apply: 2013 NewSpace Business Plan Competition; entrepreneurs focus on / plan commercial development of space, advance NewSpace movement.

May 29-31 — DLR German Space Operations Center, Jet Propulsion Laboratory, Canadian Space Agency, Munich, Germany: 5th International Conference on Spacecraft Formation Flying Missions and Technologies.

May 29-31 — University of Nice Sophia Antipolis, Nice, France: 2013 International Primitive body Exploration Working Group (IPEWG) Workshop.

May 29-31 — American Astronautical Society, AIAA, University of Virginia, NOAO, et al, Charlottesville VA: Requirements for UTC and Civil Timekeeping on Earth: A Colloquium Addressing a Continuous Time Standard.

May 29 – Jun 7 — University of Alabama – Huntsville, National Science Foundation, CSPAR, NSF, Huntsville AL: 2013 UAHuntsville Space Weather Summer School.
THURSDAY

May 30-31 — The National Academies, Washington DC: Meeting: Ethics Principles and Guidelines for Health and Safety Standards for Long Duration and Exploration Spaceflights.

May 30 — Asteroid 2013 JR17: Near-Earth flyby (0.096 AU).
FRIDAY

May 31 — Lunar and Planetary Institute, Houston TX: LPI Seminar Series: Decoding the High-Temperature Origins of Refractory Oxides from Ancient Stars; presented by Tom Zega from University of Arizona; in Lecture Hall of USRA, 15:30 CDT.

May 31 — Space Center Houston, Houston TX: Lunch with an Astronaut, Mike McCulley; US$49.95 adult.

May 31 – Jun 2 — Silicon Valley Space Center, Space Frontier Foundation, I Dream of Space Co., Mountain View CA: SVSC Space Start-Up Weekend; for spaceflight entrepreneurs.

May 31 — Moon: 5.6° NNW of Neptune, 00:00; at last quarter, 08:59.

May 31 — Asteroid 285263 (1998 QE2): Near-Earth flyby (0.039 AU).
SATURDAY

Jun 1 — Deep Space, Ceres Trajectory: Dawn spacecraft, running ion propulsion system trajectory thrusters, is now about 11.9M km from Vesta and 54.8M km / 615 days from Ceres approach.

Jun 1 — NASA, Rockledge FL: Contract to Modify Mobile Launcher with potential of US$20.7M goes to J.P. Donovan Construction Inc. to modify the mobile launcher that will enable Space Launch System (SLS) heavy-lift rocket to send Humans into space.

Jun 1 — NASA, Oak Ridge TN: Environmental Compliance and Operations Contract with potential of US$80M goes to Navarro Research and Engineering Inc. to provide environmental compliance and restoration services for White Sands Test Facility in Las Cruces NM.

Jun 1 — NASA Glenn Research Center, Cleveland OH: Free 1-hour tour of 8-by-6-Foot Supersonic Wind Tunnel; first tour starts 10:00 EDT.

Jun 1 — Federation of Galaxy Explorers, Arlington VA: 2013 Galaxy Ball; Space Leadership Award goes to NASA Administrator Charles Bolden.

Jun 1 — Onizuka Center for International Astronomy Visitor Information Station, Mauna Kea HI: The Universe Tonight: Smithsonian Submillimeter Array; at 2,800-meter altitude on Mauna Kea, 18:00 HST.

Jun 1 — Smithsonian National Air and Space Museum, Washington DC: Buzz Aldrin Book Signing – Mission to Mars: My Vision for Space Exploration; 11:00 EDT.

Jun 1 — DIYRockets Inc., Sunglass Co., Shapeways Inc., Online: Design Due: 3D Printed Rocket Challenge; final design due for competition to design 3D printed rocket engine that could carry nano-satellites into space.

Jun 1-2 — Jet Propulsion Laboratory, Victoria, British Columbia, Canada: Exoplanet Exploration Program (EXOPAG) 8 Meeting; Canceled.

Jun 1 — Asteroid 2013 JU22: Near-Earth flyby (0.052 AU).

Jun 1 — Asteroid 2011 BM45: Near-Earth flyby (0.075 AU).

Jun 1 — Asteroid 2013 JT17: Near-Earth flyby (0.098 AU).
SUNDAY

Jun 2 — The Space Show, Online: Dr. Bill Rowe, specializing in astronaut cardiovascular health & medicine, talks with host Dr. David Livingston.

Jun 2 — NASA Goddard Space Flight Center, Greenbelt MD: Model Rocket Launches; up to 609-meter altitude; 13:00 – 14:00 EDT.

Jun 2-6 — American Astronomical Society, Indianapolis IN: 222nd Meeting of the AAS; at Indiana Convention Center; expecting more than 500 professional astronomers, educators, journalists, space enthusiasts.

Jun 2-9 — JAXA, Japan Society for Aeronautical and Space Sciences, Nagoya, Aichi, Japan: 29th International Symposium on Space Technology and Science.

Jun 2 — Moon: 3.8° NNW of Uranus, 14:00.