Spacefest 3 Promises To Be THE Event for Space Enthusiasts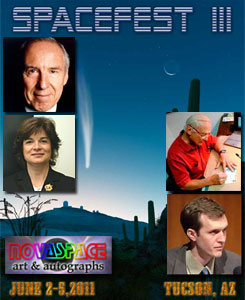 With an unprecedented gathering of pioneering astronauts, including 6 of the 12 humans to walk on the Moon, 40 top scientists / managers of various robotic NASA missions and world-class astronomers, Spacefest 3 is being billed as the premier event for the space aficionado. This year's event will take place in Tucson, AZ on June 2-5. Astronauts headlining the Fest include Buzz Aldrin (CR), Gene Cernan, Jim Lovell (TL), Fred Haise, Alan Bean, Dave Scott, Charlie Duke and Ed Mitchell. George Whitesides (BR) of Virgin Galactic and Carolyn Porco (CL) of the Cassini-Saturn mission are among the speakers from space industry and science. Spacefest 3 will also feature a gallery of top space artists, book signing opportunities, the world's largest space memorabilia auction, a banquet and luncheons with celebrities, and tours to local space / astronomy sites. (Credit: Novaspace)
Private Human Access to Space Is Focus of 2nd IAA Symposium in France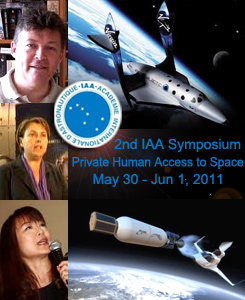 The '2nd International Academy of Astronautics Symposium (IAA) on Private Human Access to Space' will be held May 30 – June 1 in Arcachon, France. Participants at this year's event will evaluate key topics associated with private human access to space for orbital and sub-orbital missions. Fifteen plenary sessions will cover topics in technical developments, safety features, identifying potential customers, human physiology and identifying future spaceports for space tourism.  Keynote speakers include IAA Senior Expert Christophe Bonnal (TL), Astronaut Club Européen President Jean-Pierre Haignere and ESA Director of Human Spaceflight Simonetta Di Pippo (CL). Virgin Galactic Chief Medical Officer James Vanderploeg will give a presentation on 'Establishing the Evidence Base to Support Safe Flights for Passengers on Suborbital Spaceflights.' Misuzu Onuki (BL) of Space Frontier Foundation Japan will give an overview of 'Commercial Human Spaceflight in Japan.' The event will conclude with several Round Table discussions on private astronaut candidates and regulations concerning private human spaceflight. (Credit: IAA, Virgin Galactic, ian.kluft.com, wsn.spaceflight.esa.it)
---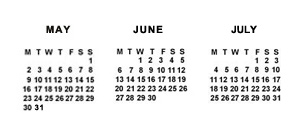 = All times for terrestrial events in local time unless noted.

= All times for international terrestrial events in local time unless noted.

= All times for space events, and…

= All times for international space / astro events in Hawaii Standard Time unless noted. Add 10 hours to obtain UT ('Universal Time;' Greenwich, England).
---
Weekly Planet Watch – Morning Planets: Mercury (E), Venus (E), Mars (E), Jupiter (E) / Evening Planets: Saturn (S).
---
MONDAY

May 30 — International Space Station, LEO: STS-134 crew members on their way back to Earth; Crew members performed last spacewalk on Friday which broke the 1,000-hour mark for cumulative time spent by astronauts to assemble the 453,600kg outpost.

May 30 — NASA Lunar Reconnaissance Orbiter (LRO), Lunar Orbit: All systems nominal in scientific phase of mission as LRO continues to make digital elevation and terrain maps that will be a fundamental reference for future human exploration.

May 30 — Mars Rover Spirit, Red Planet: Scientists continue to bid farewell to Mars Rover Spirit which has traveled nearly 8km across the Martian surface in short bursts and returned more than 124,000 images; Focus now turned towards upcoming Mars Science Laboratory Mission scheduled to launch NET Nov 25.

May 30-Jun 1 — International Academy of Astronautics, Arcachon, France: '2nd Symposium On Private Human Access to Space.'

May 30-Jun 2 — Canadian Astronomical Society, London, Ontario, Canada: 'CASCA 2011 Meeting.'

May 30-Jun 3 — International Astronomical Union, Toledo, Spain: 'IAU Symposium 280: The Molecular Universe.'

May 30 — Moon: 3.8° N of Mars, 10:00; 4.4° NNW of Venus, 15:00.

May 30 — Asteroid 2011 HP: Near-Earth Flyby (0.034 AU).
---
Continued from . . .

May 9 — Google Lunar X Prize Foundation, LEGO Group, Online: Free registration and Phase 1 of 'Moonbots 2.0 Challenge' open; through Jun 13.

May 25-30 — Riverside Astronomical Society, Sky and Telescope, et al, Big Bear City CA: '43rd Annual Riverside Telescope Makers Conference Astronomy Expo.'
---
TUESDAY

May 31 — Kennedy Space Center, Cape Canaveral FL: Space shuttle Atlantis to begin 6-hour rollout from Kennedy's Vehicle Assembly Building to its launch pad at 20:00 EDT for the final shuttle launch set for July 8.

May 31 — NASA Headquarters, Washington DC: NASA science briefing, 'Mars Spirit Rover Celebration: An End to a New Beginning.'

May 31 — The NSTA Learning Center, Online: 'Web Seminar: NASA's Lunar Atmosphere & Dust Environment Explorer – Little Mission, Big Science.'

May 31 — Rotary Club of Kona, Thirty Meter Telescope, Kailua-Kona HI: 'Rotary Club of Kona Meeting,' with a presentation by TMT public relations officer Sandra Dawson at 13:00.

May 31-Aug 5 — NASA Lunar Science Institute, Lunar and Planetary Institute, Houston TX: 'Lunar Exploration Summer Intern Program,' 10-week program to evaluate possible landing sites for robotic and human exploration missions.

May 31 — Moon: 3.7° N of Mercury, 08:00; 2.0° S of Pleiades, 14:00.

May 31 — Asteroid 896 Sphinx: Closest Approach to Earth (0.900 AU).
---
WEDNESDAY

Jun 1 — Deep Space: Scientists continue with final preparations for Aug 5 launch of NASA solar-powered Juno spacecraft which will orbit Jupiter's poles 33 times to investigate the gas giant's origins, structure, atmosphere and magnetosphere NET 2016.

Jun 1 — The SETI Institute, Mountain View CA: Colloquium Series Lecture: 'First Contact: Scientific Breakthroughs in the Hunt for Life Beyond Earth,' Marc Kaufman.

Jun 1 — Powerhouse Museum, Sydney, Australia: 'Talk: Apollo 14 – Into the Lunar Highlands,' Kerrie Dougherty.

Jun 1-2 — Jet Propulsion Laboratory, Alexandria VA: '4th Exoplanet Exploration Program Analysis Group Meeting.'

Jun 1-3 — The National Academies, Irvine CA: 'NASA Technology Roadmap Meeting: Human Health and Surface Exploration Panel.'

Jun 1-5 — Science Festival Foundation, New York City NY: 'World Science Festival 2011.'

Jun 1-10 — United Nations Office for Outer Space Affairs, Vienna, Austria: '54th United Nations Committee on the Peaceful Uses of Outer Space Session.'

Jun 1 — Partial Solar Eclipse: Second of 4 partial solar eclipses in 2011; 09:25.

Jun 1 — Moon: New Moon, 11:02; 6.7° N of Aldebaran, 11:00.
---
THURSDAY

Jun 2-5 — Novaspace, Tucson AZ: 'Spacefest 3,' largest AZ space event featuring speakers Carolyn Porco, Dan Durda, George Whitesides, Leonard David,and Sy Liebergot as well as astronauts Buzz Aldrin, Alan Bean and Jim Lovell.

Jun 2 — Mercury: 4.9° SSE of Pleiades; 17:00.

Jun 2 — Asteroid 2009 BD: Near-Earth Flyby (0.002 AU).
---
FRIDAY

Jun 3 — Women in Aerospace, Arlington VA: 'Aerospace 2011: The Road Ahead,' featuring NASA astronaut Pam Melroy.

Jun 3-4 — Centers for Ocean Sciences Education Excellence, Jet Propulsion Laboratory, Pasadena CA: 'Educator Workshop: Water Cycle, Ocean Circulation, Climate.'

Jun 3-5 — International Institute of Space Law, Jakarta, Indonesia: '2011 Asia-Pacific Regional Round of the Manfred Lachs Space Law Moot Court Competition.'

Jun 3-8 — International Society for the Study of the Origin of Life, International Astronomical Union, et al, Montpellier, France: 'Origins 2011: ISSOL & IAU Bioastronomy Joint International Conference.'

Jun 3 — Asteroid 2010 XK: Near-Earth Flyby (0.100 AU).
---
SATURDAY

Jun 4 — The Federation of Galaxy Explorers, Arlington VA: '10th Annual Galaxy Ball.'

Jun 4 — The British Interplanetary Society, London, United Kingdom: 'Chinese / Soviet Space Program Symposium.'

Jun 4-5 — Chicago Rockford International Airport Association, Rockford IL: 'Rockford Airfest 2011,' featuring NASA's Journey to Tomorrow traveling Exhibit.

Jun 4-5 — NASA, Google HP, et al, Worldwide: 'Random Hacks of Kindness.'

Jun 4 — Moon: 9.3° SSW of Pollux; 15:00.
---
SUNDAY

Jun 5-7 — Space Telescope Science Institute, Grand Teton National Park WY: 'Frontier Science Opportunities with the James Webb Space Telescope.'

Jun 5-8 — NASA Astrobiology Institute, University of Colorado at Boulder, et al, Bozeman MT: 'AbGradCon11,' event for aspiring astrobiologists to participate in presentations, poster sessions, public outreach and a field trip to Yellowstone National Park.

Jun 5-8 — The German Aerospace Center, Bad Honnef, Germany: 'Seminar: Extrasolar Planets – Towards Comparative Planetology Beyond the Solar System.'

Jun 5-10— Andalucia Institute of Astrophysics, The Spanish National Research Council, Malaga, Spain: '2nd Workshop on Robotic Autonomous Observatories.'

Jun 5-10— ESA, Carlsbad, Czech Republic: '8th International ESA Conference on Guidance and Navigation.'

Jun 5-12 — International Symposium on Space Technology and Science Committee, JAXA, et al, Ginowan, Okinawa, Japan: '28th International Symposium on Space Technology and Science.'

Jun 5 — Moon: 5.0° SSW of Beehive Cluster; 17:00.