H2M Summit Advances 2030 Human Mars Mission with Collaboration and Discussion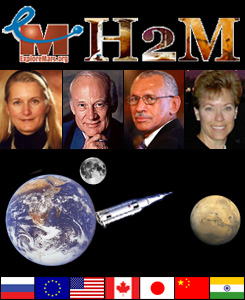 The Human to Mars (H2M) Summit will be taking place at George Washington University in Washington D.C. on May 6-8. Sponsored by Explore Mars Inc., George Washington University Space Policy Institute, Boeing Co., Lockheed Martin Corp. and others, this conference will address the feasibility of sending humans to Mars by 2030 on technical, scientific and policy-related levels. Some of the 85 expert speakers are GWU's Pascale Ehrenfreund (L), Apollo Astronaut Buzz Aldrin (CL), NASA Administrator Charles Bolden (CR), Human Exploration and Operations Mission Directorate Kathy Nado (R) and Space Launch Systems Program Manager Todd May. Panel topics include Mars Precursor Missions, Mission Architecture and Transportation, Propulsion Options, and Living on Mars: Habitation and Life Support Challenges. Alain Ouellet from Canadian Space Agency, Bernhard Hufenbach from ESA and Manabu Kato from JAXA will speak during the May 8 International Cooperation Panel. NASA is developing the SLS heavy-lift rocket / Orion space capsule to support the goal of Human exploration of other planets. Commercial companies, such as Mars One, Inspiration Mars and SpaceX, and international space agencies including Russia, India, China, Europe and Japan are also developing technologies / Mars mission programs which will be vital toward making Human Mars missions, and Human Jupiter missions, a reality. (Image Credit: Explore Mars, NASA, Getty Images, NSS)
Sub-Orbital Spaceflight: Proving Tech for Future Missions to LEO, Deep Space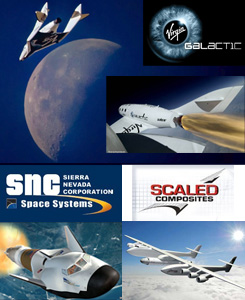 With SpaceShipTwo roaring to life supersonic over Mojave Air and Space Port things are looking up for the suborbital space tourism sector. This is a major step toward qualification and licensing ahead of Virgin Galactic operational flights expected early 2014. The Hybrid Rocket Motor, main oxidizer valve and other major subsystem components propelling Branson's 2-pilot, 6-passenger craft are supplied by Sierra Nevada Corporation — boosting prospects for native application of similar systems in the SNC Dream Chaser orbital crew vehicle scheduled for test flights in 2014. Scaled Composites, founded by Burt Rutan, builds the spacecraft and the mother ship White Night Two — it is also working on the carrier aircraft for Stratolaunch System's orbital launcher project. The Next-Generation Suborbital Researchers Conference is set for June 3-5 in Broomfield, CO and themed 'The Year Spaceflights Begin.' The distinguished list of Keynote speakers includes two astronauts and top names from NASA, FAA, Commercial Spaceflight Federation, Challenger Center and other major organizations. The conference provides briefings from and networking with flight providers like VG and XCOR. The International Symposium for Personal and Commercial Spaceflight will be October 16-17 in Las Cruces, NM. It features top thought leaders and cutting-edge technologies with commercial spaceflight applications. These parabolic enterprises will garner technical, financial and operational experience that can be transferred to orbital and interplanetary vehicles of the near future, while also keeping the public's imagination directed upward with stellar aspirations. (Image Credit: VG, SNC, Scaled Composites)
---


= All times for terrestrial events in local time unless noted.

= All times for international terrestrial events in local time unless noted.

= All times for space events, and…

= All times for international space / astro events in Hawaii Standard Time unless noted. Add 10 hours to obtain UT ('Universal Time;' Greenwich, England).
---
Weekly Planet Watch – Evening Planets: Venus (WNW), Jupiter (W), Saturn (SE).
---
MONDAY

May 6 — ISS, LEO: Commander Hadfield, Flight Engineers Marshburn & Romanenko packing items for May 14 return to Earth; RSA Cosmonauts working with Matryoshka experiment to measure radiation exposure.

 May 6 — Kepler, Heliocentric Orbit: Reaction wheel #4 exhibiting signs of elevated friction & torque levels, indicates bearing deterioration; engineering team developing plan if wheel should fail.

May 6 — Juno, Jupiter Trajectory: Spacecraft, about 78M km from Earth, is traveling 24 km per second with 4.7 minute one-way radio signal, completed about 40% of total distance to Jupiter insertion.


May 6 — Bigelow Aerospace LLC, Las Vegas NV: NewSpace company with NASA Space Act Agreement conducting study of ways company can contribute to missions beyond LEO (to be complete in 100 days).

May 6 — Blue Origin LLC, Kent WA: Testing / analyzing 444,822 newtons BE-3 liquid oxygen, liquid hydrogen rocket engine; manufacturing subscale booster propellant tank.

May 6 — Skybox Imaging Inc., Mountain View CA: Planning to launch first satellites SkySat-1 & 2 this year to provide Earth images within a few hours; want constellation of 24 within 5 years.

May 6-7 — Global Science and Technology Forum, Singapore: 1st Annual International Conference on Space Environment & Aviation Technology (SEAT 2013); topics include aerospace & aviation community, atmospheric / space / planetary environment, space weather.

May 6-8 — Explore Mars Inc., George Washington University Space Policy Institute, Washington DC: The Humans to Mars Summit (H2M); to include Buzz Aldrin, Charles Bolden, Dennis Tito; at GW Lisner Auditorium.

May 6-8 — Canada-France-Hawaii Telescope, Campbell River, Vancouver Island, Canada: CFHT 10th Users' Meeting 2013; to discuss recent accomplishments and future challenges.

May 6-8 — NRAO, Associated Universities Inc., NSF, Charlottesville VA: Radio Astronomy in the LSST Era; to discuss Large Synoptic Survey Telescope radio wavelength observations.

May 6 — Eta Aquarids Meteor Shower Peak: The 1st of 2 showers that occur each year as result of Earth passing through dust released by Halley's Comet; meteors appear to radiate from Constellation Aquarius, 30 per hour likely, visible in N. & S. Hemisphere.
---
Continued from…

Apr 2 – May 21 — NASA, Online: Early Stage Innovation NASA Research Announcement; requesting technology proposals for science instruments, cryogenic propellant storage, optical coatings, oxygen recovery, NEA protection / understanding.

Apr 22 – Aug 31 — Mars One, Online: Accepting applications from those interested in one-way ticket to Mars to set up permanent Human settlement; US$38 to apply.

Apr 24 – Aug 5 — AIAA, NASA, Online: Accepting abstracts for SpaceOps 2014: Exploring Innovation; 13th International Conference on Space Operations to occur May 5-9, 2014.

Apr 29 – Aug 14 — Icarus Interstellar Co., Online: Registration Period for Icarus Interstellar Starship Congress on Aug 15-18.

May 1 – Jul 1 — University of Colorado – Boulder, Online: Send Your Name & Message to Mars; contest to send name / message to Mars aboard MAVEN spacecraft launching between Nov 18 – Dec 7; winners announced Aug 8.

May 5-8 — The Planetary and Terrestrial Mining Sciences Symposium, Space Resources Roundtable, Canadian Institute of Mining, Toronto, Ontario, Canada: 4th Annual PTMSS/SRR Symposium; in conjunction with CIM 2013 Convention.

May 5-9 — American Astronomical Society Division on Dynamical Astronomy, Paraty, Brazil: 2013 Meeting of the American Astronomical Society Division on Dynamical Astronomy.
---
TUESDAY

May 7 — ISS, LEO: In-Flight Event with Senate Committee on Commerce, Science and Transportation's Subcommittee on Science and Space; 17:05 UT; live coverage available.

May 7 — International Space University, Strasbourg, France: MSc13 Team Project Final Presentations; students report on areas of importance to future of space exploration.

May 7 — SETI Institute, Mountain View CA: Colloquium: The Next Generation of Radio Telescopes; presented by Geoffrey Bower from UC Berkeley; 12:00 PDT.

May 7-8 — Emirates Institution for Advanced Science and Technology, Space Systems Loral, Global VSAT Forum, Abu Dhabi, United Arab Emirates: Global Space and Satellite Forum; in conjunction with Milsatcom Middle East.
WEDNESDAY

May 8 — ESA, European Space Policy Institute, Vienna Business Agency, et al, Vienna, Austria: From Space to Business: The Integrated Applications Promotion (IAP) Programme.

May 8 — Jet Propulsion Laboratory, Pasadena CA: 2001 Mars Odyssey Project Science Group Meeting.

May 8 — AIAA, Washington DC: 2013 Aerospace Spotlight Awards Gala; honoring influential, inspiring individuals in aerospace industry.

May 8-10 — Pagnanelli Risk Solutions Ltd., Arianespace, ESA, NASA, ASI, DLR, Rome, Italy: 17th International Space Conference: The Impact of Space Weather and Space Exploitation on Modern Society – Hazards' Forecasting, Prevention, Mitigation and Insurance at an International Level.
THURSDAY

May 9 — NASA, Online: Live Interview with Expedition 36/37 NASA Flight Engineer Karen Nyberg in Star City, Russia; 14:00 local time.

May 9, 10 — Jet Propulsion Laboratory, Pasadena CA: The von Kármán Lecture Series: Radar Imaging of Near Earth Asteroids; featuring Dr. Lance Benner of JPL.

May 9-10 — NASTAR Center, Southampton PA: Basic Suborbital Space Training; to include classroom academics, simulated flight exposures.

 May 9 — Annular Solar Eclipse: Moon's apparent disk is just smaller than Sun's, making Sun appears as a brilliant ring; highly visible in Australia & S. Pacific Ocean; greatest eclipse to occur at 15:52.

May 9 — Moon: 0.75° NE of Mars, 05:00; 0.81° ENE of Mercury, 11:00; New Moon, 14:31.
FRIDAY

May 10 — International Lunar Observatory Association, Space Age Publishing Co., University of Chile, Santiago, Chile: Galaxy Forum South America – Chile: Galaxy Education and Galaxy Enterprise in the 21st Century.

May 10 — Royal Astronomical Society, London, United Kingdom: RAS Specialist Discussion Meeting: Observation, Evolution and Origin of Planetary Satellites; at Piccadilly Burlington House.

May 10 — College of Marin, NASA, Kentfield CA: Free Lecture: Adam Steltzner, Chief Engineer of the Mars Rover Project.

May 10 — NASA Goddard Space Flight Center, Greenbelt MD: Scientific Colloquium: Hubble at 23; by Jennifer Wiseman.

May 10 — Space Center Houston, Houston TX: Lunch with an Astronaut, John-David Bartoe; US$49.95 adult.

May 10 — Moon: 5.3° SSE of Pleiades, 12:00; 1.4° S of Venus, 14:00.

May 10 — Asteroid 1988 TA: Near-Earth flyby (0.034 AU).
SATURDAY

May 11 — Aerospace Industries Association, National Association of Rocketry, The Plains VA: Team America Rocketry Contest.

May 11 — Jet Propulsion Laboratory, Pasadena CA: Educator Workshop: How to Think Like a NASA Scientist; at JPL Theodore von Kármán Auditorium, 08:30 – 16:30 PDT.

May 11 — AIAA – San Francisco, Exploratorium Museum, San Francisco CA: Day at the Museum; for K-12 students to investigate the Exploratorium.

May 11 — Moon: 3.5° N of Aldebaran, 10:00.
SUNDAY

May 12 — ISS, LEO: Live Coverage of ISS Expedition 35/36 Change of Command Ceremony; Chris Hadfield hands over ISS command to Pavel Vinogradov, 19:40 UT.

May 12 — The Space Show, Online: Tom Olson and Jeff Krukin discuss Exodus Consulting Group (created for NewSpace industry) with host Dr. David Livingston.

May 12 — Moon: 2.6° S of Jupiter, 04:00.