Last Flight of Discovery Set for NET Nov 2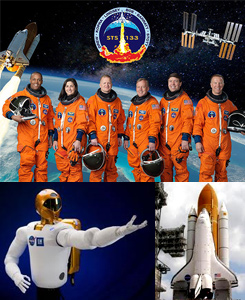 The final flight of Space Shuttle Discovery STS-133 (BL) is scheduled to depart Kennedy Space Center FL for the ISS NET November 2 at 16:17 EDT. The crew (T) consists of Cmdr Steve Lindsey, Pilot Eric Boe and Mission Specialists Alvin Drew, Tim Kopra, Michael Barratt and Nicole Stott. The 10-day mission will include delivery and installation of the 12,346 kg Permanent Multipurpose Module (PMM) 'Leonardo,' the Express Logistics Carrier 4 and Robonaut 2 (R2) (BL), the 1st humanoid robot developed by NASA and General Motors. Weighing 136 kg and standing at almost 1m, R2 will operate inside the Destiny lab and be a permanent fixture on board the ISS. Kopra and Drew will perform two 6.5 hour spacewalks on Nov 5 & 7 to install an extension cable for the PMM and complete work on a failed pump module that occurred in August. Since 1984, Discovery, the oldest shuttle in service, has flown 38 flights, completed 5,628 orbits and carried a total of 246 crew members to space. (Credit: NASA)
EPOXI Mission to Uncover Mysteries of Early Solar System Development
The Deep Impact spacecraft will make its closest approach to comet Hartley 2 (TL) at about 10:01 EDT on November 4. Traveling at a rate of 12.5km per second, the probe will approach the comet at a distance of about 700km. It will be the 5th time a comet has been imaged close-up and the 1st time 2 comets have been imaged with the same instruments and same spatial resolution. With an original budget of US$33M, the craft was designed and employed successfully for the July 4, 2005 encounter with comet Tempel 1 (B). Recycling Deep Impact for the extended EPOXI mission provided savings of 90% over that of a new mission with similar goals. To better understand how comets formed and evolved, researchers will compare EPOXI observations with previous flyby observations of comets. Pictured (inset): EPOXI PI Michael A'Hearn of the University of Maryland. (Credit: NASA)
---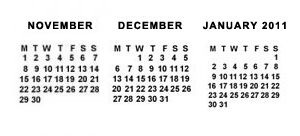 = All times for terrestrial events in local time unless noted.

= All times for international terrestrial events in local time unless noted.

= All times for space events, and…

= All times for international space / astro events in Hawaii Standard Time unless noted. Add 10 hours to obtain UT ('Universal Time;' Greenwich, England).
---
Weekly Planet Watch – Morning Planets: Saturn (ESE), Venus (ESE) / Evening Planets: Mars (SW), Jupiter (SE).

---
MONDAY

Nov 1 — International Space Station, LEO: E-25 crew members await arrival of STS-133 crew as they continue with scientific research, maintenance activities and scheduled conference with Charles Bolden on Nov 2 to mark 10-year commemoration of the ISS.

Nov 1 — NASA Lunar Reconnaissance Orbiter (LRO), Lunar Orbit: Newly released LRO data of LCROSS impact estimates the dirt in Cabeus crater consisted of 5.6% water, the equivalent of 3,785,411,800 liters.

Nov 1 — Mars Rover Spirit, Red Planet: Despite being stuck in the sand, Spirit continues to produce significant findings of subsurface water.

Nov 1 — Deep Space, Exoplanets: With over 70 exoplanets being discovered this year alone, November could reveal 500th exoplanet.

Nov 1-3 — The International Association of Science and Technology for Development (IASTED), Cambridge MA: '15th IASTED International Conference on Robotics and Applications.'

Nov 1-3 — National Space Organization of Taiwan, International Astronautical Federation, Taipei, Taiwan: '6th International Workshop on Satellite Constellation and Formation Flying.'

Nov 1-4 — NASA Herschel Science Center, Spitzer Science Center, Pasadena CA: 'Stormy Cosmos: The Evolving ISM from Spitzer to Herschel and Beyond.'

Nov 1-5 — The Paris Observatory, Paris University, et al, Paris, France: 'International Young Astronomer School on High Angular Resolution Techniques.'

Nov 1 — Moon: .62° NNE of Asteroid 3 Juno; 14:00.


Nov 1 — Asteroid 2009 WY7: Near-Earth Flyby (0.065 AU).
---
Continued from:

Oct 29 — Windows to the Universe, Global: 'Great World Wide Star Count,' event to raise awareness about light pollution and the night sky as well as encourage learning in astronomy; through Nov 12.

Oct 31 — Geological Society of America, Denver CO: '2010 GSA Annual Meeting: Reaching New Peaks in GeoScience;' through Nov 3.
---
TUESDAY

NET Nov 2 — NASA, Launch Discovery STS-133, Cape Canaveral FL: USA mission to the International Space Station set to deliver the Express Logistics Carrier 4, a Multi-Purpose Logistics Module and critical spare components. Delayed from Nov 1.

Nov 2 — NASA, International Space Station Agencies, USA, LEO: '10th Commemoration of International Space Station,' with presentation by NASA Administrator Charles Bolden & E-25 crew members; The ISS has completed 57,361 orbits of the Earth, traveled 2,414,016,000 km and have had 196 visitors.

Nov 2 — Reuben Fleet Science Center, San Diego CA: 'The Sky Tonight Planetarium Show: Jupiter.'

Nov 2-4 — Airtec, ESA, et al, Frankfurt, Germany: '1st International Conference Space World – From Vision to Commercial Applications,' theme park and international aerospace supply fair.

Nov 2— Moon: At Perigee (Distance: 57.10 Earth-Radii); 07:00.


Nov 2 — Asteroid 2008 EL: Near-Earth Flyby (0.032 AU).
---
WEDNESDAY

Nov 3 — The SETI Institute, Mountain View CA: Colloquium Series Lecture: 'Computer Simulations of Convection and Magnetic Field Generation in Planets,' Gary Glatzmaier.

Nov 3-5 — John Hopkins University Applied Physics Laboratory, Laurel MD: 'Space Environment Applications and Operations for National Security (SEASONS) 2010 Conference.'

Nov 3-5 — Human Exploration Framework Team (HEFT), Washington DC: 'NASA HEFT  Industry Affordability Meetings,' seeks input from NASA contractors and other commercial spaceflight on how it can reduce costs, maintain quality & performance and improve the affordability of human spaceflight programs & activities.

Nov 3-5 — ESA, Integrated Land Ecosystem-Atmosphere Processes Study, European Geosciences Union, Frascati, Italy: 'Earth Observation for Land-Atmosphere Interaction Science Conference.'

Nov 3 — Moon: 7.3° SSW of Saturn; 15:00.
---
THURSDAY

Nov 4 — Deep Impact / Epoxi, Deep Space: Deep Impact spacecraft to fly by additional target, Comet Hartley-2; spacecraft involved in Epoxi mission (Extrasolar Planet Observation and Characterization and the Deep Impact Extended Investigation) since successful primary mission impact of Comet Temple-1 in Jul 2005.

Nov 4 — Technology, Entertainment, Design (TED), NASA, Newport News VA: 'TEDxNASA 2010: Ideas Worth Spreading – What Matters Next.'

Nov 4 — Sally Ride Science, Houston TX: 'Sally Ride Science Festival,' Astronaut Wendy Lawrence.

Nov 4-7 — American Society for Gravitational and Space Biology (ASGSB), Washington DC: '2010 Annual Meeting of ASGSB.'

Nov 4 — Moon: 2.8° S of Spica, 12:00; 1.1° W of Venus, 21:00.

Nov 4 — Asteroid 2006 JY26: Near-Earth Flyby (0.037 AU).
---
FRIDAY

Nov 5 — CNSA, Launch Long March 3A / Fengyun 3B , Taiyuan, China: A China Long March 4C rocket is set to launch the Fengyun 3B weather satellite in polar orbit.

Nov 5 — Explore Mars Inc, Cambridge MA: 'ISS Mars I,' series of public outreach programs which will explore the question, "How can the International Space Station be used to advance exploration beyond LEO- to Mars?"

Nov 5-7 — Students for the Exploration and Development of Space, Northrop Grumman, et al, Urbana IL: 'SEDS SpaceVision 2010: Envision. Ignite. Achieve.'

Nov 5 — Southern Taurid Meteors Peak: Radiating from the constellation Taurus, the Taurid stream is associated with Comet Encke and produces bright, slow moving orange fireballs at ZHR rates of 5 meteors per hour.

Nov 5 — Moon: New Moon (Beginning of Lunation 1087); 18:51.
---
SATURDAY

Nov 6 — Team Phoenicia, TechShop, Menlo Park CA: 'Nanosatellite Launcher Challenge Seminar,' with presentations by NASA Centennial Challenge Program, FAA, California Space Authority, Team Phoenicia and other SF Bay Area teams.

Nov 6 — Moon: 1.8° SSW of Mercury, 17:00.

---
SUNDAY

Nov 7-10 — European Southern Observatory, Copiapo, Chile: 'Spiral Structure in the Milky Way: Confronting Observations and Theory.'

Nov 7-11 — Harvard Department of Astronomy, Smithsonian Astrophysical Observatory, Boston MA: '20th Annual Astronomical Data Analysis Software and Systems (ADASS) Conference,' provides a forum for scientists and developers concerned with algorithms, software and software systems employed in the acquisition, reduction, analysis, and dissemination of astronomical data.

Nov 7 — Moon: 1.7° SSE of Mars, 13:00; 2.5° N of Antares, 15:00.

Nov 7 — Asteroid 3753 Cruithne: Closest Approach to Earth (0.422 AU).