Thailand Hosts 1st COSPAR Symposium on Planetary Systems and Future Space Astronomy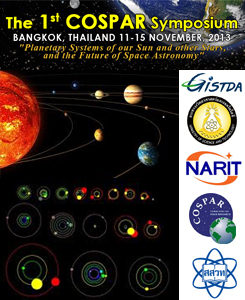 The Committee on Space Research (COSPAR) initiates its new series of biannual events with the 1st COSPAR Symposium 'Planetary Systems of our Sun and other Stars, and the Future of Space Astronomy' in Bangkok, Thailand on November 11-15. It is being hosted jointly by the Geo-Informatics and Space Technology Development Agency and National Astronomical Research Institute of Thailand. Chairman of the Scientific Program Committee Professor Boonrucksar Soonthornthum of NARIT says "between 500 and 1,000 participants from the region and farther afield are expected." They will include space scientists, astronomers, students and others. The program includes keynote speeches by Prof. Michel Mayor of University of Geneva on 'Research frontiers of exoplanets and other solar systems' and by Dr. Somchet Thinaphong of GISTDA on 'Stars on the rise: the imaginative insight.' There is also a Round Table discussion on 'Prospects for Space Science and International Cooperation with South East Asia' that includes participation of space agency leaders from Asia (Japan JAXA; Malaysia ANGKASA; Indonesia LAPAN; Thailand GISTDA; South Korea KASI), Europe and USA. COSPAR President Giovanni Bignami recognizes the growing dynamism in the Asia region as space research is becoming a priority for many emerging countries; indicative of this are the two most recent new COSPAR member countries, South Korea and Malaysia. (Image Credit: COSPAR, NASA)
Rocket Tests, Flight Preparations and Apollo 11 Buzz Aldrin in Mojave, California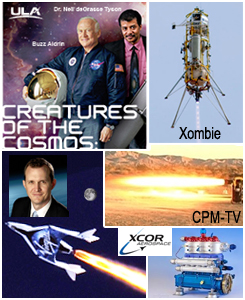 Bustling Mojave CA promises more excitement this month from NewSpace companies and space-related events. Masten Space Systems is scheduled to perform 4 flight tests of its vertical-takeoff, vertical-landing Xombie technology demonstration rocket at Mojave Air and Space Port November 11-22. Guided by Draper Lab's GENIE flight control system designed to land a space vehicle on the Moon or other celestial body, the rocket will test Precision Landing Exploration Technology (PLANET) and the Vision Navigation System Technology Demonstration. The Virgin Galactic SpaceShipTwo is expected to make its 3rd powered test flight within a month. According to CEO George Whitesides the company is on schedule to begin commercial flights next year for its 650 ticket holders. Interorbital Systems is preparing for a low-altitude launch of its Common Propulsion Module Test Vehicle (CPM-TV), and XCOR Aerospace will begin integrated testing of its liquid hydrogen demonstrator engine. The 2013 Spreading Wings Gala 'Creatures of the Cosmos, Why We Need to Reach for the Stars' hosted by Wings Over the Rockies Air & Space Museum and United Launch Alliance invites the public to discuss the future of space on Nov 16 with Buzz Aldrin, Neil deGrasse Tyson, Michael Gass of ULA and Elliot Pulham of the Space Foundation. (Image Credit: VG, XCOR, IO, NASA, T. Tschida, MarsScientific, Clay Center Observatory)
---


= All times for terrestrial events in local time unless noted.

= All times for international terrestrial events in local time unless noted.

= All times for space events, and…

= All times for international space / astro events in Hawaii Standard Time unless noted. Add 10 hours to obtain UT ('Universal Time;' Greenwich, England).
---
Weekly Planet Watch – Evening Planets: Venus (SW); Morning Planets: Mars (ESE), Jupiter (ENE).

---
MONDAY

Nov 11 — ISS, LEO: Expedition 38 participating in JAXA Biological Rhythms 48hrs experiment; Commander Kotov, Cosmonaut Ryazansky drying spacesuits after EVA; new arrivals Tyurin, Wakata, Mastracchio continue orientation.

Nov 11 — Mars Orbiter Mission (Mangalyaan), LEO: India 1st Mars mission will stay in 246-km x 23,566-km Earth orbit until Dec 1; engine burn will then send orbiter on journey to Mars, expected to arrive Sep 24, 2014.

Nov 11 — Lunar Atmosphere and Dust Environment Explorer (LADEE), Moon Orbit: Beginning 100-day science mission to study Moon atmosphere and dust at 50-150 km altitude.

Nov 11— Opportunity, Solander Point, Mars: Making its way uphill on the northwestern slopes of Solander Point to explore outcrops, clay-bearing rocks.

Nov 11 — Comet C/2012 S1 (ISON): Heading toward Sun, will reach perihelion Nov 28; tail growing as radiation pressure from Sun pushes gas, dust outward.

Nov 11 — Generation Orbit Launch Services Inc., Atlanta GA: NewSpace company developing GOLauncher 2 to launch 20-30 kg payloads to LEO; first launch expected in 2016 with payload of 3 NASA cubesats.


Nov 11 — NanoRacks LLC, Houston TX: Working with Spaceflight Inc. to begin providing routine commercial launch services from the ISS Japan Experiment Module airlock using NanoRacks' Cubesat Deployers.

 Nov 11 — B612 Foundation, Mountain View CA: Continuing to promote / raise funds for US$450M Sentinel space-based, infra-red telescope to identify 90% of NEOs 140-m or wider, to be completed Jul 20, 2018.

Nov 11 — Up Aerospace Inc., Launch SpaceLoft XL / SatWest payload, Las Cruces NM: SpaceLoft XL sounding rocket to launch SatWest & Bosque School communication payload to send first texts into space.

Nov 11 — The Space Show, Online / Tiburon CA: Host Dr. David Livingston talks with Adam K. Johnson, author of Atlas of Space Exploration.

Nov 11-15 — Committee on Space Research, Geo-Informatics and Space Technology Development Agency, National Astronomical Research Institute of Thailand, Bangkok, Thailand: 1st COSPAR Symposium: Planetary Systems of our Sun and other Stars, and the Future of Space Astronomy; US$120-480 (THB 3,750-15,000).

Nov 11-15 — Centre for Extragalactic Theory, Cape Town, South Africa: The Emergence of Disk Galaxies; at Klein Waterval Riverside Lodge.

Nov 11-22 — Masten Space Systems, Mojave CA: Xombie technology demonstration rocket to conduct 4 flights, perform Vision Navigation System Technology Demonstration, test Precision Landing Exploration Technology (PLANET).

Nov 11 — Asteroid 2005 TG50: Near-Earth flyby (0.041 AU).

Nov 11 — Asteroid 1997 WQ23: Near-Earth flyby (0.079 AU).

Nov 11 — Asteroid 6063 Jason: Near-Earth flyby (0.079 AU).
---
Continued from…

Sep 6 – Dec 4 — Johnson Space Center, NASA, Seattle WA: Destination Station exhibit; for public to learn about living in space aboard the ISS; at Museum of Flight.

Sep 24 – Dec 23 — NASA HQ, Online / Washington DC: Announcement of Opportunity: Mars 2020 Investigations; accepting proposals for investigations for Mars rover mission to be launched Jul / Aug 2020.

Nov 7-27 — University of Cincinnati, Cincinnati OH: Neil Armstrong: The Life and Flight of a Reluctant Hero exhibit featuring Armstrong's space mask, lunar log book, award plaques; in Philip M. Meyers Jr. Memorial Gallery, Steger Student Life Center.
---
TUESDAY

Nov 12 – Kennedy Space Center, NASA, Cape Canaveral AFS FL: Morpheus Moon lander to arrive at KSC today; in early Dec will undergo dry run, wet run, tethered test, 3 free fight operations; potential 1st flight campaign Dec 18.

Nov 12 — George C. Marshall Institute, Space Enterprise Council, Washington DC: Panel: Beyond Earth – Removing the Barriers to Deep Space Exploration; featuring William Gerstenmaier (NASA), Julie Van Kleeck (Aerojet Rocketdyne), John Elbon (Boeing), Jim Crocker (Lockheed Martin).

Nov 12 — Bigelow Aerospace, NASA HQ, Washington DC: Bigelow & NASA discuss completed and upcoming collaborative projects; to include Robert Bigelow and William Gerstenmaier; at Phoenix Park Hotel, 14:30 EST.

Nov 12 — SETI Institute, Mountain View CA: A WISE Search for Large Extraterrestrial Civilizations – A Complementary Approach to Traditional SETI; presented by Jason Wright of Penn. State University, 12:00 PST.

Nov 12-13 — Goddard Space Flight Center, NASA, Greenbelt MD: NASA Advisory Council Science Committee; Planetary Protection Subcommittee Meeting.

Nov 12-14 — The National Academies, Irvine CA: Space-Based Additive Manufacturing of Space Hardware Meeting; at Arnold and Mabel Beckman Center.

Nov 12-15 — Applied Technology Institute, Littleton CO: Space Mission Structures course; instructors Tom Sarafin, Poti Doukas, US$1,990.

Nov 12 — Taurids Meteor Shower Peak: Appearing to radiate from constellation Taurus, Taurids offer about 7 meteors per hour.

Nov 12 — Asteroid 2013 VO4: Near-Earth flyby (0.029 AU).

Nov 12 — Asteroid 2013 UC1: Near-Earth flyby (0.061 AU).
WEDNESDAY

Nov 13 — Royal Meteorological Society, London, United Kingdom: Space Weather: The Importance of Observations.

Nov 13 — American Astronautical Society, Washington DC: AAS members event: Showing of Earth from Space, panel discussion and reception at U.S. Navy Memorial Heritage Center, 18:00 – 20:30 EST.

Nov 13 — NASA HQ, Online / Washington DC: Due: Applications for Space Technology Research Fellowships; U.S. graduate students may receive research grants up to US$68K per year.

Nov 13-14 — DLR, ESA, CNES, Oberpfaffenhofen, Germany: 3rd Human Dependability Workshop (HUDEP 2013); to present / discuss ways in which 'Human factors' are taken into account during projects.

Nov 13-14 — Canon, SES, Ceiton Technologies, et al, New York NY: Satellite Communications Conference and Expo (SATCON 2013).

Nov 13-15 — Flexure Engineering, LunarCubes, Palo Alto CA: 3rd International Workshop on LunarCubes; US$150-350 (virtual attendance $50-150).

Nov 13 — Asteroid 2011 JY1: Near-Earth flyby (0.021 AU).

Nov 13 — Asteroid 2013 VX4: Near-Earth flyby (0.037 AU).
THURSDAY

Nov 14-15 — Canadian Space Society, Ottawa, Ontario, Canada: Canadian Space Society's Annual Space Summit; Albert at Bay Suite Hotel.

Nov 14 — Asteroid 2011 JY1: Near-Earth flyby (0.017 AU).

Nov 14 — Asteroid 2012 VS76: Near-Earth flyby (0.072 AU).
FRIDAY

Nov 15 — Lunar and Planetary Institute, Houston TX: LPI Seminar Series: Getting Under Europa's Skin; presented by Britney Schmidt from University of Texas – Austin; 15:30 CST.

Nov 15 — `Imiloa Astronomy Center, University of Hawai`i – Hilo, Hilo HI: Mauna Kea Skies Talk; Dr. Doug Simons from Canada-France-Hawaii Telescope speaks about recent discoveries; 19:00 HST, US$8-10.

Nov 15 — International Academy of Astronautics, Online / Paris, France: Early bird registration and abstract deadline for IAA Space Exploration Conference and Heads of Space Agencies Summit to be held Jan 9-10, 2014.

 Nov 15 — Johnson Space Center, NASA, Houston TX: Lunch with an Astronaut, John-David Bartoe; US$49.95 adult.

Nov 15 — Asteroid 2008 GD110: Near-Earth flyby (0.069 AU).
SATURDAY

Nov 16 — Wings Over the Rockies Air and Space Museum, United Launch Alliance, Mojave CA: 2013 Spreading Wings Gala: Creatures of the Cosmos – Why We Need to Reach for the Stars; featuring Buzz Aldrin, Dr. Neil deGrasse Tyson, Michael Gass (ULA President / CEO), Elliot Pulham (Space Foundation CEO); 18:00 – 23:00 PST, US$200-375.

Nov 16 & 18 — Kennedy Space Center, NASA, Cape Canaveral AFS FL: NASA Social; 150 social media followers invited to tour KSC and view launch of MAVEN.

Nov 16 — Asteroid 2006 UA216: Near-Earth flyby (0.098 AU).
SUNDAY

Nov 17 — PlayLab, X Prize Foundation, Galactic Unite, Mississauga, Ontario, Canada: Student Rocket Workshop; children grades 4-7 design, build and test rockets at Northstar Montessori Private School.

Nov 17 — Moon: Full (Beaver Moon), 05:15; 6.0° S of Pleiades, 14:00.

Nov 17 — Comet C/2012 S1 (ISON): 0.38° N of Spica, 14:00.

Nov 17 — Asteroid 2013 TK69: Near-Earth flyby (0.084 AU).