Space Access Key to Pacific Leadership in 21st Century; PISCES 2012 Should Be Step in the Right Direction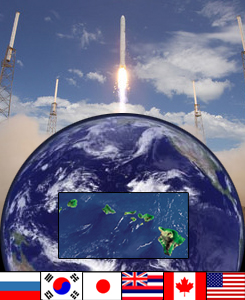 The Pacific International Space Center for Exploration Systems is hosting the 2012 PISCES Conference at the Waikoloa Beach Marriott on Hawai'i Island, November 11-15. The theme is "Pioneering Planetary Surface Systems Technologies and Capabilities." State of Hawaii is working to support the expansion of humankind's presence beyond LEO by encouraging development of resource utilization technologies and capabilities through provision of space analog testing facilities. Key to Hawaii 21st Century leadership in space exploration is Pacific Space Access – i.e. Hawaii-based rocket launch facilities – a topic rarely addressed via official State channels. The advantageous position of Hawaii allows for offshore omnidirectional equatorial / polar launch opportunities without having to overfly populated areas. Companies including SpaceX and Interorbital Systems have explored the potential of Hawaii, and the State recently received US$250,000 in new Space Transportation Infrastructure matching grants from the FAA to conduct environmental and feasibility studies. One way forward would be to catalyze a coalition / consortium of independent enterprises and national interests from countries with less latitudinally advantageous launch ranges such as Russia, Japan, Korea, and Canada. (Image Credit: NASA, SpaceX)
Canada Space Summit to Discuss and Develop Current / Future Space Program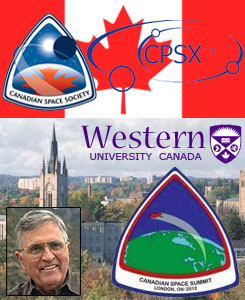 The 2012 Canadian Space Summit will be held in The Great Hall, Somerville House at Western University in London, Ontario, Canada on November 14-16. This 14th annual event, themed "Bridging Communities: Unifying the Canadian Space Sector," is sponsored by The Canadian Space Society, Centre for Planetary Science and Exploration, MacDonald, Dettwiler and Associates Ltd, SpaceRef, Western University and Aflare Systems Inc. More than 68 speakers will take part in keynotes, invited talks and panel discussions with topics covering outreach, new discoveries, space commerce, national / international collaboration and future developments for Canada in space. Nov 14 will include about 30 entrants in a poster session and a talk with Ryan McCoubrey and Laurie Chappell of MDA titled "Canadian Exploration Prototypes – Building Towards a Flight Mission." Treasurer of the Canadian Space Commerce Association Chuck Black will speak about "Funding 'Rocket' Science" during the Nov 15 afternoon session focused on organization and activities of the Canadian space community. After the Space Summit adjourns on Nov 16, Dr. Harrison Schmitt (B), one of the last Apollo astronauts to set foot on the Moon, is featured in the 13:30 panel discussion "The Future of Human Exploration" and the 18:00 CPSX 9th Annual Planetary Science Distinguished Public Lecture. (Image Credit: CSS, UWO, CPSX, BBC)
---


= All times for terrestrial events in local time unless noted.

= All times for international terrestrial events in local time unless noted.

= All times for space events, and…

= All times for international space / astro events in Hawaii Standard Time unless noted. Add 10 hours to obtain UT ('Universal Time;' Greenwich, England).
---
Weekly Planet Watch – Evening Planets: Mars (SW), Jupiter (ENE). Morning Planets: Venus (E).
---
MONDAY

Nov 12 — ISS, LEO: Continuing science experiments, routine maintenance, preparations for 3 crew member departure Nov 18; unloading Progress 49 resupply vehicle which will be filled with trash / station discards for scheduled destructive reentry into Earth's atmosphere April 2013.

Nov 12 — Lunar Reconnaissance Orbiter, Lunar Orbit: Acquiring 0.5 to 2 m per pixel resolution stereo images of Moon to provide 3-D views of surface; allowing scientists to theorize on geologic activities, providing fundamental data for future human exploration.

Nov 12 — Fermi Gamma-ray Space Telescope, LEO: Observing entire sky at high-energy gamma ray wavelengths every 3 hours; continuing data suggests average stellar density in cosmos is about 1.4 stars per 100B cubic light years, meaning average distance between stars in universe is about 4,150 light years.

Nov 12 — NanoRacks LLC, Houston TX: Soon to provide new "off the shelf" NanoLabs, low-cost microgravity research platforms, being developed by Infinity Aerospace for ISS, Virgin Galactic SpaceShipTwo; ArduLab version for educational community to be sold at US$2.5K with 25 orders already placed.

Nov 12 — Masten Space Systems, Mojave CA: Developing fully reusable non-toxic bipropellant (one liquid fuel / one liquid oxidizer) rocket engines; testing / analyzing Precision Landing Exploration Technology (PLANET) with Guidance Embedded Navigator Integration Environment (GENIE) from Charles Stark Draper Laboratory Inc.

Nov 12 — Ventions LLC, Multiple Locations USA: Developing high-speed 2.5 to 5-cm diameter rotors in small-scale turbomachinery pumps for space pressurization systems; working to incorporate cm-sized micro-rocket thrusters into integrated propulsion systems, vehicle stages for nano-satellite launchers, other applications.

Nov 12 — The Canadian Space Commerce Association, Toronto, Ontario, Canada: 'Canadian Space Commerce Association Meeting;' held at Blake's Law Firm, 20:00 EST.

Nov 12 — Kepler Space Telescope, Heliocentric Orbit: Kepler prime 3.5-year mission ends, extended mission begins; continues search for habitable planets.

Nov 12-15 — Applied Technologies Institute, Riva MD: 'Space Mission Structures: From Concept to Launch;' course conducted by Tom Sarafin and Poti Doukas; US$1,190.

Nov 12-16 — United Nations Office for Outer Space Affairs, Center for Natural Resource Information, et al, Santiago, Chile: 'Workshop on Space Technology Applications for Socio-Economic Benefits;' to enhance understanding / use of space technology for peaceful purposes, national development, different geographic regions.

Nov 12-16 — American Geophysical Union, Addis Ababa, Ethiopia: 'Chapman Conference on Longitude and Hemispheric Dependence of Space Weather;' held in conjunction with United Nations Economic Commission for Africa 'All-Africa Energy Week;' at Africa Hall and ECA Conference Center.

Nov 12-18 — European Commission, Larnaca, Cyprus: 'European Space Expo;' to show how space and its applications benefit European citizens; held at Europe Square, free.

Nov 12 — Northern Taurids Meteor Shower Peak: Appearing to radiate from constellation Taurus in the East; Taurids projected maximum is 10 meteors per hour from midnight to 01:00 on Nov 13 with great visibility potential due to late rise of waning crescent Moon.

Nov 12 — Moon: 4.3° S of Saturn, 12:07.

Nov 12 — Asteroid 1999 VR6: Near-Earth Flyby (0.058 AU).

Nov 12 — Asteroid 2001 YM2: Near-Earth Flyby (0.086 AU).
---
Continued from…

Sept 29 – Nov 23 — Canadian Space Agency, Sudbury, Ontario, Canada: 'Living in Space Traveling Exhibit;' to illuminate challenges of daily life aboard the International Space Station; at Science North.

Nov 10-16 — IEEE Computer Society, Association for Computing Machinery, et al, Salt Lake City UT: '25th international Supercomputing Conference (SC12);' more than 300 exhibits open Nov 12-15 including NASA 10-foot-wide hyperwall displaying research simulations.

Nov 11-13 — King Abdulaziz City for Science and Technology, Association of Space Explorers, Riyadh, Saudi Arabia: '2nd Saudi International Nanotechnology Conference (2SINC) 2012.'

Nov 11-14 — French Exobiology Society, Frejus, France: '2nd Exobiology Workshop;' to discuss exoplanets, habitability, exobiology, early evolution of life.

Nov 11-15 — Pacific International Space Center for Exploration Systems (PISCES), AIAA, American Society of Civil Engineers, The International Society for Terrain-Vehicle Systems, Waikoloa HI: '2012 PISCES Symposium: Pioneering Sustainable Settlements Beyond Low-Earth Orbit.'
---
TUESDAY

Nov 13 — Flexure Engineering, LunarCubes, Palo Alto CA: 'LunarCubes Engineering Briefing.'

Nov 13-14 — Space Foundation, Honolulu HI: 'Pacific Space Leadership Forum 2012.'

Nov 13-14 — Society of Satellite Professionals International, New York NY: 'Future Leaders Dinner 2012;' honoring men and women under 35 with potential to advance into leadership positions in satellite industry; 18:00 EST.

Nov 13-15 — Venus Exploration Analysis Group, NASA, Washington DC: 'Tenth VEXAG Meeting: Goals and Objectives for Venus Exploration.'

Nov 13-15 — Moscow Aviation Institute, Moscow, Russia: '11th International Conference: Aviation and Cosmonautics;' to discuss rocket, aviation, space systems; held at Moscow Aviation Institute.

Nov 13 — Total Solar Eclipse: Visible mainly from Southern Hemisphere: parts of Australia, New Caledonia, New Zealand, South America, Antarctica; begins Nov 13 at 19:38 UT, ends Nov 14 at 24:47 UT.

Nov 13 — Moon: New Moon, 12:07.
WEDNESDAY

Nov 14 — Lunar and Planetary Institute, Houston TX: 'Physical and structural controls on basaltic volcanism;' presented by Nicolas LeCorvec from University of Auckland; 15:30 CST.

Nov 14-15 — Islamic New Year 1434 AH, Worldwide: Islamic New Year 1 Muharram (1st day) to begin at sunset; if young New Moon is not visible the beginning of the month and year may be delayed.

Nov 14-15 — NASA, Hampton VA: 'NASA Innovative Advanced Concepts (NIAC) Program 2012 Fall Symposium;' to include NASA chief technologist Mason Peck, professor Penny Boston of New Mexico Institute of Mining and Technology in Socorro; held at the Crowne Plaza Hotel; free.

Nov 14-16 — John Hopkins University Applied Physics Laboratory, Laurel MD: '2012 SEASONS Conference: Operating Through Solar Max;' held at Kossiakoff Center, Johns Hopkins University Applied Physics Laboratory.

Nov 14-16 — Canadian Space Society, Centre for Planetary Science and Exploration, The University of Western Ontario, et al, London, Ontario, Canada: '2012 Canadian Space Summit: Bridging Communities – Unifying the Canadian Space Sector;' held at The University of Western Ontario, The Great Hall, Somerville House.

Nov 14 — Moon: 1.2° NNW of Mercury, 24:00; at Perigee (Distance: 356,967 km), 01:00; 5.8° N of Antares, 15:00.

Nov 14 — Asteroid 2012 UY68: Near-Earth Flyby (0.017 AU).
THURSDAY

Nov 15 — Lunar and Planetary Institute, Houston TX: 'Cosmic Explorations: Big Bang Theory – The Three Pillars;' free presentation by Dr. Dragan Huterer from University of Michigan; 19:30 CST.

Nov 15 — Waiakea Intermediate School, Hilo HI: 'Live Teleconference;' with astronauts aboard the International Space Station; for students to discuss microgravity; at Waiakea Intermediate School Library.

Nov 15-16 — European Commission, Cyprus Presidency of the Council of the European Union, Larnaca, Cyprus: '2nd FP7 Space Conference 2012: Let's Embrace Space;' to discuss future options for European research in space field, space tools, economic development in European and global context.

Nov 15 — Moon: 4.1° NNW of Mars, 22:00.
FRIDAY

Nov 16 — Space Center Houston, Houston TX: 'Lunch with an Astronaut,' Ken Cameron; US$49.95 adult.

Nov 16 — Lunar and Planetary Institute, Houston TX: 'Low-Sulfide PGE-Cu-Ni Mineralization From Five Prospects Within The Footwall Of The Sudbury Igneous Complex, Ontario, Canada;' presented by Christopher White from University of Toronto; 15:30 CST.

Nov 16 — Cassini OTM-335, Saturn Orbit: Spacecraft conducts Orbital Trim Maneuver #335 today.

Nov 16 — Moon: 0.28° ENE of Pluto, 14:00.

Nov 16 — Venus: 3.8° NNE of Spica, 19:00.
SATURDAY

Nov 17 — Mexican Academy of Sciences, Nationwide: 'The Night of the Stars;' to promote science through astronomy; this 4th annual event has 43 sites set up across country.

Nov 17 — Mercury: 0.41° N of Sun, 06:00.
SUNDAY

Nov 18 — International Lunar Observatory Association, Space Age Publishing Company, Kamuela HI: 'Galaxy Forum Hawaii 2012 – Waimea: Galaxy Education and Galaxy Enterprise in the 21st Century.'

Nov 18-19 – Scheduled undocking Soyuz TMA-05M / 31S from ISS to return Sunita Williams, Yuri Malenchenko, Akihiko Hoshide to Earth; estimated undocking 22:20 UT Nov 18 (04:20 Kazakhstan time Nov 19), landing approximately 15.5 hours later in Kazakhstan.

Nov 18-22 — Academia Sinica Institute of Astronomy and Astrophysics, et al, Taipei, Taiwan: 'The Life Cycle of Dust in the Universe: Observations, Theory, and Laboratory Experiments;' held in International Conference Hall, Academis Sinica main campus.