Human Moon Missions to be Considered During International Lunar Conference in Hawaii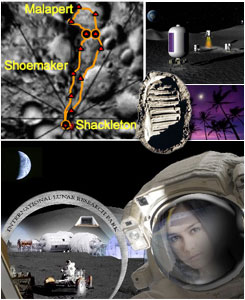 Achieving a human mission to the surface of our Moon in this decade will likely require international collaboration, technological innovation through private / public partnerships, significant public support, and entrepreneurial incentives. Several studies have outlined methods to achieve this lofty goal in a cost-effective and timely manner.  In the early 1990s, General Dynamics conducted a series of Early Lunar Access studies which sought to enable 2-3 week crew stays on the Moon, while reducing total costs by a factor of 10 compared to Apollo.  NASA JPL recently published a study about a hypothetical 7-day human mission to the Moon's Malapert Mountain. After conducting 2 feasibility studies on a Human Service Mission for its proposed Lunar Observatory, the International Lunar Observatory Association (ILOA) has recently proposed an initiative for an Independent / International Consortium for a US$5-10B-Human Lunar Service Mission within the decade. On November 13-17, astronautical engineers, astronauts, educators and NewSpace entrepreneurs will convene on Hawai`i Island for the 2011 International Lunar Research Park (ILRP) Leaders Summit.  Organizers hope to establish an ILRP on the Moon, beginning with development of a terrestrial prototype in Hawaii that would leverage the State's Moon-like environment to test new space exploration technologies, and pioneer public education / professional training programs to enable extended missions beyond LEO. (Image Credit: NASA, ILOA, ILRP, artinnaturephotography.com)
Mars500 Mission Advancing Future Mars Exploration, International Cooperation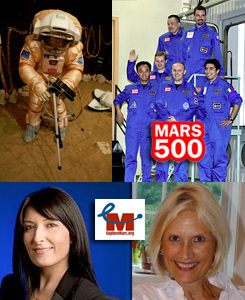 Astronauts voyaging to Mars in the future may better know what to expect during long-distance space flight thanks to the successful completion of the Mars500 experiment on November 4 at the Institute of Biomedical Problems in Moscow, Russia. More than 6,000 people from 40 countries applied for the 520-day experiment which began June 3, 2010 and simulated a full-length human mission to the Red Planet. The 6 international crew of 'astronauts' (R) consisted of Cmdr Alexey Sergeyevich Sitev, Sukhrob Rustamovich Kamolov and Alexandr Egorovich Smoleevskiy of Russia, Wang Yue of China and Diego Urbina and Romain Charles of Europe. The mission tested the psychological effects on the astronauts who managed to live together in a 550 cubic meter simulation unit. The mission also included 3 simulated Mars-walks made in February 2011. Despite recent setbacks in the Russia space program, space officials say they hope to send humans to Mars by 2040. Another recent event, 'Women and Mars Conference,' which took place Nov 9-10, featured several prominent women in the space industry including Linda Billings (BR), Tiffany Montague (BL) and Michelle Viotti. Explore Mars President, Artemis Westenberg notes, "Women could walk on Mars within the next 20 years…". (Image Credit: ESA, exploremars.org)
---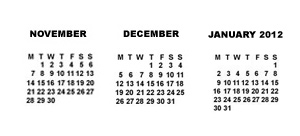 = All times for terrestrial events in local time unless noted.

= All times for international terrestrial events in local time unless noted.

= All times for space events, and…

= All times for international space / astro events in Hawaii Standard Time unless noted. Add 10 hours to obtain UT ('Universal Time;' Greenwich, England).
---
Weekly Planet Watch – Morning Planets: Mars (ESE), Saturn (E) / Evening Planets: Mercury (SW), Venus (SW), Jupiter (E).
---
MONDAY

Nov 14 — International Space Station, LEO: E-29 crew continues station maintenance and scientific research while getting ready for 3 new crew members as well as their own departure on Nov 21.

Nov 14 — NASA Lunar Reconnaissance Orbiter (LRO), Lunar Orbit: All systems nominal in scientific phase of mission as LRO continues to make digital elevation and terrain maps that will be a fundamental reference for future human exploration.

Nov 14 — Phobos-Grunt Mars Mission, LEO: Chances of saving the Russia Phobos-Grunt and China Yinghuo-1 Mars satellite grow slim as scientists continue efforts to communicate with the US$170M spacecraft and fix software issues.

Nov 14 — NASA Michoud Assembly Facility (MAF), New Orleans LA: 'Space Launch System Industry Day at MAF.'

Nov 14 — Cyber, Space & Intelligence Association, Space Transportation Association, Washington DC: 'China Space and Cyber Challenges.'

Nov 14 — National Space Society, Washington DC: NSS to hold press conference to announce space solar power study conducted by the International Academy of Astronautics at 09:00 – 10:30 EDT.

Nov 14 — Northern Virginia Technology Council, McLean VA: 'TechCelebration: NVTC Annual Fall Banquet,' featuring keynote speaker NASA Administrator Charles Bolden.

Nov 14 — Commonwealth Scientific & Industrial Research Organization, Sydney, Australia: 'Lecture: Supermassive Binary Black Hole Systems in Active Galaxies.'

Nov 14-15 — Canadian Space Agency, St. Hubert, Quebec, Canada: 'Canadian Workshop on Composite Structures and Materials for Space Applications.'

Nov 14-16 — NASA, San Diego CA: 'Human Space Exploration Community Workshop,' event to introduce the International Space Exploration Coordination Group's Global Exploration Roadmap.

Nov 14-16 — NASTAR Center, Philadelphia PA: 'NASTAR Suborbital Scientist Training Program,' provides researchers, professors and graduate students with hands-on space flight physiology training to prepare them to design experiments and perform research aboard commercial suborbital space flights.

Nov 14-17 — Applied Technology Institute, Littleton CO: 'Space Mission Structures: From Concept to Launch,' Tom Sarafin.

Nov 14 — Asteroid 2005 XB: Near-Earth Flyby (0.074 AU).
---
Continued from…

Sep 22 — Space Adventures, NASA, ESA, JAXA, Online: Closing date submissions for 'YouTube Space Lab Competition;' through Dec 7.

Nov 13 — State of Hawai`i, Pacific International Space Center for Exploration Systems, Pacific International Space Alliance, et al, Waikoloa HI: '2011 International Lunar Research Park Leaders Summit;' through Nov 17.

Nov 13 — Hassan 2 Casablanca University, Arab Union of Astronomy and Space Sciences, et al, Casablanca, Morocco: '2nd Arab Impact Cratering and Astrogeology Conference;' through Nov 20.
---
TUESDAY

Nov 15-16 — American Astronautical Society, Houston TX: 'AAS National Conference 2011: Celebrating Achievements, Celebrating the Future.'

Nov 15-17 — International Global Navigation Satellite Systems Society Inc (IGNSS), Sydney, Australia: '2011 IGNSS Society Conference and Exhibition.'

Nov 15 — Moon: 10° SSW of Pollux; 16:00.
---
WEDNESDAY

Nov 16 — The SETI Institute, Mountain View CA: Colloquium Series Lecture: 'Smart Coatings on Spacecraft Surfaces – New Tools for the Spacecraft Designer's Tool Belt,' Steve McDaniel.

Nov 16 — USA Congress, Washington DC: 'Congressional Gold Medal Ceremony,' to honor astronauts John Glenn, Neil Armstrong, Michael Collins, and Buzz Aldrin.

Nov 16 — The British Interplanetary Society, London, United Kingdom: 'Lecture: Attitudes to Human Spaceflight,' Chris Lintott.

Nov 16-18 — Canadian Science Policy Center, Ottawa, Ontario, Canada: '3rd Canadian Science Policy Conference 2011.'

Nov 16 — Moon: 5.6° SSW of Beehive Cluster; 18:00.

Nov 16 — Asteroid 3362 Khufu: Closest Approach to Earth (0.864 AU).
---
THURSDAY

Nov 17 — American Institute of Aeronautics and Astronautics – San Francisco, Mountain View CA: 'TechTalk: Building a CubeLabs Module for the ISS.'

Nov 17 — Mississippi Enterprise for Technology – Stennis Space Center, Slidell LA: 'Stennis Industry Day.'

Nov 17 — Lunar and Planetary Institute, Houston TX: 'LPI Seminar Series: Influence of Cooling Rate on Textural and Chemical Features of Terrestrial and Extraterrestrial Basaltic Rocks,' Silvio Mollo.
img title="white_star" src="http://www.spacecalendar.com/wp-content/uploads/2010/02/white_star3.gif" alt="" width="16″ height="16″ /> Nov 17 — Leonids Meteor Shower Peak: Appearing to radiate from Constellation Leo, the Leonids meteor shower produces a maximum of 10-15 meteors per hour, however the Quarter Moon will make viewing shower unfavorable.

Nov 17 — Asteroid 91007 Ianfleming: Closest Approach to Earth (0.959 AU).
---
FRIDAY

Nov 18 — Moon: At Last Quarter, 05:09; 5.6° SSW of Regulus, 13:00; 7.2° SSW of Mars; 18:00.
---
SATURDAY

Nov 19 — International Lunar Observatory Association, Space Age Publishing Company, Hilo HI: 'Galaxy Forum 2011 Hawai`i – Hilo: Hawai`i as 'Galaxy Central.''

Nov 19 — The American Museum of Natural History, New York City NY: 'Beyond Planet Earth: The Future of Space Exploration,' a new exhibit at AMNH developed by astronomer Michael Shara.

Nov 19 — Vero Beach Book Center, Smithsonian Institution Press, Vero Beach FL: 'Falling to Earth: An Apollo 15 Astronauts Journey to the Moon,' book signing with astronaut / author Al Worden at 13:00 EST.
---
SUNDAY

Nov 20 — Asteroid 2011 UA115: Near-Earth Flyby (0.039 AU).