Canada Advancing its Future in Space Industry with 2 Conferences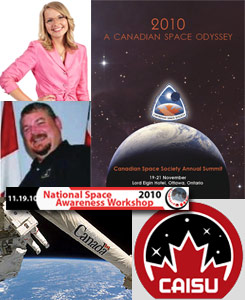 On November 19, the Canadian Alumni of the International Space University (CAISU) will host its biennial National Space Awareness Workshop in Ottawa, Ontario Canada. With the theme, 'ISS to Commercialization: Canada's Future Space Contributions,' the workshop will allow for a close examination of how Canada can be better prepared to contribute on the world stage in the coming 2 decades of the space industry. Founded in 1989, CAISU has more than 275 members across Canada and around the world. The CAISU workshop will be followed by the Canadian Space Society Annual Summit on Nov 19-21. With the principal objective of promoting Canada involvement in the development of space, the summit will feature 2 days of paper sessions covering such topics as exploration, astronomy and space law. CBC News Meteorologist Johanna Wagstaffe (TL) will moderate a panel on the Nov 19 Public Event Night and Neptec Design Group President Iain Christie (CL) is the scheduled keynote speaker at the Nov 20 Summit Banquet Dinner. (Credit: CAISU, NASA)
Space Propulsion Workshop to Address Development, Research of Propulsion Technology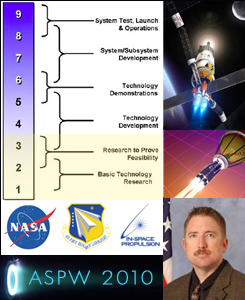 The Air Force Research Laboratory in Colorado Springs, Colorado will host the 18th Advanced Space Propulsion Workshop (ASPW) on November 15-17. Sponsored by the Jet Propulsion Laboratory, Air Force Research Laboratory and the NASA Glenn Research Center In-Space Propulsion Technology Project, this year's event will provide a forum for participants to exchange research on low Technology Readiness Level (TRL) and identify issues needed to advance technological development of space propulsion for future robotic and human exploration missions. The TRL spectrum (TL) runs from 1-9 (1 as "basic scientific / engineering principles observed and reported" and 9 as "operational use of actual system tested, and benefits proven.") ASPW will focus on low TRL (from 1-3) and cover topics in advanced Earth-to-Orbit propulsion, chemical propulsion, beamed energy propulsion, nuclear propulsion and propulsion component improvements. Co-technical chairs for ASPW include JPL Scientist Ioannis Mikellides and University of Colorado Professor Andrew Ketsdever (BR). Innovative research in space propulsion initiatives will be given a boost with the increase in NASA FY 2011 budget for Space Technology now at US$572.2 million. (Credit: NASA, UCCS)
---

= All times for terrestrial events in local time unless noted.

= All times for international terrestrial events in local time unless noted.

= All times for space events, and…

= All times for international space / astro events in Hawaii Standard Time unless noted. Add 10 hours to obtain UT ('Universal Time;' Greenwich, England).
---
Weekly Planet Watch – Morning Planets: Saturn (E) / Evening Planets: Venus (WSW), Mars (SW), Jupiter (ESE).

---
MONDAY

Nov 15 — International Space Station, LEO: E-25 crew members Fyodor Yurchikhin & Oleg Skripochka to perform 6-hour spacewalk today to prepare outpost for future assembly work.

Nov 15 — NASA Lunar Reconnaissance Orbiter (LRO), Lunar Orbit: All systems nominal in scientific phase of mission as LRO continues to return data from the Moon.

Nov 15 — Mars Rover Opportunity, Red Planet: Opportunity continues to operate satisfactorily on its way to Endeavour Crater, covering over 24,813.42 meters to date.

Nov 15 — Russia Space Agency, LEO: Russia's Progress cargo spacecraft, which has been on an independent scientific mission since Oct 25, set to be deorbited and buried in a remote area in South Pacific region.

Nov 15 — Goddard Space Flight Center, Punta Arenas, Chile: NASA to hold media teleconference to discuss Antarctic science mission Operation IceBridge at 14:00 EST.

Nov 15 — University of Houston, The Texas Learning and Computation  Center, et al, Houston TX / Online: Registration deadline for students to compete in the 9th UH Mars Rover Event being held on January 29, 2011.

Nov 15 — Glenn Research Center, Cleveland OH: 'NASA GRC Disability Awareness Day,' celebrating 20th anniversary of Americans with Disabilities ACT with Ohio's traveling ADA mural designed by artist Kong Ho.

Nov 15-17 — Jet Propulsion Laboratory, Glenn Research Center, US Air Force Research Laboratory, Colorado Springs CO: '18th Advanced Space Propulsion Workshop 2010,' event to emphasize low Technology Readiness Level (TRL = 1-3), far-term space propulsion and power concepts and technologies that enable ambitious robotic and human exploration missions of the 21st century.

Nov 15-17 — The National Academies, Boulder CO: 'A Decadal Strategy for Solar and Space Physics / Panel on Atmosphere – Ionosphere – Magnetosphere Interactions.'

Nov 15-17 — ESA, Valencia, Spain: '4th International Workshop on Remote Sensing of Vegetation Fluorescence,' event to focus on monitoring solar-induced fluorescence from space to assess plant activity.

Nov 15-19 — International Society for Photogrammetry & Remote Sensing, The American Society for Photogrammetry & Remote Sensing, et al, Orlando FL: 'Geospatial Data and Geovisualization: Environment, Security and Society.'

Nov 15-19 — Canary Islands Institute of Astrophysics, La Laguna, Tenerife, Spain: '22nd Canary Islands Winter School of Astrophysics on Astroseismology.'

Nov 15 — Mercury: 2.4° NNE of Antares; 15:00.

Nov 15 — Moon: At Apogee (Distance 63.44 Earth-Radii); 6.6° NNW of Jupiter, 23:00.

Nov 15 — Asteroid 2010 UX6: Near-Earth Flyby (0.032 AU).
---
Continued from . . .

Nov 8 — NASA, USA Office of Science & Technology, Johannesburg; Kimberley; Bloemfontein; Durban; Cape Town, South Africa: NASA former Astronaut Jeff Hoffman, IAU President Robert Williams & Western Kentucky University Professor Charles McGruder to hold public lectures around South Africa to increase space awareness and support Africa's bid to host the Square Kilometer Array (SKA) radio telescope; through Nov 15.

Nov 14 — Japan-US Science, Technology & Space Applications Program, Hawai`i Island HI: '2010 JUSTSAP Symposium: The Next Giant Leap – Building Sustainable Settlements Beyond Low-Earth Orbit;' through Nov 18.
---
TUESDAY

Nov 16 — International Lunar Observatory Association, Honolulu HI: 'Galaxy Forum Hawai'i – O'ahu: Galaxy Education in the 21st Century,' featuring Mary Beth Laychak of Canada France Hawaii Telescope, Mike Shanahan of the Bishop Museum Planetarium, Steve Durst of ILOA and O'ahu educators.

Nov 16 — Marshall Space Flight Center, Huntsville AL: Charles Bolden to participate in all-hands meeting with Marshall employees at 10:30 CST.

Nov 16-17 — American Astronautical Society, Cape Canaveral FL: 'AAS National Conference: ISS – The Next Decade;' AAS nominated recipients to also accept awards.

Nov 16-17 — ESA, Noordwijk, The Netherlands: '24th Annual European Workshop on Thermal and ECLS Software.'

Nov 16-18 — Canada France Hawaii Telescope, Taipei, Taiwan: '9th CFHT Users' Meeting: Decade 4,' opportunity to share achievements of the past 4 decades with final release of the CFHT Legacy Survey happening during the meeting and a new generation of large programs underway.

Nov 16 — Moon: 5.9° NNW of Uranus; 08:00.
---
WEDNESDAY

Nov 17 — The SETI Institute, Mountain View CA: Colloquium Series Lecture: 'Status of the James Webb Telescope and its Capabilities for Exoplanet Science,' Mark Clampin.

Nov 17 — American Astronautical Society, Springfield VA / Online: Submission deadline for 2010 AAS Election Ballot.

Nov 17 — University of Santa Cruz Department of Astronomy, Santa Cruz CA: 10th Halliday Series Lecture: 'The Search for Other Planets,' Greg Laughlin.

Nov 17 — Foothill College Astronomy Program, Ames Research Center, et al, Silicon Valley CA: Silicon Valley Astronomy Lecture Series: 'An Update from the Kepler Mission: The Search for Other Earths,' Natalie Batalha.

Nov 17 — International Academy of Astronautics, Washington DC: 'Space for Humanity: Space Agencies Summit.'

Nov 17 — Johnson Space Center, Houston TX: 'NASA Docking System Technical Information Meeting,' a technical interchange to inform the general public and parties interested in the ISS docking system of planned changes to the United States On-orbit Segment (USOS) docking system.

Nov 17 —  Leonid Meteors: Radiating from Constellation Leo, the Leonids shower peak displays approximately 10 meteors per hour.

Nov 17 — Asteroid 2005 JU81: Near-Earth Flyby (0.038 AU).
---
THURSDAY

Nov 18 — American Institute of Aeronautics and Astronautics – San Francisco Section, Mountain View CA: 'AIAA-SF Technical Talk and Networking Event: Space Hazards,' Sigrid Close

Nov 18 — Huntsville Space Professionals, Huntsville AL: 'National Commercial Space Summit,' forum for the leading national commercial space companies to present their vision and value for space exploration.

Nov 18 — Asteroid 7958 Leakey: Closest Approach to Earth (0.928 AU).
---
FRIDAY

NET Nov 19 — USAF, Launch Minotaur / STP S26, Kodiak Island AK: The Air Force Minotaur 4 rocket set to launch group of satellites sponsored by Air Force Space Test Program.

Nov 19— Zero Gravity Corporation, Miami FL: Research Flight on board G Force One.

Nov 19 — Canadian Alumni of the International Space University, Ottawa, Ontario, Canada: 'National Space Awareness Workshop,' biennial event to promote space awareness among students, young professionals and the community.

Nov 19-21 — Canadian Space Society, Ottawa, Ontario, Canada: 'Canadian Space Summit.'

Nov 19 — Asteroid 2010 UE8: Near-Earth Flyby (0.086 AU).
---
SATURDAY

Nov 20-21 — Victorian Space Science Education, Asia-Pacific Regional Space Agency Forum, et al, Melbourne, Australia: 'APRSAF Water Rocket Launch Competition.'

Nov 20 — Mercury: 1.7° S of Mars; 06:00.
---
SUNDAY

Nov 21 — Moon: Full Moon; 1.5° SE of Pleiades, 11:00.

Nov 21 — Asteroid 2010 JW34: Near-Earth Flyby (0.50 AU).

Nov 21 — Asteroid 12485 Jenniferharris: Closest Approach to Earth (1.056 AU).

Nov 21 — Alpha Monocerotid Meteors: A minor shower radiating from Constellation Monoceros, these meteors produce variable rates anywhere from 5 to 400 meteors per hour.