USA Launching Versatile Space Enterprise: Interplanetary, Scientific, Government, Commercial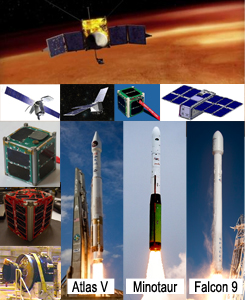 The Mars Atmosphere and Volatile Evolution (MAVEN) NASA spacecraft is set for launch aboard a United Launch Alliance Atlas V 401 from Space Launch Complex 41 at Cape Canaveral FL November 18. The 1-year science mission to study the upper atmosphere of Mars will begin when the craft successfully reaches the Red Planet on September 16, 2014 – about the same time recently launched India Mars Orbiter Mission is set to arrive. Principal Investigator Dr. Bruce Jakosky from University of Colorado believes that Maven data will help explain how the Mars climate has changed over time due to loss of atmospheric gases. There are two other USA launches this week. Orbital launches 30 individual spacecraft on one Minotaur rocket from Wallops Island VA on Nov 19. Along with the primary and secondary DoD payloads there are 28 CubeSats from organizations and institutions across the country: the Vermont Lunar Cubesat prototype, TetherSat 1, 2 to test electrodynamic tether propulsion, TJ3Sat to be fist ever satellite flown and built by high school students, and SwampSat to test advanced CubeSat-scale Control Moment Gyros. SpaceX launches the SES 8 on a Falcon 9 from Cape Canaveral FL on Nov 25. The commercial communications satellite is to provide Ku-band and Ka-band direct-to-home services for customers in South and Southeast Asia. (Image Credit: NASA, ULA, OSC, SpaceX, ORS, USAF, VTC, UFL, TJHSST, Ball)
Russia Continues Providing Diverse Launch Services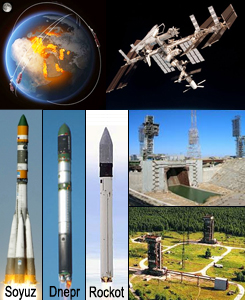 Multiple launches are scheduled to take place this week from various Russia launch providers, rockets and sites. Russia is once again the leader in number of launches this year with 24 completed and 4 scheduled. The Russia-Ukraine-Kazakhstan International Space Company Kosmotras is set to launch its 34-meter tall Dnepr rocket from the Yasny launch base in Dombarovsky on November 21. It will carry the STSAT 3 Earth observation and galaxy & cosmic background infrared imaging satellite for South Korea, SkySat 1 Earth observation satellite for Skybox Imaging, and Emirates Institution for Advanced Science and Technology (EIAST) DubaiSat2 Earth observation satellite. Eurockot Launch Services, a Russia-Germany venture, is scheduled to launch a 29-meter tall Rockot with the ESA Swarm mission on Nov 22 from the Plesetsk Cosmodrome. This US$36M launch will set the 3 Europe-Canada Swarm satellites in polar orbits around Earth where they will measure the magnetic signals that stem from Earth's core, mantle, crust and oceans, as well as ionosphere and magnetosphere. Russia Space Agency Roscosmos is ready to launch the 53rd Progress cargo ship aboard a Soyuz rocket from the Baikonur Cosmodrome in Kazakhstan to the ISS on Nov 25. It will carry up to 6,900 kg of supplies, hardware, fuel and water to the only 6 people in space, Expedition 38. (Image Credit: RSA, ESA, ISC Kosmotras, Eurockot)
---


= All times for terrestrial events in local time unless noted.

= All times for international terrestrial events in local time unless noted.

= All times for space events, and…

= All times for international space / astro events in Hawaii Standard Time unless noted. Add 10 hours to obtain UT ('Universal Time;' Greenwich, England).
---
Weekly Planet Watch – Evening Planets: Venus (SW), Jupiter (ENE); Morning Planets: Mars (ESE).

---
MONDAY

Nov 18 — ISS, LEO: Expedition 38 working with EarthKAM camera, InSPACE-3 colloidal fluid experiment, and Multi-user Droplet Combustion Apparatus to study how liquid fuel droplets ignite, spread, extinguish in microgravity.

Nov 18 — Juno, Jupiter Trajectory: In Quiet Cruise phase traveling at 38 km per second relative to Sun; scheduled to arrive at Jupiter July 4, 2016 at 16:29 HST.


Nov 18 — Mars Reconnaissance Orbiter, Mars Orbit: Collecting data on Mars with 6 science instruments, relaying back to Earth several times a day while in 2-hour orbits around planet.


Nov 18 — Comet C/2012 S1 (ISON): Mercury closest approach Nov 19; NASA to launch FORTIS (Far-ultraviolet Off Rowland Circle for Imaging and Spectroscopy) sounding rocket this week to measure ultraviolet light from comet as it nears Sun to determine production rate of volatile chemicals leaving its surface.


Nov 18 — Bigelow Aerospace, Las Vegas NV: NewSpace company recent study recommends COTS model for developing cislunar & deep-space technologies, Moon base; requesting FAA/AST policy review of lunar property rights.


 Nov 18 — Ad Astra Rocket Company, Webster TX: Seeking US$100M to build prototype of Variable Specific Impulse Magnetoplasma Rocket (VASIMR); raised $30M from private investors.


 Nov 18 — Spaceport Sweden, Kiruna, Sweden: Working with Mojave Air & Space Port on licensing, regulatory, export issues to support international expansion.


Nov 18 — Kennedy Space Center, NASA, Launch Atlas V 401 / MAVEN, Cape Canaveral AFS FL: Mars Atmosphere and Volatile EvolutioN (MAVEN) to study Mars upper atmosphere, role atmospheric loss had on climate, habitability; launch 13:28 – 16:28 EST, live coverage available, NASA centers hosting public viewing sessions; launch window Nov 18 – Dec 7.

Nov 18-19 — The National Academies, Washington DC: Meeting: Ethics Principles and Guidelines for Health and Safety Standards for Long Duration and Exploration Spaceflights; at Keck Center.

Nov 18-20 — ESA, Noordwijk, The Netherlands: 11th European Conference on Thermoelectrics (ECT 2013); to promote information exchange on TE materials, module design, manufacturing, testing; at European Space Research and Technology Centre.

Nov 18-22 — ESA, Belgian Solar-Terrestrial Centre of Excellence, Space Weather Working Team, Antwerp, Belgium: 10th European Space Weather Week; at Radisson Blu Hotel.

Nov 18 — Moon: 2.7° NNE of Aldebaran, 11:00.

Nov 18 — Asteroid 2001 AV43: Near-Earth flyby (0.008 AU).
---
Continued from…

Oct 30 – Dec 30 — Wallops Flight Facility, NASA, Louisiana Space Consortium (LaSPACE), Online / Wallops VA: Applications being accepted for student science experiments to fly on 37-km altitude balloon in fall 2014.

Oct 30 – Jan 17, 2014 — Lunar and Planetary Institute, Houston TX: Applications being accepted for LPI Summer Intern Program in Planetary Science.

Nov 7-27 — University of Cincinnati, Cincinnati OH: Neil Armstrong: The Life and Flight of a Reluctant Hero exhibit featuring Armstrong's space mask, lunar log book, award plaques; in Philip M. Meyers Jr. Memorial Gallery, Steger Student Life Center.

Nov 11-22 — Masten Space Systems, Mojave CA: Xombie technology demonstration rocket to conduct 4 flights, perform Vision Navigation System Technology Demonstration, test Precision Landing Exploration Technology (PLANET).

Nov 16 & 18 — Kennedy Space Center, NASA, Cape Canaveral AFS FL: NASA Social; 150 social media followers invited to tour KSC and view launch of MAVEN.

Nov 17-22 — IEEE Computer Society, Association for Computing Machinery, Denver CO: Supercomputing Conference 2013 (SC13); NASA showcasing latest discoveries / innovations in space travel, exploration of Universe, Earth sciences enabled by supercomputers; at Colorado Convention Center.
---
TUESDAY

Nov 19 — Orbital Sciences Corp., Launch Minotaur 1 / ORS 3, Wallops Island VA: Minotaur to launch USAF Operationally Responsive Space 3 (ORS 3) mission, STPSat 3 satellite, 28 cubesats.

Nov 19 — American Astronautical Society, Washington DC: AAS Members Event: Celebrating International Cooperation in Space and Looking to the Future; at U.S. House of Representatives, Rayburn Building, 11:30 – 13:30 EST.

Nov 19 — International Lunar Observatory Association, Space Age Publishing Co., Kamuela HI: Galaxy Forum Hawai`i 2013 – Waimea: Advancing Galaxy 21st Century Education & ILOA HQ in Hawaii; RSVP; free.

Nov 19 — British Interplanetary Society, London, United Kingdom: Using Space Technology to Improve Life on Earth; at BIS.

Nov 19 — SETI Institute, Mountain View CA: Sight-seeing in the 21st century – ices, sand, water, and dust in motion on Mars; presented by Tim Michaels of SETI, 12:00 PST.

Nov 19-21 — Venus Exploration Analysis Group, NASA, Washington DC: VEXAG Meeting 11.

Nov 19-22 — University of Cologne, Istanbul, Turkey: Conference: The Galactic Center Black Hole Laboratory.

Nov 19 — Asteroid 2013 VK13: Near-Earth flyby (0.021 AU).
WEDNESDAY

Nov 20 — U.S. House of Representatives Committee on Science, Space & Technology, Washington DC: Hearing: Subcommittee on Space – Commercial Space; at Rayburn House Office Building.

Nov 20 — British Interplanetary Society, University of Exeter, Exeter, United Kingdom: Lecture: The British Interplanetary Society (BIS) and its Influence on the UK Space Industry; with speaker Alistair Scott, 12:00 UT.

Nov 20 — Royal Astronomical Society, the Norwegian Academy of Science and Letters, London, United Kingdom: Frontiers in Astronomy: From the beginning of the Universe to the outer reaches of the Solar System.

Nov 20-22 — Johnson Space Center, NASA, Lunar and Planetary Institute, Houston TX: Asteroid Initiative Idea Synthesis Workshop; at LPI.

Nov 20-22 — University of Tokyo, Tokyo, Japan: 5th Nano-Satellite Symposium.
THURSDAY

Nov 21 — ISC Kosmotras, Launch Dnepr / Multi-payload, Yasny Launch Base, Dombarovsky, Russia: An ISC Kosmotras rocket to launch DubaiSat 2 Earth observation satellite for United Arab Emirates, STSAT 3 remote sensing / astronomy satellite for South Korea, SkySat 1 Earth observation satellite for Skybox Imaging of California, USA, and other payloads.

Nov 21 — W. M. Keck Observatory, Kamuela HI: Fall 2013 Keck Astronomy Talks: An Explosion of Exoplanets; presented by Andrew Howard at Kahilu Theatre.

Nov 21-22 — Air Force Association, Los Angeles CA: 2013 Pacific Air & Space Symposium; at Hyatt Regency Century Plaza Hotel.

Nov 21-23 — International Lunar Observatory Association, Kamuela HI: Annual Board Meeting.

Nov 21 — Moon: 5.0° SSW of Jupiter, 17:00.
FRIDAY

Nov 22 — Eurockot, Launch Rockot / Swarm, Plesetsk Cosmodrome, Russia: A Eurockot Rockot vehicle set to launch ESA Swarm mission, an Explorer mission of 3 satellites in polar orbits to probe Earth magnetic field.

Nov 22 — Lunar and Planetary Institute, Houston TX: LPI Seminar Series: Hydrogen Isotopes in Lunar Volcanic Glasses, Implications of Their Terrestrial Heritage; presented by Alberto Saal from Brown University; 15:30 CST.

 Nov 22 — Johnson Space Center, NASA, Houston TX: Lunch with an Astronaut, Brian Duffy; US$49.95 adult.

Nov 22 — Moon: At apogee (distance 405,004 km), 00:00; 11.8° SSW of Pollux, 00:00.
SATURDAY

Nov 23-24 — University Space Engineering Consortium, Tokyo, Japan: The 1st UNISEC-Global Meeting; to establish program in which university students can participate in practical space projects in more than 100 countries by end of 2020.

Nov 23 — Moon: 6.5° S of Beehive Cluster, 06:00.

Nov 23 — Comet C/2012 S1 (ISON): 4.7° SSW of Mercury, 05:00.
SUNDAY

Nov 24 — The Space Show, Online / Tiburon CA: Host Dr. David Livingston talks with William Harwood, CBS News Space analyst.

Nov 24 — International Astronautical Federation, UNESCO, ESA, Online / Paris, France: Due: Abstract Submissions for Global Space Applications Conference 2014; to be held Jun 2-4.

Nov 24 — Comet C/2012 S1 (ISON): 4.9° SSW of Saturn, 01:00.