Hawaii to the Moon: 21st Century Pacific Aloha Space Access – Offshore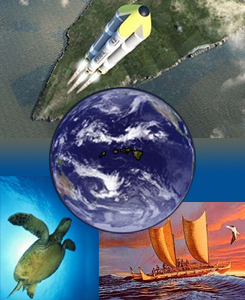 Established as a leader in Astronomy, Hawaii is now reinvesting in and recalibrating its space exploration systems analog test-site, PISCES / ILRP to provide national space agencies and commercial space enterprises the opportunity to test and improve techniques and technologies for planetary surface robotics, in situ resource utilization, skylight and lava tube exploration, and habitation in extreme environments. Now is the time for Hawaii leadership to re-imagine and renew efforts to develop Pacific Space Access by inviting and supporting proposals from Commercial launch providers to operate an Offshore Aloha Spaceport from Hilo, Hawaii or Honolulu, Oahu. At a 13 November press conference Hawaii State Senator Will Espero remarked on the potential of such endeavors to be of great benefit to the Islands if cultural and environmental considerations are respected. In memory of local hero and Challenger Astronaut Ellison Onizuka, Hawaii should strive for excellence in education, exploration and enterprise. The International Lunar Observatory Association is among many who recognize the unique advantages of geography that Hawaii holds. In addition to the unhindered flight paths and optimal latitude for launches to the Moon and beyond, Hawaii has a unique cultural heritage of exploration, navigation and self-sufficiency that should be beneficial to explorers reaching for the next frontier. (Image Credit: IOS, Bryan Berssteeg)
ESA Ministerial Council to Discuss Budget, Future Programs and Space Access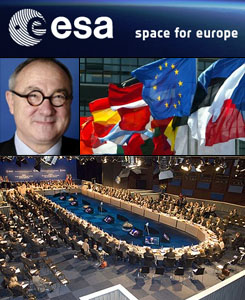 The European Space Agency and Italian Space Agency hold the Ministerial Council on November 20-21 at the Overseas Exhibition Center in Naples, Italy. The Ministerial Council meets every 3-4 years to determine the future of programs that fall under mandatory activities such as technology / project research and technical investments, and optional activities including space transportation, satellite navigation and microgravity research. Trending up, ESA budget reached about US$5.1B in 2012. This 2-day council will include participants from the 20 member states, European Union, European Science Foundation, Canada and 9 countries with ESA cooperative agreements. They will discuss whether to develop a next-generation rocket dubbed Ariane 6 or upgrade the Ariane 5 to an Ariane 5 ME (Mid-life Evolution) rocket ready to launch by 2016-7, and whether Europe will build the service module for NASA Orion deep space capsule in place of International Space Station operating payments. A press conference with ESA Director General Jean-Jacques Dordain and the Ministerial Council Chairs is scheduled at the end of the meeting on Nov 21. ESA, formed with the credo "We can do more together," continues to expand as international space organizations collaborate on future projects such as the 2015 ESA / Japan Aerospace Exploration Agency BepiColombo mission, and high-value space industries stimulate European and global economies. (Image Credit: ESA, Spaceports)
---


= All times for terrestrial events in local time unless noted.

= All times for international terrestrial events in local time unless noted.

= All times for space events, and…

= All times for international space / astro events in Hawaii Standard Time unless noted. Add 10 hours to obtain UT ('Universal Time;' Greenwich, England).
---
Weekly Planet Watch – Evening Planets: Mars (SW), Jupiter (ENE). Morning Planets: Venus (E), Saturn (E).
---
MONDAY

Nov 19 — ISS, LEO: Expedition 34 begins with Kevin Ford as commander; continuing maintenance, experiments and cargo transfers from Progress resupply ships; final 3 members Chris Hadfield, Tom Marshburn, Roman Romanenko preparing to join ISS Dec 19.

Nov 19 — Kepler, Heliocentric Orbit: Extended mission continues through 2016; measuring brightness of 150,000 stars for passing planets which mirror Earth's size and 1-year solar orbit with 0.95-m aperture and array of 42 charge coupled devices (CCDs).

Nov 19 — Cassini, Saturn Orbit: Determining Titan atmospheric temperature, composition with 50-cm diameter Composite Infrared Spectrometer (CIRS); next flyby set for Nov 29 at 1,014-km altitude near Huygens probe entry point at 11° S latitude.

Nov 19 — zero2infinity S.L., Cerdanyola del Vallès, Spain: Testing zero emission, 36-km altitude 'microbloon 2.0' near-spacecraft intended for scientific payload experiments, Earth / Space observation, human 2-hour flights; hoping to launch in 2013.

Nov 19 — Excalibur Almaz Ltd, Isle of Man, United Kingdom: Designing spacecraft based on Vozvraschaemyi Apparat (VA) capsule hull from Transport Supply Spacecraft (TKS) for commercial transportation of humans / cargo to LEO, Moon, beyond; planning for 2015 launch.

Nov 19 — Bigelow Aerospace, Las Vegas NV: Developing BA 330 orbital space complex made with Vectran material, 330-cubic meter volume, 4 large UV coated windows, solar / battery power; capable of accommodating up to 6 humans.

Nov 19 — Scheduled undocking Soyuz TMA-05M / 31S from ISS to return Sunita Williams, Yuri Malenchenko, Akihiko Hoshide to Earth; 04:26 Kazakhstan time (22:26 UT Nov 18), landing 07:53 in Kazakhstan (01:53 UT).

Nov 19-22 — Center for Galaxy Evolution Research, Asia Pacific Center for Theoretical Physics, Pohang, Gyeongsang, South Korea: 'APCTP Workshop on Astrophysics: Magnetic Fields in Astrophysics;' to discuss / review magnetic fields in stars, interstellar medium, supernovae; held at Pohang APCTP Headquarters.

Nov 19-23 — Italian Institute for Nuclear Physics, International Centre for Theoretical Physics, Trieste, Italy: 'Workshop on Recent Developments in Astronuclear and Astroparticle Physics;' held in Leonardo da Vinci Building, Main Lecture Hall at ICTP.

Nov 19 — Asteroid 1999 SF10: Near-Earth Flyby (0.035 AU).
---
Continued from…

Sept 29 – Nov 23 — Canadian Space Agency, Sudbury, Ontario, Canada: 'Living in Space Traveling Exhibit;' to illuminate challenges of daily life aboard the International Space Station; at Science North.

Oct 3 – Jan 1, 2013 — Ontario Science Centre Exhibit, Toronto, Ontario, Canada: 'Beyond Planet Earth: The Future of Space Exploration;' future technologies on display including lunar elevator model, inflatable space living habitat and robotic submersible potentially useful in search for life on Europa.

Oct 22 – Jan 18, 2013 — Lunar and Planetary Institute, Universities Space Research Association, Houston TX: Accepting undergraduate applications for '2013 LPI Summer Intern Program in Planetary Science.'

Nov 17-19 — International Lunar Observatory Association, Kamuela HI: 'ILOA Board of Directors Meeting;' Distinguished ILOA Board Members to discuss 4 ILOA missions, advance Pacific Space Access and Galaxy Forum 21st Century Education Program.

Nov 18-22 — Academia Sinica Institute of Astronomy and Astrophysics, et al, Taipei, Taiwan, China: 'The Life Cycle of Dust in the Universe: Observations, Theory, and Laboratory Experiments;' held in International Conference Hall, Academis Sinica main campus.
---
TUESDAY

Nov 20 — The Boeing Company, Kontron AG, Jerusalem, Israel: 'International Aerospace2012 Conference & Exhibition;' to discuss air and space technologies, major trends in global aviation industry; held at Jerusalem International Convention Center.

Nov 20 — W. M. Keck Observatory, Kamuela HI: '2012 Astronomy Lecture Series: Black Holes and the Fate of the Universe;' presented by Günther Hasinger of University of Hawaii; free and open to public, 19:00.

Nov 20 — SETI Institute, Mountain View CA: Colloquium: 'On the long term orbital evolution of the natural satellites;' presented by Benoit Noyelles, 12:00 PST.

Nov 20-21 — European Space Agency, Italian Space Agency, Naples, Italy: 'Ministerial Council Meeting;' to determine long-term budget of ESA, discuss fate of Ariane 5 and 6 rockets; held at Overseas Exhibition Center.

Nov 20-21 — European Space Agency, Noordwijk, The Netherlands: '26th Annual European Space Thermal Analysis Workshop;' to discuss European thermal engineering analysis tools and related methodologies.

Nov 20 — Moon: At first quarter, 04:32; 6.0° NNW of Neptune, 09:00.
WEDNESDAY

Nov 21 — Cassini OTM-336, Saturn Orbit: Spacecraft conducts Orbital Trim Maneuver #336 today.

Nov 21 — The British Interplanetary Society, London, United Kingdom: 'Lecture: Destination Titan – A Journey into Documentary Film Making;' Stephen Slater and John Zarnecki to discuss recent BBC documentary on labors behind Cassini-Huygens mission.

Nov 21 — Asteroid 2012 VD6: Near-Earth Flyby (0.072 AU).

Nov 21 — Asteroid 2012 UX68: Near-Earth Flyby (0.050 AU).
THURSDAY

Nov 22 — China Satellite Communications Corp., Launch March 3B / Chinasat 12, Xichang, China: Chinasat 12 communication satellite for China Satellite Communications Corp. to provide services for China, Middle East, Africa, Asia-Pacific region.

Nov 22 – Dec 24 — U.S. Space and Rocket Center, Huntsville Botanical Garden, Huntsville AL: '2012 Galaxy of Lights;' including Santa's Rocket Workshop and propulsion crew, lighted aircraft Aviation Challenge, Rocket Tram ride.
FRIDAY

Nov 23 — Space Center Houston, Houston TX: 'Lunch with an Astronaut,' Brian Duffy; adult US$49.95.

Nov 23 — Moon: 4.9° NNW of Uranus, 01:00.
SATURDAY

NET Nov 24 — Korea Aerospace Research Institute, Launch Naro Rocket / STSAT 2C, Goheung, South Jeolla, South Korea: Tentative date for third attempt to launch Naro Rocket with scientific satellite payload from Naro Space Center.

Nov 24 — 'Imiloa Astronomy Center, University of Hawai`i – Hilo, Hilo HI: 'Sagan Planetary Walk Exhibit;' view the installation representing Alpha Centauri (Kamailehope in Hawaiian), the star nearest to our Sun.

Nov 24-25 — SpaceUp, Industrial Research Institute for Automation and Measurements (PIAP), et al, Warsaw, Poland: 'SpaceUp Poland;' the "unconference" where participants decide space issues / topics to discuss, schedule and structure of the event; Poland is newest member of European Space Agency.

Nov 24 — Asteroid 2009 WB105: Near-Earth Flyby (0.040 AU).
SUNDAY

Nov 25 — Cassini OTM-337, Saturn Orbit: Spacecraft conducts Orbital Trim Maneuver #337 today.

Nov 25-30 — International Astronomical Union, The Fujihara Foundation of Science, Global Center of Excellence, Hakone, Japan: 'Progress in Physics of the Sun and Stars: A New Era in Helio- and Asteroseismology Conference;' to discuss latest results, future approaches in studying interior of stars; held at The Prince Hakone Hotel.

Nov 25 — Asteroid 2010 JK1: Near-Earth Flyby (0.024 AU).