Ambitious Mars Mission to Uncover Mysteries of Past, Prepare for Future Human Exploration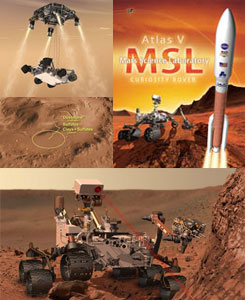 The Mars Science Laboratory (MSL), a rover with more scientific capability than any ever sent to another planet, is ready for its challenging journey to the Red Planet. Launch is set for 10:25 EST on November 25 aboard an Atlas 5 rocket from Space Launch Complex 41 at Cape Canaveral Air Force Station in Florida. The launch period for MSL will extend to Dec 18. Scheduled to arrive at Mars in Aug 2012, the 900kg rover known as Curiosity will attempt a new landing method with a rocket-powered descent stage lowering the rover on a tether like a sky-crane. Curiosity will land in a selected zone that measures 20 by 25km, next to a 5-km-high mountain inside the equatorial, 154-km Gale Crater. During its 23-month prime mission (1 year on Mars), the nuclear powered rover will use its 10 science instruments to investigate whether environmental conditions ever have been favorable for development of microbial life, and characterize the weather and natural radiation environment that will affect future human missions. In preparation for the launch, NASA has set up a 2-day Tweetup event on Nov 23 & 25 at Kennedy Space Center, along with a host of other prelaunch news conferences on Nov 21-25. (Image Credit: NASA)
Canada Space Summit to Explore Space Data Challenges, National Contributions to Space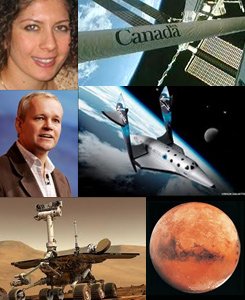 The Canadian Space Society will hold its annual 'Space Summit Conference' in Calgary, Alberta, Canada on November 23-25. Over 200 space industry professionals and enthusiasts will converge to discuss this year's theme, 'Big Data from Space and Earth: Challenges and Opportunities,' and focus on current issues regarding data sets collected from various space and ground-based instrumentation. The conference will include technical sessions on various topics including space commercialization, exploration, life science, education, Earth orbit, astronomy as well as law and policy. Canadian Space Commercialization Director Farnaz Ghadaki (TL) will chair the Nov 23 sessions on space commercialization. Speakers include Virgin Galactic Commercial Director Stephen Attenborough (CL) and Accredited Space Travel Agent Natasha Rhodes. The conference will also feature a public education event geared towards raising public awareness of Canada contributions to space exploration. The upcoming NASA Mars Curiosity Rover set to launch NET Nov 25 will carry a Canada-made science instrument, Alpha Particle X-ray Spectrometer which will enable the rover to determine the chemical composition of the rocks and soil on Mars as well as be able to gather data day and night. (Image Credit: Canadian Space Society)
---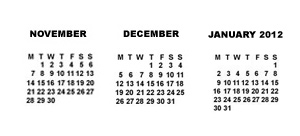 = All times for terrestrial events in local time unless noted.

= All times for international terrestrial events in local time unless noted.

= All times for space events, and…

= All times for international space / astro events in Hawaii Standard Time unless noted. Add 10 hours to obtain UT ('Universal Time;' Greenwich, England).
---
Weekly Planet Watch – Morning Planets: Mars (SSE), Saturn (ESE) / Evening Planets: Mercury (SW), Venus (SW), Jupiter (E).
---
MONDAY


Nov 21 — International Space Station, LEO: E-30 crew members Cmdr Dan Burbank, Anton Shkaplerov and Anatoly Ivanishin begin 4-month stay onboard the ISS.

Nov 21 — NASA Lunar Reconnaissance Orbiter (LRO), Lunar Orbit: LRO continues to function nominally in its 50±15 km near-circular orbit as it makes digital elevation and terrain maps that will be a fundamental reference for future human exploration.

Nov 21 — Mars Rover Opportunity, Red Planet: Scientists continue with seasonal plan for Opportunity, which is to winter over on the north end of 'Cape York' on the rim of Endeavour Crater; total odometry to date is 34.33km.

Nov 21 — The Lunar and Planetary Institute, Houston TX: 'Lecture: Remote Sensing of the Lunar Surface Focusing on the Imbrium Region – A Personal Journey,' Roberto Bugiolacchi.

Nov 21-22 — Grenoble Institute of Planetology and Astrophysics, Grenoble, France: 'Nearby Earth Astrometric Telescope 2011 Workshop.'

Nov 21-23 — Kennedy Space Center, NASA Headquarters, Cape Canaveral FL; Washington DC: 'Atlas 5 / MSL Launch Coverage Events,' science briefings and pre-launch news conference scheduled throughout the week leading to launch and will be held at the Kennedy Space Center's Press Site and NASA Headquarters.

Nov 21 — Asteroid 5261 Eureka: Closest Approach To Earth (0.514 AU).
---
Continued from…

Sep 22 — Space Adventures, NASA, ESA, JAXA, Online: Closing date submissions for 'YouTube Space Lab Competition;' through Dec 7.
---
TUESDAY

Nov 22-25 — United Nations Office for Outer Space Affairs, Beijing, China: 'United Nations International Conference on Space-based Technologies for Disaster Risk Management: Best Practices for Risk Reduction and Rapid Response Mapping.'

Nov 22 — Alpha Monocerotid Meteors: Fairly unfavorable for viewing this year, this minor shower appears to radiate from SE of Procyon.

Nov 22 — Moon: 2.3° S of Spica, 08:00; 6.3° SSW of Saturn, 10:00.
---
WEDNESDAY

Nov 23 — Commonwealth Scientific and Industrial Research Organization, Sydney, Australia: 'Lecture: From Gas to Stars – A WISE Study of Galaxies Near & Far,' Tom Jarret.

Nov 23, 25 — Kennedy Space Center, Cape Canaveral FL: NASA to host 2-day launch Tweetup for 150 of its Twitter followers for the launch of the Mars Science Laboratory Curiosity rover aboard a United Launch Alliance Atlas V 541 from Cape Canaveral Air Force Station on Nov 25.

Nov 23-25 — Canadian Space Society, Calgary, Alberta, Canada: 'Space Summit 2011: Big Data From Space and Earth – Challenges and Opportunities.'

Nov 23 — Cassini OTM-300, Saturn Orbit: Spacecraft conducts Orbital Trim Maneuver #300 today.

Nov 23 — Moon: At Perigee (Distance: 359691km); 13:00.
---
THURSDAY

Nov 24-25 — Laboratory for Space and Microgravity Research, Las Palmas de Gran Canaria, Spain: '6th Spanish Space Students,' the annual congress of the LEEM which brings together students and young professionals with Space experts, companies and organizations.

Nov 24 — Moon: New Moon; 20:10.
---
FRIDAY

NET Nov 25 — ULA, Launch Atlas 5 / MSL, Cape Canaveral FL: A ULA Atlas 5 rocket set to launch NASA's Mars Science Laboratory (Curiosity) Mission.

NET Nov 25 — ILS, Launch Proton / AsiaSat7, Baikonur Cosmodrome, Kazakhstan: An ILS Proton rocket with a Breeze M upper stage set to deploy the AsiaSat7 satellite to provide television broadcasting services over Asia, the Middle East and Australia.

Nov 25 — Space Center Houston, Houston TX: 'Lunch With an Astronaut,' Brian Duffy.

Nov 25-27 — Arizona Space University, Kennedy Space Center, Cape Canaveral FL: 'National Mars Education Conference: Bring Curiosity Into Your Classroom.'

Nov 25 — Partial Solar Eclipse: Moon to pass nearest to center of the Sun; this will be the 4th time a New Moon will orbit between the Sun and Earth to cause a solar eclipse in 2011.

Nov 25 — Moon: 4.3° NNE of Antares, 09:00;1.9° NNW of Mercury, 23:00.
---
SATURDAY

Nov 26-28 — Kennedy Space Center, Cape Canaveral FL: 'Astronaut Encounter: Apollo Astronaut Al Worden,' half-hour, interactive Q&A-oriented program aims to inspire children and adults alike to strive for excellence.

Nov 26 — Moon: 2.9° NNW of Venus; 17:00.
---
SUNDAY

Nov 27 — Asteroid 2008 KT: Near-Earth Flyby (0.067 AU).