American Astronautical Society 2013: Advancing All Space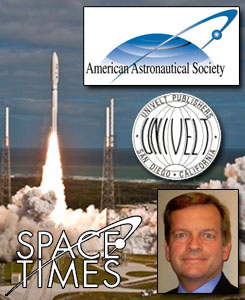 In its 58th year, AAS has about 1,400 individual members ranging from technical professionals to space enthusiasts, and 50 international corporate and institutional sponsors including SpaceX, Orbital Sciences Corp. and Universities Space Research Association. AAS itself is a member of the Coalition for Space Exploration and Space Exploration Alliance. It is also partnered with Students for the Exploration and Development of Space, Federation of Galaxy Explorers and Univelt, Inc. and strives to attract new individual, corporate and student memberships to increase awareness of its vision, contributions and hopes for future space endeavors. The AAS National Conference scheduled for November 28-29, 2012 has been canceled due to unexpected government budget restrictions on travel and support for conferences, but AAS as an independent non-profit network continues its forward progress with 6 events planned for 2013 starting with the AAS Guidance Control Conference on February 1-6 in Colorado and AAS/AIAA Space Flight Mechanics Winter Meeting on Feb 10-14 in Kauai, Hawaii. AAS focuses on advancing space science and exploration with high-quality meetings, symposia, 14 awards and 3 publications which encourage the exchange of ideas, future planning and collaboration. Commercial, governmental and global cooperation is at an all time high within the space community and AAS is dedicated to "helping the people, the profession and the enterprise flourish." Pictured: AAS President Frank Slazer. (Image Credit: AAS, Univelt, Space Times, NASA)
India Looks Up With First-For-Asia SpaceUp Unconference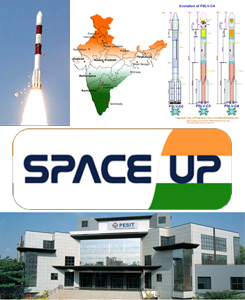 The first SpaceUp in Asia will be held on December 1, 2012 at the West Campus of the Peoples Education Society Institute of Technology in Bangalore, India. SpaceUp India is an unconference where participants spontaneously decide the topics, schedule and structure. It is organized by Dhruva Space, a start-up dedicated to research and development in space science and technology initiated by graduates of Erasmus Mundus SpaceMaster not to bring 'Space to People', but to bring 'People to Space.' India space industry and NewSpace entrepreneurs are stepping up to the challenge set forth by India Space Research Organization Chairman K. Radhakrishnan. He wants the 400-odd companies that constitute the industry in India to take on greater responsibilities for end to end systems manufacturing. On offer is nearly half of the domestic outlay for the Five Year Plan and a chance to enter a global market worth US$290B today. The goal is for a consortium of private enterprises to build an entire Polar Satellite Launch Vehicle by 2017 so that ISRO can focus on next generation missions while still keeping pace with accelerating demand for launches. At least 58 missions have been sanctioned by the government agency for the next five years, compared to 29 in the previous five. (Image Credit: SpaceUp India, PESIT)
---


= All times for terrestrial events in local time unless noted.

= All times for international terrestrial events in local time unless noted.

= All times for space events, and…

= All times for international space / astro events in Hawaii Standard Time unless noted. Add 10 hours to obtain UT ('Universal Time;' Greenwich, England).
---
Weekly Planet Watch – Evening Planets: Mars (SW), Jupiter (ENE). Morning Planets: Venus (E), Saturn (E).
---
MONDAY

Nov 26 — ISS, LEO: Expedition 34 crew of 3 continues maintenance, cleaning, media / student communications, biological experiments including Medaka Osteoclast (bone density loss of fish living in Aquatic Habitat facility), Microbe-III (monitors for presence of bacteria / fungi in Kibo module).

Nov 26 — Curiosity, Near Point Lake, Mars: Traveling East using Mast Camera to determine possible routes, average speed may be 30 m per hour; next priority is to select a rock for hammering drill 1st use, collect samples of interior.

Nov 26 — NuSTAR, LEO: Beginning 2 large mapping campaigns of Milky Way Galaxy center and Extended Chandra Deep Field-South; calibrating 10-m focal length telescope.

Nov 26 — ViviSAT LLC, Beltsville MD: Developing Mission Extension Vehicle (MEV) to refuel 90% of satellites in orbit, could extend life 3-10 years; may also reposition / redeploy satellites; plans to launch 2 MEVs, hoping for 10.

Nov 26 — Rocket Lab Ltd, Auckland, New Zealand: Testing Viscous Liquid Monopropellant (VLM) propulsion system with thixotrope propellant (pseudo-solid able to become liquid) from 2 motor testing facilities and private launch site on Mercury Island, off New Zealand East coast.

Nov 26 — Asia Broadcast Satellite Ltd, Hong Kong, China: Expanding satellite fleet with US$461M loan to acquire / complete 3 American-made communication satellites: 'ABS-2' made by MDA-SS/L to launch 2013 and 2 satellites from Boeing Co. with SpaceX launch in 2015.

Nov 26-28 — National Institute for Astrophysics, Astronomical Observatory of Rome, et al, Monte Porzio Catone, Italy: 'Conference: Reading the Book of Globular Clusters with the Lens of Stellar Evolution;' held in Observatory of Rome.

Nov 26-29 — Saha Institute of Nuclear Physics, Kolkata, India: '4th School-Cum-Workshop on Low Energy Nuclear Astrophysics (SLENA 20XII);' to discuss basics in Nuclear Astrophysics and experimental techniques of low energy measurements; at Saha Institute of Nuclear Physics.
---
Continued from…

Oct 3 – Jan 1, 2013 — Ontario Science Centre Exhibit, Toronto, Ontario, Canada: 'Beyond Planet Earth: The Future of Space Exploration;' future technologies on display including lunar elevator model, inflatable space living habitat and robotic submersible potentially useful in search for life on Europa.

Oct 22 – Jan 18, 2013 — Lunar and Planetary Institute, Universities Space Research Association, Houston TX: Accepting undergraduate applications for '2013 LPI Summer Intern Program in Planetary Science.'

Nov 22 – Dec 24 — U.S. Space and Rocket Center, Huntsville Botanical Garden, Huntsville AL: '2012 Galaxy of Lights;' including Santa's Rocket Workshop and propulsion crew, lighted aircraft Aviation Challenge, Rocket Tram ride.

Nov 25–30 — International Astronomical Union, The Fujihara Foundation of Science, Global Center of Excellence, Hakone, Japan: 'Progress in Physics of the Sun and Stars: A New Era in Helio- and Asteroseismology Conference;' to discuss latest results, future approaches in studying interior of stars; held at The Prince Hakone Hotel.
---
TUESDAY

Nov 27 — NASA Lunar Science Institute, Washington DC: 'NASA Headquarters Seminar Series: Jack Burns Ph.D;' NLSI Lunar University Network for Astrophysics Research (LUNAR) is undertaking investigations aimed at using Moon as platform for space science; 13:00 EST, live videoconferencing available.

Nov 27-29 — Applied Technologies Institute, Riva MD: 'Satellite Communications Course – an Essential Introduction;' space section focuses on space environment, orbit, launch vehicles, construction; conducted by Dr. Mark R. Chartrand; US$1,845.

Nov 27–30 — Astro-Engineering Center (AIUC), The University of Concepción, Santiago, Chile: 'Advanced Astro-Engineering School-Workshop;' held in Cardenal Samore Hall.

Nov 27 – Dec 2 — UC Berkeley, Petaluma CA: 'Meeting: Solar in Sonoma – Tracing the Connections in Solar Eruptive Events; to discuss recent results from various solar spacecraft; held in Sheraton Sonoma County Hotel.

Nov 27 — Moon: 4.5° S of Pleiades, 14:00.

Nov 27 — Asteroid 1994 XD: Near-Earth Flyby (0.052 AU).

Nov 27 — Asteroid 2012 VC6: Near-Earth Flyby (0.065 AU).
WEDNESDAY

Nov 28-29 — American Astronautical Society, Pasadena CA: 'AAS National Conference.' Canceled.

Nov 28-29 — Lithuanian Space Association, Vilnius, Lithuania: 'SEMWO 2012 – Space Economy in the Multipolar World Third international conference;' for international space affiliates to meet and exchange ideas.

Nov 28-30 — AIAA, NASA, Cleveland OH: 'NASA Technology Days;' held at Cleveland Public Auditorium and Conference Center; free and open to public, registration required.

Nov 28-30 — NASA, Huntsville AL: 'NASA Advisory Council (NAC);' at Marshall Space Flight Center.

Nov 28 – Dec 2 — Boeing Company, USRA, Lockheed Martin, Science and Technology Corp., et al, New Orleans LA: 'American Society for Gravitational and Space Biology Annual Meeting (ASGSR);' to include topics of space commercialization, research, changes, astronaut biomedical health; held at The Westin New Orleans Canal.

Nov 28 — Moon: Full Moon (Beaver Moon), 04:46; at Apogee (Distance 405,896 km), 10:00; 4.2° N of Aldebaran, 13:00; 0.67° SSW of Jupiter, 15:00.

Nov 28 — Penumbral Lunar Eclipse: Highly visible in Alaska, Hawaii, Australia, East Asia; partially visible Western Canada and USA; 02:15 – 06:51 HST.
THURSDAY

Nov 29 — Korea Aerospace Research Institute, Launch Naro Rocket / STSAT 2C, Goheung, South Jeolla, South Korea: Scheduled date for third attempt to launch Naro Rocket with scientific satellite payload from Naro Space Center.

Nov 29 — Cassini, Saturn Orbit: Titan flyby scheduled at 1,014-km altitude near Huygens probe entry point at 11° S latitude.

Nov 29–30 — National Science Foundation, Association of Universities for Research in Astronomy, et al, Tucson AZ: 'Binary Black Holes and Dual AGN: A Conference in Memory of David De Young;' held at Tucson Marriot University Park Hotel; David De Young PhD served as tenured scientist at NRAO and Associate Director of NOAO.

Nov 29-30— Scientific Council of the Astronomical Observatory of Paris, Paris, France: 'Workshop on Galaxy Formation & Large Scale Structures: Theory vs Observations;' held in Astronomical Observatory of Paris.
FRIDAY

Nov 30 — Arianespace, Launch Soyuz / Pleiades 1B, Kourou, French Guiana: Flight VS04 set to launch; Soyuz rocket will carry Pleiades 1B optical high-resolution Earth observation satellite for the French National Centre for Space Studies; 23:03 local time.

Nov 30 — The Space Transportation Association, Washington DC: 'STA Breakfast with Johann-Dietrich Woerner,' Chairman of the Executive Board German Aerospace Center (DLR) to give update on ESA Ministerial Council Meeting; at Russell Senate Office Building; free with reservation.

Nov 30 — Planetary and Terrestrial Mining Sciences, Canadian Institute of Mining, Online: 'Abstract Submission Deadline;' for those involved in space or terrestrial mining research / technology development to participate at 'CIM 2013 Convention.'

Nov 30 — Space Center Houston, Houston TX: 'Lunch with an Astronaut,' John-David Bartoe; adult US$49.95.

Nov 30 – Dec 1 — Aryavarta Space, Nirma University, et al, Ahmedabad, Gujarat, India: 'International Space Conference 2012;' to discuss space science, technology, law, policy management, aerospace medicine, life science; with chief guests Dr. V. Adimurthy and Dr. W. Selvamurthy.

Nov 30 – Dec 2 — University of Vienna, The Austrian Federal Ministry of Science and Research, et al, Vienna, Austria: '9th Vienna Central European Seminar on Particle Physics and Quantum Field Theory;' topics include dark matter, dark energy, black holes; held in Faculty of Physics at University of Vienna.
SATURDAY

NET Dec — European Space Propulsion, Northern Ireland: Aerojet subsidiary European Space Propulsion expects to achieve initial operational capability.

Dec 1 — International Space University, Online: Application deadline for 'Executive MBA 2014 Program.'

Dec 1 — SpaceUp, Dhruva Space, Vinoothna Geetha, Peoples Education Society, Bangalore, India: 'SpaceUp India;' the "unconference" where participants decide space issues / topics to discuss, schedule and structure of the event.

Dec 1-2 — International Space Innovation Centre, Satellite Applications Catapult, MetOffice, UK Space Agency, Oxfordshire, England: 'Space Solutions Hackathons;' to solve challenges relevant to using space technologies; held at Electron Building on Harwell Science and Innovation Campus.
SUNDAY

Dec 2 — Sea Launch, Launch Zenit 3SL / Eutelsat 70B, Odyssey Platform, Equator at 154° W: Sea Launch Zenit 3SL rocket to deliver Eutelsat 70B communications satellite; 12:43 PST.

Dec 2 — Cassini OTM-338, Saturn Orbit: Spacecraft conducts Orbital Trim Maneuver #338 today.

Dec 2 — University of Colorado Boulder, San Francisco CA: 'MAVEN Science Community Workshop;' to discuss Mars Atmosphere and Volatile Evolution Mission; held at Parc 55 Wyndham Hotel, Market Street Room.

Dec 2 — Planetary Society, MIT Lincoln Laboratory, U of AZ, Pasadena CA: Deadline to enter Asteroid 1999 RQ36 naming contest.

Dec 2 — Moon: 11.1° SSW of Pollux, 02:00.

Dec 2 — Asteroid 2012 VJ46: Near-Earth Flyby (0.093 AU).