EuroSpaceward Conference to Focus on Carbon Nanotechnology and Space Elevator Systems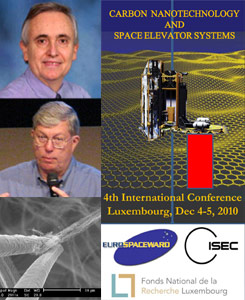 The 4th International Conference of EuroSpaceward: Carbon Nanotechnology and Space Elevator Systems will take place in Luxembourg on December 4-5. Carbon nanotubes have been constructed with length-to-diameter ratio of up to 132,000,000:1, significantly larger than any other material. Experts from around the world will discuss the latest research showing how the unique mechanical properties of this material can be exploited to facilitate the space elevator. Vesselin Shanov (TL), who has grown record length carbon nanotube arrays (BL) with his team at the University of Cincinnati, USA, will give the opening Keynote lecture on 'Advances in synthesis and application of carbon nanotube materials.' New research on space elevator systems and reports of international climber contests will be the focus of day 2 of the event. Akira Tsuchida of JAXA and Ted Semon (CL) of the International Space Elevator Consortium will provide outlooks on the future of space elevator work during the closing session. (Credit: EuroSpaceward, International Space Elevator Consortium)
Panel Discussion Set to Focus on Space Policy Implementation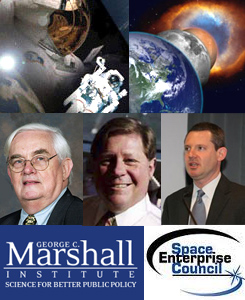 Implementing National Space Policy will be the topic of a panel discussion on December 3 at the Space Enterprise Council (SEC) headquarters in Washington DC. Sponsored by SEC and the George Marshall Institute, the event will provide a forum for space experts and former congressional members to focus on lessons learned from past and present space policies and how it can be applied to current and future policies. Panelists include former Executive Secretary and White House National Space Council member Mark Albrecht (C), former Director of the Space Policy Institute John Logsdon (L), current House Armed Services Committee Kari Bingen, former retired Air Force Major Rosie Rosenberg and former Appropriations clerk, Paul Carliner (R). With its diverse membership and affiliation with TechAmerica, the SEC works to advance the interests of USA companies through advocacy with policymakers as well as provide an ideal business environment for space enterprise. (Credit: Space Enterprise Council, Geore Marshall Institute, NASA, 123nonstop.com, xprize.org)
---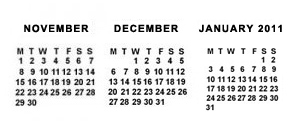 = All times for terrestrial events in local time unless noted.

= All times for international terrestrial events in local time unless noted.

= All times for space events, and…

= All times for international space / astro events in Hawaii Standard Time unless noted. Add 10 hours to obtain UT ('Universal Time;' Greenwich, England).
---
Weekly Planet Watch – Morning Planets: Venus (ESE), Saturn (ESE) / Evening Planets: Jupiter (S).
---
MONDAY

Nov 29 — International Space Station, LEO: E-25 crew members continue science and maintenance activities as they prepare for the arrival of STS-133 Discovery crew.

Nov 29 — NASA Lunar Reconnaissance Orbiter (LRO), Lunar Orbit: All systems nominal in scientific phase of mission as LRO continues to return data from the Moon.

Nov 29 — Mars Rovers Opportunity & Spirit, Red Planet: Mars Rover Opportunity continues trek to Endeavour Crater, recently crossing 25km odometry mark; 'Sweep & Beep' paging techniques for Spirit have been unsuccessful as it remains silent at Home Plate.

Nov 29 – Dec 1 — The National Academies, Washington DC: 'A Decadal Strategy for Solar and Space Physics / Panel: Solar and Heliospheric Physics.'

Nov 29 – Dec 1 — IRAM (Institute of Radioastronomy), RadioNet, Grenoble, France: 'Observing with ALMA: Early Science Workshop.'

Nov 29 – Dec 1 — The Tunisian Association for the Digital Geographic Information, Tunisia, Africa: '5th International Conference Geotunis 2010: The Use of GIS and Remote Sensing for Sustainable Development.'
---
TUESDAY

Nov 30  — The Dudley Observatory, Schenectady NY: 'The Sun and Solar Eclipses,' Jay Pasachoff.

Nov 30 – Dec 1 — NASA Office of Small Business Programs, Bethesda MD: '3rd Annual NASA Small Business Symposium and Awards Ceremony.'

Nov 30 – Dec 1 — World Technology Network, New York City NY: 'The 8th World Technology Summit / 9th Awards 2010.'

Nov 30 – Dec 2 — International Academy of Astronautics, Abuja, Nigeria: 'IAA Nigeria International Symposium on the Equatorial Plane: Attributes and Characteristics.'
---
WEDNESDAY

Dec 1 — Deep Space, Milky Way: Scientists continue to observe HIBP 13044 b, an exoplanet with a minimum mass 1.25 times that of Jupiter that entered our galaxy from another galaxy.

Dec 1 — USA Senate Committee, Washington DC: 'Senate Committee Hearing: Transition and Implementation – The NASA Authorization Act of 2010.'

Dec 1 — The SETI Institute, Mountain View CA: Colloquium Series Lecture: 'IRIS: A New Window on the Physics of the Solar Interface Region,' Bart De Pontieu.

Dec 1 — Reuben Fleet Science Center, San Diego CA: 'The Sky Tonight Planetarium Show: Winter Constellations.'

Dec 1-2 — ESA, Frascati, Italy: 'Terrafirma 6th User Workshop,' event to share in the applications and understanding of ground movement monitoring which are emerging from this state-of-the-art satellite technology.

Dec 1 — Cassini OTM-269, Saturn Orbit: Spacecraft conducts Orbital Trim Maneuver #269 today.

Dec 1 — Moon: 3.0° SW of Spica; 17:00.

Dec 1 — Asteroid 2005 GC120: Near-Earth Flyby (0.043 AU).
---
THURSDAY

Dec 2 — Moon: 6.2° SSW of Venus; 08:00.
---
FRIDAY

NET Dec 3 — NASA, Launch Discovery STS-133, Cape Canaveral FL: USA mission to the International Space Station set to deliver the Express Logistics Carrier 4, a Multi-Purpose Logistics Module and critical spare components. Delayed from Nov 1, 2 & 4.

Dec 3 — Space Enterprise Council, George Marshall Institute, Washington DC: 'National Space Policy: Learning from the Past to Improve Future Decisions,' panel discussion with John Logsdon, Kari Bingen, Mark Albrecht, Rosie Rosenberg and Paul Carliner.

Dec 3 — University of Alabama at Huntsville, Huntsville AL: Astrophysicist Neil deGrasse Tyson to speak at UAH fall commencement ceremony.

Dec 3 — Asteroid 2409 Chapman: Closest Approach to Earth (1.195 AU).
---
SATURDAY

Dec 4 — International Lunar Observatory Association, Space Age Publishing Company, Tokyo, Japan: 'Galaxy Forum Japan: Galaxy Education in the 21st Century.'

Dec 4— Zero Gravity Corporation, Miami FL: Commercial weightless flight on board G Force One.

Dec 4-5 — EuroSpaceward, Luxembourg: 'EuroSpaceward's 4th International Conference: Carbon Nanotechnology and Space Elevator Systems.'

Dec 4 — Asteroid 5790 Nagasaki: Closest Approach to Earth (1.539 AU).
---
SUNDAY

NET Dec 5 — RSA, Launch Proton / Glonass, Baikonur Cosmodrome, Kazakhstan: RSA Proton Rocket to deploy trio of satellites for the Glonass navigation system.

Dec 5 — Mercury: 6.4° S of Pluto; 07:36.

Dec 5 — Moon: 2.5° N of Antares, 00:00; New Moon (Beginning of Lunation 1088).