Association of Space Explorers Holds Planetary Congress in Saudi Arabia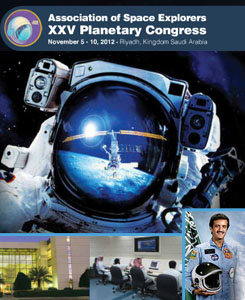 The 25th Planetary Congress of the Association of Space Explorers (ASE) is set for November 5-10 at the King Abdulaziz City for Science and Technology (KACST) under the Space and Aeronautics Technology Research Institute in Riyadh, Saudi Arabia. Held by the ASE every year, the week-long Congress serves as a forum where members interact professionally and develop ASE programs to generate communication on issues of common interest to the international space community, government agencies and the public. The ASE is an international nonprofit organization represented by over 375 space fliers from 35 countries, including Sultan bin Salman Al Saud. KACST is an 'independent scientific organization' with over 2,500 researchers and professionals on its staff. It leads 62 government agencies and over 190 national programs for the development of strategic technologies while also funding more than 400 independent research projects annually. Organized to coincide exactly with the ASE, the Saudi International Space and Aeronautics Technology Conference 2012 aims to bring together the unique experiences of astronauts and the work of leading experts in the field of astronautics. Also, Nov 11-13 will see the 2nd Saudi International Nanotechnology Conference with updates on recent innovations in basic and applied aspects of this new frontier of science. (Image Credit: ASE, KACST)
SpaceVision 2012: SEDS Shapes the Future of the Space Community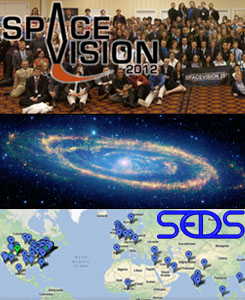 Students for the Exploration and Development of Space hosts SpaceVision 2012 from November 8-11 at the Buffalo Niagara Convention Center in Buffalo, New York. One of the largest student run, student focused conferences in the nation, this year's conference, themed "Crossroads: How Our Generation Will Take Us To the Space Frontier," will feature approximately 50-60 speakers including co-Founders of Space Frontier Foundation Jim Muncy and Rick Tumlinson, Director of the Goddard Space Flight Center Chris Scolese, President of Planetary Resources Inc. Chris Lewicki and about 20 NASA affiliates. Topics will range from commercial activities to public outreach, satellites, nuclear technologies and planetary defense. Nov 9 includes the Student NewSpace Business Plan Competition with US$1K grand prize and an invitation to the NewSpace 2013 conference in Silicon Valley. Established in 1980 primarily by Peter Diamandis, Todd Hawley and Bob Richards (giving a Keynote at 17:00 on Nov 10), SEDS now has about 35 USA and 30 international chapters. Sponsored by SpaceX, Mojave Air and Space Port, International Space University and many more, Buffalo's conference may attract up to 500 attendees encouraging networking, recruitment and inspiration for future leaders of the Space Age. (Image Credit: SEDS, NASA/JPL-Caltech/UCLA, Google)
---


= All times for terrestrial events in local time unless noted.

= All times for international terrestrial events in local time unless noted.

= All times for space events, and…

= All times for international space / astro events in Hawaii Standard Time unless noted. Add 10 hours to obtain UT ('Universal Time;' Greenwich, England).
---
Weekly Planet Watch – Evening Planets: Mercury (SW), Mars (SW), Jupiter (ENE). Morning Planets: Venus (E).
---
MONDAY

Nov 5 — ISS, LEO: Expedition 33 with new crew Kevin Ford, Oleg Novitsky, Evgeny Tarelkin unloading 2,630 kg of supplies from Progress 49 cargo craft including 1,242 kg of spare parts, 930 kg of propellant, 420 kg of water; preparing for scheduled departure of Sunita Williams, Yuri Malenchenko, Akihiko Hoshide Nov 18.

Nov 5 — Curiosity, Gale Crater, Mars: Identifying, analyzing Martian soil particles smaller than 150 µm; mineralogy similar to Hawaii volcanic basaltic soils; using 10 instruments to determine if areas were ever suitable for microbial life; measuring atmosphere for methane.

Nov 5 — Dawn, Main Asteroid Belt: Traveling en route to 952-km diameter Ceres scheduled approach Feb 2015; reporting data on light / dark material on 530-km diameter Vesta; suggests 300 carbon-rich 1 to 10-km diameter asteroids hit Vesta during last 3.5B years.

Nov 5 — HyperV Technologies Corp., Chantilly VA: Requesting pledges to continue designing, building prototype of electric pulsed plasma jet thruster from existing plasma accelerator to operate at 5 pulses per second, produce specific impulse of 2,000 sec.

Nov 5 — B612 Foundation, Mountain View CA: Estimating 2017 launch for 5.5-year mission of 50.8-cm diameter infrared telescope being created by Ball Aerospace and Technologies Corp. to catalogue 90 percent of asteroids 140 m in diameter or larger while in Venus-like orbit around sun.

Nov 5 — Orbital Technologies Corp., Madison WI: Analyzing data from successful flight test of new Vortex Liquid Rocket Engine; working on configuration of VR-3A Vision liquid rocket engine for NASA in-space and planetary propulsion systems including Space Launch System.

Nov 5 — National Space Biomedical Research Institute, Houston TX: Stage-1 applications due for Space Medicine and Related Technologies Commercialization Assistance Program (SMARTCAP) award for small company to develop human health / space related product.

Nov 5-7 — European Space Agency, ASI, European Space Foundation, National Institute for Astrophysics, et al, Torino, Italy: 'GREAT-ESF Workshop: Gaia and Exoplanets – GREAT Synergies on the Horizon;' to discuss ESA Gaia launch in 2013, current / future programs for planet detection.

Nov 5-8 — AIAA, CSA, IEST, NASA, John Hopkins University Applied Physics Laboratory, et al, Annapolis MD: '27th Space Simulation Conference: Testing Challenges – Innovation Leading to Successful Results;' tutorial day followed by 3 technical session days on environmental testing techniques; Double Tree Hotel.

Nov 5-9 — European Space Agency, Belgian Solar-Terrestrial Center of Excellence, Space Weather Working Team, et al, Brussels, Belgium: '9th European Space Weather Week;' highlighting innovations in space weather research, applications, services; The Royal Academy of Belgium, 10:00 CET.

Nov 5-10 — King Abdulaziz City for Science and Technology, Association of Space Explorers, Riyadh, Saudi Arabia: 'The Saudi International Space & Aeronautics Technology Conference 2012.'

Nov 5 — Moon: 6.3° SSW of Beehive Cluster, 23:00.

Nov 5 — Asteroid 214869 (2007 PA8): Near-Earth Flyby (0.043 AU).
---
Continued from…

Oct 22 – Nov 9 — NASA Lunar Science Institute, Online: 'Request for Input: Naming of the NEW NASA science and exploration institute.'

Oct 22 – Jan 18, 2013 — Lunar and Planetary Institute, Universities Space Research Association, Houston TX: Accepting undergraduate applications for '2013 LPI Summer Intern Program in Planetary Science.'

Nov 3-11 — Kennedy Space Center Visitor Complex, Titusville FL: 'Sneak-a-Peek Tour of Space Shuttle Atlantis;' limited viewing of Atlantis before exhibit unveiled July 2013; US$50 adult, US$40 children.

Nov 4-10 — Association of Space Explorers, Riyadh, Saudi Arabia: 'The 25th ASE Planetary Congress.'
---
TUESDAY

Nov 6 — USA Campaign 2012, Nationwide: New US President advancing American lunar activity could end greatest retreat in US national history — the retreat from the Moon; restoration of NASA traditional 1% of budget imperative for national prosperity, growth, success.

Nov 6-7 — Applied Technologies Institute, Riva MD: 'Spacecraft Reliability, Quality Assurance, Integration & Testing Course;' conducted by Eric Hoffman from Johns Hopkins Applied Physics Laboratory Space Department; US$1,140.

Nov 6-8 — Max Planck Institute for Radio Astronomy, University of Cologne, German Research Foundation, Bonn, Germany: 'Workshop: Nuclei of Seyfert Galaxies and QSOs: Central Engine & Conditions of Star Formation;' to discuss star formation, supermassive black holes; limit 80 participants.

Nov 6-9 — Scientific Committee on Solar-Terrestrial Physics, Indian Institute of Science Education and Research, Pune, India: 'International Symposium on Solar-Terrestrial Physics;' highlighting space weather and climate, interplanetary medium, solar wind, atmosphere, interior.

Nov 6 — Moon: At last quarter, 14:36.

Nov 6 — Mercury: 6.0° WNW of Antares, 05:00.
WEDNESDAY

Nov 7 — The British Interplanetary Society, London, England: 'Delivering a Permanent Place in Space & Book Signing;' discussion and book signing of David Baker's Haynes International Space Station Manual.

Nov 7 — Moon: 5.58° SSW of Regulus, 17:00.
THURSDAY

Nov 8-9 — Jet Propulsion Laboratory, Pasadena CA: 'The von Kármán Lecture Series: Exploring New Worlds with the Dawn Mission;' held at The von Kármán Auditorium at JPL on Nov 8 with live streaming webcast available online; The Vosloh Forum at Pasadena City College on Nov 9.

Nov 8-9 — NASA Exoplanet Science Institute, Pasadena CA: '2012 Sagan/Michelson Fellows Symposium;' current / past graduates to discuss cutting edge efforts in exoplanet research; Caltech Hameetman Auditorium.

Nov 8-9 — Secure World Foundation, International Space University, Beihang University, Beijing, China: '2012 Beijing Space Sustainability Conference;' to discuss long-term sustainability issues of outer space activities; Beihang University.

Nov 8-11 — Students for the Exploration & Development of Space (SEDS), Space Frontier Foundation, et al, Buffalo NY: 'SEDS SpaceVision 2012 Conference: Crossroads – How Our Generation Will Take Us To the Space Frontier.'

Nov 8 — Asteroid 2012 UR158: Near-Earth Flyby (0.064 AU).
FRIDAY

Nov 9 — Korea Aerospace Research Institute, Launch Naro Rocket / STSAT 2C, Goheung, South Jeolla, South Korea: Third attempt to launch Naro Rocket with scientific satellite payload from Naro Space Center.

Nov 9 — Arianespace, Launch Ariane 5 / Eutelsat 21B & Star One C3, Kourou, French Guiana: Ariane 5 ECA rocket, designated VA210, set to launch Eutelsat 21B and Star One C3 communication satellites.

Nov 9 — Commonwealth Scientific and Industrial Research Organisation, The Australia Telescope National Facility Colloquium, Sydney, Australia: 'Here Be Dragons: The dynamic radio sky;' Geoff Bower, UC Berkeley to discuss new generation telescopes and surveys, recent efforts.

Nov 9 — Lunar and Planetary Institute, Houston TX: 'The Early Shape of the Moon;' presented by Ian Garrick-Bethell; 15:30 CST.

Nov 9 — Cassini OTM-334, Saturn Orbit: Spacecraft conducts Orbital Trim Maneuver #334 today.
SATURDAY

Nov 10 — International Lunar Observatory Association, Space Age Publishing Company, Science Agora, Tokyo, Japan: 'Galaxy Forum Japan 2012 – Tokyo: Galaxy Education and Galaxy Enterprise in the 21st Century;' Galaxy Forum as part of the Science Agora at Miraikan National Museum of Emerging Science and Innovation, 15:00 – 17:00 JST.

Nov 10 — Space Tourism Society, Los Angeles CA: 'Seminar: Space Experience Economy (SEE);' presented by John Spencer, Founder/President of STS; Crowne Plaza Hotel, US$175.

Nov 10 — Asteroid 2012 UV136: Near-Earth Flyby (0.015 AU).
SUNDAY

Nov 11-13 — King Abdulaziz City for Science and Technology, Association of Space Explorers, Riyadh, Saudi Arabia: '2nd Saudi International Nanotechnology Conference (2SINC) 2012.'

Nov 11-14 — French Exobiology Society, Frejus, France: '2nd Exobiology Workshop of the French Exobiology Society;' to discuss exoplanets, habitability, exobiology, early evolution of life.

Nov 11-15 — Pacific International Space Center for Exploration Systems (PISCES), AIAA, American Society of Civil Engineers, The International Society for Terrain-Vehicle Systems, Waikoloa HI: '2012 PISCES Symposium: Pioneering Sustainable Settlements Beyond Low-Earth Orbit.'

Nov 11 — Moon: 5.1° SSW of Venus, 06:00; 0.91° SW of Spica, 15:00.