Singularity Holds First International Program in São Paulo, Brazil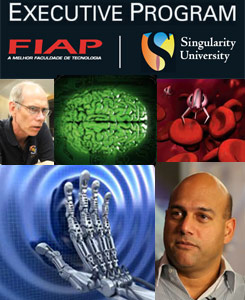 On November 8-13, Singularity University will hold its first program outside of its campus at NASA Ames Research Park in Silicon Valley, California. As a partnership between Faculty of Informatics and Management Paulista (FIAP) and Singularity University, the International Executive Program will take place at FIAP's campus in São Paulo, Brazil. Group lectures and discussion with up to 350 participants will be taught in person by select SU faculty including biotechnology expert Andrew Hessel, former NASA astronaut and robotics expert Dan Barry and SU Executive Director Salim Ismail. The program will provide attendees with an understanding of how accelerating technologies will be transforming business and society by reviewing what is in the lab today and where the technologies will be within the next 3 to 10 years. Areas of focus include biotechnology and bioinformatics, advances in the production of renewable energy, the evolution of networking and computer systems, intelligent machines and the future of biomedicine. (Credit: FIAP, Singularity University)
JUSTSAP Conference to Focus on Multi-National Space Settlement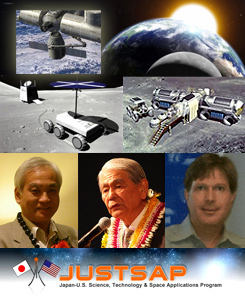 The Japan-U.S. Science, Technology and Space Applications Program (JUSTSAP) will take place in Kohala, Hawai`i Island from November 14-18. Now in its 20th year, nearly 50 sponsors including NASA, JAXA, The Space Foundation and several prominent education institutions such as George Washington University and the International Space University are supporting the event. Participants include Hawaii Office of Aerospace Development Director Jim Crisafulli, former Hawaii Governor George Ariyoshi (C), Ames Research Center Communications Director / 2010 JUSTSAP Keynote speaker Gary Martin (R) as well as scientists and space entrepreneurs from USA, Japan and Europe. The 5 scheduled plenary sessions will focus around this year's theme, "The Next Giant Leap: Building Sustainable Settlements Beyond Low-Earth Orbit" with presentations on establishing multinational lunar initiatives and the role of commercial space development for robotic and human settlement beyond LEO. Pictured: Japan Vice Chair of JUSTSAP Osamu Odawara (L). (Credit: JUSTSAP, NASA, Frednet.com, East-West Center, gestalta.net)
---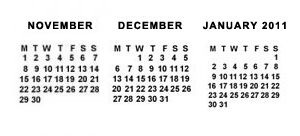 =
All times for terrestrial events in local time unless noted.

= All times for international terrestrial events in local time unless noted.

= All times for space events, and…

= All times for international space / astro events in Hawaii Standard Time unless noted. Add 10 hours to obtain UT ('Universal Time;' Greenwich, England).
---
Weekly Planet Watch – Morning Planets: Venus (ESE), Venus (ESE) / Evening Planets: Jupiter (SE).

---
MONDAY

Nov 8 — International Space Station, LEO: E-25 crew continues with science and maintenance.

Nov 8 — NASA Lunar Reconnaissance Orbiter (LRO), Lunar Orbit: All systems nominal in scientific phase of mission as LRO continues to return data from the Moon.

Nov 8 — Mars Rover Project, Red Planet: NASA JPL scientists and Amazon.com continue partnership to test cloud computing software to develop daily plans for rover operations.

Nov 8 — The Space Show, Nationwide: This week's Space Show continues to cover important space issues with informative interviews from space advocates.

Nov 8 — NASA, Washington DC: Media teleconference to discuss a new discovery from the Fermi-Gamma Ray Space Telescope.

Nov 8 — Space Transportation Association, Washington DC: Presentation / Q&A luncheon session with Goddard Space Flight Center Director Bill Wrobel.

Nov 8-9 — NASTAR Center, Philadelphia PA: 'NASTAR 2-Day Space Training Program.'

Nov 8-10 — The National Academies Space Studies Board, Irvine CA: 'SSB Fall Workshop 2010: Sharing the Adventure with the Public – The Value and Excitement of Grand Questions of Space Science and Exploration.'

Nov 8-12 — Goddard Spaceflight Center, Greenbelt MD: 'Fermi-Swift GRB Data Analysis Workshop,' event to introduce participants to GRB missions by experts from the Swift and Fermi instrument teams.

Nov 8-12 — International Astronomical University, Michoacan, Mexico: '13th Latin American Regional IAU Meeting.'

Nov 8-13 — Singularity University, Faculty of Informatics and Management Paulista (FIAP), Sao Paulo, Brazil: '1st International 6-day Executive Program,' open to the public, entrepreneurs, and MBA students, held for the first time on FIAP campus.

Nov 8-15 — NASA, USA Office of Science & Technology, Johannesburg; Kimberley; Bloemfontein; Durban; Cape Town, South Africa: NASA former Astronaut Jeff Hoffman, IAU President Robert Williams & Western Kentucky University Professor Charles McGruder to hold public lectures around South Africa to increase space awareness and support Africa's bid to host the Square Kilometer Array (SKA) radio telescope.

Nov 8 — Cassini OTM-265, Saturn Orbit: Spacecraft conducts Orbital Trim Maneuver #265 today.
---
Continued from:

Oct 29 — Windows to the Universe, Global: 'Great World Wide Star Count,' event to raise awareness about light pollution and the night sky as well as encourage learning in astronomy; through Nov 12.

Nov 7 — European Southern Observatory, Copiapo, Chile: 'Spiral Structure in the Milky Way: Confronting Observations and Theory;' through Nov 10.

Nov 7 — Harvard Department of Astronomy, Smithsonian Astrophysical Observatory, Boston MA: '20th Annual Astronomical Data Analysis Software and Systems (ADASS) Conference,' provides a forum for scientists and developers concerned with algorithms, software and software systems employed in the acquisition, reduction, analysis, and dissemination of astronomical data; through Nov 11.
---
TUESDAY

Nov 9 — Johnson Space Center, Houston TX: 'STS-133 Tweet-up Tuesday,' NASA to give 50 Twitter followers opportunity to tour center, view mission control and speak with managers, flight directors, trainers and astronauts.
---
WEDNESDAY

Nov 10 — The SETI Institute, Mountain View CA: Colloquium Series Lecture: 'A Statistical Equation for the Distribution of Habitable Planets in Our Galaxy,' Claudio Maccone.

Nov 10 — American Astronautical Society, Online: Online registration due for 'International Space Station – The Next Decade,' held Nov 16-17 in Cape Canaveral FL.

Nov 10 — Intech Science Center & Planetarium, Winchester, United Kingdom: 'Space Lecture: Tour of the Night Sky,' Ninian Boyle.

Nov 10-11 — Diamond Light Source Ltd, Oxfordshire, United Kingdom: 'Synchrotron Radiation in Earth, Space & Planetary Science: Exploiting the UK's Newest Facility.'

Nov 10 — Mars: 3.9° N of Antares; 15:00.

Nov 10 — Asteroid 149 Medusa: Closest Approach to Earth (1.042 AU).
---
THURSDAY

Nov 11 — Lunar and Planetary Institute, Houston TX: 'LPI Seminar Series: Numerical Modeling of Impact Ejecta,' Natalia Artemieva.

Nov 11 — California Academy of Sciences, San Francisco CA: 'CAS NightLife & Planetarium Show: Life – A Cosmic Story,' AIAA-SF members to plan group trip to attend event.

Nov 11-12 — Jet Propulsion Laboratory, Pasadena CA: 'The von Karman Lecture Series: The JUNO Mission to Jupiter,' Steve Matousek.

Nov 11 — Cassini Titan Flyby, Saturn Orbit: Spacecraft conducts flyby of Saturn moon Titan (altitude 7921 km).
---
FRIDAY

Nov 12 — Northern Taurid Meteors: Radiating from the constellation Taurus, this meteor shower identified as one of the oldest meteor streams associated with Comet Encke.
---
SATURDAY

Nov 13 — Moon: At First Quarter; 06:37.

---
SUNDAY

NET Nov 14 — International Launch Services, Launch Proton / SkyTerra 1, Baikonur Cosmodrome, Kazakhstan: International Launch Services Proton Rocket with a Breeze M upper stage to deploy SkyTerra 1 mobile communications satellite to cover North and Central America.

Nov 14-18 — Japan-US Science, Technology & Space Applications Program, Hawai`i Island HI: '2010 JUSTSAP Symposium: The Next Giant Leap – Building Sustainable Settlements Beyond Low-Earth Orbit.'

Nov 14 — Cassini OTM-266, Saturn Orbit: Spacecraft conducts Orbital Trim Maneuver #266 today.