3 Countries to Host International Astronomy Events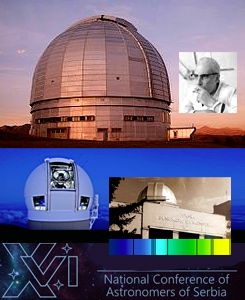 Advancing astronomy will be the focus of several international events taking place in Russia, Serbia and the United Kingdom. On October 10-13, the Russian Academy of Sciences will hold 'The International Conference on Large Telescopes' at its Special Astrophysical Observatory (SAO-RAS) (T) in Nizhnii Arkhyz. At least 60 participants from Russia, USA, France, Germany and South Africa are expected to attend.  This year will mark the centennial of the birth of Bagrat Ioannisiani (1911-1985) (TR), the chief designer of the BTA 6m aperture optical telescope at SAO-RAS. On Oct 10-12, the Royal Observatory of Edinburgh (ROE) will hold a 3-day workshop on 'Following the Photons: Astronomical Simulations for Instruments and Telescopes' at ROE, United Kingdom. The program will include contributions from telescopes that have recently entered operation or are currently in the construction / planning phases such as Herschel, PanSTARRS (CL), ALMA, Gaia, JWST, E-ELT and Euclid. University of Barcelona Scientist Xavier Luri will give a keynote presentation on 'Gaia, the Universe in 3D: an Overview of the Mission' and University of Hawaii Scientist Nick Kaiser will discuss Pan-STARRS Optics. The Astronomical Observatory of Belgrade (B) and Belgrade University will sponsor the '16th National Conference of Astronomers of Serbia' in Belgrade. The event will be attended by over 100 astronomers and include 9 sessions, 70 presentations and 30 posters on various topics in astronomy. (Credit: SAO-RAS, Astronomical Observatory of Belgrade, pan-starrs.ifa.hawaii.edu, visualrian.com)
15th NEEMO Mission to Aid in Development of Crewed Asteroid Mission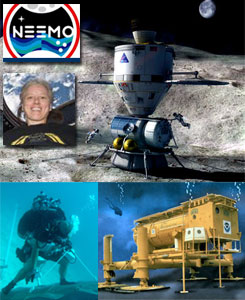 An international crew of 9 astronauts and aquanauts will embark on an underwater journey near Key Largo FL on October 17 to test innovative solutions to engineering challenges posed by a crewed mission to an asteroid. NASA astronaut Shannon Walker will lead the 15th expedition of NASA Extreme Environment Mission Operations (NEEMO), a 13-day mission aboard the Aquarius Underwater Laboratory. Aquarius is owned by NOAA and operated by the University of North Carolina, Wilmington. The other members of the NEEMO crew are JAXA astronaut Takuya Onishi, CSA astronaut David Saint-Jacques, Mars Exploration Rover Project PI Steve Squyres, and aquanauts James Talacek and Nate Bender. Veteran NASA spacewalkers Stan Love, Richard Arnold and Mike Gernhardt will participate from the DeepWorker submersible, which will serve as a stand-in for the Space Exploration Vehicle. NEEMO 15 will investigate different anchoring methods along with different strategies for deploying instruments and moving along a surface without gravity. (Credit: NASA)
---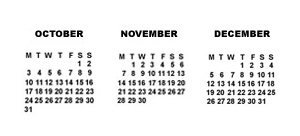 = All times for terrestrial events in local time unless noted.

= All times for international terrestrial events in local time unless noted.

= All times for space events, and…

= All times for international space / astro events in Hawaii Standard Time unless noted. Add 10 hours to obtain UT ('Universal Time;' Greenwich, England).
---
Weekly Planet Watch – Morning Planets: Mars (E), Jupiter (S) / Evening Planets: Venus (WSW), Jupiter (ENE).
---
MONDAY

Oct 10 — International Space Station, LEO: E-29 crew members continue to work with a variety of science experiments as preparations continued for the departure of the ISS Progress 42 resupply craft on Oct 29.

Oct 10 — NASA Lunar Reconnaissance Orbiter (LRO), Lunar Orbit: All systems nominal in scientific phase of mission as LRO continues to make digital elevation and terrain maps that will be a fundamental reference for future human exploration.

Oct 10 — NASA Gravity Recovery and Interior Laboratory (GRAIL), Cislunar Space: GRAIL A & B Spacecraft continues on path to the Moon after successful execution of initial flight path correction maneuvers which used 3.7kg of propellant.

Oct 10 — Mars Rover Opportunity, Red Planet: Opportunity continues examination of 22km – dm Endeavour crater, having driven more than 33.5km to date.

Oct 10 — Popular Mechanics Magazine, New York City NY: NASA rovers Spirit and Opportunity selected for lifetime achievement award honors as part of the Breakthrough Awards presented by Popular Mechanics magazine.

Oct 10-12 — European Science Foundation, The Paris Observatory, et al, Paris, France: 'Orbital Couples – 'Pas de Deux' in the Solar System and Milky Way.'

Oct 10-12 — Royal Observatory Edinburgh, UK Astronomy Technology Center, et al, Edinburgh, United Kingdom: 'Workshop: Following the Photons – Astronomical Simulations for Instruments & Telescopes.'

Oct 10-12 — The Astronomical Observatory of Belgrade, Belgrade University, et al, Belgrade, Republic of Serbia: '16th National Conference of Astronomers of Serbia.'

Oct 10-13 — Russian Academy of Sciences, Nizhnii Arkhyz, Russia: 'International Conference on Large Optical Telescopes.'

Oct 10-14 — United Nations Office for Outer Space Affairs, Vietnam Academy of Science and Technology, ESA, et al, Hanoi, Vietnam: 'Space Technology for Applications for Socio-Economic Benefits Workshop.'

Oct 10-15 — NASA, ESA, Smithsonian Astrophysical Observatory, et al, Cambridge MA: 'Hinode 5 Meeting: Exploring the Active Sun,' event to focus on the Hinode satellite launched in 2006, an international collaboration of space agencies, industry and research organizations dedicated to measuring solar magnetic fields.

Oct 10 — Asteroid 2005 SL: Near-Earth Flyby (0.066 AU).
---
Continued from . . .

Oct 4 — World Space Week Association, Global: 'World Space Week 2011;' through Oct 10.

Oct 9 — Geological Society of America, Minneapolis MN: '2011 GSA Annual Meeting;' through Oct 12.
---
TUESDAY

Oct 11 — Kennedy Space Center, Cape Canaveral FL: Media interview with NASA Administrator Charles Bolden during a visit to KSC at 11:00 EDT.

Oct 11 — Cassini OTM-294, Saturn Orbit: Spacecraft conducts Orbital Trim Maneuver #294 today.

Oct 11 — Moon: Full Moon (Full Hunter's Moon); 16:06.

Oct 11 — Delta Aurigid Meteors:Appearing to radiate from Constellation Auriga, this shower occurs whenever the Earth passes through the dusty debris left behind by Comet Kiess.

Oct 11 — Asteroid (Near-Earth Flyby): 2011 HC36 (0.098 AU); 2011 SC25 (0.099 AU).
---
WEDNESDAY

NET Oct 12 — ISRO, Launch PSLV / Megha-Tropiques, Sriharikota, India: ISRO Polar Satellite Launch Vehicle (PSLV) set to launch the Megha-Tropiques research satellite managed by India and France, to study the water cycle and climate in the tropics.

Oct 12 — The SETI Institute, Mountain View CA: Colloquium Series Lecture: 'Earth Science Collaborative for Ecological Forecasting,' Ramakrishna Nemani.

Oct 12 — NASA Headquarters, Washington DC: News briefing at 13:00 EDT to discuss the next Earth-observing satellite mission, the National Polar-orbiting Operational Environmental Satellite System Preparatory Project, scheduled to launch NET Oct 27 from Vandenberg Air Force Base CA.

Oct 12 — International Space University, Strasbourg, France; Online: Deadline for Abstracts for '16th ISU International Symposium: Sustainability of Space Activities – International Issues and Potential Solutions.'

Oct 12 — Intech Science Center and Planetarium, Winchester, United Kingdom; 'Lecture: Apocalypse in 2012? Myth and Science,' Francisco Diego.

Oct 12-13 — Content and Communications World, New York City NY: 'Satellite and Content Delivery Conference and Expo (SATCON) 2011.'

Oct 12 — Moon: At Apogee (Distance 406434km); 02:00.

Oct 12 — Asteroid (Near-Earth Flyby): 2011 SE97 (0.020 AU); 2010 GM65 (0.038 AU); 2011 SE16 (0.079 AU)
---
THURSDAY

Oct 13 — WM Keck Observatory, Kamuela HI: 2011 Astronomy Lecture Series: 'Oodles of Exoplanets: The Search for Other Habitable Worlds,' Greg Laughlin.

Oct 13 — NASA Headquarters, Washington DC: 'NASA Tweet-up,' special Tweetup with Sandy Magnus and Chris Ferguson, crew members of the final STS-135 Space Shuttle mission at 16:00 EDT.

Oct 13-14 — Jet Propulsion Laboratory, Pasadena CA: The von Karman Lecture Series: 'A Self-Powered Underwater Robot for Ocean Exploration and Beyond,' Yi Chao.

Oct 13 — Moon: 4.7° N of Jupiter; 08:00.

Oct 13 — Asteroid (Closest Approach to Earth): 5682 Beresford (0.692 AU); 100000 Astronautica (0.755 AU).
---
FRIDAY

Oct 14 — Ames Research Center, Moffett Field CA: NASA to host Tweetup for 50 Twitter followers which will include a tour of the Stratospheric Observatory for Infrared Astronomy (SOFIA) aircraft.

Oct 14-16 — Cross Commerce Media, Zero G Art, Challenger Center for Space Science, New York City NY: 'Celestial Matters,' a space-art exhibit.

Oct 14 — Asteroid 2011 SQ12: Near-Earth Flyby (0.097 AU).
---
SATURDAY

Oct 15 — Moon: 2.7° SSE of Pleiades; 05:00.

Oct 15 — Asteroid 1990 UA: Near-Earth Flyby (0.084 AU).
---
SUNDAY

Oct 16 — Moon: 5.9° N of Aldebaran; 01:00.