Moscow International Solar System Symposium to Focus on Mars Exploration
The Space Research Institute is holding the 1st annual Moscow International Solar System Symposium (1M-S³) on October 11-15 in Moscow, Russia. This year's theme will be Mars system studies with particular focus on the Russia Phobos Sample Return Mission, which is in preparation for launch in the end of 2011. Eric Galimov, head of the Vernadsky Institute of Geochemistry and Analytical Chemistry, and Yu Kostitcyn will provide a review of the scientific goals of the Phobos samples laboratory studies. There will also be sessions on the Mars environment, unsolved questions of Phobos and Deimos, recent results of Mars and Phobos studies and future planetary meetings. The final session will feature a presentation by Hideo Hanada on the development of selenodetic instruments for Japanese lunar explorer SELENE-2. On Oct 15 there will be a splinter meeting on Russia-France cooperation in solar system exploration. Projected topics for future years of this international symposium include the formation and evolution of the Solar system, planetary systems of other stars and exobiology. (Credit:)
Zero-G Flights Encourage Commercial Human Spaceflight, Education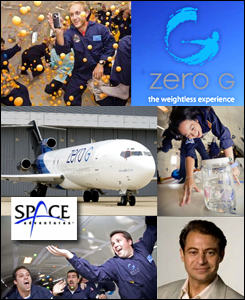 On October 16, Zero Gravity Corporation (Zero-G) passengers will board the G-Force One for a weightless flight experience from McCarran International Airport in Las Vegas NV. The plane will conduct 12-15 parabolas, with each parabola simulating 30 seconds of reduced gravity. The parabolas are performed when the aircraft climbs at a 45° angle and reaches an altitude of 9800m. The plane is then 'pushed-over' and the aircraft points down at a 30° angle as everything in the plane becomes weightless for 20-30 seconds. Each parabola takes approximately 16km of airspace to perform. Zero G was co-founded in 2004 by X Prize Chairman Peter Diamandis (BR), astronaut Byron Lichtenberg and NASA Engineer Ray Cronise and later acquired by Space Adventures Ltd, the 1st commercial spaceflight company to launch 7 clients on 8 successful missions to the ISS.  Since its start, Zero G has successfully flown more than 6,000 passengers aboard 250+ weightless flights, established a microgravity services contract with NASA and implemented several education and research programs for educators. On Oct 3, Zero G conducted its 1st flight from Honolulu International Airport in Honolulu HI. Thirty Hawaii math and science teachers were able to experience a Zero G flight sponsored by the Northrop Grumman Foundation Discovery Program to inspire young people to pursue STEM education. (Credit: Zero Gravity Corporation, Space Adventures)
---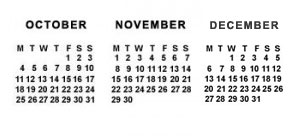 = All times for terrestrial events in local time unless noted.

= All times for international terrestrial events in local time unless noted.

= All times for space events, and…

= All times for international space / astro events in Hawaii Standard Time unless noted. Add 10 hours to obtain UT ('Universal Time;' Greenwich, England).
---
Weekly Planet Watch –  Evening Planets: Venus (WSW), Mars (SW), Jupiter (ESE).

---
MONDAY

Oct 11 — International Space Station, LEO: E-25 crew members aboard the ISS include Cmd. Doug Wheelock, Flight Engineers Fyodor Yurchikhin, Shannon Walker, Oleg Skripochka, Alexander Kaleri and Scott Kelly.

Oct 11 — NASA Lunar Reconnaissance Orbiter (LRO), Lunar Orbit: All systems nominal in scientific phase of mission as LRO continues to return data from the Moon.

Oct 11 — Mars Rover Opportunity, Red Planet: Mars rover continues trek to Endeavour Crater as total odometry to date passes 24km.

Oct 11-14— ESA, Venice, Italy: 'Science With the Hubble Space Telescope 3: 2 Decades and Counting .'

Oct 11-15 — International Astronomical Union, Torino, Italy: 'IAU Symposium 276: The Astrophysics of Planetary Systems: Formation, Structure, and Dynamical Evolution.'

Oct 11-15 — Space Research Institute of Russian Academy of Science, Moscow, Russia: 'The 1st Moscow Solar System Symposium.'

Oct 11 — Moon: 2.5° NNE of Antares; 07:00.

Oct 11 — Asteroid 2010 SX11: Near-Earth Flyby (0.051 AU).
---
Continued from . . .

Oct 10 — Lockheed Martin, Washington DC: '1st USA Science & Engineering Festival,' featuring over 500 science & engineering organizations from across the nation for hands-on science activities to inspire the next generation of scientists and engineers; through Oct 24.
---
TUESDAY

Oct 12 — Space Frontier Foundation, New York NY: '2nd TEDxMidTownNY: Sustainable Settlement – In Space,' participants to discuss requirements for sustainable space settlement featuring MirCorp Co-Founder Rick Tumlinson and SpaceWorks President AC Charania.
---
WEDNESDAY

Oct 13 — National Space and Technology Association, Houston TX: '3rd Annual State-of-the-City Technology Report and EXPO.'

Oct 13 — The SETI Institute, Mountain View CA: 'The Chicken and Egg Problem of the Origin of Life,' Nick Woolf.

Oct 13 — Intech Science Center, Winchester, United Kingdom: 'Lecture: What's New in the Solar System,' Robin Catchpole.

Oct 13-14 — JD Events LLC, New York NY: 'SATCON 2010: Satellite and Content Delivery Conference and Expo.'

Oct 13-15 — ESA, Lausanne, Switzerland: '4th International Workshop on System & Concurrent Engineering for Space Applications.'

Oct 13-22 — Singularity University, Moffett Field CA: 'Exponential Technologies Executive 9-Day Program.'

Oct 13 — Comet 236P / LINEAR: Closest Approach to Earth (0.904 AU).
---
THURSDAY

Oct 14— International Launch Services, Launch Proton / XM 5, Baikonur Cosmodrome, Kazakhstan: XM 5 radio broadcasting satellite to provide digital music and entertainment programming to customers in North America.

Oct 14 — NASA Astrobiology Program, Arlington VA: 'Seeking Signs of Life: A Symposium Celebrating the 50th Anniversary of NASA's Exobiology Program.'

Oct 14-15 — Jet Propulsion Laboratory, Pasadena CA: 'From Near-Earth asteroids to the Most Distant Galaxies: Scientific Results from the Spitzer Space Telescope,' Michael Werner.

Oct 14-15 — ESA, Porto, Portugal: '4th Coastal Altimetry Workshop,' workshop for scientists and engineers dealing with satellite altimetry to discuss data processing, emerging applications and new technologies.

Oct 14-15 — Eurisy, European Space Policy Institute, ESA, Rabat, Morocco: 'Development and Cooperation in the Mediterranean Region Using Satellite Services.'

Oct 14 — Cassini OTM-264, Saturn Orbit: Spacecraft conducts Orbital Trim Maneuver #264 today.

Oct 14 — Moon: At First Quarter; 11:25.

Oct 14 — Asteroid 162269: Near-Earth Flyby (0.088 AU).
---
FRIDAY

Oct 15 — Next Step in Space Coalition, Commerical Spaceflight Federation, Houston TX: 'Space Economy Career Fair,' event to bring together government leaders and space industry veterans to explore new employment opportunities and expansion plans in the Houston area.

Oct 15 — Asteroid 2010 SG15: Near-Earth Flyby (0.088 AU).
---
SATURDAY

Oct 16— Zero Gravity Corporation, Las Vegas NV: Commercial weightless flight onboard G Force One.

Oct 16-18 — Yantai University, IEEE, et al, Yantai, China: '3rd International Congress on Image and Signal Processing / 3rd International Conference on BioMedical Engineering and Informatics.'

Oct 16-23 — Betchart Expeditions Inc, Planetary Society, Kona HI: 'Discover Hawaii.'

Oct 16 — Mercury: 2.9° NNE of Spica; 23:00.
---
SUNDAY

Oct 17 — Moon: 4.4° NNW of Neptune; 10:00.