5th Moscow Solar System Symposium

The Space Research Institute will host 5M-S3 on October 13-18. This year the annual international symposia on Solar System exploration, held since 2010, is supported by Russian Academy of Sciences, Russian Foundation for Basic Research, Vernadsky Institute of Geochemistry and Analytical Chemistry, Earth Physics Institute, Keldysh Institute of Applied Mathematics, Radio Electronics Institute, Sternberg Astronomical Institute, and Moscow State University. The overall program is guided by a central topic, "Moon and Mars exploration" and will include 8 sessions: Moon, Mercury, Venus, Rosetta Mission, Mars, Jupiter and its moons, Dust and dusty plasma in space, and New projects and experiments. There will be scientific updates related to recent and near-future projects like LADEE and Luna-Glob, Luna-Resource and ExoMars respectively. The Local Organizing Committee consists of L.M. Zelenyi, A.V. Zakharov, O.I. Korablev, I.G. Mitrofanov, E.A. Antonenko, O.Z. Roste, J. Brekhovskikh, E. Korableva, I. Dzyuban. The program also includes a visit to the Gagarin Research & Test Cosmonaut Training Center in Star City and social events in Moscow. The opening session is highlighted by Peter Wurz on comet 67P / Churyumov-Gerasimenko, James Head on New Perspectives from MESSENGER and R. Elphic and T. Stubbs on LADEE. (Image Credit: IKI, Russian Academy of Sciences, Russian Foundation for Basic Research, ESA, Roscosmos)
MONDAY

Oct 13 — ISS, LEO: Expedition 41 preparing spacesuits, gear for EVAs set Oct 15 & 22; transferring cargo from SpaceX Dragon CRS-4, Progress 56P & ATV-5; performing routine checks of containment levels, maintenance of fan screens, water pumps.

Oct 13 — Cassini, Saturn Orbit: Now on 209th orbit of Saturn, will continue observing cooling of Titan southern hemisphere and giant cloud containing hydrogen cyanide over south pole.

Oct 13 — Juno, Jupiter Trajectory: In Quiet Cruise phase traveling at 50,579 kph, now 630 days and ~299M km from Jupiter insertion.

 Oct 13 — Astrobotic Technology Inc., Pittsburgh PA: NewSpace company working on Griffin lander & Andy 2.0 rover to compete in 3 terrestrial Milestone Prizes worth US$6M.

Oct 13 — SpaceX, Multiple Locations: Through US$2.6B NASA Commercial Crew Transportation Capability contract, continuing to work on Dragon V2 capable of carrying 7 people into space.


 Oct 13 — Spire, Singapore & San Francisco CA, USA: Building fleet of more than 50 satellites to observe ¾ of Earth not currently covered by traditional remote sensing.


Oct 13-17 — United Nations Office for Outer Space Affairs, Quito, Ecuador: United Nations/Ecuador Workshop on Space Technology for Sustainable Development in Mountain Regions of the Andean Countries.

Oct 13-17 — SPIE, Beijing, China: SPIE Asia-Pacific Remote Sensing; at Beijing Internationale Convention Center.

Oct 13-18 — Space Research Institute (IKI), Moscow, Russia: 5th Moscow Solar System Symposium.

Oct 13 — Moon: 6.0° S of M35, 17:00.


= All times for terrestrial events in local time unless noted.

= All times for international terrestrial events in local time unless noted.

= All times for space events, and…

= All times for international space / astro events in Hawaii Standard Time unless noted. Add 10 hours to obtain UT ('Universal Time;' Greenwich, England).
---
Weekly Planet Watch – Evening Planets: Mars (SW), Saturn (SW); Morning Planets: Jupiter (ENE).
10th ISPCS to Discuss Progress & Future of Commercial Space Companies, Vehicles, Spaceports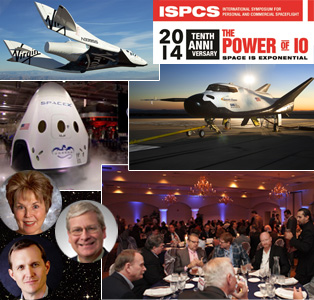 The 10th annual International Symposium for Personal and Commercial Spaceflight with the theme The Power of 10 is being held October 15-16 at the New Mexico Farm and Ranch Heritage Museum in Las Cruces NM. A major conference focus will be strengthening partnerships between space industry, academia and government entities.  ISPCS chair and Director of the New Mexico Space Grant Consortium, Patricia Hynes (TL), will welcome attendees. The first keynote address titled Power, a Philosophical Analysis will be given by George Sowers (R) of ULA, followed by George Whitesides (BL) with a Virgin Galactic Update. Other speakers and panelists include Bill Gerstenmaier (NASA), Clay Mowry (Arianespace), Stuart Witt (Mojave Air and Space Port), Bretton Alexander (Blue Origin), Mark Kinnersley (Astrium), Bob Richards (Moon Express), Jeff Greason (XCOR), and representatives from the FAA, DoD, DARPA, Northrop Grumman, Masten, Boeing and Sierra Nevada. Oct 4 marked the 10th observation of the Ansari X Prize award for commercial suborbital spaceflight. Virgin Galactic hopes to begin flights of SpaceShipTwo in February or March 2015, while under development are SpaceX Dragon V2, Sierra Nevada Dream Chaser, Blue Origin New Shepard, Copenhagen Suborbitals Tycho, Reaction Engines Skylon, and XCOR & Space Expedition Corp. Lynx. (Image Credit: ISPCS, VG, SpaceX, NMSU, ULA)
Continued from…


Sep 23 – Oct 23 — Benjamin Ahr Harrison, Kickstarter, et al, Online: Kickstarter Campaign: Shoot the Moon: A documentary feature film; raising funds to document LiftPort Group's progress toward creating a Space elevator.

NET Sep 24 — ISRO, Launch GSLV Mk 3 / Atmospheric Test Flight, Satish Dhawan Space Center, Sriharikota, India: Geosynchronous Satellite Launch Vehicle Mk 3 to launch on suborbital test flight, will carry mock-up human crew module.

Oct 12-18 — American Geosciences Institute, Global: Earth Science Week; annual educational event to encourage public to engage in Earth sciences.
TUESDAY


Oct 14 — SETI Institute, Mountain View CA: SETI Talks: Climate Change and West Antarctica; presented by David H. Bromwich of Ohio State University, 12:00 PDT.

Oct 14-15 — ESA, Noordwijk, The Netherlands: 28th annual European Space Thermal Analysis Workshop; at European Space Research and Technology Centre (ESTEC ).
WEDNESDAY


Oct 15 — ISS, USA EVA 28, LEO: Wiseman and Wilmore to perform 6.5-hour spacewalk beginning 11:00 UT, live coverage available; will attempt to replace a voltage regulator.

Oct 15 — Hosted Payload Summit Management Team, Washington DC: Hosted Payload Summit 2014; at Grand Hyatt hotel.

Oct 15 — British Interplanetary Society, London, United Kingdom: Lecture: Rosetta – A Sleeping Beauty! presented by Simon Barraclough.

Oct 15 — The National Academies, Palisades NY: Meeting: Development of a Strategic Vision and Implementation Plan for the U.S. Antarctic Program at the National Science Foundation.

Oct 15-16 — AIAA, Arianespace, Boeing Co., ULA, New Mexico Space Grant Consortium, et al, Las Cruces NM: 10th International Symposium for Personal and Commercial Spaceflight (ISPCS); at New Mexico Farm and Ranch Heritage Museum.

Oct 15-17 — Johns Hopkins University Applied Physics Laboratory, NASA, ESA, et al, Laurel MD: Asteroid Impact Deflection Assessment (AIDA) Workshop.

Oct 15 — Moon: At last quarter, 09:12; 12.0° S of Pollux, 10:00.

Oct 15 — Mercury: 0.4° NE of Spica, 19:00.

Oct 15 — Asteroid 2014 SL260: Near-Earth flyby (0.083 AU).
THURSDAY


Oct 16 — ISRO, Launch PSLV / IRNSS 1C, Satish Dhawan Space Center, Sriharikota, India: Polar Satellite Launch Vehicle flying PSLV-C26 mission, to launch IRNSS 1C navigation satellite; launch window 01:02-01:17 local time.

Oct 16 — Arianespace, Launch Ariane 5 /Intelsat DLA 1 & Arsat 1, Kourou, French Guiana: Ariane 5 ECA rocket, designated VA220, to launch satellites: Intelsat DirecTV Latin America 1, and Arsat 1 (first com sat built in Argentina).

Oct 16 — Cornell University, Ithaca NY: Lecture: Kepler Planets – Back to the Origin; presented by Prof Yanqin Wu from University of Toronto.

Oct 16 — Moon: 6.3° SSW of Beehive, 16:00.

Oct 16 — Mercury: At inferior conjunction with Sun, 1.48° S of Sun, 99,632,181 km from Earth, 11:00.
FRIDAY


Oct 17 — Space Center Houston, Houston TX: Lunch with an Astronaut, Clay Anderson; US$49.95 adult.

Oct 17 — Moon: 5.2° SSW of Jupiter, 15:00; at apogee (distance 404,431 km), 20:00.

Oct 17 — Mercury: 2.4° SSW of Venus, 12:00; within circle of diameter 3.42° with Venus, Sun, Spica, 21:00.

Oct 17 — Asteroid 2014 SN260: Near-Earth flyby (0.067 AU).
SATURDAY

Oct 18 — ISS, Dragon CRS 4 Unberthing, LEO: Dragon CRS-4 resupply craft to unberth 17:45 UT, live coverage available, return to Earth with science experiments, equipment.

Oct 18 — Ames Research Center, NASA, Moffett Field CA: Open House 2014; celebrating 75 years of discovery, innovations, solutions (founded in 1939).

Oct 18 — National Space Club, Titusville FL: Celebrate Space Event; at Kennedy Space Center Visitor Complex.

Oct 18 — Moon: 4.5° SSW of Regulus, 14:00.

Oct 18 — Venus: 3.2° NNE of Spica, 17:00.

Oct 18 — Asteroid 2014 SU1: Near-Earth flyby (0.035 AU).
SUNDAY

Oct 19 — The Space Show, Tiburon CA / Online: Dr. David Livingston talks with Dr Paul Spudis.


Oct 19-22 — Geological Society of America, Vancouver, British Colombia, Canada: 2014 Geological Society of America (GSA) Annual Meeting.

Oct 19 — Comet C/2013 A1 Siding Spring, Mars Flyby: Comet Siding Spring to fly by Mars at 132,000-km altitude, 18:28 UT.