2013 Moscow Solar System Symposium Focuses on Exploration, International Partnerships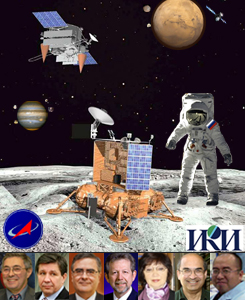 The Space Research Institute (IKI) holds its 4th Moscow International Solar System Symposium October 14-18 with support from Russia Academy of Sciences, Russian Foundation for Basic Research and Vernadsky Institute. Roscosmos has outlined achievable goals for Russia to reassert its leadership in Solar System exploration with missions to the Moon (Luna-Glob Lander & Orbiter, Luna-Resurs 1/2/3), Mars (ExoMars) and Jupiter (Ganymede Lander). IKI Director Lev Zelenyi and former General Director of Roscosmos Vladimir Popovkin will open the Symposium with 'Russian Solar System Exploration Program,' followed by Alvaro Giménez 'ESA's Space Science Programme – Achievements and Future Opportunities' and James Green 'NASA's Planetary Science Missions.' Ludmila Zasova from IKI and Sanjay Limaye, NASA Venus Exploration Analysis Group co-chair, will speak on 'International Venus Exploration.' The Moon Session will cover data from SELENE-2, Chang'e-1 and LRO, Europe & Russia exploration synergies, and plans for human flights to the Moon. Jinsong Ping of National Astronomical Observatories, Chinese Academy of Sciences will present 'Chang'e-3/4 Lunar Landing Missions and Lunar Radio Science Experiments' during the Future Projects Session on Oct 18. The ultimate objectives of Russia's Moon program, human exploration and outposts, will serve to be the first steps into the Solar System as Mars and Jupiter lie on the horizon. (Image Credit: Roscosmos, ESA, NASA, IKI, SAO/CAS, Thales Alenia Space)
Commercial Space Community Evaluates Risks & Rewards at ISPCS 2013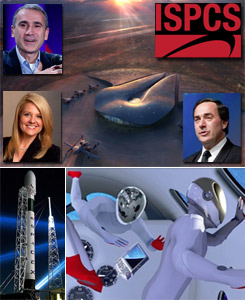 The entrepreneurs, innovators and government representatives working to provide access to, and profit from, the vast resources and adventure-tour potential of space will be converging in Las Cruces NM on October 16-17 for the 9th annual International Symposium for Personal Commercial Spaceflight. It has been almost 10 years since the first privately-funded human spaceflight (SpaceShipOne, June 2004), and although there have been great achievements in technology development and commercial orbital transportation services, space access for the non-über-rich private citizen remains an elusive goal. Widely viewed as the most relevant commercial space conference of the year, the symposium will allow participants to discuss what further investments are needed, what the realistic rewards may be for taking such risks and the likely time frame for success. Notable speakers include: SpaceX President & COO Gwynne Shotwell (BL), Sierra Nevada Corporation VP of Space Systems Mark Sirangelo (BR), XCOR Aerospace COO Andrew Nelson, Masten Space Systems COO Sean Mahoney, Boeing Space Exploration VP John Elbon, Virgin Galactic President Steve Isakowitz (TL), and NASA Commercial Spaceflight Director Phil McAlister. ISPCS 2013 will also feature over 50 exhibitors and a tour of Spaceport America on Friday Oct 18. (Image Credit: ISPCS, SpaceX, Virgin Galactic, Sierra Nevada Corporation, Spaceport America)
---


= All times for terrestrial events in local time unless noted.

= All times for international terrestrial events in local time unless noted.

= All times for space events, and…

= All times for international space / astro events in Hawaii Standard Time unless noted. Add 10 hours to obtain UT ('Universal Time;' Greenwich, England).
---
Weekly Planet Watch – Evening Planets: Mercury (SW), Venus (SW), Saturn (SW); Morning Planets: Mars (E), Jupiter (ENE).

---
MONDAY

Oct 14 — ISS, LEO: Expedition 37 six-member crew to begin loading third / final layer of waste into Cygnus freighter scheduled to undock Oct 22, burn up on reentering Earth atmosphere 1 day later.

 Oct 14 — Kepler, Heliocentric Orbit: Scientists produce cloud maps of exoplanets with Kepler data and Spitzer observations; first planet mapped is Jupiter-like Kepler-7b.

Oct 14 — LADEE, Moon Orbit: In 250-km altitude circular orbit, will begin 40-day Commissioning Phase checkouts of spacecraft and scientific instruments.

Oct 14 — Cassini, Saturn Orbit: Titan flyby scheduled at 961-km altitude.

 Oct 14 — Astrobotic Technology Inc., Pittsburgh PA: NewSpace company testing Tyrobot designed to explore and model planetary caves using laser range finder, inertial measurement unit, fisheye camera

Oct 14 — Dauria Aerospace, International Locations: Will use US$20M in funding from I2BF Global Ventures to fulfill existing contracts, develop technology and new satellite platforms.

 Oct 14 — Space Tango, Lexington KY: Now accepting proposals for funding and acceptance to its space business accelerator; up to 6 companies will receive US$20K, undergo 12-week service, networking, advisory program.

Oct 14-16 — Lunar and Planetary Institute, Universities Space Research Association, Laurel MD: Annual Meeting of the Lunar Exploration Analysis Group.

Oct 14-16 — International Astronomical Union, Copernicus Science Center, Warsaw, Poland: Conference: Communicating Astronomy with the Public 2013 (CAP 2013) – Challenges in Communication of Astronomy and Space Exploration; US$406-487 (€300-360).

Oct 14-17 — AIAA, Space Systems Technical Committee, ATK, Lockheed Martin Corp., et al, Los Angeles CA: Reinventing Space Conference 2013; at Westin Los Angeles Airport Hotel; US$175-940.

Oct 14-17 — AIAA, Florence, Italy: 31st AIAA International Communications Satellite Systems Conference (ICSSC); at Hilton Florence Metropole hotel.

Oct 14-18 — Space Research Institute (IKI), Russian Academy of Sciences, Russian Foundation for Basic Research, et al, Moscow, Russia: 4th Moscow Solar System Symposium; to focus on Moon and Mars exploration, missions: Luna-Glob, Luna-Resurs, ExoMars.

Oct 14 — Asteroid 2004 HX53: Near-Earth flyby (0.076 AU).

Oct 14 — Asteroid 2013 TL: Near-Earth flyby (0.085 AU).
---
Continued from…

Apr 4 – Oct 25 — NASA HQ, Online / Washington DC: 2014 Night Rover Challenge; for researchers to create energy storage system allowing simulated lunar rover to operate at average 85 W throughout 14-day-long lunar night, exceed a minimum of 300 W-hrs/kg.

Sep 6 – Dec 4 — Johnson Space Center, NASA, Seattle WA: Destination Station exhibit; for public to learn about living in space aboard the ISS; at Museum of Flight.

Sep 24 – Dec 23 — NASA HQ, Online / Washington DC: Announcement of Opportunity: Mars 2020 Investigations; accepting proposals for investigations for Mars rover mission to be launched Jul / Aug 2020.
---
TUESDAY

Oct 15 — SETI Institute, Mountain View CA: Asteroid Radar Astronomy, Spacecraft Missions, and the Impact Hazard; presented by Michael Busch from SETI, 19:00 PDT.

Oct 15-16 — The National Academies, Washington DC: Human Spaceflight: Technical Feasibility Panel; at Keck Center.

Oct 15-18 — ESA, Noordwijk, The Netherlands: The Universe Explored by Herschel; at European Space Research and Technology Centre.

Oct 15-18 — ASI, ESA, CNES, Rome, Italy: INTEGRAL Workshop: INTEGRAL's Journey Through the High Energy Sky; at Donna Camilla Savelli Hotel.

Oct 15 — Asteroid 2013 SB21: Near-Earth flyby (0.034 AU).

Oct 15 — Asteroid 2013 SL20: Near-Earth flyby (0.045 AU).
WEDNESDAY

Oct 16 — New Mexico Space Grant Consortium, AIAA, West Lafayette IN: Buzz Aldrin to speak about space exploration, new book Mission to Mars; free.

Oct 16-17 — New Mexico Space Grant Consortium, AIAA, Las Cruces NM: International Symposium for Personal and Commercial Spaceflight (ISPCS) 2013; at NM Farm and Ranch Heritage Museum; US$150-699.

Oct 16-17 — National Astronomical Observatory of Japan – TMT Project Office, Tokyo, Japan: TMT Science and Instrumentation Workshop: Astronomy in the TMT Era; in Asahi Seimei Otemachi Building of Fukuracia Tokyo Station.

Oct 16-18 — JAXA, Institute of Space and Astronautical Science, Sagamihara, Kanagawa, Japan: Hayabusa 2013: Symposium of Solar System Materials; at JAXA Sagamihara Campus.

Oct 16 — Asteroid 2013 RH74: Near-Earth flyby (0.051 AU).
THURSDAY

Oct 17 — Cassini OTM-362, Saturn Orbit: Spacecraft performs Orbital Trim Maneuver #362 today.

Oct 17 — SpaceX, McGregor TX: Current FAA Commercial Space Transportation Experimental Permit allowing unlimited number of flights of Grasshopper reusable launch vehicle below 762-meter altitude expires today; new permit to communicate future allowances, provide for additional testing.

Oct 17 — The British Interplanetary Society, Bath, United Kingdom: Lecture: The Nervous System of a Starship; with speaker Pat Galea; at Bath Royal Literary and Scientific Institute.
FRIDAY

Oct 18 — Stanford On The Moon Alumni Club, Stanford CA: Stanford On The Moon 2013 ?Homecoming Conference: Human Moon Missions – Stanford 21st Century Leadership; in Building 300, Room 300; 15:15 – 18:15 PDT.

Oct 18 — Lunar and Planetary Institute, Houston TX: LPI Seminar Series: Looking inside moons using gravity, topography and tides; presented by Francis Nimmo from University of California – Santa Cruz; 15:30 CST.

Oct 18 — `Imiloa Astronomy Center, University of Hawai`i – Hilo, Hilo HI: Mauna Kea Skies Talk; Dr. Yeh and Dr. Kakazu from Subaru Telescope speak about recent discoveries; 19:00 HST, US$8-10.

Oct 18 — Johnson Space Center, NASA, Houston TX: Lunch with an Astronaut, Tom Jones; US$49.95 adult.

Oct 18-20 — Silicon  Valley Space Center, Center for the Advancement of Science in Space (CASIS), San Jose CA: Launching Commercial Space Enterprises with CASIS and the ISS; to focus on entrepreneurial space flight activities aboard ISS, US$300-600.

Oct 18 — Penumbral Lunar Eclipse: Visible in South America, Europe, Africa, western Asia; partially visible in eastern North America, India subcontinent, western China; greatest eclipse 13:50.

Oct 18 — Moon: Full (Hunter's Moon), 13:36.

Oct 18 — Asteroid 2003 UY12: Near-Earth flyby (0.086 AU).
SATURDAY

Oct 19 — Utah Space Association – Chapter of National Space Society, Salt Lake City UT: Utah Space Association Meeting; at Avenues Sweet Library.
SUNDAY

Oct 20 — International Launch Services, Launch Proton / Sirius FM6, Baikonur Cosmodrome, Kazakhstan: Proton rocket set to deploy satellite for Sirius XM Radio.

Oct 20 — Camelot Group, Online / Rickmansworth, United Kingdom: Last day: Win a trip on XCOR's Lynx spaceplane.

Oct 20-25 — Paris Observatory, Laboratory of Planetology and Geodynamics of Nantes, Les Houches, France: Workshop: Planet Mars 4; at the Les Houches Centre of Physics.