ISS: Planning for the Future of Extended Human Spaceflight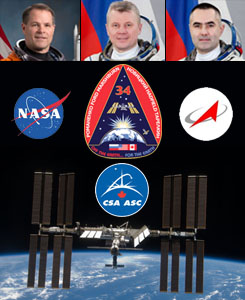 The next phase of International Space Station Expeditions begins as NASA Commander Kevin Ford, Roscosmos Flight Engineers Oleg Novitskiy and Evgeny Tarelkin are scheduled to launch 16:51 ALMT October 23 from Baikonur Cosmodrome, Kazakhstan for a 5 month stay aboard the ISS. This 3 crew member team will work with current members of Expedition 33, Sunita Williams, Yuri Malenchenko and Akihiko Hoshide, until their departure in mid-November. The final 3 flight engineers of Expedition 34, Chris Hadfield (Canadian Space Agency), Tom Marshburn (NASA) and Roman Romanenko (Roscosmos), are scheduled to join the crew after a December 5 launch. NASA will continue practicing communication delays and self-guided crew schedules on non-critical missions in order to better understand dangers and challenges of future long-duration expeditions where 20 minute communication delays are expected. One year duration missions aboard the ISS are set to begin March 2015. Expedition 34 and 35 will also conduct new experiments involving surfactant reactions in microgravity provided by the European Space Agency and the first space demonstration of a miniaturized flow cytomere provided by CSA which will allow the quantification of molecules / cells in blood and bodily fluids and may become a future medicinal space tool. (Image Credit: NASA, CSA, Roscosmos)
Spaceflight for All of Us at ISPCS in New Mexico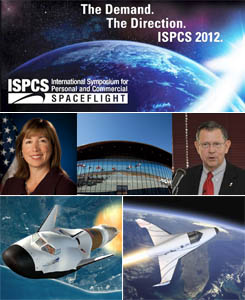 The International Symposium for Personal and Commercial Spaceflight, a gathering of leaders and collaborators passionate about making a difference in the space industry, is set for October 17-18 in Las Cruces, New Mexico, USA. With SpaceX currently at the helm of the first ever commercial resupply mission to the International Space Station, this meeting aims to focus the direction of the industry, fuel demand for products and services and ultimately increase the momentum of commercial spaceflight. The Wednesday agenda features keynote addresses by Lori Garver, NASA Deputy Administrator at 09:00, and Robert Dickman, Executive Director of the American Institute of Aeronautics and Astronautics at 11:00. On Friday participants have the opportunity to go on a dedicated tour of Spaceport America facilities and the newly opened Operations Center. The meeting will be joined by over 30 major exhibitors including: renowned NewSpace companies Sierra Nevada Corporation and XCOR Aerospace; various suppliers, customers, contractors, professional associations, development / advocacy organizations; and 5 highly relevant government entities such as the FAA Office of Commercial Space Transportation, NASA White Sands Test Facility and the US Air Force Research Laboratory. (Image Credit: ISPCS, Spaceport America, AIAA, NASA, XCOR, SNC)
---


= All times for terrestrial events in local time unless noted.

= All times for international terrestrial events in local time unless noted.

= All times for space events, and…

= All times for international space / astro events in Hawaii Standard Time unless noted. Add 10 hours to obtain UT ('Universal Time;' Greenwich, England).
---
Weekly Planet Watch – Evening Planets: Mercury (WSW), Mars (SW), Jupiter (ENE). Morning Planets: Venus (E).
---
MONDAY

Oct 15 — ISS, LEO: Crew unloading 400 kg of supplies, science research and hardware from SpaceX Dragon capsule and reloading with 759 kg of cargo for Pacific Ocean splashdown and recovery estimated Oct 28.

Oct 15 — Juno, Jupiter Trajectory: Traveling at velocity of 53,600 km per hour relative to the Sun, testing JunoCam color camera, collecting data using wavelength microwave radiometer for atmospheric sounding and composition; estimated arrival to Jupiter July 2016.

Oct 15 — Curiosity, Gale Crater, Mars: Subsequent soil samples from 1.5 m by 5 m "Rocknest" sand patch to be analyzed for minerals / chemicals after first 2 samples sieved for mechanism cleaning and discarded.

Oct 15 — Flexure Engineering, LunarCubes, Multiple Locations USA: Working Group / workshops promoting low-cost and fast development of payload technologies able to withstand longer duration, higher radiation and more extreme thermal environments for future lunar missions.

Oct 15 — Astrobotic Technology Inc., Pittsburgh PA: Testing rover prototype Polaris intended to search for water ice on Moon and developing technologies for cave exploration on Moon, Mars and beyond.

Oct 15 — Copenhagen Suborbital, Copenhagen, Denmark: Developing and designing suborbital spacecrafts, launch vehicles, associated technologies leading to single-person spaceflights in standing position on micro sized space vehicles.

Oct 15 — AIAA San Francisco Section, Silicon Valley Space Center, Mountain View CA: 'Small Payloads TechTalk: KickSat – Kickstarting the Personal Space Age;' free meeting about SkyCube, 1U CubeSat that will take low resolution images of Earth and "tweet" from space on behalf of sponsors.

Oct 15 — Emergent Space Technologies Inc., NASA, Greenbelt MD: 'NASA Chief Technologist Visits Emergent Space Tech in Maryland;' Mason Peck hosts a tour in recognition of American small businesses and their new technologies / contributions to future missions; 15:30 EDT.

Oct 15-17 — Astrobiology Center Stockholm, Nordita, European Astrobiology Network Association, European Space Agency, Swedish National Space Board, et al, Stockholm, Sweden: '12th European Workshop on Astrobiology.'

Oct 15-18 — American Astronautical Society, National Space Club – Huntsville, University of Alabama, NASA Marshall Space Flight Center, Huntsville AL: '24th Wernher von Braun Memorial Symposium.'

Oct 15-18 — European Space Agency, European Space Research and Technology Centre, Noordwijk, The Netherlands: '8th ESA Round Table on Micro and Nano Technologies for Space Applications.'

Oct 15-19 — European Space Agency, European Organisation for the Exploitation of Meteorological Satellites, Rome, Italy: '3rd MERIS/(A)ATSR and OCLI-SLSTR (Sentinel-3) Preparatory Workshop.'

Oct 15 — Moon: New Moon, 02:02; 1.1° SSE of Spica, 06:00.

Oct 15 — Asteroid 2004 RX10: Near-Earth Flyby (0.082 AU).

Oct 15 — Asteroid 2006 WV1: Near-Earth Flyby (0.091 AU).
---
Continued from…

Oct 14-18 — Taipei City Government, China Airlines, HP, Taipei, Taiwan: 'Conference: Horizons of Quantum Physics – from Foundations to Quantum-Enabled Technologies.'

Oct 14-19 — American Astronomical Society Division for Planetary Sciences, Reno NV: '44th Annual Meeting of the DPS.'
---
TUESDAY

Oct 16 — European Space Agency, Toulouse, France: 'ESA Investment Forum.' Encouraging businesses to adapt space technologies for Earth application.

Oct 16 — NASA Kennedy Space Center Prime Contractor Board, Canaveral Port Authority, Patrick Air Force Base, Cape Canaveral FL: 'NASA/KSC HUBZone Industry Day & EXPO 2012.'

Oct 16-17 — European Southern Observatory, Munich, Germany: 'Help Build the E-ELT: ESO Industry Event;' informing companies about participation in construction of European Extremely Large Telescope.

Oct 16 — Moon: 4.5° SSW of Saturn, 16:00.

Oct 16 — Asteroid 2012 LA: Near-Earth Flyby (0.045 AU).
WEDNESDAY

Oct 17 — Davidson Center for Space Exploration at the U.S. Space & Rocket Center, Dynetics, Huntsville AL: Microsoft co-Founder and key investor in Stratolaunch Systems, Paul Allen, will speak to the 24th Wernher von Braun Memorial Celebration.

Oct 17 — SETI Institute, Mountain View CA: Colloquium: 'Climate Change: What's Going On With the Sun?,' presented by Dan Lubin, SETI Institute.

Oct 17 — The Space Foundation, Colorado Space Business Roundtable, Colorado Springs CO: 'CSBR AeroSpace Exchange;' 17:30 MDT.

Oct 17 — Flexure Engineering, LunarCubes, Reno NV: 'LunarCubes Science Briefing.'

Oct 17-18 — New Mexico Space Grant Consortium, AIAA, Spaceport America, United Launch Alliance, et al, Las Cruces NM: 'International Symposium for Personal and Commercial Spaceflight 2012.'

Oct 17-19 — European Space Agency, Concurrent Design Facility, Institute of Superior Technology, Lisbon, Portugal: '5th International Workshop on Systems & Concurrent Engineering for Space Applications SECESA 2012.'

Oct 17 — Moon: At Perigee (Distance: 360,280 km), 15:00; 1.4° NNW of Mercury, 15:00.
THURSDAY

Oct 18 — Orbital Sciences Corporation, Dulles VA: 'Orbital to Announce Third Quarter 2012 Financial Results.'

Oct 18-20 — NASA History Program Office, Washington DC: 'Solar System Exploration @50.'

Oct 18-20 — European Astrobiology Network Association, University of Amsterdam, University of Aveiro, et al, Aveiro, Portugal: 'Workshop for Astrobiology;' discussion includes search for life on Mars / Europa / Titan, Astrobiology space missions, future of Astrobiology, more; 10:00 WEST.

Oct 18 — Moon: 2.1° NNE of Mars, 04:00; 5.8° NNE of Antares, 07:00.

Oct 18 — Asteroid 136993 (1998 ST49): Near-Earth Flyby (0.074 AU).
FRIDAY

Oct 19 — California Pilots Association, Mojave CA: 'CalPilots' 2012 Annual Meeting,' to include participation by XCOR Aerospace, Orbital Sciences Corporation and dinner lecture by Virgin Galactic CEO George Whitesides.

Oct 19 — British Interplanetary Society, London, England: 'Apollo Symposium.'

Oct 19-20 — VEX Robotics Competition, Kailua-Kona HI: 'TMT Big Island VEX Robotics Tournament.'
SATURDAY

Oct 20 — Astronomy Society of Montreal, Dorval Astronomy Club, Royal Astronomy Society of Canada, Dorval, Quebec, Canada: '32nd Annual Telescope Making Contest (CAFTA 2012).'
SUNDAY

Oct 21-24 — Max Planck Institute for Astronomy, Heidelberg University Zentrum for Astronomy, Bavaria, Germany: '50 Years of Brown Dwarfs: from Theoretical Prediction to Astrophysical Studies.'

Oct 21 — Mars: 3.6° N of Antares, 15:00.