Hawai`i Space Access in the 21st Century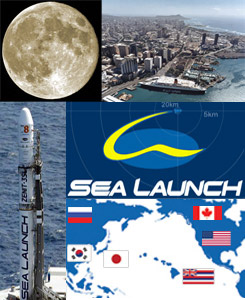 The 50th, Aloha State of Hawaii continues to display promise and potential as one of world's 21st Century leaders in access to Space, Moon and beyond. With its mid-Pacific positioning, robust connection to the Stars and Moon via world-class astronomy and abundant beauty / aloha, Hawaii remains well-qualified to meet a growing need for independent, private and commercial launch alternatives in America and Asia. A partnership investment initially between Japan, Korea and Russia, Canada — and eventually India, China, Mexico and Chile — could catalyze national and local leaders to consider a Honolulu homeport of Sea Launch or equivalent offshore launch consortium, as well as a major State of Hawaii-supported International Lunar Conference in 2011 or 2012. Sea Launch uses the existing and proven technologies of human-rateable Zenit rockets, which, unlike space planes, are presently easier and quicker to upgrade. The company's considered relocation to Honolulu from Long Beach and partnerships with Asia would also help stabilize its recent bankruptcy reorganization while promoting cooperation between the two continents. Establishing launch operations and reliable access to space from Hawaii would greatly advance the state's economy and status as a high-tech, world-class travel, tourism and business hub. (Credit:  Sea Launch, space.com, goingwimax.com)
6th ISPCS Event Advancing Commercial Space Flight with Spaceport America Runway Dedication, VSS Enterprise Fly Over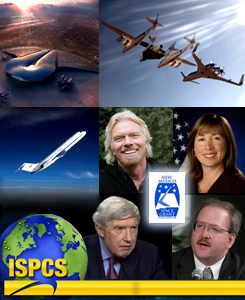 Over 400 leaders in the commercial space industry will attend the 6th International Symposium for Personal and Commercial Spaceflight (ISPCS) in Las Cruces NM on October 19-22. The New Mexico Space Grant Consortium, New Mexico State University, Arianespace, Bigelow Aerospace and Virgin Galactic are just a few of the many sponsors contributing to the ongoing success of ISPCS. On Oct 19, a series of free public education forums will be available for students and the community to learn about NASA's Microgravity Student Flight Opportunity (CL) as well as a planned 'Space and Sand' tour at the New Mexico Museum of Space. Speakers include ISPCS Chair Pat Hynes (BC) and Virgin Galactic CEO George Whitesides. On Oct 20, CEO of XCOR Aerospace Jeff Greason (BR) will Chair the 1st session, 'Past is Prologue: The Future of the Space Industry from the Perspective of Those Who Helped Get it Started.' On Oct 21, Lori Garver (CR) will give the Keynote Address on NASA's programs for science, commercial access to space and human space flight. The event will end with the dedication of the Spaceport America Runway and the 1st long-distance capture-carry flyover of Virgin Galactic's SpaceShipTwo aboard WhiteKnightTwo (TR). Virgin Galactic Founder Richard Branson (C) says the flyover will "be a momentous development in the history of space and the commercialization of space activity." (Credit: ISPCS, NMSGC, Virgin Galactic, NASA)
---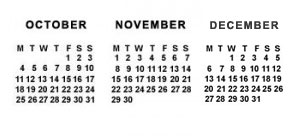 = All times for terrestrial events in local time unless noted.

= All times for international terrestrial events in local time unless noted.

= All times for space events, and…

= All times for international space / astro events in Hawaii Standard Time unless noted. Add 10 hours to obtain UT ('Universal Time;' Greenwich, England).
---
Weekly Planet Watch – Morning Planets: Saturn (E) / Evening Planets: Venus (WSW), Mars (SW), Jupiter (ESE).

---
MONDAY

Oct 18 — International Space Station, LEO: E-25 crew members continue with scientific experiments and maintenance activities while configuring tools for 2 upcoming spacewalks.

Oct 18 — NASA Lunar Reconnaissance Orbiter (LRO), Lunar Orbit: All systems nominal in scientific phase of mission as LRO continues to return data from the Moon.

Oct 18 — Mars Reconnaissance Orbiter (MRO), Red Planet: Scientists continue to study recent discovery of  carbonate rocks found inside Leighton Crater which points to strong evidence of hydrodthermal systems.

Oct 18 — Thirty Meter Telescope, Mauna Kea Summit HI: TMT currently developing community benefit package for Hawaii Island students and teachers to advance STEM education for grades K-12, secondary and post-secondary education which includes giving US$1million per year towards The Hawaii Island New Knowledge fund.

Oct 18 — National Geographic, Nationwide: National Geographic channel to show documentary on the build up / preparation of the 1st flight of the VSS Enterprise at 22:00 EST.

Oct 18-20 — Europlanet, Liege, Belgium: 'Workshop: Aeronomy of Jupiter's and Saturn's Systems,' participants to discuss the structure of the upper atmospheres and ionospheres of Jupiter, Saturn and its satellites in combination with magnetospheric processes and auroral emissions.

Oct 18-21 — Space Simulation Conference Committee, Annapolis MD: '26th Space Simulation Conference,' featuring keynote speakers John Grunsfeld and Nobel Prize Winner John Mather.

Oct 18-21 — White House Office of Science and Technology Policy, NASA, Beijing, China: NASA Administrator Charles Bolden's visit to China (Oct 16-21) for introductory talks with Chinese Space Agency officials on China-America Space Cooperation.

Oct 18-21 — International Academy of Astronautics, Damascus, Syria: '1st IAA Regional Conference in Middle East.'

Oct 18-22 — European Organization for the Exploitation of Meteorological Satellites, National Center for Spatial Studies, Lisbon, Portugal: 'Altimetry For Oceans and Hydrology Workshop.'

Oct 18 — Moon: At Apogee (Distance 63.56 Earth Radii); 09:00.


Oct 18 — Epsilon Geminid Meteors: Minor meteor shower radiating from constellation Gemini.

---
Continued from . . .

Oct 10 — Lockheed Martin, Washington DC: '1st USA Science & Engineering Festival,' featuring over 500 science & engineering organizations from across the nation for hands-on science activities to inspire the next generation of scientists and engineers; through Oct 24.

Oct 13 — Singularity University, Moffett Field CA: 'Exponential Technologies Executive 9-Day Program;' through Oct 22.

Oct 16 — Yantai University, IEEE, et al, Yantai, China: '3rd International Congress on Image and Signal Processing / 3rd International Conference on BioMedical Engineering and Informatics;' through Oct 18.

Oct 16 — Betchart Expeditions Inc, Planetary Society, Kona HI: 'Discover Hawaii;' through Oct 23.
---
TUESDAY

NET Oct 19 — Arianespace, Launch Soyuz / Globalstar, Baikonur Cosmodrome, Kazakhstan: Arianespace Soyuz rocket set to launch 6 second-generation Globalstar mobile communication satellites using a Fregat upper stage.

Oct 19 — Kennedy Space Center, Cape Canaveral FL: 'EXPO 2010,' NASA KSC annual business expo featuring over 175 government and business exhibitors.

Oct 19-22 — New Mexico Space Grant Consortium, New Mexico State University, et al, Las Cruces NM: '6th International Symposium for Personal and Commercial Spaceflight 2010.'

Oct 19-21 — ESA, Noordwijk, The Netherlands: '4th European Space Cryogenics Workshop.'

Oct 19-22 — Karl Schwarzschild Observatorium, Dornburg, Germany: 'Big Science with Small Telescopes: The Role of 2-4m Telescopes in the Era of Large and the Extremely Large Telescopes.'

Oct 19 — Moon: 6.5° NNW of Jupiter; 18:00.
---
WEDNESDAY

Oct 20 — Iowa State University College of Engineering, Ames IA: 'Investments in Our Future: Exploring Space through Innovation and Technology,' Robert Braun.

Oct 20 — The SETI Institute, Mountain View CA: Colloquium Series Lecture: 'Dark Matter: The Other Universe,' Chung-Pei Ma.

Oct 20 — NASA Headquarters, Washington DC: New NASA appointed associate administrator for education Leland Melvin available for media interviews from 13:00-16:00 EST.

Oct 20 — Dayton Aviation Heritage National Historical Park, Dayton OH: NASA Flight Director Paul Dye to speak at the Engineers Club of Dayton at 19:00.

Oct 20 — Foothill College, Los Altos Hills CA: 'Silicon Valley Lecture Series: The Ultimate Fate of the Solar System and the Music of the Spheres,' Gregory Laughlin.
---
THURSDAY

Oct 21 — SHIFTboston, Boston MA: 'Moon Capital Forum 2010,' winners from Moon Capital Competition to be presenters.

Oct 21-22 — Europlanet, Berlin, Germany: '6th European Strategic Meteor Workshop: Flashes, Craters & Moonquakes – Exploring the Present Day Meteoroid Impact Flux on the Lunar Surface.'

Oct 21-23 — SpaceLand, Italian Space Agency, et al, Sardinia, Italy: '2nd SpaceLand Expo-Congress / 1st Summit on SMEs and Space Tourism.'

Oct 21 — Orionid Meteors: Second of 2 showers that occur each year as a result of Earth passing through dust released by Halley's Comet; Light from full Moon will drown out most meteors.

Oct 21 — Comet 103P / Hartley 2: Near-Earth Flyby (0.121 AU).

Oct 21 — Asteroid 1566 Icarus: Closest Approach to Earth (0.636 AU).
---
FRIDAY

Oct 22 — Spaceport America, Virgin Galactic, Las Cruces NM: WhiteKnightTwo / SpaceShipTwo to make flyover of Spaceport America for inauguration of runway.

Oct 22 — Moon: Full Moon; 15:37.
---
SATURDAY

Oct 23 — Kansas Cosmosphere, Hutchinson KS: 'ROCKETOBER-fest,' a family fun event that includes children's activities, contests and rocket building.

Oct 23-27 — National Space Society Puerto Rico, Leeward Space Foundation, et al, San Juan PR: 'Puerto Rico Space Congress: Space is the Answer!' *EVENT CANCELED.

Oct 23 — Asteroid 2000 TU28: Near-Earth Flyby (0.065 AU).
---
SUNDAY

Oct 24 — Leo Minorid Meteors: Minor meteor shower radiating from constellation Leo.

Oct 24 — Asteroid 2009 FD: Near-Earth Flyby (0.066 AU).