ISS Update: Altitude Reboost, Crew Arrival and Departure, Olympic Torch EVA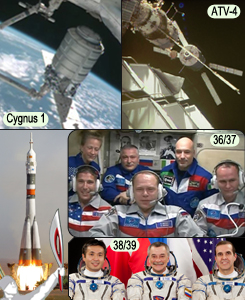 Despite Gravity, the International Space Station remains the busiest place in space with international crews and cargo resupply ships coming and going, preparations for the Russia Multipurpose Laboratory Module (Nauka) and about 130-150 experiments running at any given time. The 1st Orbital Sciences Corp Cygnus freighter is scheduled to undock October 22 and burn up during atmospheric reentry Oct 23 after spending about 30 days at ISS and delivering 589 kg of supplies. ATV-4, Albert Einstein, is scheduled to perform an ISS altitude reboost Oct 25, undock Oct 28 and dispose of about 6,500 kg of waste after delivering 3,150 kg of supplies and 860 kg of refuel propellant. The fifth and final ATV, Georges Lemaitre, is scheduled to launch to ISS June 2014. Russia is expected to deorbit the Pirs module before the end of 2013 in preparation for Nauka, scheduled to launch April 2014. Breaking from the norm, ISS will house a 9-member crew for a few days in November when Expedition 38/39 Mastracchio, Tyurin and Wakata deliver the 2014 Winter Olympics torch Nov 7 for a Nov 9 EVA by Kotov and Ryanzansky. The torch will then return to Earth with Expedition 36/37 members Yurchikhin, Nyberg and Parmitano Nov 11. (Image Credit: NASA, ESA, OSC, B. Ingalls)
Starship Research and Imagineering Advance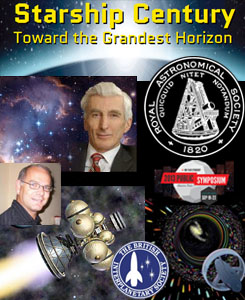 The second Starship Century Symposium is being hosted by the Royal Astronomical Society in Piccadilly, London, United Kingdom on October 21. It is designed to address challenges and opportunities of the long-term future of Humanity in space, and instigate discussion of the implications these explorations might have on development of individuals and civilizations. Astronomer Royal Martin Rees is headlining with a presentation titled 'To the Ends of the Universe.' Rees has predicted that the entire solar system will be robotically mapped / prospected for resources by the end of the 21st Century and sees potential for interstellar travel in the designed evolution of "post-humans" capable of enduring hibernation or suspended animation. He will join a Panel discussion with Ian Crawford, Stephen Baxter, and Jim & Greg Benford. This conference is the sequel to the enormously successful first symposium this past May in San Diego CA, USA. The British Interplanetary Society holds a Project Icarus – Update and Concept Design workshop and lecture on Oct 22 in Vauxhall, London. Participating teams include Munich Ghost, Z-Pinch Firefly, UDD and Starship Resolution. Just last month the 100 Year Starship 2013 Public Symposium was held in Houston TX, USA with energetic and innovative participation of scientists, engineers, designers and authors. (Credit: RAS, BIP, 100YSS, NASA, Disney)
---


= All times for terrestrial events in local time unless noted.

= All times for international terrestrial events in local time unless noted.

= All times for space events, and…

= All times for international space / astro events in Hawaii Standard Time unless noted. Add 10 hours to obtain UT ('Universal Time;' Greenwich, England).
---
Weekly Planet Watch – Evening Planets: Venus (SW); Morning Planets: Mars (E), Jupiter (ENE).

---
MONDAY

Oct 21 — ISS, LEO: Expedition 37 making final preparations for undocking of Cygnus freighter Oct 22, continuing Matryoshka-R radiation data readings, Air Selector Valve cleaning, Ocular Health and ENERGY studies.

Oct 21 — Curiosity, Mount Sharp Trajectory, Mars: Expected to take until mid-2014 to reach Mount Sharp (Aeolis Mons) in Gale Crater.

Oct 21 — Juno, Jupiter Trajectory: On course for Jupiter arrival Jul 4, 2016; transmitting data, doing final instrument checks before scheduled 791-day Quiet Cruise phase begins Nov 5.

Oct 21 — New Horizons, Pluto Trajectory: Now beyond Uranus orbital path, about 27.84 AU from Sun, 5.5 AU from Pluto, scheduled to arrive Jul 14, 2015; New Horizon Message Initiative seeking to upload crowd-sourced message to spacecraft memory.

Oct 21 — Sierra Nevada Corp., Louisville CO: NewSpace company to perform captive-carry flight tests of full-scale test article of Dream Chaser at NASA Dryden Flight Research Center.

Oct 21 — Blue Origin LLC, Kent WA: With over 300 employees, working on 3rd version of New Shepard fully reusable vertical takeoff, vertical landing suborbital system; orbital space vehicle testing planned for 2018.

 Oct 21 — SpaceX, Multiple Locations: Successfully test launching Grasshopper rocket up to 744 meters; next Falcon 9 launch set for Nov 12, CRS-3 scheduled Jan 2014 and CRS-4 Apr 2014.

Oct 21 — Royal Astronomical Society, London, United Kingdom: Starship Century Symposium; featuring Martin Rees, James and Gregory Benford; at RAS, free.

Oct 21-23 —The National Academies, Washington DC: Meeting: Human Spaceflight; at Keck Center.

Oct 21-23 — International Space Science Institute, Space Research and Planetary Sciences, University of Bern, Bern, Switzerland: Solar System Formation and Observation (SFO) Conference; at ISSI; US$208 (CHF 200).

Oct 21-24 — ESA, Madrid, Spain: Venus Express VIRTIS and VMC Data Workshop; Canceled.

Oct 21 — Moon: 6.1° SSE of Pleiades, 07:00.
---
Continued from…

Aug 9 – Jan 7, 2014 — NASA HQ, Worcester Polytechnic Institute, Online / Worcester MA: Registration Open: 2014 Sample Return Robot Challenge; industry & academic teams to demonstrate robots (Jun 2014) that can locate & retrieve geologic samples from varied terrains without human controls; US$1.5M grand prize.

 Aug 16 – Mar 15, 2014 — Mars Society, Online / Lakewood CO: International Student Design Competition: Concepts for Inspiration Mars Mission; for students to design 2-person Mars flyby mission for 2018 as cheaply, safely, simply as possible; US$10K grand prize.

Sep 6 – Dec 4 — Johnson Space Center, NASA, Seattle WA: Destination Station exhibit; for public to learn about living in space aboard the ISS; at Museum of Flight.

Oct 20-25 — Paris Observatory, Laboratory of Planetology and Geodynamics of Nantes, Les Houches, France: Workshop: Planet Mars 4; at the Les Houches Centre of Physics.
---
TUESDAY

 Oct 22 — ISS, Unberthing & Release of Cygnus, LEO: Now filled with waste, freighter will unberth 11:30 UT, live coverage available, burn up during reentry into Earth atmosphere 1 day later.

Oct 22 — British Interplanetary Society, Icarus Interstellar, London, United Kingdom: Project Icarus – Update and Concept Designs; at BIS.

Oct 22 — Kennedy Space Center, NASA, Port Canaveral FL: NASA KSC Business Opportunity EXPO; Canceled.

Oct 22 — SETI Institute, Mountain View CA: Dynamics of Ice, Water and Salts in the Martian Subsurface; presented by Bryan Travis from Los Alamos National Laboratory, 12:00 PDT.

Oct 22 — The Space Show, Online / Tiburon CA: Host Dr. David Livingston talks with Dr. Jason Reimuller, Research Scientist with the Space Science Institute.

Oct 22-24 — Launchspace Inc., Cocoa Beach FL: Spacecraft Avionics Systems Design and Applications Course; US$1,595.


Oct 22-24 — Swedish Institute of Space Physics, Norwegian Space Centre, Journal of Space Weather and Space Climate, et al, Oslo, Norway: Conference: Space Weather and Challenges for Modern Society; at Grand Hotel.

Oct 22 — Moon: 2.6° N of Aldebaran, 02:00.
WEDNESDAY

Oct 23 — ISS, LEO: Expedition 37 In-Flight Event with Henning, Minnesota School District; live coverage available 14:25 UT.

Oct 23-25 — DLR Institute of Planetary Research, Berlin, Germany: Joint Workshop on High Pressure, Planetary, and Plasma Physics.

Oct 23-25 — Dublin Institute for Advanced Studies (DIAS), Stockholm University Oskar Klein Centre for Cosmoparticle Physics (OKC), Stockholm, Sweden: Second International OKC-DIAS Workshop: Science with High Energy Stereoscopic System (HESS) Telescope Array.

Oct 23 — Asteroid 2010 VP21: Near-Earth flyby (0.086 AU).

Oct 23 — Asteroid 2012 ER14: Near-Earth flyby (0.088 AU).
THURSDAY

Oct 24 — Space Frontier Foundation, Stanford CA: NewSpace Business Plan Competition; at Stanford University; free.

Oct 24 — Satnews Publishers, Jones Day Company, Space Isle Company, Washington DC: 2nd Annual Space & Satellite Regulatory Colloquium.

Oct 24 — W. M. Keck Observatory, Kamuela HI: Fall 2013 Keck Astronomy Talks: Comet ISON – A Sungrazing Comet From Around the Solar System; presented by Dr. Carey Lisse at Kahilu Theatre.

Oct 24-26 — Chinese Astronomical Society, National Natural Science Foundation of China, Hangzhou, Zhejiang, China: 2nd Asian-Pacific Solar Physics Meeting; to discuss ground-based and space-borne instruments, solar flares and cycles.

Oct 24 — Asteroid 2013 TO69: Near-Earth flyby (0.053 AU).

Oct 24 — Asteroid 2008 LH2: Near-Earth flyby (0.083 AU).
FRIDAY

Oct 25 — ATV-4 (Albert Einstein), ISS Reboost, LEO: ATV-4 to perform engine fire to boost ISS altitude.

Oct 25 — NASA HQ, Online / Washington DC: Last Day to Register: 2014 Night Rover Challenge; for researchers to create energy storage system allowing simulated lunar rover to operate at average 85 W throughout 14-day-long lunar night, exceed a minimum of 300 W-hrs/kg.

Oct 25 — Johnson Space Center, NASA, Houston TX: Lunch with an Astronaut, John-David Bartoe; US$49.95 adult.

Oct 25-27 — Mars Society, Polytechnic Institute of Advanced Sciences – Paris, Paris, France: 13th European Mars Society Convention (EMC13).

Oct 25 — Moon: At apogee (distance 404,112 km), 04:00; 5° S of Jupiter, 11:00; 11.8° SSW of Pollux, 16:00.
SATURDAY

Oct 26 — Moon: At last quarter, 13:41; 6.6° SSW of Beehive Cluster, 20:00.

Oct 26 — Asteroid 2013 TY5: Near-Earth flyby (0.082 AU).
SUNDAY

Oct 27 — Harvard Business School Aerospace and Aviation Club, Allston MA: 2013 Space Conference at Harvard Business School: Space – The Business Frontier; featuring Lon Levin, Clayton Mowry, Carissa Christensen, Alex MacDonald, Astronauts Leroy Chiao and Michael Lopez-Alegria.

Oct 27 — PlayLab, X Prize Foundation, Galactic Unite, Mississauga, Ontario, Canada: Student Rocket Workshop; children grades 4-7 design, build and test rockets at Northstar Montessori Private School.

Oct 27 — Standard Time (Europe): Change clocks back 1 hour, from Summer Time to Standard Time.